Open Access This article is
freely available
re-usable
Review
Adaptive Immunity to
Cryptococcus neoformans
Infections
Department of Microbiology and Immunology, Medical School, University of Minnesota, 689 23rd Ave SE, Minneapolis, MN 55455, USA
*
Author to whom correspondence should be addressed.
Received: 17 October 2017 / Accepted: 15 November 2017 / Published: 21 November 2017
Abstract
:
The
Cryptococcus neoformans
/
Cryptococcus gattii
species complex is a group of fungal pathogens with different phenotypic and genotypic diversity that cause disease in immunocompromised patients as well as in healthy individuals. The immune response resulting from the interaction between
Cryptococcus
and the host immune system is a key determinant of the disease outcome. The species
C. neoformans
causes the majority of human infections, and therefore almost all immunological studies focused on
C. neoformans
infections. Thus, this review presents current understanding on the role of adaptive immunity during
C. neoformans
infections both in humans and in animal models of disease.
Keywords:
Cryptococcus
; adaptive immunity; dendritic cells; CD4; helper T cell type 1 (Th1); helper T cell type 2 (Th2); helper T cell type 17 (Th17); cytokines; immune reconstitution inflammatory syndrome (IRIS)
Acknowledgments
The writing of this review was supported by National Institute of Health grants AI080275 and AI122352 to Kirsten Nielsen.
Author Contributions
Liliane Mukaremera and Kirsten Nielsen wrote the manuscript.
Conflicts of Interest
The authors declare no conflict of interest.
Figure 1.
Adaptive immunity during
Cryptococcus
infection. Current understanding of initiation, development and function of adaptive immunity during
C. neoformans
infection in the mouse model (
A
) or in humans (
B
). (1)
C. neoformans
pathogen-associated molecule patterns (PAMPS) are recognized by innate immune cells (macrophages and DCs). This recognition triggers phagocytosis, antigen processing and presentation of
C. neoformans
antigens to naïve T cells by antigen presenting cells. (2) Antigen presentation induces activation and differentiation of naïve T cells into Th1, Th2, Tregs and Th17 cells. (3) The presence of IFNγ and IL-12 promotes Th1 differentiation, while the presence of IL-4, as well as expression of costimulatory molecules CD86 and OX40L induces Th2 differentiation. IL-23 induces Th17 differentiation in the absence of IFNγ and IL-4. (4) Th1 cells promote cryptococcal killing either by direct contact, or by producing the Th1 cytokines IFNγ, IL-12 and IL-2 that stimulate phagocyte recruitment and polarization to classically activated macrophages that eliminate
C. neoformans
cells. In contrast, Th2 immune responses mediated by IL-4, IL-5 and IL-13 result in increased eosinophilia and polarization of alternatively activated macrophages, and ultimately lead to the dissemination of
C. neoformans
cells and disease exacerbation. These Th2 immune responses can be blocked by the action of Tregs. In the absence of Th cells, IL-17 production intensifies cryptococcal disease through neutrophilia. Green arrows denote beneficial immune responses, whereas red arrows denote detrimental immune responses. CM (
Cryptococcus
meningitis), DCs (dendritic cells), IFNγ (interferon gamma), IL- (interleukin, IL-12: interleukin-12), IRF4 (IFN regulatory factor 4), IRIS (immune reconstitution inflammatory syndrome), Th (helper T cell), Tregs (regulatory T cells), Ø (macrophage), M1Ø (classically activated macrophage), M2Ø (alternatively activated macrophage), CD4 (helper T cell), CD8 (cytotoxic T cell), CD86 (costimulatory molecule 86), OX40L (costimulatory molecule OX40L, ligand of OX40 receptor on T cells).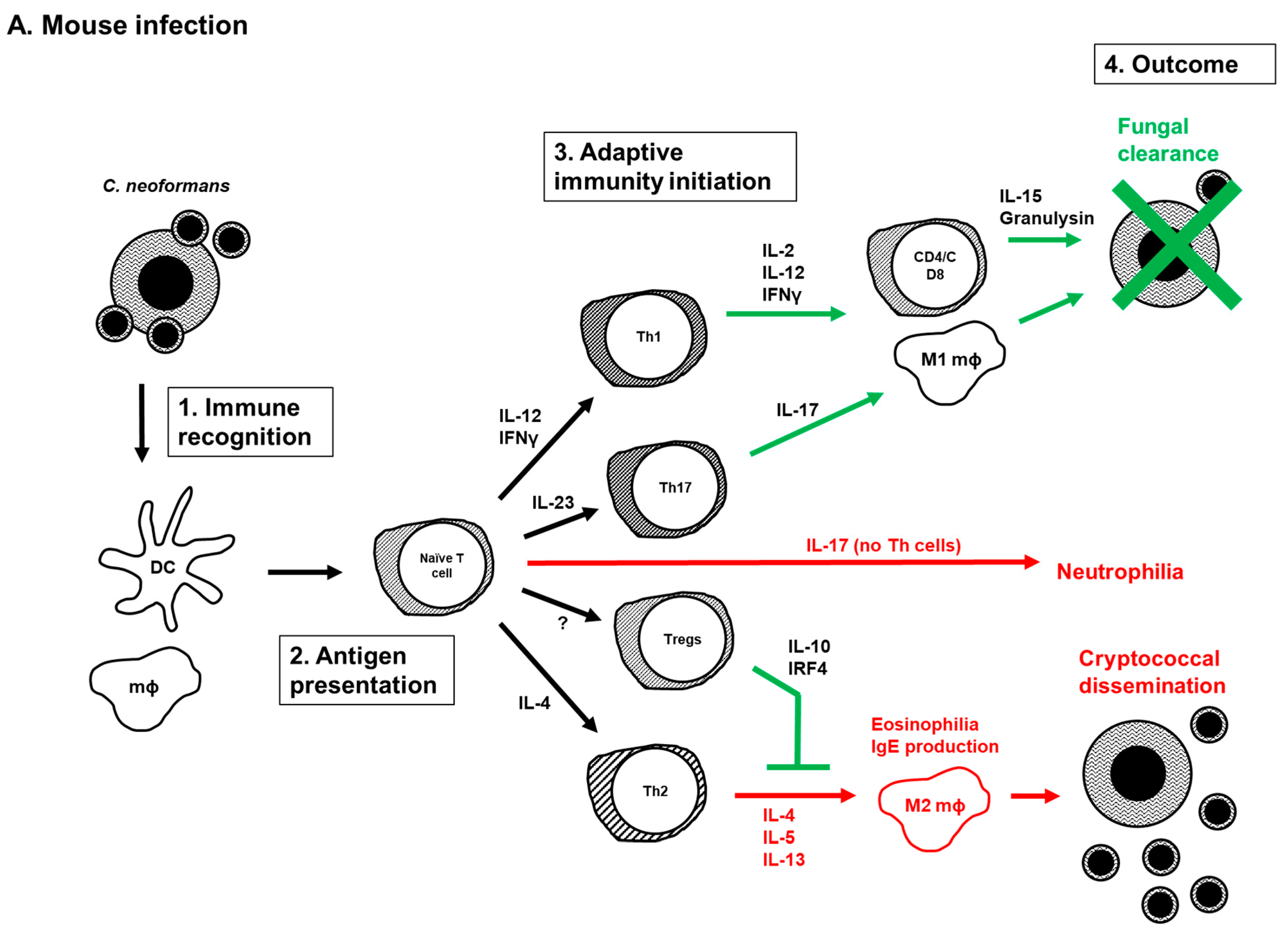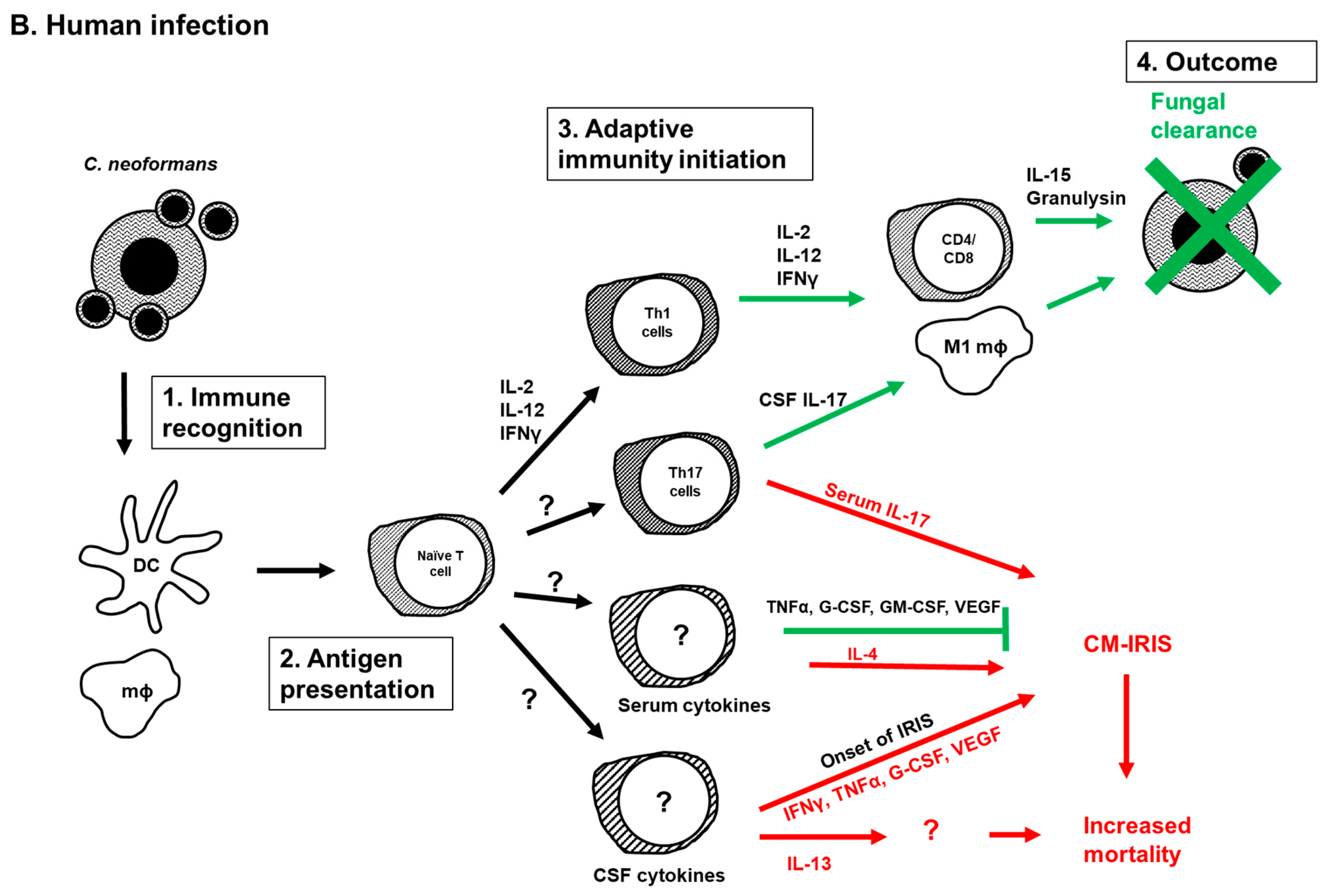 Human
Mice
References
Classification
Cytokines/Chemokines
Blood/Plasma/Serum
CSF
Lungs
Spleen
Brain
Protective cytokines
IFNγ
[40,118,121,122,127,128,130,136]
IL-12
[40,100,116,124]
IL-2
NA
NA
[119,120,123]
Protection support cytokines
IL-6
NA
NA
[100,117,128,129,130]
IL-18
NA
NA
NA
[134,135]
IL-23
NA
NA
NA
[133]
IP10
NA
[127,130,136,137]
G-CSF
NA
NA
[71,128,130,138,139]
GM-CSF
NA
NA
NA
[128,131,138]
TNFα
NA
[41,121,128,130,136,138]
Non-protective cytokines
IL-5
NA
NA
[47,112,136,140]
IL-13
NA
NA
[42,47,112,115,141]
Cytokines/
chemokines with varying roles
IL-1β
NA
NA
[136,142,143]
IL-4
[42,112,115,117,124,131,136,138,144,145]
IL-8
NA
NA
NA
[124,128,129,130,146]
IL-10
NA
[47,100,117,124,127,129,131,142,146]
IL-17
NA
[39,45,112,124,131,138]
MCP-1
NA
NA
[131,136,147,148]
MIP-1α
NA
NA
NA
[40,131,136,148]
RANTES
NA
NA
NA
[47,136]
Blue (protective), yellow (neutral), red (non-protective), NA: not available.

© 2017 by the authors. Licensee MDPI, Basel, Switzerland. This article is an open access article distributed under the terms and conditions of the Creative Commons Attribution (CC BY) license (http://creativecommons.org/licenses/by/4.0/).