Open Access This article is
freely available
re-usable
Review
Cryptococcus
–Epithelial Interactions
Institute of Microbiology and Infection, School of Biosciences, University of Birmingham, Edgbaston, Birmingham B15 2TT, West Midlands, UK
Received: 31 August 2017 / Accepted: 30 September 2017 / Published: 2 October 2017
Abstract
:
The fungal pathogen,
Cryptococcus neoformans
, causes devastating levels of morbidity and mortality. Infections with this fungus tend to be predominantly in immunocompromised individuals, such as those with HIV. Infections initiate with inhalation of cryptococcal cells and entry of the pathogen into the lungs. The bronchial epithelial cells of the upper airway and the alveolar epithelial cells of the lower airway are likely to be the first host cells that
Cryptococcus
engage with. Thus the interaction of cryptococci and the respiratory epithelia will be the focus of this review.
C. neoformans
has been shown to adhere to respiratory epithelial cells, although if the role of the capsule is in aiding or hindering this adhesion is debatable. The epithelia are also able to react to cryptococci with the release of cytokines and chemokines to start the immune response to this invading pathogen. The activity of surfactant components that line this mucosal barrier towards
Cryptococcus
and the metabolic and transcriptional reaction of cryptococci when encountering epithelial cells will also be discussed.
Keywords:
Cryptococcus
; epithelial cells; host–fungal interactions
1. Introduction
Cryptococcus neoformans
is a basidiomycete fungus capable of causing fatal infections in humans. It is estimated that
C. neoformans
causes over 200,000 infections per year with the majority of these occurring in sub-Saharan Africa where HIV rates are high [
1
,
2
,
3
].
C. neoformans
is most commonly known to infect individuals who are immunocompromised, however cases of infections in immunocompetent patients do exist [
4
]. Infections are thought to initiate with inhalation of infectious particles likely to be spores or desiccated yeasts. For many a short and often asymptomatic pulmonary infection will be as serious as this infection gets. However for immunocompromised individuals infection can continue to disseminate from the lungs, or perhaps a re-activation of latent cryptococcal cells, leading to often fatal cryptococcosis culminating in cryptococcal meningitis.
Cryptococcus neoformans
possesses many virulence factors, but the polysaccharide capsule is considered one of its most vital to causing disease [
5
,
6
]. The capsule is composed mostly (approximately 90%) of glucuronoxylomannan (GXM) with smaller proportions of glucuronoxylomannogalactan (GXMGal) and mannoproteins [
5
]. The capsule has been shown to be antiphagocytic [
7
], offer protection against oxidative killing [
8
] and impair T-cell proliferation [
9
], to name just a few properties. Exactly how much capsule is present on cryptococcal cells as they enter the body for the first time is debatable but it is known that cryptococci are able to induce capsule production in response to the lung environment [
10
,
11
].
Due to its association with HIV infected individuals much attention has been given to the role of the adaptive immunity in cryptococcosis. Innate immunity research has focused mostly on phagocytes, particularly macrophages as they can have such a detrimental effect on infection in mouse models and are therefore believed to be a central determinant of cryptococcal infection [
6
,
12
,
13
]. A rather neglected component of innate immunity that has been rather over looked is the epithelial cells of the respiratory tract. Bronchial epithelial cells of the upper airway and alveolar Type I and Type II epithelial cells form a physical barrier between the outside environment and the tissues beneath them [
14
,
15
]. This is not only a physical barrier but also a sensing barrier that has the ability to raise the immunological alarm very early on in infection with the release of an array of cytokines and chemokines (
Figure 1
). Due to
Cryptococcus
entering the body via the respiratory tract, the airway epithelia are likely to be the first host cells cryptococci have close contact with and are therefore the focus of this review.
2. Adherence of
Cryptococcus neoformans

to the Respiratory Epithelia
3. Internalisation of Cryptococci by the Epithelia
After adherence to host membranes the next step for an invasive infection is dissemination across that barrier. There are multiple ways in which
C. neoformans
could leave the lungs. One theory is that cryptococci hijack a ride within alveolar macrophages [
10
]. An alternative is the translocation of cryptococci across the alveolar epithelia. Although this phenomenon has not been studied in great detail, the internalisation of cryptococci into epithelial cells has been recorded by many groups [
15
,
18
,
19
,
22
,
25
]. With a mixture of techniques including electron microscopy, confocal microscopy and flow cytometry, it appears that epithelial cell internalisation of cryptococci is a rare event and the relevance of this to infection is currently unknown. An interaction perhaps more likely to play a significant role in dissemination from the lungs is the disruption of the epithelial barrier by induced epithelial cell death. Barbosa and colleagues not only recorded some internalisation of
C. neoformans
into A549 cells but they also suspect that these events resulted in host cell death. In addition, the group demonstrated that incubating cryptococci with epithelial cells for prolonged periods of time resulted in significant levels of host cell death, as measured by lactate dehydrogenase assay [
19
]. Such cell death events is likely to explain the lung lesions seen by others in the mouse model for respiratory infection [
23
]. The fungal component responsible for the cell death is as yet undetermined, but the authors were able to demonstrate it is unlikely to be the capsule component GXM as purified GXM alone was unable to mimic the response [
19
].
4. The Response of the Respiratory Epithelia to
Cryptococcus
5. The Cryptococcal Response to the Respiratory Niche
6. Collectins of the Respiratory Lining and
Cryptococcus
7. Conclusions
The lung and bronchial epithelium form a physical barrier between the tissue and external environment. These epithelial cells are also actively antimicrobial as part of the innate immune response. Epithelial cells are able to initiate the defence against pathogens with a chemokine and cytokine response.
C. neoformans
is able to adhere to, be engulfed by and induce cell death of epithelial cells. Moreover, cryptococci can modulate changes in epithelial cell ligand expression and secretion of molecules important to the immune response in the lung. The molecular detail underlying many of these responses is not entirely clear at this stage. Some of the conflicting findings regarding the involvement of capsule in many of these processes could be due to many things. Not only is the capsule variable between strains, age of cultures and under various growth parameters but the GXM isolated from these cryptococci can vary structurally depending on how it has been purified [
60
]. In addition cell wall anchored and shed GXM is likely to be different structurally [
60
]. Another variation in
Cryptococcus
morphology to consider is the formation of Titan cells. Now we know Titan cells are formed in vivo it would be interesting to look at these cells and their interaction with epithelial cells and phagocytes of the airway as at least a small proportion of cryptococci are likely to be in Titan morphology soon after entering the lungs. Methods to create Titan cells in vitro to enable such studies without the rescue of Titan cells from mice are currently under development by several laboratories. In addition, the role of
Cryptococcus
spores rather than yeast cells in commencing infection in the lung has to date been neglected. An investigation into the varied roles of yeast, Titan and spore cryptococcal cells would be very valuable to the field.
Despite major progress in determining the responses of both cryptococcal yeast and epithelial cells when they interact, the molecular detail behind many of these responses remains to be elucidated. More recent technological advances such as single cell RNA sequencing could help to determine not only the signalling pathways initiated in cells, but also the differential ways specific subtypes of cells are initiated when they encounter
Cryptococcus
. In addition, advances in human cell engineering, such as stem cell technologies and organoid culture, could allow for more detailed single cell level exploration of
Cryptococcus
pathogenesis in the context of human cells.
Acknowledgments
Work in the May Lab is supported by the European Research Council under the European Union's Seventh Framework Programme (FP/2007–2013)/ERC Grant Agreement No. 614562.
Conflicts of Interest
The author declares no conflict of interest.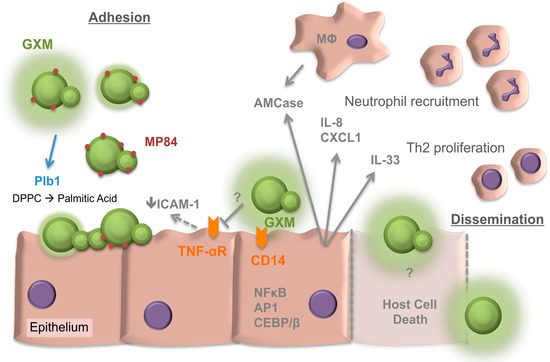 Figure 1.
Overview of
Cryptococcus
interactions with the respiratory epithelia. Factors involved in both adhesion and later dissemination are depicted. GXM, glucuronoxylomannan. MP84, Mannoprotein 84. Plb1, phospholipase 1. DPPC, dipalmitoyl phosphatidylcholine. ICAM-1, intercellular adhesion molecule-1. TNF-αR, tumor necrosis factor-alpha receptor. AMCase, acidic mammalian chitinase. IL, interleukin. CD, cluster of differentiation. CXCL1, chemokine (C-X-C motif) ligand 1. Th2, T-helper 2 cell. MΦ, macrophage. NF-κB, nuclear factor kappa-light-chain-enhancer of activated B cells. AP1, Activator protein 1. CEBP/β, CAAT/ enhancer-binding protein β. T arrows, blocking of response. Solid arrows, secretion or inducing action. Dashed arrows, uncertain if activity is direct or indirect. Dashed lines represent host cell death.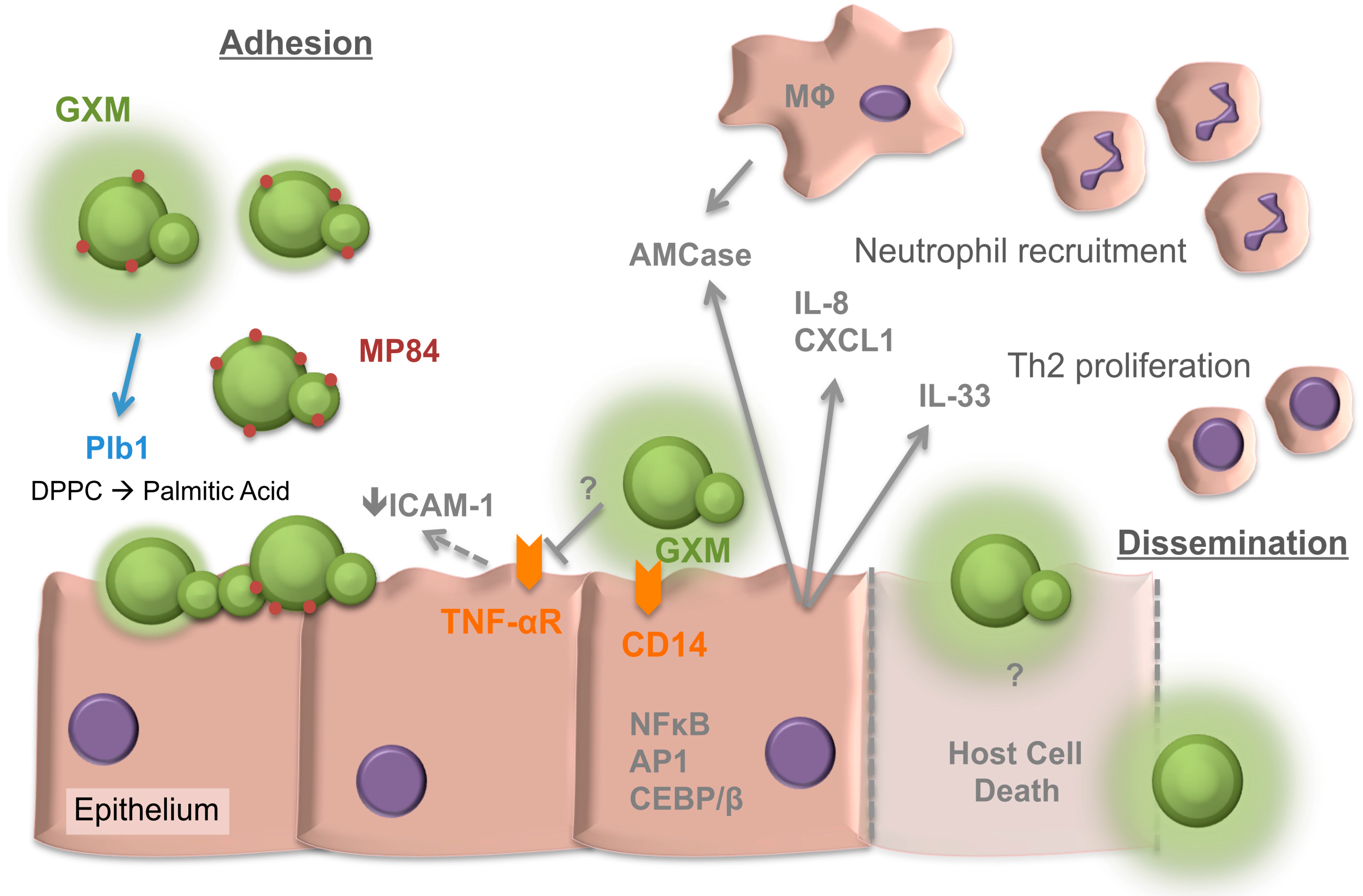 © 2017 by the author. Licensee MDPI, Basel, Switzerland. This article is an open access article distributed under the terms and conditions of the Creative Commons Attribution (CC BY) license (http://creativecommons.org/licenses/by/4.0/).