Open Access This article is
freely available
re-usable
Review
Entomopathogenicity and Biological Attributes of Himalayan Treasured Fungus
Ophiocordyceps sinensis
(Yarsagumba)
1
Research, Community Development and Conservation Center (C3DR), Pokhara 33700, Nepal
2
Department of Biochemistry, University of Turku, Turku, Finn-20014, Finland
Academic Editor: David S. Perlin
Received: 23 November 2016 / Accepted: 31 January 2017 / Published: 5 February 2017
Abstract
:
Members of the entomophagous fungi are considered very crucial in the fungal domain relative to their natural phenomenon and economic perspectives; however, inadequate knowledge of their mechanisms of interaction keeps them lagging behind in parallel studies of fungi associated with agro-ecology, forest pathology and medical biology.
Ophiocordyceps sinensis
(syn.
Cordyceps sinensis
), an intricate fungus-caterpillar complex after it parasitizes the larva of the moth, is a highly prized medicinal fungus known widely for ages due to its peculiar biochemical assets. Recent technological innovations have significantly contributed a great deal to profiling the variable clinical importance of this fungus and other related fungi with similar medicinal potential. However, a detailed mechanism behind fungal pathogenicity and fungal-insect interactions seems rather ambiguous and is poorly justified, demanding special attention. The goal of the present review is to divulge an update on the published data and provides promising insights on different biological events that have remained underemphasized in previous reviews on fungal biology with relation to life-history trade-offs, host specialization and selection pressures. The infection of larvae by a fungus is not a unique event in
Cordyceps
; hence, other fungal species are also reviewed for effective comparison. Conceivably, the rationale and approaches behind the inheritance of pharmacological abilities acquired and stored within the insect framework at a time when they are completely hijacked and consumed by fungal parasites, and the molecular mechanisms involved therein, are clearly documented.
Keywords:
Fungal elicitor; MAP kinase; metabolites; PR-proteins; receptors; signal transduction; transcriptional factors; transcriptome sequencing; virulence factors
1. Introduction
The caterpillar-parasitizing fungus
Ophiocordyceps sinensis
(Berk.) G.H. Sung, J.M. Sung, Hywel-Jones & Spatafora (syn.
Cordyceps sinensis
(Berk.) Sacc.) is an insect-borne fungus, widely known as "Chinese caterpillar fungus" in English [
1
] and "Yarsagumba (fungus
cum
larvae)" in Nepali. Taxonomic classification places the organism within the phylum Ascomycota (sac fungi), the family Ophiocordycipitaceae in the order Hypocreales [
2
,
3
,
4
], and it is often referred to as an entomophagous fungus owing to its parasitic nature in insects' larvae [
4
,
5
]. The fungus possesses wide host range, killing Lepidopteran larvae of more than 60 different species [
6
]. Although it can infect 30 of 40 known species of Thitarodes caterpillars [
7
], the Himalayan bat moth
Hepialus armoricanus
proves to be a usual and common host for this fungus [
6
]. Entomopathogens such as
Beauveria bassiana
and
Metarhizium robertsii
which belong to Hypocreales of Ascomycota are known to be the best-studied models to decipher the exact mechanism of the biological and physiological interactions, and thus these fungi are also widely used as biopesticides [
8
]. Unlike the broad-host-spectrum entomopathogen
M. robertsii
, other fungi such as
M. acridum
and
M. majus
display more specificity, respectively, for locusts and beetles [
9
].
4. Events Incurred during Pathogenicity
5. Enzymes Involved in Fruiting Body Production
Ubiquitin-like activating enzyme E1 controls the production of the fruiting body in
C. militaris
[
98
]. Repression of the
Cmwc-1
gene (a homolog of the blue-light receptor gene
white collar-1 (wc-1)
in
N. crassa
) results in the formation of thicker aerial hyphae, the development of a disordered fruiting body, and a reduction in the formation of conidia, cordycepin and carotenoid production in
C. militaris
[
99
]. However, the resumption of functional properties and characteristics of knock-out mutants was observed upon hybridization of these with the wild strains of the opposite mating type [
99
].
C. militaris
in in vitro conditions revealed the involvement of different enzymes (cytochrome oxidase subunit I, ubiquitin-like activating enzyme) in the formation of the fruiting body, while the serine/threonine phosphatase encoding gene was involved in in vivo conditions [
98
]. Also, an enzyme with fibrinolytic activity (chymotrypsin-like serine metalloprotease), having a potential role of developing therapeutic agents for thrombosis, has been extracted from
C. militaris
[
100
].
6. Genomic Information
The whole genome shortgun (ANOV00000000.1) revealed the genome size of
OS
to be 78.52 Mb with 6972 protein-coding genes in total [
50
]. A search for
OS
in GenBank revealed 29,647 entries, most of which were sequences that code for ribosomal RNA, apart from some sequences (at least 184) with accession numbers which include: AY195841.1, EU282383.1 and EF495094.1 (NCBI online database last accessed 15 October 2016). These 184 sequences (entries) for serine-protease enzymes in
OS
are encoded by the genes
csp1
,
csp2
and
Pr1
(NCBI online database last accessed 15 October 2016). The whole genome sequence of a closely related species,
Cordyceps militaris
(32.2 Mb genome size), has been available to the public since 2011 [
18
]. The genome size of
O. polyrhachis-furcata
(strain BCC54312) is 43 Mb, with 6793 protein-coding genes, which is similar to
OS
, while substantially less than
M. robertsii
,
M. acridum
,
B. bassiana
, and
C. militaris
. The assembled genome has been deposited as an NCBI Whole Genome Shotgun (WGS) project under accession number LKCN00000000 and the data of the sequenced samples were deposited at the NCBI BioSample database under the accession number SAMN04099149.
The genome size of
C. militaris
is smaller when compared to its anamorph with a broad-host-range species such as
M. anisopliae
(39.0 Mb) or the locust-specific
M. acridum
(38.0 Mb) [
9
,
63
]. In addition, the protein-encoding genes for this
Cordyceps
species (ca. 9684 protein genes) are also fewer than those of the anamorph species (10,582 and 9849 protein genes for
M. anisoplliae
and
M. acridum
, respectively) [
9
,
18
]. Apparently, the genes with putative secreted proteins are higher for these three species (15.9%, 17.6% and 15.1% for
C. militaris
,
M. anisopliae
and
M. acridum
, respectively) compared to other ascomycetes (5.10%) whose whole genome has been sequenced [
9
,
18
]. Genes encoding mycotoxins were not found in
C. militaris
, making this a unique species for human use [
18
]. Thus, the comparative genomics among
C. militaris
,
M. anisopliae
and
M. acridum
show the highly reduced amount of genes in
C. militaris
in each category that involves virulence/detoxification, transportation, protein synthesis, signal transduction, homeostasis, etc. However, the species-specific genes were found to be higher in
C. militaris
[
18
].
7. In Vitro Fungal Culture and Characteristics
8. Secondary Metabolites Repertoire in
OS
OS
secretes a broad repertoire of secondary metabolites (internally and externally) with the potential to breach the larval cuticular layer and to consume the larvae very effectively. These secreted secondary metabolites both in solid surface media and in the axenic culture system provide the fungus with enhanced and superb medicinal properties. Extracellular polysaccharides (exopolysaccharides) are the most abundant compounds that are found in the fungal culture. Available studies to date have mostly been focused on the pharmaceutical products of this fungus (reviewed in [
119
]). Overall, the fungus is known for its medicinal uses as the "Himalayan Viagra", for its tremendous capability to stimulate the sexual desire of men. Besides these uses, it has been exploited for its efficacy in the production of several drugs with huge therapeutic implications.
Chemical Constituents, Bioactive Compounds and Uses of Natural Cordyceps
9. Challenges and Opportunities
Extreme harvesting of this fascinating species before or after maturity poses a big risk which could lead to the rapid decline of natural specimens. Harvesting of
Cordyceps
prior to spores' maturity and dispersal results in a progressive reduction in the number of the spore population, along with decreasing the rate of host-insect interactions. In addition, global climatic fluctuations have a profound impact and negative consequences on the life cycle of
OS
, leading to a sharp decrease in the
Cordyceps
population. Furthermore, a chunk of harvesters migrating at once to the collection sites during harvesting may damage young moths or the young
Cordyceps
, subsequently causing a rapid decline and deteriorating reduction in the
Cordyceps
numbers. Nevertheless, flouting the general rules set up by the local government, a lack of proper policies on pastoral management, and flocks of grazing sheep that uproot most plants while grazing at higher elevation affect the alpine grassland ecosystem and certainly affect the
Cordyceps
population.
Cordyceps,
as virulent to insects' larvae, maintains the population of moths. Economically, as it is in high demand (as discussed in the review by [
14
]), gradual improvements in the economic status of people residing at higher elevations have been observed due to the benefits derived from this species. Also having enormous therapeutic potential, this species may help revolutionize the discovery of different pharmacological compounds. Moreover, knowledge on the pathogenicity factors of this fungus may allow us to obtain more insights on the molecular process of infection and may also help us to exploit its behavioral information.
10. Concluding Thoughts
The ultimate aim of this review is to shed some insight on the mechanism of infectivity and knowledge on the biological complexity of an important species of the entomopathogens in the area of insect pathology. More molecular-based studies are needed in order to fully understand the mechanisms involved. This focused review on studies elucidating the molecular basis of fungal infectivity offers a better understanding of
Cordyceps
biology which may help us in the exploitation of pharmaceutical bioactive compounds of fungal origin. Evidence for the exact identification of the infection mechanism may help in deciphering the important traits used by this fungus during pathogenicity. Also, the fundamental issue is about unveiling the fungal atrocities against the host immune system. This certainly would provide the much-needed insights on the functional components of the insect-infection mechanism.
11. Summary Points
With tremendous globalization in agriculture, tracing fungal infectivity and elucidating the exact mechanism of fungal dispersal has gained an increased interest.

Endowed with chemical and pharmacological properties, drugs of high therapeutic importance can be prepared by cultivating

OS

.

Fungus raised on synthetic substrates (either on silkworm or cereal substrates) may prove to be significantly valuable with reduced dependence on biotic and natural resources, thus reducing the escape pressure.

Fungal infection of agricultural pests may be a breakthrough achievement and may serve as a promising biological control agent.

MAPKs play vital roles in regulating fungal development, growth, and pathogenicity.
12. Future Issues and Insights
Anamorphs of

OS

such as

Metarhizium sp.

are widely used as biocontrol agents. The introduction of other anamorphs of

OS

plus other entomopathogenic fungi could also be done to check the spread of agricultural pests. This could prove significantly useful and certainly provides a great revolution in replacing synthetic insecticides.

Rigorous experimentation on larval cuticle-degrading enzymes plus other enzymes may successfully lead to an improved selection of an

OS

strain that could effectively be integrated for agricultural pest management.

Transcriptional responses of insect larvae against fungal infection could provide much-needed information on genes induced during pathogen infection in insect larvae.

Tremendous innovative technologies to hunt for gene-encoding secondary metabolites and chemical entities discovered through activating their silent and orphan gene clusters involved in secondary biosynthesis could also be exploited.

A search for the gold-standard mycological media to increase this fungus in controlled conditions seems enigmatic, but is highly desired.

With its enormous biological and clinical attributes, biotechnological inventions of

OS

(natural and lab-cultured strains) may prove very promising and deserve further attention.
Acknowledgements
My apologies to co-workers whose work I could not cite due to article length limitations.
Conflicts of Interest
The author is not aware of any affiliations, memberships, funding, or financial holdings that might be perceived as affecting the objectivity of this review.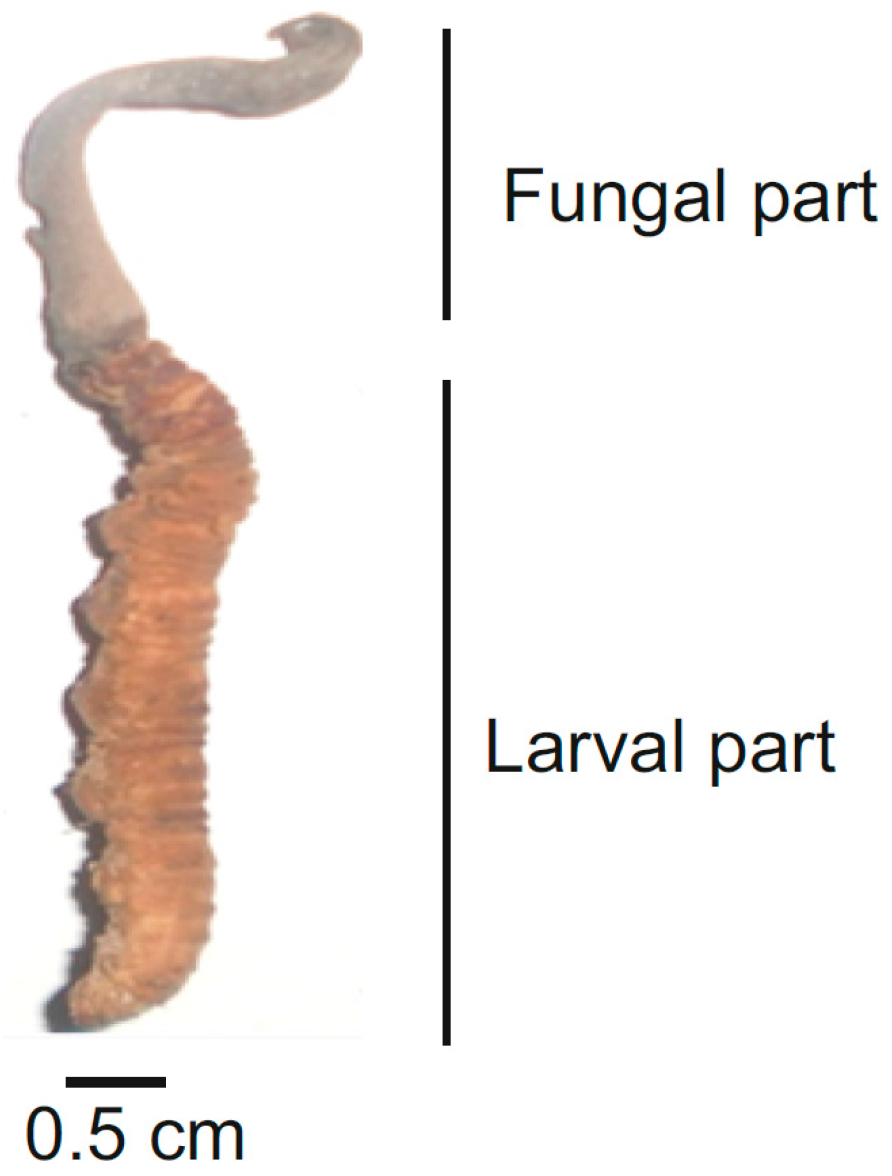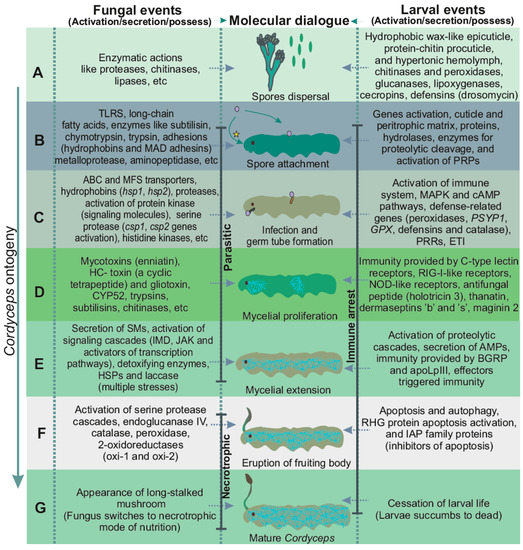 Figure 2.
Fungal assault on insect larvae. (
A
,
B
) Spore landing and attachment: Sticky conidia are attached to larval cuticle by adhesins; (
C
) Infection and formation of germ tube: germination of conidia and extension of germ tube inside larval body; (
D
) Proliferation of mycelium: within larval body, hyphae extend continuously, giving rise to an extensive mycelial mass; (
E
) Extension of fungal mycelium: mycelium extends throughout larval body, colonizing every organ; (
F
) Eruption of fruiting body (ascocarp): soon after body gets colonized by fungal mycelium, it proliferates out from frontal cortex just between the eyes; (
G
) Mature
Cordyceps
:
Cordyceps
after erupting from larval head (larvae of Himalayan bat moth
Hepialus armonicanus).
* This entry-route of infection in
Cordyceps
is still unclear and thus requires further justification.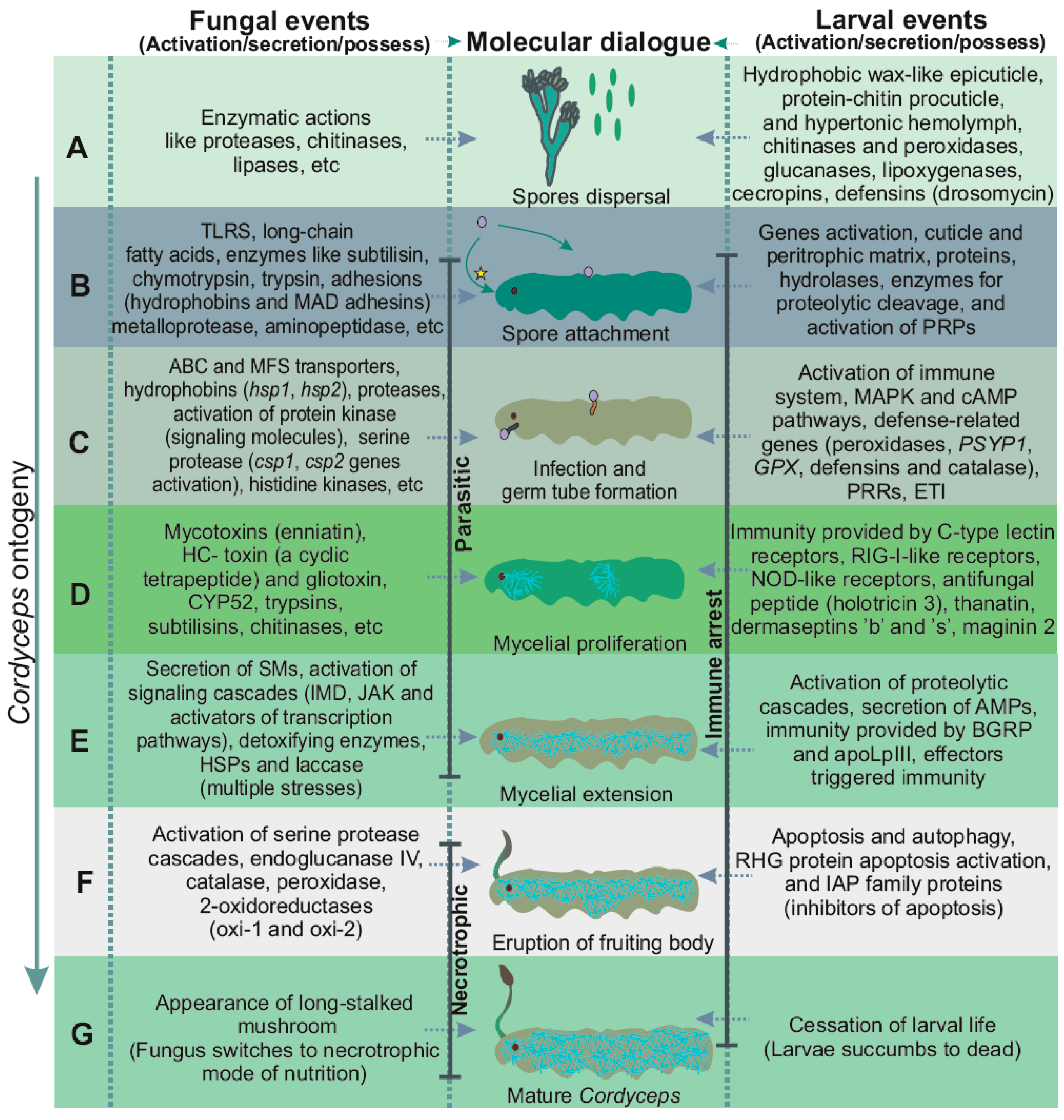 Figure 3. Defensive munitions observed during fungus-insect interactions (molecular interplay between two organisms).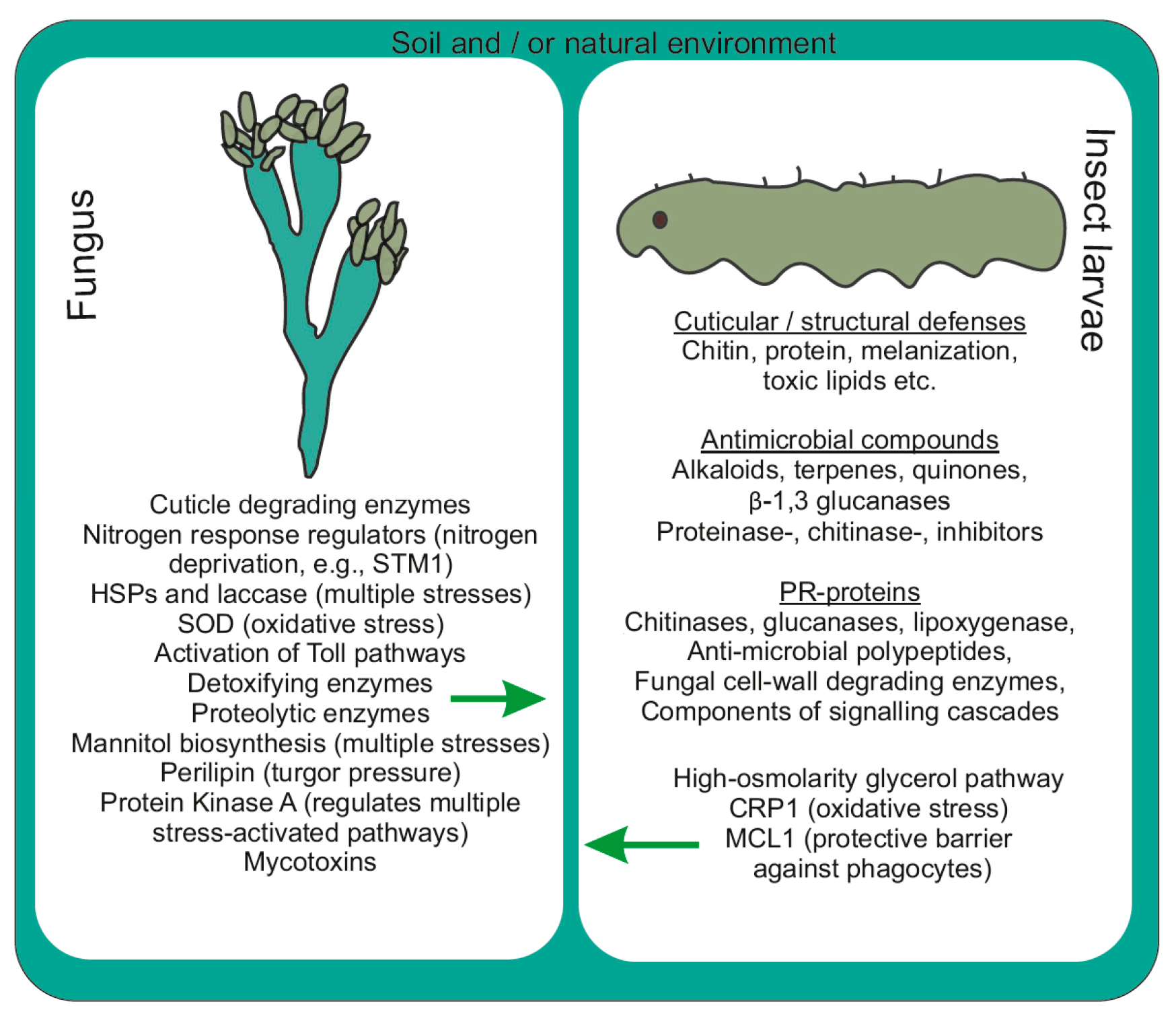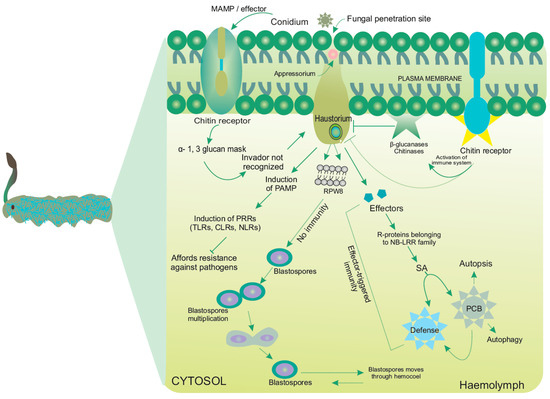 Figure 4.
Detailed mechanism of fungal assault to insect larvae. Unlike in mammals, fungal cell-wall is endowed with several glycans, glycolipids and proteins. PAMPs trigger upregulation of immunity via several pathogen-recognition receptors (PRRs), such as Toll-like receptors (TLRs), C-type lectin receptors (CLRs) and NOD-like receptors (NLRs). CLRs such as N-linked mannans, galactomannans, β-1,3 glucans, α-mannals and α-mannosyl residues are detected by MR, DC-SIGN, Dectin 1, Dectin 2 and MINCLE, respectively. RPW8: Atypical resistance protein. DC-SIGN: Dendritic cell-specific ICAM3-grabbing non-integrin, MAMP: Microbes-associated molecular pattern, MINCLE: Macrophage-inducible C-type lectin, MR: Mannose receptor, NB-LRR: Nucleotide binding leucine-rich repeat domain, NOD: Nucleotide-binding oligomerization domain-containing protein, PAMP: Pathogen-associated molecular pattern, PCB: Polychlorinated biphenyls, SA: Salicylic Acid [
36
,
56
,
80
]. Solid and dotted arrows represent detail molecular mechanism in most entomopathogens and
Cordyceps
sp. respectively, while T-arrows represent resistance mechanism of the insects against the invading pathogens.
© 2017 by the author. Licensee MDPI, Basel, Switzerland. This article is an open access article distributed under the terms and conditions of the Creative Commons Attribution (CC BY) license ( http://creativecommons.org/licenses/by/4.0/).