Open Access This article is
freely available
re-usable
Review
What Is the Heart? Anatomy, Function, Pathophysiology, and Misconceptions
1
Department of Cardiothoracic Surgery, David Geffen School of Medicine at UCLA, 10833 Le Conte Avenue, Room 62-258 CHS, P.O. Box 951741, Los Angeles, CA 90095-1741, USA
2
Division of Cardiovascular Diseases, University of Alabama at Birmingham, 1900 University Boulevard, Birmingham, AL 35233, USA
3
Cedars-Sinai Medical Center, 8700 Beverly Blvd. PACT, Suite 800, Los Angeles, CA 90048, USA
4
UC Clinical Centre of Serbia, Clinic for Cardiac Surgery, 8th Kosta Todorovic St., 11000 Belgrade, Serbia
*
Authors to whom correspondence should be addressed.
Received: 19 April 2018 / Accepted: 23 May 2018 / Published: 4 June 2018
Abstract
:
Cardiac dynamics are traditionally linked to a left ventricle, right ventricle, and septum morphology, a topography that differs from the heart's five-century-old anatomic description of containing a helix and circumferential wrap architectural configuration. Torrent Guasp's helical ventricular myocardial band (HVMB) defines this anatomy and its structure, and explains why the heart's six dynamic actions of narrowing, shortening, lengthening, widening, twisting, and uncoiling happen. The described structural findings will raise questions about deductions guiding "accepted cardiac mechanics", and their functional aspects will challenge and overturn them. These suppositions include the LV, RV, and septum description, timing of mitral valve opening, isovolumic relaxation period, reasons for torsion/twisting, untwisting, reasons for longitudinal and circumferential strain, echocardiographic sub segmentation, resynchronization, RV function dynamics, diastolic dysfunction's cause, and unrecognized septum impairment. Torrent Guasp's revolutionary contributions may alter future understanding of the diagnosis and treatment of cardiac disease.
Keywords:
conventional heart anatomy; helical ventricular myocardial band; mitral valve opening; isovolumic relaxation time; RV function; diastolic dysfunction
1. Introduction
The current approach to understanding cardiac dynamics relies upon movements that adhere to the conventional topographical separation of cardiac muscle into the left ventricle, right ventricle, and septum. Functional analyses have addressed them independently, and this approach has resulted in many suppositions that this report will define and question.
The capacity to understand the dynamics of the surrounding wrap and helix is a very different approach from using deductions to explain many 'accepted cardiac mechanical relationships'. This tactic will lead to questioning of many 'state of the art' concepts. They include heart anatomy as LV, RV, and septum, timing of mitral valve opening, the isovolumic relaxation period, structural reasons for torsion/twisting, the term untwisting, structural reasons for circumferential and longitudinal strain, echocardiographic cardiac sub segmentation, resynchronization, RV function dynamics, and diastolic dysfunction's cause and its unrecognized septum involvement.
2. Topographical versus Structural Heart
3. How Three Structural Components Cause Normal Functional Dynamics
4. Mitral Valve Opening
Finally, the traditional identification of MVO is incorrect, so that the physiological term "mitral valve inflow" (MVI) should replace it. MVO is due to anatomic changes that carry vast physiologic implications—as we suspect recoiling will become the centerpiece behind understanding diastolic dysfunction.
5. Isovolumic Relaxation Time
This revision has historic precedence, as Wiggers can now join Harvey (who described compression versus twisting) and Vesalius (who described apex moving toward the base versus its natural base to apex motion) as being astounding titans that were not perfect.
6. Twisting or Torsion
There is agreement that the spiral architecture of LV muscle fibers produces LV systolic wringing or twisting during ejection by producing differential rotation of the LV base (clockwise) and apex (counterclockwise). This is called torsion by expressing its rotational angle, along the LV longitudinal axis. The responsible muscular mechanisms have important functional implications, yet these have only been deduced.
7. Untwisting
Untwisting during recoil represents the antonym for twisting during ejection. This traditional term is used to describe the clockwise rotation of the apex that counteracts its counter-clockwise motion during twisting for ejection [
55
]. Yet the physical designations of these actions differ; "twisting" mirrors rotating the upper fist clockwise and the lower one counterclockwise, to confirm reciprocal left and right handed helical muscle rotations shown by MRI and echocardiogram. However, the MRI does not record the expected 'untwisting counterpoint' of apical clockwise and basal counterclockwise rotation. Instead, a global clockwise rotation exists during recoil [
48
]. It is caused by a dominant circumferential wrap that overpowers the outer ascending helical arm's ongoing systolic counterclockwise motion.
Each muscle must return to its starting point, so these anatomic reasons do not counteract the recoil that helix and wrap muscles must develop. Instead, functional aspects of the HVMB explain why recoil's expected global clockwise and counterclockwise 'untwisting' cannot occur. The term 'untwisting' should be changed into 'uncoiling, recoiling, or unwinding' to capture recoil's inception point since it may evolve future diastolic dysfunction treatments.
8. Longitudinal and Circumferential Strain
9. Regional Function versus HVMB
Regional echo based structure function analysis is linked to perfusion related changes [
82
]. Regional deformation (grading shortening and thickening) is aligned with the perfusion territories of 17 echo segments that are based within three circular rings of the basal, mid, and apical ventricle [
82
]. This arbitrary selection of transmural muscle (with comparable mass) into echo based LV sub-segmentation provides useful information about regional perfusion, yet except for segment 17 that shows absent apical deformation, this topographical approach does not record the performance dynamics forthcoming from HVMB analysis [
45
].
A similar arbitrary concept guides how readers are taught to understand the architecture of the helical muscles in the LV elliptical shape. They are considered to exist within overlapping cones, with "state of the art" reports [
65
] showing the inner cone describes endocardial muscle, and outer cone identifying epicardial muscle [
65
,
83
].
This designation is incorrect because the outer ascending helical arm forms different parts of the endocardium. An example of this unsuitability is that helical muscle overlap is absent in the septum muscle endocardium below the aortic valve [
7
]. Velocity vector imaging studies confirm this during the pre-ejection isovolumic phase, since the upper septum bulges like an aneurysm because contraction of outer ascending helix has not yet started [
7
,
12
] (
Figure 13
). The outer ascending helix also forms the endocardium in the posterior LV wall where helical overlap is absent. Validity of descriptions of the heart's architecture is only possible by following the sheaths within muscle planes of its helical arms and circumferential wrap.
10. Resynchronization
Excitation contraction coupling provides the infrastructure behind how twist develops during each HVMB contraction. This process requires the natural flow of electrical impulse from the conduction system into the responsible myocytes. Insight into the HVMB anatomy and interventricular conduction relationship is gained by reviewing the evolution of clinical 'resynchronization' therapy (CRT). 'Synchrony' is the traditional term used to characterize the coordinated contraction of the LV, RV and septum—observed from two-dimensional echo or ventriculography. They record harmonized "all at once" movement—mimicking the making of a fist with all fingers squeezing in unison in patients with a normal narrow QRS interval. Conversely, a wide QRS interval defines delayed regional electrical activation, and is associated with uncoordinated contraction that may produce septum bulging or billowing, mitral regurgitation, and raise LV volume.
11. Right Ventricular Function
12. Diastolic Dysfunction
13. Conclusions
This rethinking of the core cardiology values started after learning of the contributions of Francisco Torrent Guasp. His studies exposed the simple design of cardiac architecture by showing that the HVMB contains a helix and a circumferential wrap. These two structures create the functional mechanics behind cardiac motion and thus define 'what the heart is'. Application of this foothold knowledge reveals that many 'accepted' cardiac events are based upon deductions drawn from presumed myocardial structure, rather than from its natural configuration. Torrent Guasp's revolutionary contribution opens the door toward an exciting future for the understanding, diagnosis, and treatment of cardiac disease.
Supplementary Materials
The following are available online:
Author Contributions
G.D.B. wrote the paper; G.D.B. and M.J.K. made substantial contributions to conception, drafting, and revision of the article, giving final approval of the version to be submitted; N.C.N. and C.N. made contributions to drafting and revision of the article, giving final approval of the version to be submitted.
Conflicts of Interest
Buckberg consults with Helical Heart Company LLC (
www.helicalheart.com
), which makes a spatial heart model of helical ventricular myocardial band anatomic configuration. The other authors declare no conflict of interest.
Figure 1.
(
a
) Helical ventricular myocardial band unfolding. Upper left—intact heart. Upper right—circumferential or basal loop unfolding its right segment. Second layer—further circumferential or basal loop unfolding of its left segment and showing inner helix. Third layer—helix unfolding to display descending segment (DS) after ascending segment (AS) is separated. The entire basal loop (containing RS and LS) is also shown. Bottom layer—HMVB unraveled to display its rope-like model appearance. Longitudinal fibers only exist within the two papillary muscles; (
b
) unfolding of HVMB model. Upper left—intact heart. Upper right—circumferential wrap or basal loop with transverse fibers and the inner helix. Lower right—unfolded helix showing the oblique fibers of the inner descending helical arm that is separated from the outer ascending helical arm. Lower right—outer ascending helical arm. Marker arrow points to the left anterior descending artery pathway that bisects the helical muscles forming septum and left ventricular free wall. Reproduced form the references [
6
,
8
] with Publisher's permission.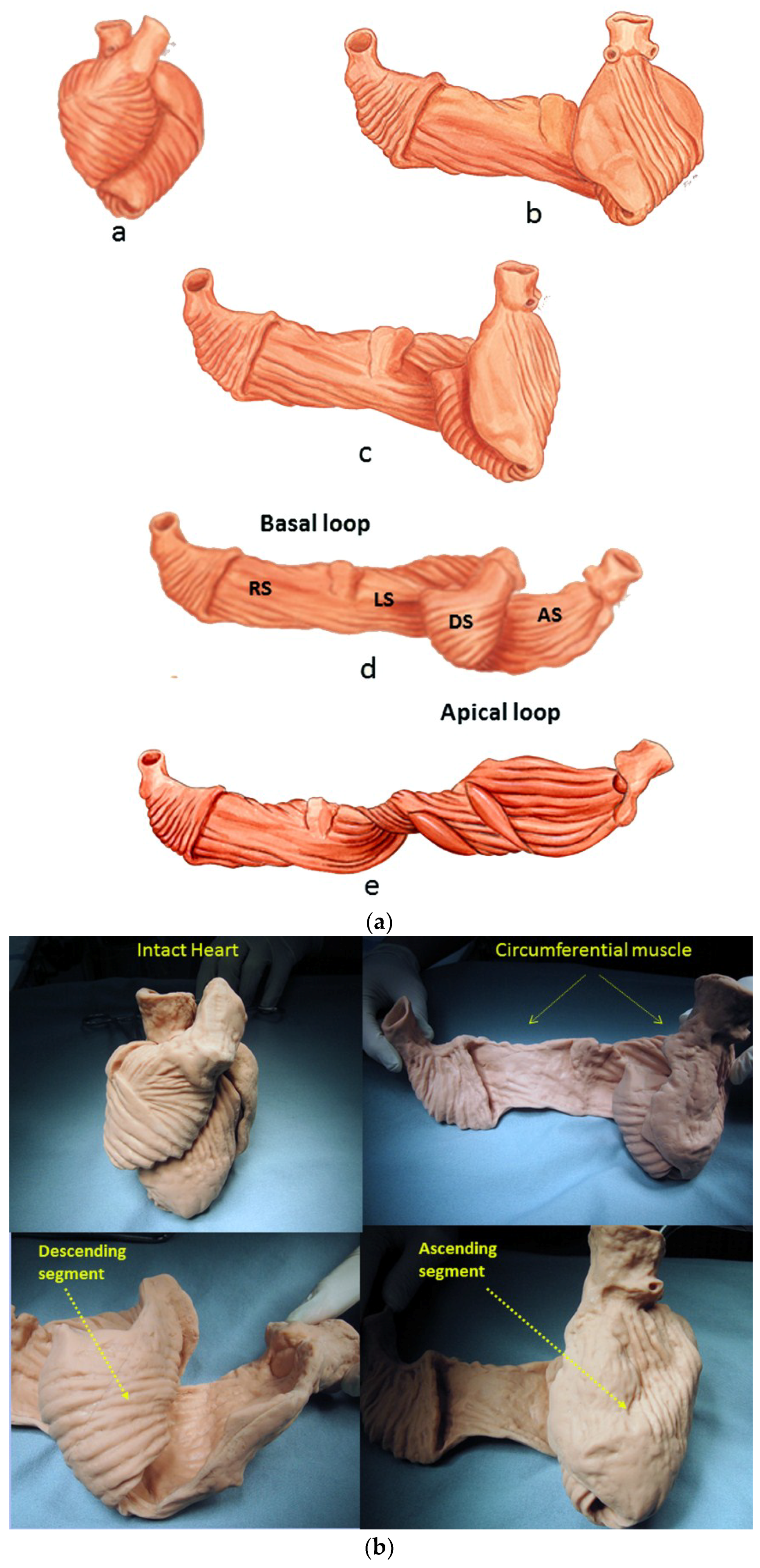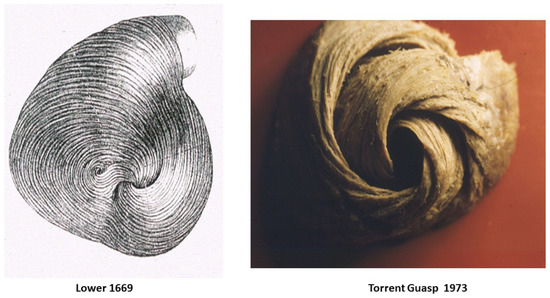 Figure 2.
Apical view of heart muscle showing the fibers clockwise and counterclockwise spiral formation. Images display common anatomy from Lower in 1669 (
left
), and Torrent Guasp in 1970 (
right
). Reproduced form the reference [
17
] with Publisher's permission.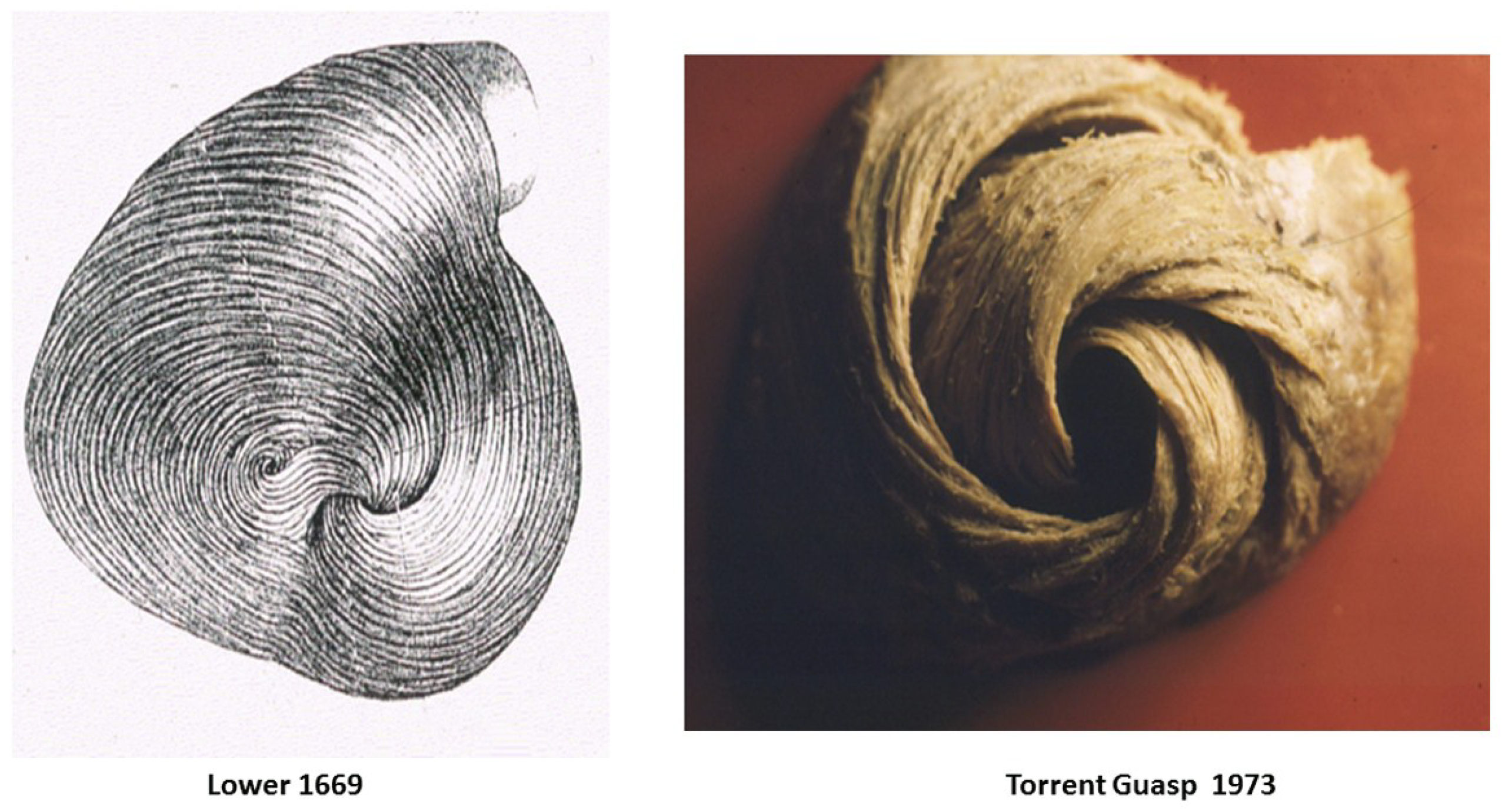 Figure 3.
Human myocardial fibrillogenesis: (
a
) 1 and 2 show DT-MRI during the myocardial fibrillogenesis (gradual increase in number and spatial helical arrangement) of the ventricular myocardial fibers in human embryo at 10 and 14 weeks, respectively; (
b
) DT-MRI in adult heart showing helical right handed helix (red), left handed helix (green/yellow) and blue circumferential or horizontal fibers with zero helix. Note absent circumferential fibers in septum. Reproduced form the references [
8
,
24
] with Publisher's permission.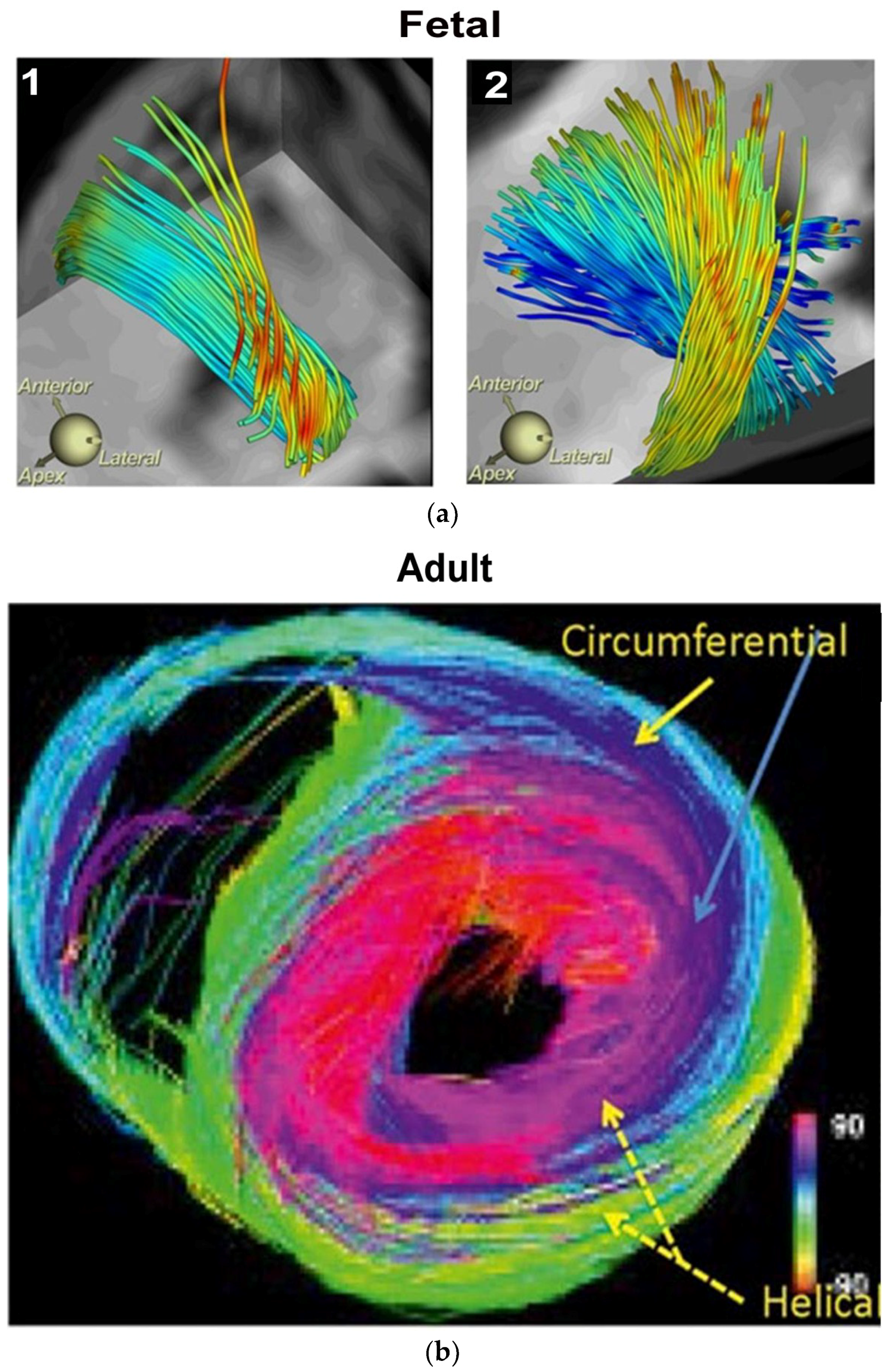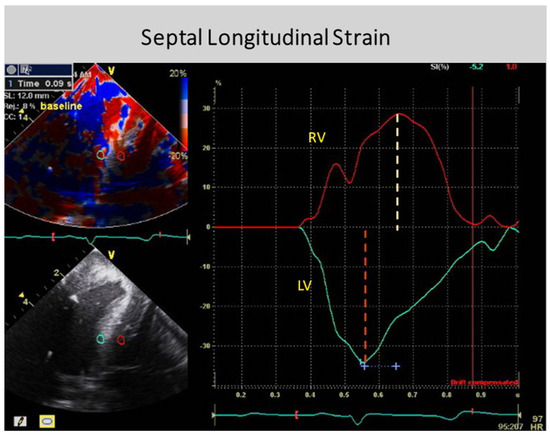 Figure 4.
Doppler longitudinal strain imaging of septum (right and left sides) in apical four-chamber view. Longitudinal strain marked by red (right) and green (left) circles, showing deformation in opposite directions on right and left septum sides—relative to baseline zero value. Timing shows LV first and RV second. SR, Strain rate; AVC, aortic valve closure; RV, right ventricle; LV, left ventricle. Reproduced form the reference [
38
] with Publisher's permission.
Figure 5.
Computerized Ttomography of cardiac short axis, at mid ventricle level, following air insufflation to separate collagen scaffold netting. Plane between the two septum muscle mass rims reflects the echogenic line in septum, and
Supplementary Video S4
records motion between these post mortem rims. Reproduced form the reference [
39
] with Publisher's permission.
Figure 6.
(
a
) Mid-septal hyperechogenic line shown in low and high-resolution echocardiogram; (
b
) septum high-resolution ultrasound image at transducer frequency (12 MHz), displaying its bilayer line with inner dimension structure of 100 to 150 μm. Working septum muscle fibers display different directionality on either side of septum line. This disappears, as does the echogenic line—when cardioplegia (cardiac arrest) stops contractile function. Reproduced form the reference [
8
] with Publisher's permission.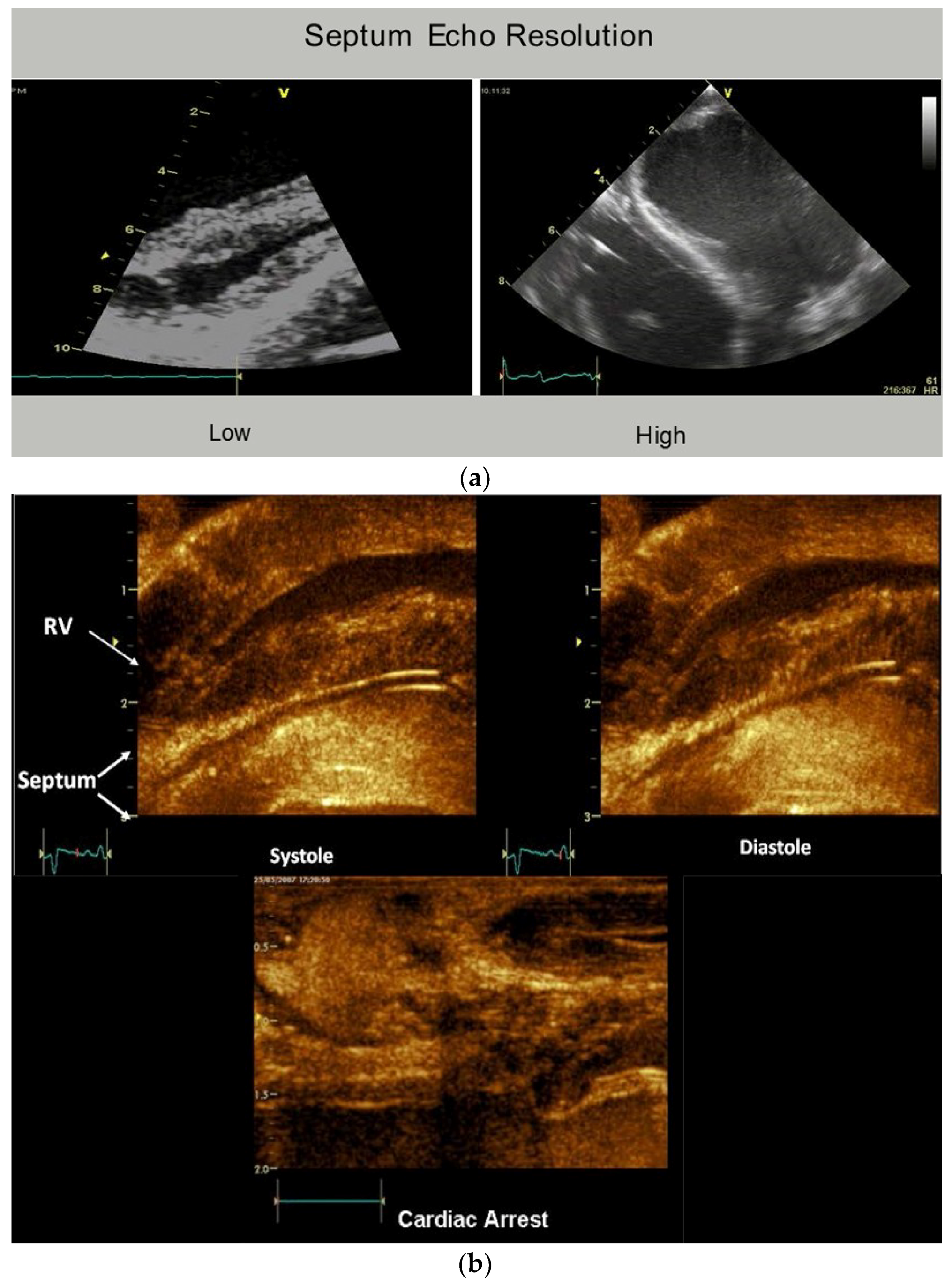 Figure 7.
Upper left shows intact heart containing a basal loop (circumferential wrap with right (RS) and left (LS) segments) and helix (dark color) with descending (DS) and ascending (AS) segments. Lower left—diastole without contraction. Lower middle—displays shows torsion (twisting) with stronger contraction of descending helical arm (tighter coils), and stretching of ascending helical arm. Lower right—recoil with global clockwise rotation; note lengthening due to ongoing contraction of ascending helical arm. Upper drawing—cobra shows similar elongation from its contracting muscle. Reproduced form the reference [
17
] with Publisher's permission.
Figure 8.
Physiologic observations in all texts and medical journals, showing mitral valve opening (MVO) when LV pressure falls below left atrial pressure, and that the isovolumic relaxation phase exists between aortic valve closure and MVO. Reproduced form the reference [
6
] with Publisher's permission.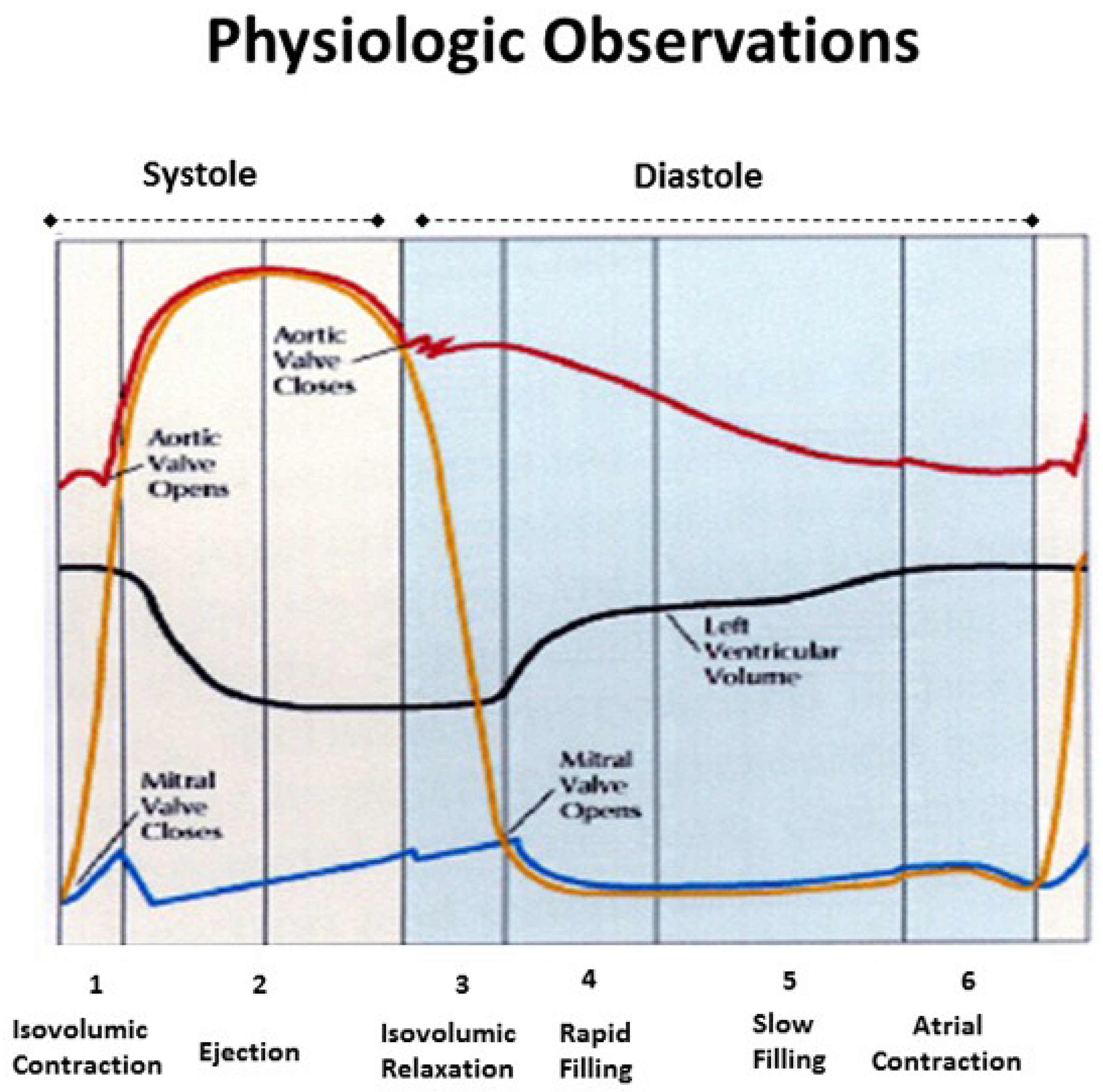 Figure 9.
(
a
) Mitral valve apparatus composed of fixed annulus and mobile leaflets, chordae tendineae, papillary muscles, and ventricular wall; (
b
) Mall's 1911 report showing how apical counterclockwise rotation of the apex shuts the valve during torsion—by bringing spiral papillary muscles together. Mitral valve inflow area opens during from its clockwise rotation during recoil. Reproduced form the reference [
56
] with Publisher's permission.
Figure 10.
Left ventricular contraction sequence by anterior LV sonomicrometer crystals. Blue shading shows pre ejection isovolumic interval, yellow shading shows post ejection recoil. Note (a) ascending helical arm does not contract during pre-ejection, but contracts during recoil; (b) negative dP/dt is yardstick for starting recoil, and marks when inner helical arm stops contracting. Reproduced form the reference [
6
] with Publisher's permission.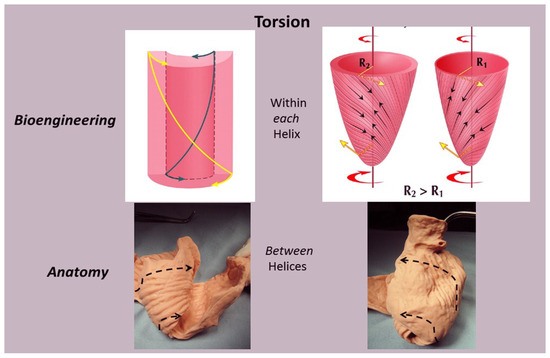 Figure 11.
Torsion. The bioengineering approach (upper left) shows it develops 'within each helix'; epicardial (outer) muscle has counterclockwise apex and clockwise base rotation, while endocardial (inner) muscle has clockwise apex and counterclockwise base rotation to reflect these reciprocal actions in each helical arm. The right image shows the suggested inner and outer cones occupied by the inner and outer helix. The lower images are anatomic: torsion develops 'between helices' as the entire inner descending helix rotates clockwise, and entire outer ascending helix rotates counterclockwise. Reproduced form the reference [
8
] with Publisher's permission.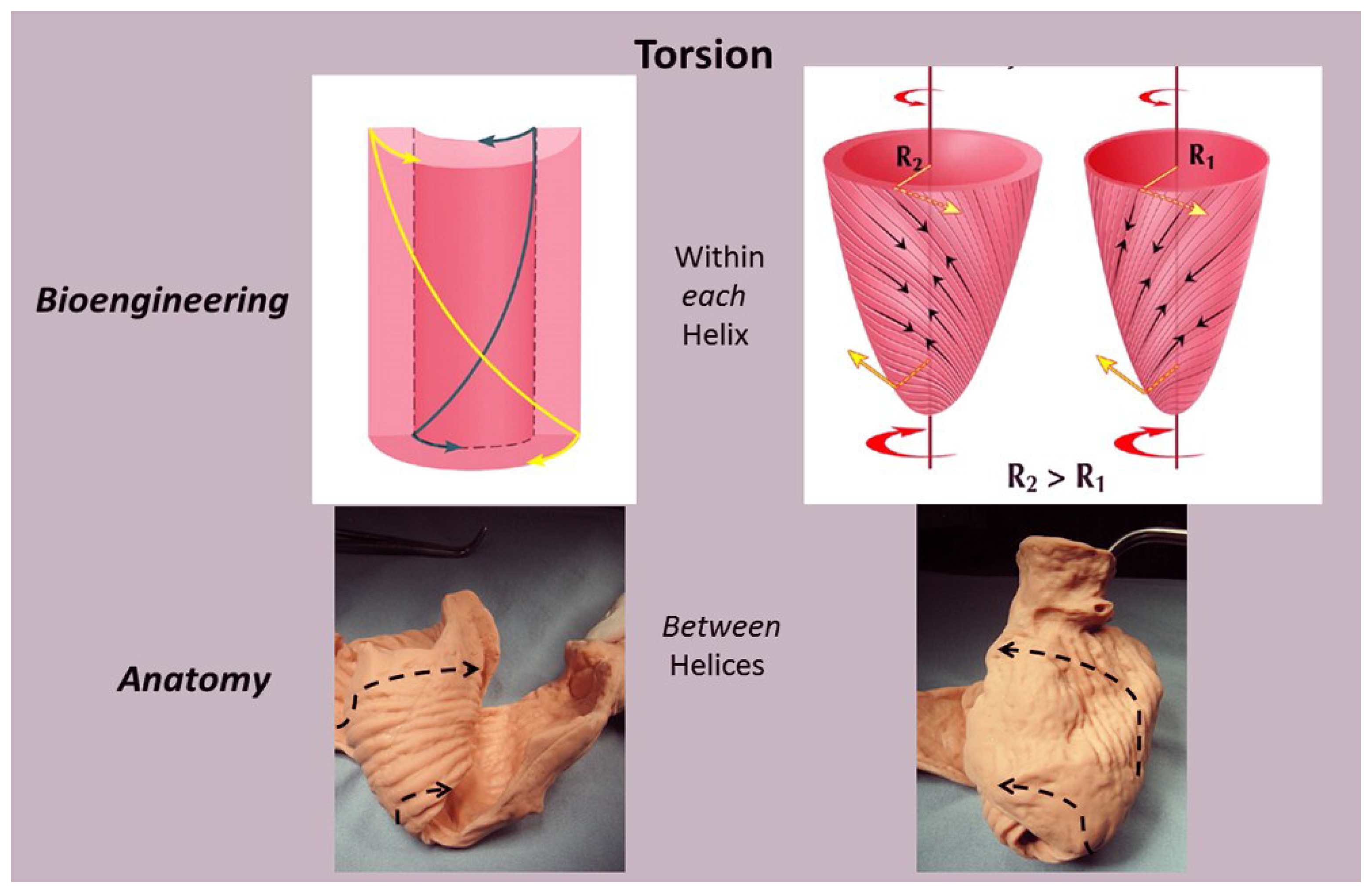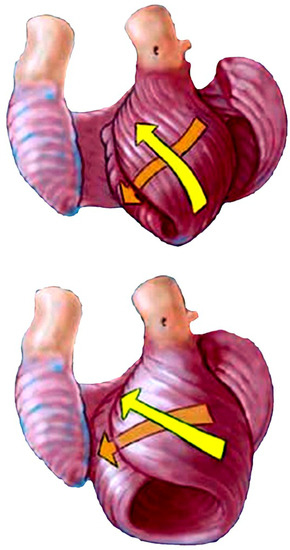 Figure 12.
Helical fiber orientation (yellow arrows) in normal ventricle (above) with reciprocal 60° angulation and a conical shape. Spherical heart (below) shows a more transverse pattern with 45° or less angulation, mirroring the failing dilated heart. Reproduced form the reference [
56
] with Publisher's permission.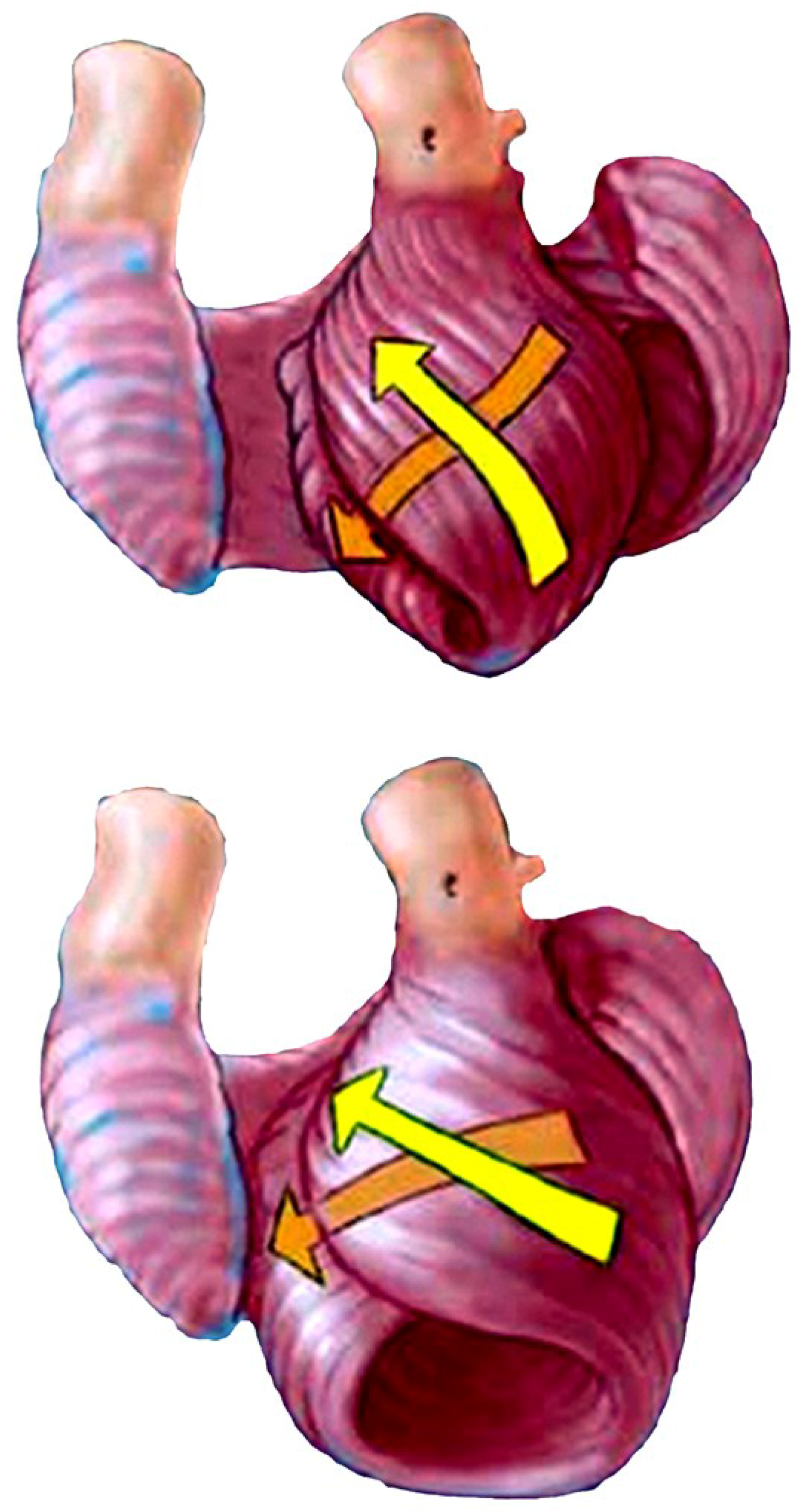 Figure 13.
(
a
) Pre wall ejection motion from velocity vector imaging (VVI) is correlated with cardiac anatomy. The upper septum bulges into the right ventricle (upper right); (
b
) The helical architecture demonstrates absence of helical overlap in region beneath the aortic valve. Its endocardium is formed by the outer, ascending left handed helical arm that does not contract during this interval. Reproduced form the reference [
8
] with Publisher's permission.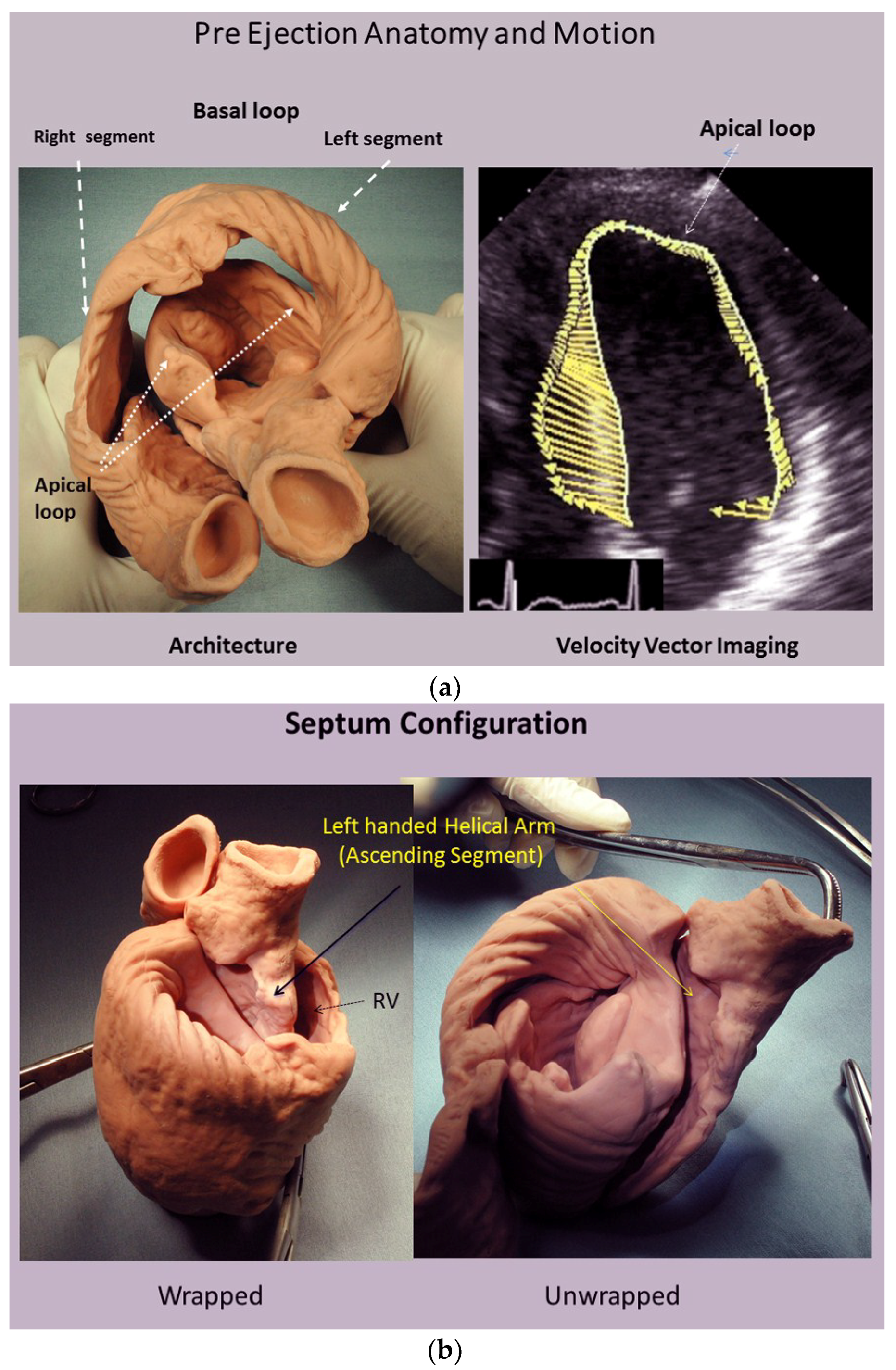 Figure 14.
Right ventricular fiber pattern and HVMB, where the circumferential wrap or basal loop causes compression and narrowing, and the underlying helix with oblique fibers at 60° angles causes shortening and lengthening. Reproduced form the reference [
8
] with Publisher's permission.
Figure 15.
Figure 1
anatomy modification with "simulated left anterior descending artery" that is a vascular highway that bisects the helix, which constructs the septum and the LV free wall. Anatomy (above), and how (below) LV free wall is on vessel's left side, and septum (which is three-dimensionally deeper) is on right side.

© 2018 by the authors. Licensee MDPI, Basel, Switzerland. This article is an open access article distributed under the terms and conditions of the Creative Commons Attribution (CC BY) license (http://creativecommons.org/licenses/by/4.0/).