Open Access This article is
freely available
re-usable
Review
The Role of scaRNAs in Adjusting Alternative mRNA Splicing in Heart Development
1
College of Biosciences, Kansas City University, Kansas City, MO 64106, USA
2
Ward Family Heart Center, Children's Mercy Hospital, University of Missouri-Kansas City School of Medicine, Kansas City, MO 64108, USA
3
Frontier Science Research Center, University of Miyazaki, Miyazaki 889-1692, Japan
†
These two authors contributed equally to this manuscript.

Received: 30 March 2018 / Accepted: 3 May 2018 / Published: 8 May 2018
Abstract
:
Congenital heart disease (CHD) is a leading cause of death in children <1 year of age. Despite intense effort in the last 10 years, most CHDs (~70%) still have an unknown etiology. Conotruncal based defects, such as Tetralogy of Fallot (TOF), a common complex of devastating heart defects, typically requires surgical intervention in the first year of life. We reported that the noncoding transcriptome in myocardial tissue from children with TOF is characterized by significant variation in levels of expression of noncoding RNAs, and more specifically, a significant reduction in 12 small cajal body-associated RNAs (scaRNAs) in the right ventricle. scaRNAs are essential for the biochemical modification and maturation of small nuclear RNAs (spliceosomal RNAs), which in turn are critical components of the spliceosome. This is particularly important because we also documented that splicing of mRNAs that are critical for heart development was dysregulated in the heart tissue of infants with TOF. Furthermore, we went on to show, using the zebrafish model, that altering the expression of these same scaRNAs led to faulty mRNA processing and heart defects in the developing embryo. This review will examine how scaRNAs may influence spliceosome fidelity in exon retention during heart development and thus contribute to regulation of heart development.
Keywords:
alternative mRNA splicing; congenital heart defects; scaRNAs; small cajal body-associated RNAs; tetralogy of Fallot
Funding
Kansas City Area Life Sciences Institution; Fraternal Order of Eagles, Kansas; CMH Clinical Scholar Katherine Barry Richards Foundation; JSPSKAKENHI Grants 2591003 and 24591556, and a grant from the Takeda Science Foundation.
Conflicts of Interest
The authors have no conflicts of interest to declare.
Figure 1.
Representative examples of alternative splicing of two genes (DICER1 and DAAM1). Circled regions represent exonic regions where multiple probes had a significant change in probe intensity level between the normally developing and control subjects and the subjects with TOF. Note that there is not a significant difference in the probe intensities in other regions of the genes. In addition, note that the blue line represents probe intensities of samples from fetal tissue which differed significantly from the control tissue in the circled regions but did not differ from the samples from subjects with TOF. Standard error bars are shown for each probe.
N
: TOF = 16, Control = 8, Fetal = 3.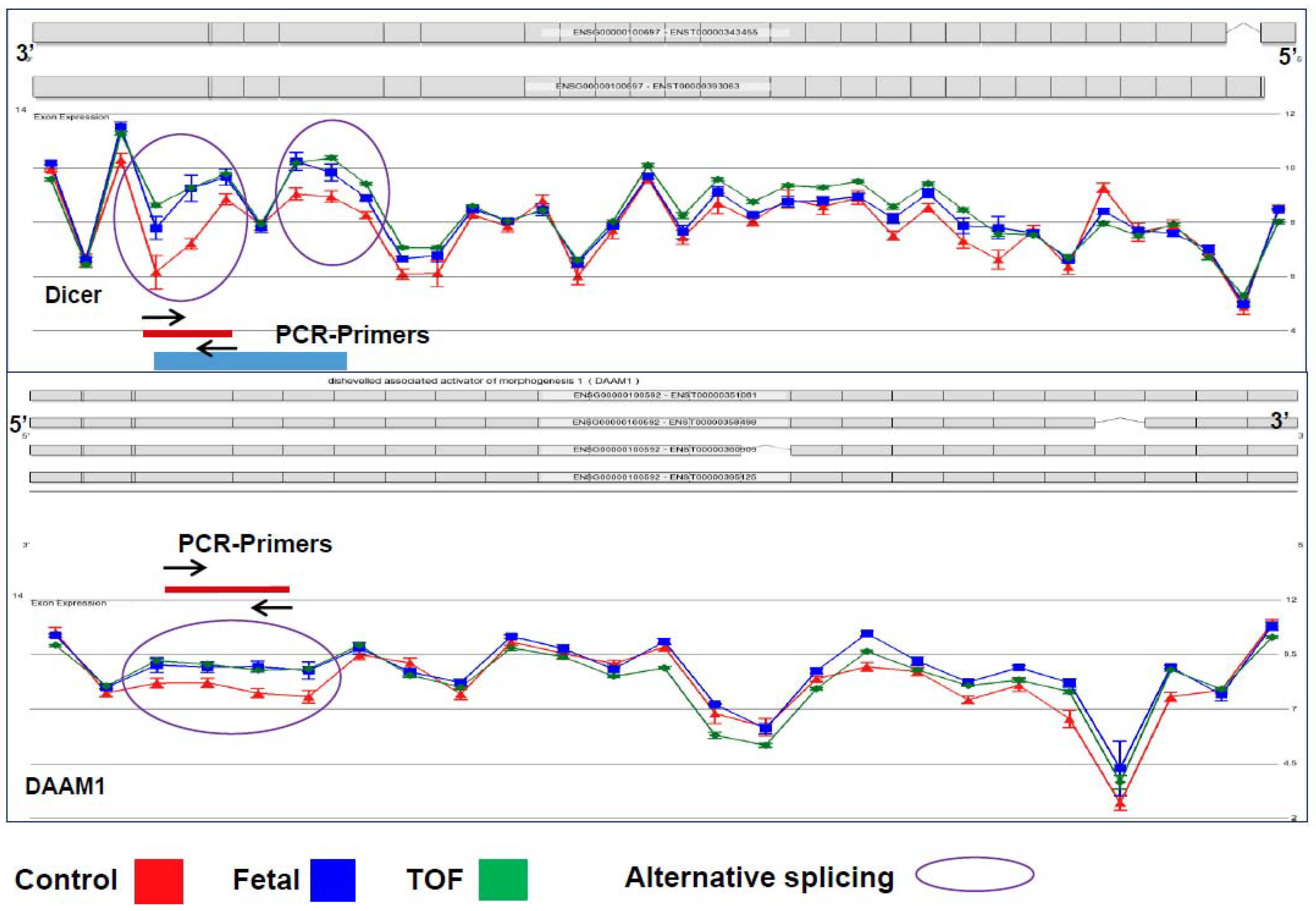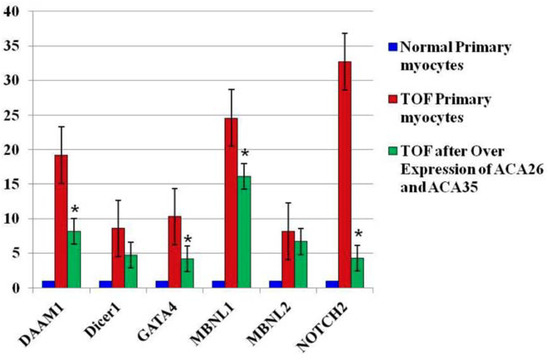 Figure 2. Fetal-type splice isoforms are reduced after overexpression of scaRNAs. Data are fold change of exons that represents regions of variability within the alternatively spliced gene. Each value is derived from the mean intensity level from three different primary myocyte cell lines (3 biological replicates with 3 technical replicates for each individual gene analyzed by qRT-PCR). The normal comparison cells (blue) provide a reference point for comparisons between the sham transfected TOF cells and those with the expression vectors. * significantly different from levels in sham transfected TOF primary cells. The TOF primary cells were derived from three different infants and each PCR included 3 technical replicates. Expression plasmids pCGL-ACA26 and pCGL-ACA35 were a generous gift from Dr. Tamas Kiss, Universite Paul Sabatier, Toulouse, France.
Figure 3. Representative images of zebrafish wildtype embryos (WT) and embryos treated with antisense morpholinos (MO) and mismatch morpholinos (misMO). Ventral view. The heart is circled in the morphants treated with antisense morpholinos.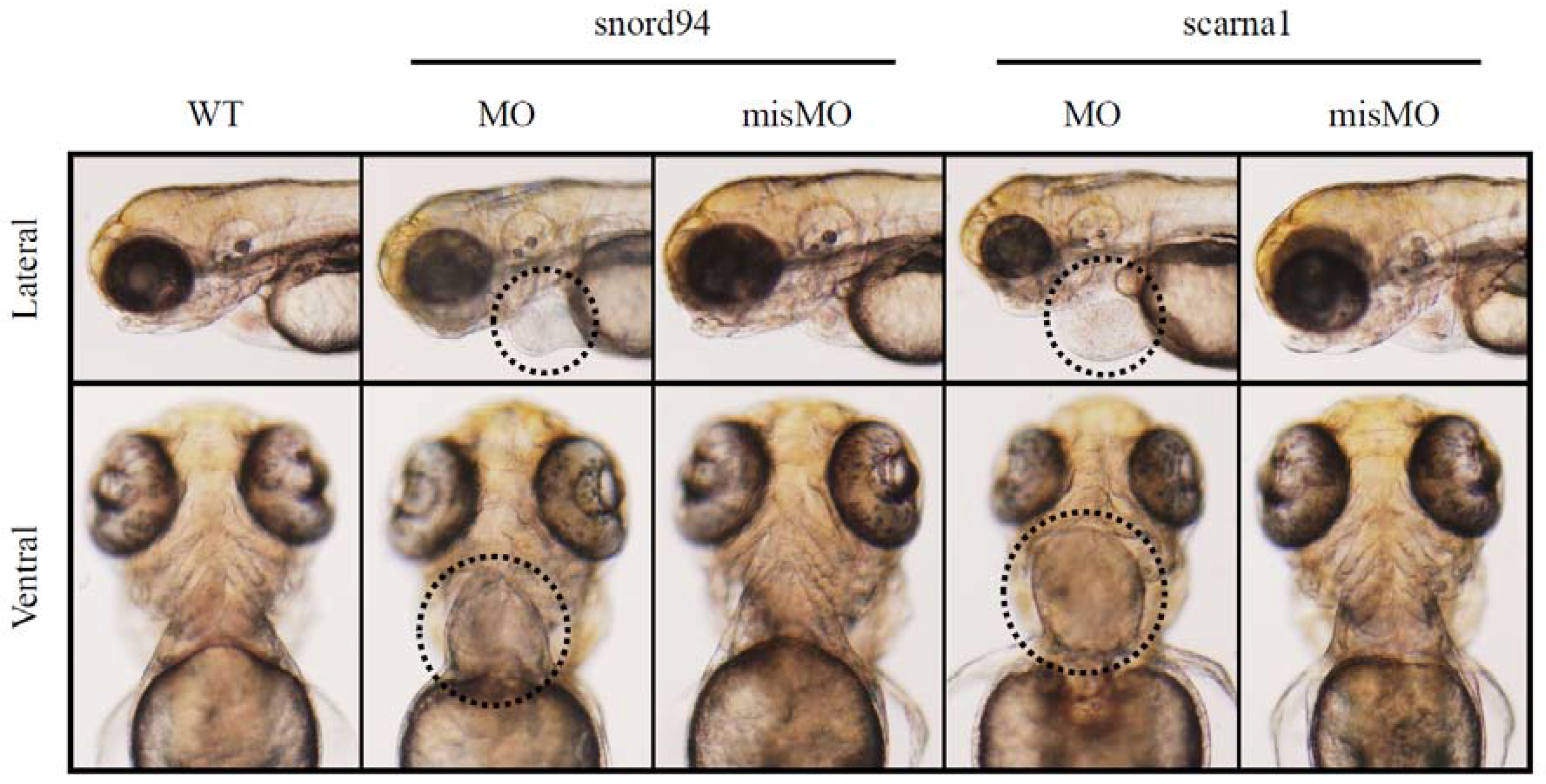 Figure 4. Treating zebrafish embryos with Anti-U94 morpholino causes changes in exon retention of cardiac regulatory genes. 13 of 39 members of the WNT family have changes in exon retention after treatment with antisense morpholino (assessed by RNA-Seq and qRT-PCR, Values shown are from qRT-PCR data). Data are fold change of exons that represents regions of variability within the alternatively spliced gene. (Each gene analyzed by qRT-PCR was done on 3 separate embryo samples with 3 technical replicates). * significant p < 0.05.
| Affy Probe Set ID | Target | Chromosome | Alternate Name | Host Gene |
| --- | --- | --- | --- | --- |
| HBII-382_s_st | U2 snRNA C61 and U2 snRNA G11 | 1 | | |
| mgU2-19-30 | U2 snRNA G19 and U2 snRNA A30 | X | scaRNA9 | |
| mgU2-25-61_st | U2 snRNA G25 and U2 snRNA C61 | 1 | scaRNA2 | |
| U92_st | U2 snRNA U34 and U2 snRNA U44 | 9 | scaRNA8 | FAM29A |
| ACA26_st | U2 snRNA U41 and U2 snRNA U39 | 1 | scaRNA4 | KIAA0907 |
| ACA35_st | U2 snRNA U89 | 1 | scaRNA1 | PPP1R8 |
| mgU6-47_st | U6 snRNA A47 | 17 | SNORD7 | |
| mgU6-53_st | U6 snRNA A53 | 14 | SNORD8 | CHD8 |
| mgU6-53B_st | U6 snRNA A53 | 14 | SNORD9 | CHD8 |
| HBII-166_st | U6 snRNA C60 | 11 | SNORD67 | CKAP5 |
| U94_st | U6 snRNA C62 | 2 | SNORD94 | PTCD3 |
| ACA12_st | U6 snRNA C62 | X | scaRNA24 | POLA1 |

© 2018 by the authors. Licensee MDPI, Basel, Switzerland. This article is an open access article distributed under the terms and conditions of the Creative Commons Attribution (CC BY) license (http://creativecommons.org/licenses/by/4.0/).