Open Access This article is
freely available
re-usable
Review
Myocarditis in Paediatric Patients: Unveiling the Progression to Dilated Cardiomyopathy and Heart Failure
1
Faculty of Medicine of Porto University, Porto 4200-319, Portugal
2
Department of Paediatric Cardiology, Centro Hospitalar São João, Porto 4200-319, Portugal
3
Department of Physiology and Cardiothoracic Surgery, Faculty of Medicine of Porto University, Porto 4200-319, Portugal
*
Author to whom correspondence should be addressed.
Academic Editor: Joel D. Schilling
Received: 29 August 2016 / Accepted: 3 November 2016 / Published: 8 November 2016
Abstract
:
Myocarditis is a challenging and potentially life-threatening disease associated with high morbidity in some paediatric patients, due to its ability to present as an acute and fulminant disease and to ultimately progress to dilated cardiomyopathy. It has been described as an inflammatory disease of the myocardium caused by diverse aetiologies. Viral infection is the most frequent cause of myocarditis in developed countries, but bacterial and protozoal infections or drug hypersensitivity may also be causative agents. The prompt diagnosis in paediatric patients is difficult, as the spectrum of clinical manifestation can range from no myocardial dysfunction to sudden cardiac death. Recent studies on myocarditis pathogenesis have revealed a triphasic nature of this disease, which influences the diagnostic and therapeutic strategies to adopt in each patient. Endomyocardial biopsy remains the gold standard for diagnosing myocarditis, and several non-invasive diagnostic tools can be used to support the diagnosis. Intravenous immunoglobulin has become part of routine practice in the treatment of myocarditis in paediatric patients at many centres, but its true effect on the cardiac function has been the target of many studies. The aim of this review is to approach the recently discovered facets of paediatric myocarditis regarding its progression to dilated cardiomyopathy.
Keywords:
myocarditis; dilated cardiomyopathy; heart failure; inflammation; viral myocarditis
1. Introduction
Myocarditis is a non-familial form of inflammatory heart muscle disease, in the absence of predominant acute or chronic ischaemia [
1
,
2
,
3
]. It is, by definition, an inflammation of the myocardium, which may also extend to the pericardium and endocardium [
4
]. Diagnosis is established by histological, immunologic and immunohistochemical criteria, as it was defined by the World Health Organization (WHO)/International Society and Federation of Cardiology (ISFC), in 1995 [
5
]. It is an important cause of morbidity and mortality in children, due to its association with cardiac dysfunction and dilated cardiomyopathy (DCM), which may represent the chronic phase of the disease [
5
,
6
].
2. Aetiology
Acute myocarditis has multiple causes, including viruses, protozoa, bacteria, fungi, toxins, drugs, metabolic abnormalities, hypersensitivity reactions and systemic autoimmune diseases [
7
]. Often the underlying agent causing the disease is not identified [
4
].
2.1. Infections
More than 50% of paediatric acute myocarditises in Western Europe and North America are caused by cardiotropic viruses [
8
,
9
]. The pattern of viral pathogens associated with myocarditis has evolved over the last 20 years [
10
]. Enteroviruses (particularly coxsackieviruses) have traditionally been considered the most frequent viral agents in myocarditis and DCM [
11
,
12
]. More recently, new molecular techniques have revealed that the most commonly detected viral agents were Parvovirus B19 and human herpesvirus type 6 [
12
,
13
,
14
]. Other previously unrecognized viruses associated with myocarditis with varying degrees of frequency include adenovirus, cytomegalovirus, Epstein–Barr, hepatitis C, herpes simplex type 2, influenza and parainfluenza viruses [
9
,
11
,
13
,
15
,
16
,
17
,
18
,
19
]. In 2010, Bratincsák et al. reported three cases of fulminant myocarditis in a paediatric population associated with the pandemic H1N1 influenza A virus infection, and it is hypothesized that this strain may be more associated with severe forms of myocarditis than other influenza strains [
20
]. Human immunodeficiency virus (HIV) has also been associated with myocarditis, which is often asymptomatic [
21
]. HIV myocarditis may cause both systolic and diastolic dysfunction in paediatric patients [
22
]. Some agents are thought to be responsible for the initiation of these processes and the presence of viral nucleic acid in the myocardium, a common finding in HIV+ children, may be one of them [
23
]. Infection of myocytes with other agents, like fungi, parasites or other viruses other than HIV may be associated with the development of DCM and congestive heart failure [
23
,
24
]. Some drugs used in highly active antiretroviral therapy (HAART) regimens, like Zidovudine, are cardiotoxic themselves [
22
].
Bacteria and other infectious causes, such as protozoa, fungi, and parasites, have been known to cause myocarditis far less commonly than viruses [
25
]. Toxin-producing bacteria, including
Clostridium
and
Diphtheria
, can cause severe myocardial damage, the latter causing myocarditis in countries without widespread immunization [
21
,
26
]. Lyme disease, caused by the spirochete
Borrelia burgdorferi
, can also result in acute myocarditis [
7
]. However, it is considered the least common manifestation of early disseminated Lyme borreliosis in children and progression to DCM is rare [
7
,
27
]. In 2009, Costello et al. reviewed 207 cases of children with early disseminated Lyme disease and found that 16% had myocarditis, 42% of whom had advanced atrioventricular heart block, including 27% with third-degree heart block [
28
]. In Latin-American countries, Chagas disease, which results from an infection due to the protozoan
Trypanosoma cruzi
, is a common cause of acute myocarditis and DCM [
10
,
29
]. In recent years, as a consequence of effective control of the transmission of the protozoan, acute Chagas myocarditis has reduced in Brazil [
7
].
2.2. Hypersensitivity to Drugs and Other Substances
Drugs may also cause myocardial inflammation via a direct cardiotoxic effect or by inducing hypersensitivity reactions [
4
]. Hypersensitivity myocarditis is a rare form of inflammatory disease of the myocardium [
30
]. The molecular basis is poorly understood, but it is thought to be a hypersensitivity reaction to haptens from the cardiotoxic drug [
31
]. This diagnosis should always be suspected when clinical presentation occurs in a setting consistent with drug allergy because of its excellent prognosis after withdrawal of the causative toxin [
32
]. Some agents have been reported to be implicated in hypersensitivity myocarditis in paediatric patients. These include chemotherapeutic drugs, such as anthracyclines, dermatology drugs, like dapsone, and also tetanus and smallpox vaccines [
30
,
33
,
34
,
35
].
3. Myocarditis: A Triphasic Disease Process
6. Differential Diagnoses
Since myocarditis symptoms are not specific, other diseases can present in a similar clinical pattern [
6
,
63
]. In the newborn or infant, sepsis, hypoxia, severe dehydration, hypoglycaemia or anaemia must be ruled out. Other diagnoses should also be excluded, such as endocarditis and endocardial fibroelastosis. Genetic X-linked disorders, like Barth syndrome, as well as congenital structural heart lesions, such as critical coarctation of the aorta or anomalous origin of the left coronary artery from the pulmonary artery or even a cerebral arteriovenous malformation may also be present. In the older child, chronic tachyarrhythmia and pericarditis are two other differential diagnosed conditions to add to the previously listed.
As far as DCM is concerned, only one-third of the patients enrolled in a Paediatric Cardiomyopathy Registry study had a known cause of DCM at diagnosis [
64
]. On the subject of differential diagnoses, it is very important to consider familial DCM, since it comprises 14% of all paediatric DCM cases with a known cause and it carries a worse prognosis than other aetiologies [
65
,
66
,
67
]. Many mutations with autosomal dominant, recessive, X-linked, and mitochondrial inheritance patterns associated with the DCM phenotype have been identified [
68
]. Family cardiac screening may carry some advantages if done quickly, particularly the possibility of avoiding the need for the performance of other invasive and expensive diagnostic tools [
65
]. Other alternate diagnoses consistent with clinical presentation of symptomatic heart failure should be excluded, such as metabolic DCM (comprising 11% of paediatric DCM cases with a known cause), valvular and congenital heart disease (occurring in only 3% of paediatric DCM cases with a known aetiology), bronchiolitis, thyroid disease and chemotherapy-related cardiomyopathy [
66
,
69
,
70
,
71
]. Some genetic disorders, involving 26% of paediatric DCM cases with a known cause, like Emery–Dreifuss muscular dystrophy, Laing distal myopathy or Duchenne and Becker muscular dystrophy should be investigated in idiopathic DCM, after exclusion of all other identifiable causes [
66
,
70
].
7. Diagnosis and Treatment: A Triphasic Approach
Having in mind the triphasic framework of myocarditis, it is helpful to systematize its diagnostic and therapeutic strategies, which are considerably different for each stage of disease [
38
].
7.1. First phase: Viral Replication
7.1.2. Treatment
Management of an early fulminant disease with cardiogenic shock is fundamentally supportive and is not aimed at the causative agent [
7
]. Paediatric patients with severe haemodynamic compromise related to myocarditis require rescue with aggressive support measures, including inotropic therapy and arrhythmia management, which may be life-saving [
95
]. Mechanical circulatory support devices such as ventricular assist devices (VADs) and extracorporeal membrane oxygenator (ECMO) should be considered early in patients who have severely compromised cardiac output despite optimal pharmacological treatment [
4
,
96
,
97
,
98
,
99
].
In initially stable patients or in the ones who survive the initial critical phase, therapy in the first stage of myocarditis may benefit from pharmacological eradication of the responsible viral agent in order to attenuate the cardiac injury [
38
]. However, direct antiviral therapies are only helpful in the small amount of cases in which the viral pathogen has established itself—like ganciclovir for CMV infection—or in the setting of a viral epidemic [
6
,
100
]. In this phase, it is extremely important to avoid both potentially damaging immunosuppression and non-specific antiviral procedures [
6
].
7.2. Second Phase: Autoimmune Activation
7.2.1. Diagnosis
The autoimmune stage is diagnosed by EMB, which may show lymphocytic infiltration [
6
,
38
]. The original description of the histology of inflammation of the myocardium in patients with myocarditis was stated in the qualitative Dallas criteria as the presence of lymphocytic infiltrates in the myocardium associated with myocyte necrosis of non-ischaemic cause [
4
,
101
]. More recently, immunohistochemistry techniques have gained further acceptance in the detection of inflammation in EMBs, contributing to the increased number of EMB revealing myocarditis [
5
,
10
,
102
]. During EMB analysis, specific inflammatory cells can be distinguished by cluster differentiation (CD) [
101
]. Monoclonal antibodies to CD3 and CD68 or CD11 allow the detection and localization of T cells and activated macrophages, respectively [
10
]. CD20 stands for B-cells [
101
]. Human leukocyte antigen (HLA) can be used to detect HLA class II expression in professional antigen-presenting immune cells [
10
,
37
]. The addition of immunohistochemical criteria in the analysis of EMBs has made it possible to quantitatively define myocardial inflammation as focal and diffuse mononuclear infiltrates with >14 leucocytes/mm
2
[
5
,
101
]. T cell subpopulations may include CD4 (helper), CD8 (suppressor) and CD45R0 (memory or activated T-cells) [
101
]. Having these subpopulations in mind, inflammation may be more specifically diagnosed by >7.0 CD3+ lymphocytes/mm
2
and/or >35.0 CD11b+/Mac-1+ macrophages/mm
2
[
103
].
7.3. Third Phase: Dilated Cardiomyopathy
7.3.1. Diagnosis
This phase is identified by the usual imaging tools in order to exclude other causes of dilatation (
Figure 3
and
Figure 4
) [
6
]. When it comes to echocardiography, it is important to acknowledge that even though the most frequent echocardiographic finding associated with myocarditis is a DCM phenotype of left ventricular dilatation and reduced ejection fraction, other parameters of ventricular remodelling may be present in histologically proven myocarditis, including regional hypertrophy and regional wall motion abnormalities [
7
,
124
]. The left ventricle of a patient with acute myocarditis may even lack significant dilatation [
4
].
8. Prognosis
Since a significant number of cases of myocarditis do not get diagnosed due to the unspecific symptoms, its true incidence and outcome remain difficult to characterize [
7
,
61
,
97
,
130
]. A lack of studies aiming to assess the prognosis of paediatric myocarditis adds to the difficulty and the extrapolation of outcomes from the adult to the paediatric population should not be assumed [
97
].
The main outcomes paediatric patients can experience include complete recovery, progression to DCM and death or transplantation [
4
,
61
,
91
]. According to Peta and co-workers' 20-year study of 175 children with myocarditis, survival free from death or transplantation was 74% at one year, 65% at five years, 62% at 10 years, and 56% at 20 years. At 15 years after diagnosis, 60% of the participants remained free from transplantation, of whom 69% achieved echocardiographic normalization of left ventricular function, 96% were free of cardiac symptoms, 80% were not receiving long-term medical therapy, and 4% had an implantable cardioverter-defibrillator [
131
]. Another study including 222 paediatric patients with DCM due to myocarditis revealed a five-year rate of freedom from transplantation of 81% and an estimated survival of 92% at one year and 90% at two and five years [
119
]. In an apparently paradoxical way, patients with fulminant myocarditis have a more favourable long-term survival than patients with acute myocarditis [
61
]. The initial clinical presentation of abrupt-onset haemodynamic instability experienced by these patients requires an aggressive intensive care management, which probably accounts for the better prognosis [
4
,
61
]. According to a Paediatric Cardiomyopathy Registry study, most patients experience normalization of ventricular size and systolic function within several months and it is more likely to occur in patients with a normal left ventricular diastolic diameter or with a greater left ventricular posterior wall thickness [
132
].
9. New Perspectives
Throughout the past few decades, our understanding of the molecular basis of myocarditis has grown, which has allowed the development of many diagnostic and therapeutic innovations [
90
,
118
,
132
].
New molecular technologies have recently been used to characterize upregulations in micro-RNA profiles during the pathological progression of myocarditis [
76
]. Additionally, prevention of remodelling of the myocardium by matrix metalloproteinases and identification of potent novel antivirals and biological medications seem to be appealing treatment concepts and are currently on the radar of some recent studies [
118
]. These promising avenues may lead to future development of interesting and accurate targets for the diagnosis and treatment of myocarditis in paediatric patients.
10. Conclusions
Myocarditis is a potentially life-threatening disease often clinically disguised as a benign one. Its tendency to occur in young patients makes it one of the most frequent causes of DCM in this age group. The amount of research made in experimental animal models in the last few decades has allowed a better understanding of this disease, particularly its triphasic nature. However, assessing an unambiguous prompt diagnosis of myocarditis and correctly staging it probably remains the hardest challenge for clinicians, as this information is useful to initiate a specific treatment and improve the outcome. Therefore, further clinical trials are needed in a quest for novel efficient diagnosis and treatment strategies, which could eventually lead to a reduction in paediatric morbidity and mortality.
Conflicts of Interest
The authors declare no conflict of interest.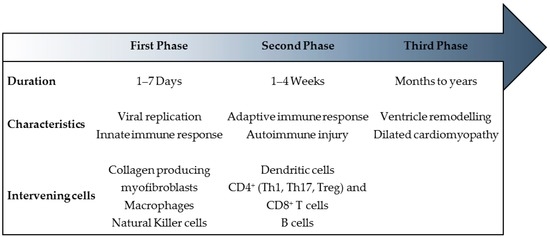 Figure 1. Myocarditis: A triphasic disease. In recent years, myocarditis has been set in a framework of three successive and distinct phases with undefined borders. For each phase, average duration (regarding the case of coxsackievirus-mediated myocarditis), characteristics and physiopathological intervenients are indicated. CD, cluster of differentiation; Th1, T helper 1; Th17, T helper 17; Treg, regulatory T.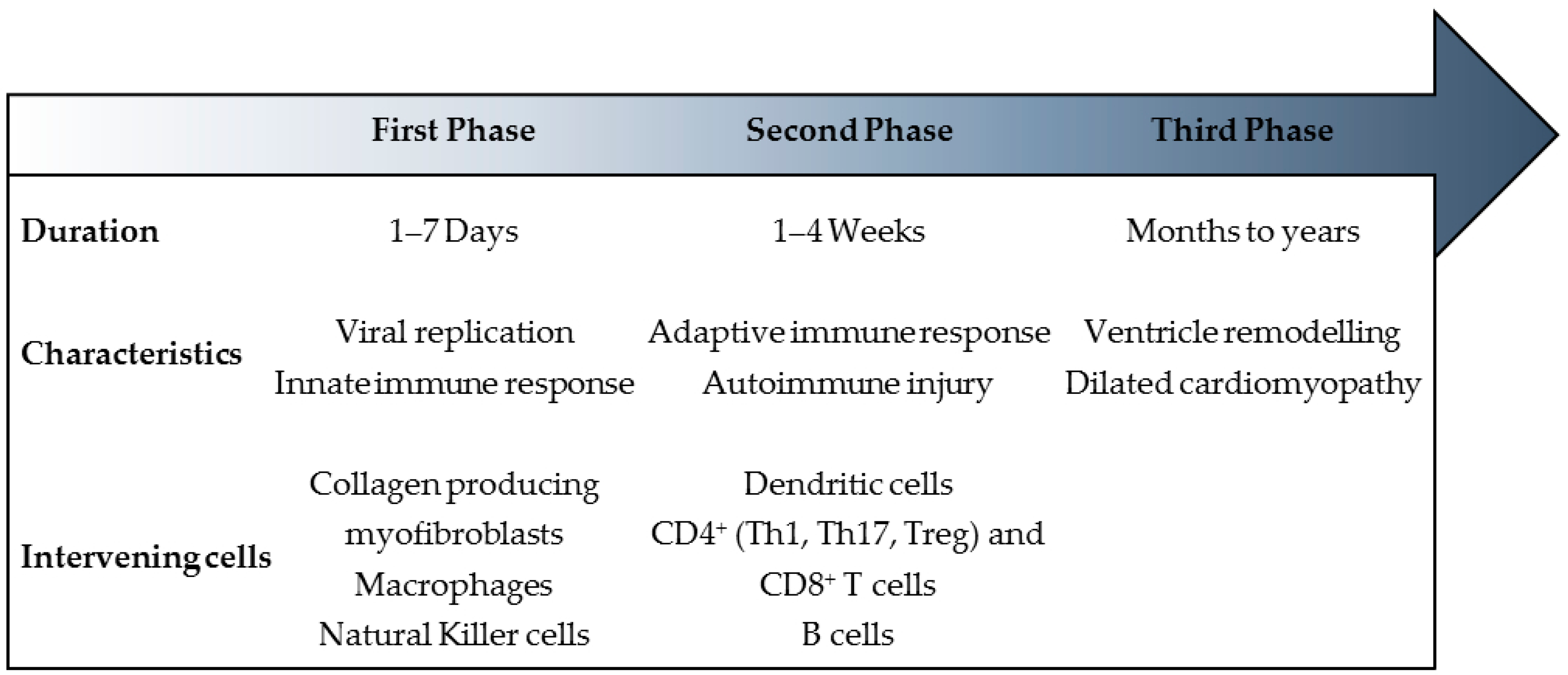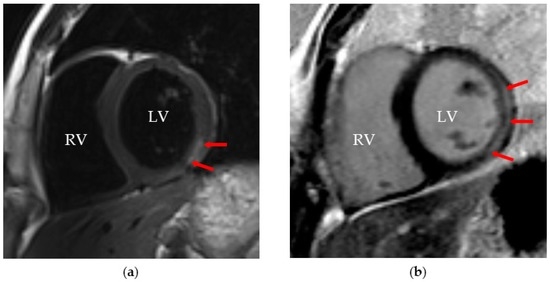 Figure 2. A 15-year-old boy with Epstein–Barr virus myocarditis: (a) a short-axis T2-weighted image demonstrating focal myocardial oedema (red arrows); and (b) a short-axis T1-weighted late gadolinium enhancement image (red arrows). RV, right ventricle; LV, left ventricle.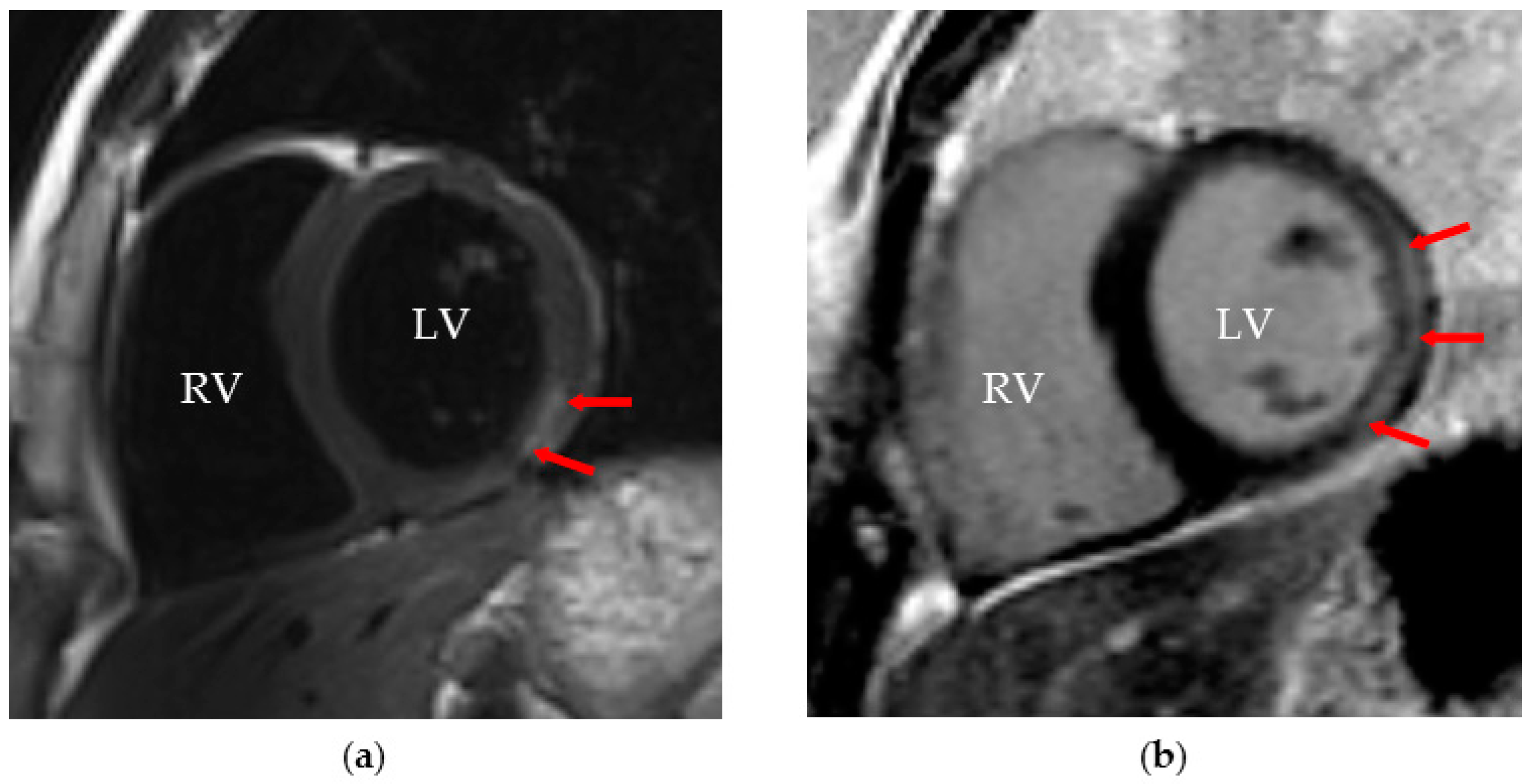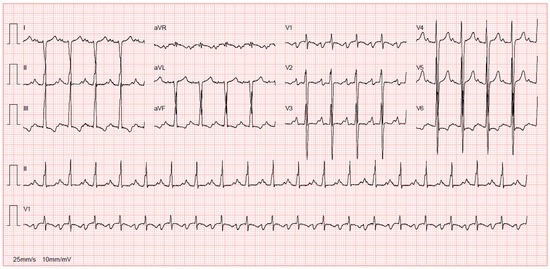 Figure 3. ECG of a 14-year-old girl with familial DCM showing sinus tachycardia, right axis deviation and nonspecific ST-wave changes.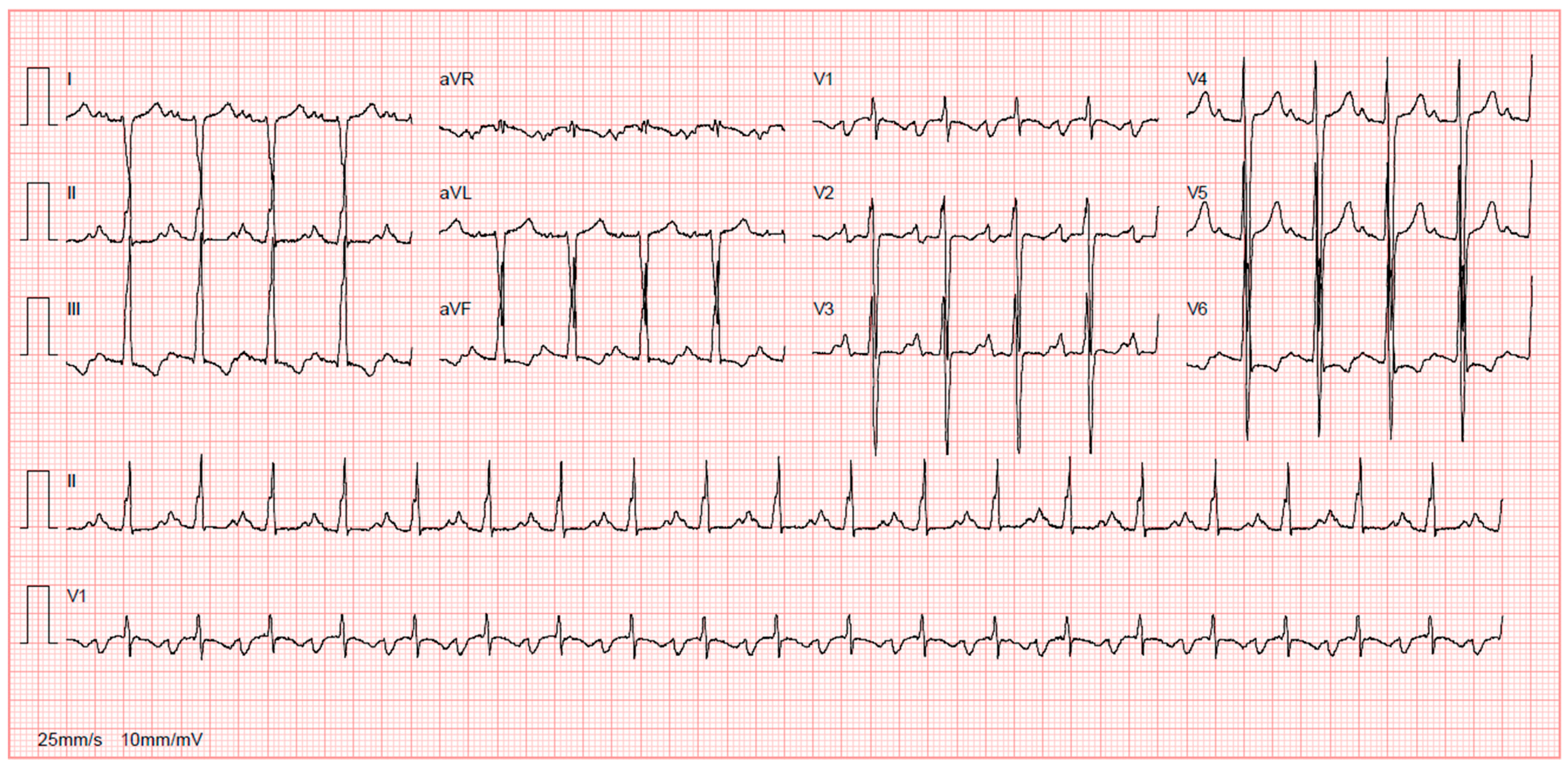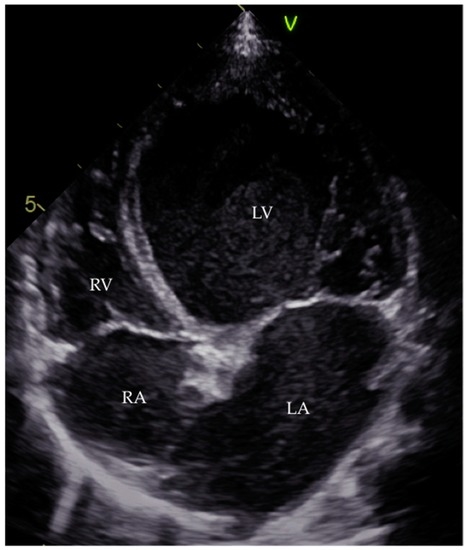 Figure 4. Four-chamber apical view echocardiogram of an 11-month-old boy with DCM. RA, right atrium; LA, left atrium; RV, right ventricle; LV, left ventricle.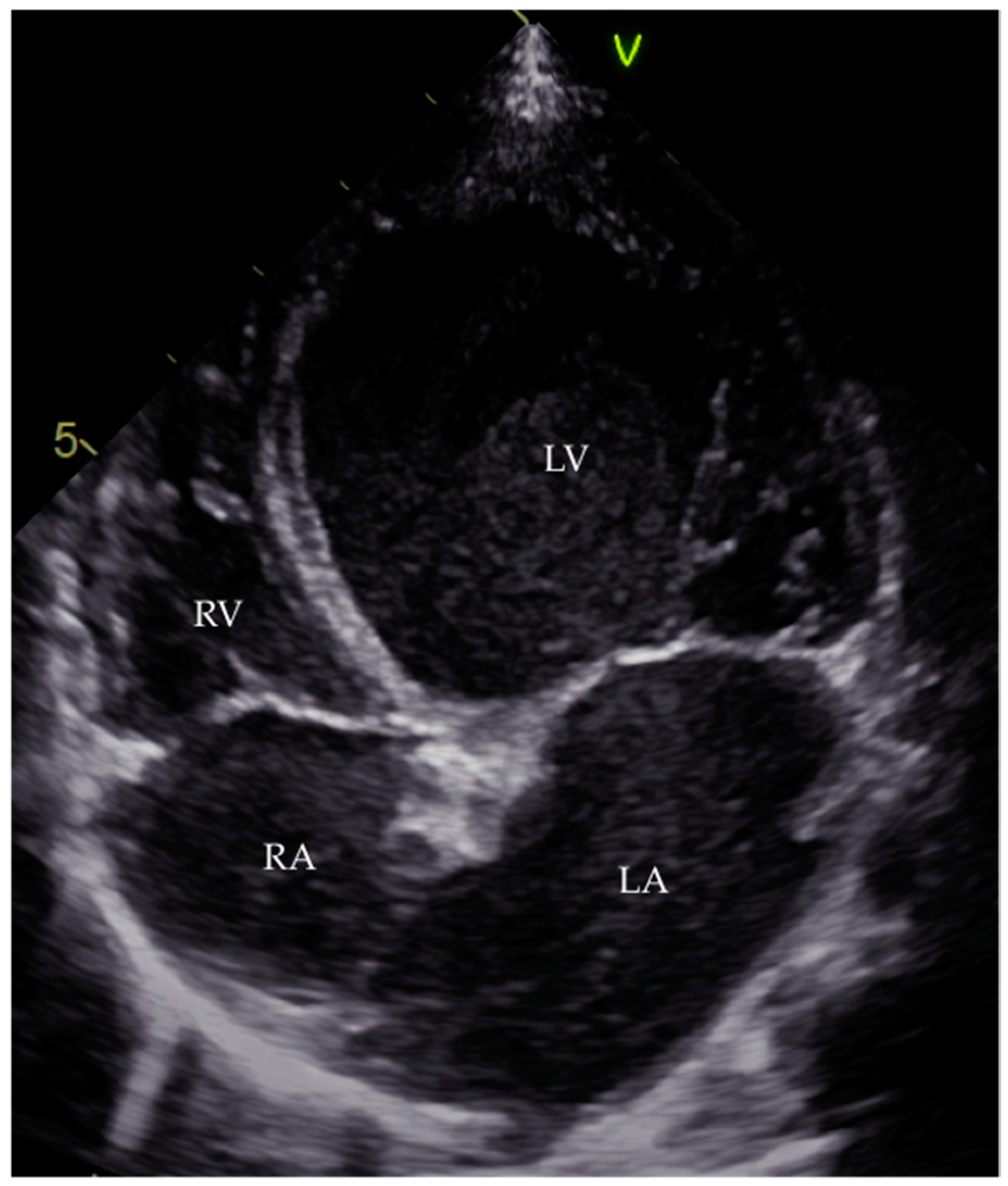 © 2016 by the authors; licensee MDPI, Basel, Switzerland. This article is an open access article distributed under the terms and conditions of the Creative Commons Attribution (CC-BY) license (http://creativecommons.org/licenses/by/4.0/).