Prognosis of Early-Onset
vs.

Late-Onset Mild Cognitive Impairment: Comparison of Conversion Rates and Its Predictors

1

Neurology department, Centro Hospitalar e Universitário de Coimbra, Coimbra 3000-075, Portugal

2

Neurochemistry laboratory, Neurology department, Centro Hospitalar e Universitário de Coimbra, Coimbra 3000-075, Portugal

3

Center for Neuroscience and Cell Biology, Coimbra, Coimbra 3000-075, Portugal

4

Neuropsychology unit, Neurology department, Centro Hospitalar e Universitário de Coimbra, Coimbra 3000-075, Portugal

5

Faculty of Medicine, University of Coimbra, Coimbra 3000-548, Portugal

*

Author to whom correspondence should be addressed.

Academic Editor: Joaquim Cerejeira

Received: 6 December 2015 / Revised: 3 April 2016 / Accepted: 18 April 2016 / Published: 25 April 2016
Abstract
Background: Despite having the same histopathological characteristics, early-onset and late-onset Alzheimer's disease (AD) patients show some distinct clinical and neuropsychological profiles. Early Onset Mild Cognitive Impairment (EOMCI) is a less characterized group. The aim of this study is to characterize MCI probably due to AD in terms of the clinical, genetic, Cerebrospinal fluid (CSF) biomarkers profile and conversion rate of EOMCI, compared to the late-onset form (LOMCI). Methods: 159 MCI patients were divided in two groups: 52 EOMCI (onset < 65 years) and 107 LOMCI (onset ≥ 65 years). We investigated differences in neuropsychological scores, clinical variables, ApoE genotype, CSF biomarkers (Aβ42,
t
-Tau and
p
-Tau) in both groups. Conversion was ascertained during follow-up. Results: EOMCI showed a longer duration of symptoms prior to the first evaluation (EOMCI = 4.57
vs.
LOMCI = 3.31,
p
= 0.008) and scored higher on the subjective memory complaints scale (9.91
vs.
7.85,
p
= 0.008), but performed better in brief cognitive tests (27.81
vs.
26.51,
p
< 0.001 in Mini-Mental State Examination; 19.84
vs.
18.67,
p
= 0.005 in Montreal Cognitive Assessment) than LOMCI. ApoE genotype distribution and CSF biomarker profile were similar in both groups, as was the conversion risk. Lower Aβ42 (Hazard ratio (HR): 0.998, 95% Confidence Interval (CI) = [0.996–1.000],
p
= 0.042), higher
t
-Tau levels (HR: 1.003, 95%CI = [1.000–1.005],
p
= 0.039) and higher scores in the Alzheimer Disease Assessment Scale-Cognitive (HR: 1.186, 95%CI = [1.083–1.299],
p
= 0.002) increased the risk of conversion. Discussion: Despite differences in memory performance and memory complaints, EOMCI and LOMCI seem to represent indistinct biological groups that do not have a higher risk of conversion to AD or differ in risk factors for conversion.
View Full-Text
►

▼

Figures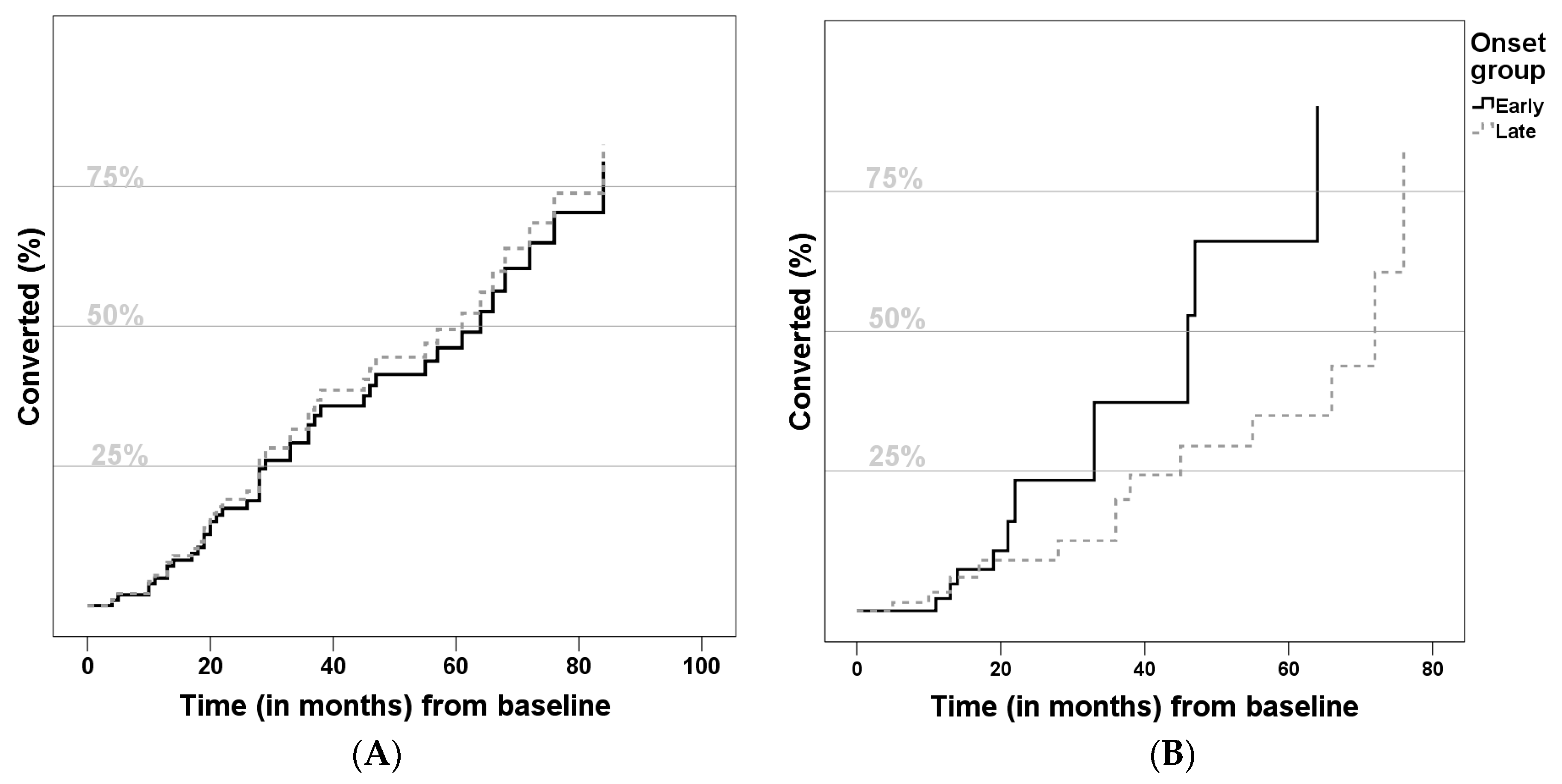 Figure 1
This is an open access article distributed under the
Creative Commons Attribution License
which permits unrestricted use, distribution, and reproduction in any medium, provided the original work is properly cited (CC BY 4.0).

Share & Cite This Article
MDPI and ACS Style
Tábuas-Pereira, M.; Baldeiras, I.; Duro, D.; Santiago, B.; Ribeiro, M.H.; Leitão, M.J.; Oliveira, C.; Santana, I. Prognosis of Early-Onset vs. Late-Onset Mild Cognitive Impairment: Comparison of Conversion Rates and Its Predictors. Geriatrics 2016, 1, 11.
Note that from the first issue of 2016, MDPI journals use article numbers instead of page numbers. See further details here.
Comments
[Return to top]