Genetic Characterization of Indubrasil Cattle Breed Population
1
Faculdade de Agronomia e Medicina Veterinária, Curso de Medicina Veterinária, Universidade de Passo Fundo, BR 285, São José, 99052-900 Passo Fundo, RS, Brazil
2
Docente do programa de Pós-Graduação em Bioexperimentação, Universidade de Passo Fundo, BR 285, São José, 99052-900 Passo Fundo, RS, Brazil
3
Laboratório de Biotecnologia Animal, Departamento de Ciência Animal e Pastagens, Universidade de São Paulo/Escola Superior de Agricultura Luiz de Queiroz, Av. Pádua Dias, 11, 13418-900 Piracicaba, SP, Brazil
4
Mestrando do Curso de Zootecnia, Universidade Federal do Rio Grande do Sul/Faculdade de Agronomia, Av. Bento Gonçalves, 7712, 91540-000 Porto Alegre, RS, Brazil
5
Embrapa Gado de Leite, Rua Eugênio do Nascimento, 610, Dom Bosco, 36038-330 Juiz de Fora, MG, Brazil
*
Author to whom correspondence should be addressed.
Received: 22 October 2018 / Revised: 19 November 2018 / Accepted: 29 November 2018 / Published: 3 December 2018
Abstract
The Indubrasil breed was developed in the Brazilian region called Triângulo Mineiro as a result of a cross between zebu cattle. Initially, it was used as a terminal cross and currently it represents approximately 4.45% of all the Brazilian zebu cattle. Studies were conducted to estimate genetic parameters in the Indubrasil using pedigree information, however, until now, no study has been developed using large-scale genomic markers in this breed. Pedigree information are widely used to investigate population parameters; however, they can neglect some estimates when compared to the use of genomic markers. Therefore, the objective of this study was to investigate the population structure and the genetic diversity of Indubrasil cattle using a high-density Single Nucleotide Polymorphism (SNP) panel (Illumina BovineHD BeadChip 700k). Levels of genomic homozygosity were evaluated using three different approaches: Runs of homozygosity (F
ROH
), % of homozygosis (F
SNP
), and inbreeding coefficient (F
x
). Further, Runs of Homozygosity (ROH) segments conserved among the animals were investigated to identify possible regions associated with the breed characteristics. Our results indicate that even the Indubrasil breed having a small effective population size, the levels of homozygosity (F
ROH
= 0.046) are still small. This was possibly caused by the cross conducted among different breeds for its development. It suggests no immediate risks associated with loss of genetic variation. This information might be used in breeding programs, for the breed conservation and for the expansion of the Indubrasil breed.
View Full-Text
►

▼

Figures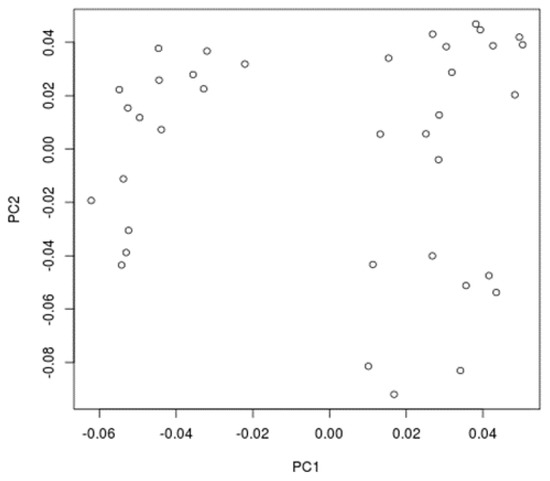 Figure 1
This is an open access article distributed under the
Creative Commons Attribution License
which permits unrestricted use, distribution, and reproduction in any medium, provided the original work is properly cited (CC BY 4.0).

Share & Cite This Article
MDPI and ACS Style
Zanella, R.; Lago, L.V.; Da Silva, A.N.; Pértille, F.; De Carvalho, N.S.; Do Carmo Panetto, J.C.; Zanella, G.C.; Facioli, F.L.; Da Silva, M.V.G. Genetic Characterization of Indubrasil Cattle Breed Population. Vet. Sci. 2018, 5, 98.
Note that from the first issue of 2016, MDPI journals use article numbers instead of page numbers. See further details here.
Related Articles
Comments
[Return to top]