Field Efficacy of an Attenuated Infectious Bronchitis Variant 2 Virus Vaccine in Commercial Broiler Chickens
1
Department of Toxicology and Forensic Medicine, Faculty of Veterinary Medicine, Cairo University, Giza 12211, Egypt
2
Poultry Diseases Department, Faculty of Veterinary Medicine, Beni-Suef University, Beni-Suef 65211, Egypt
3
Reference Laboratory for Veterinary Quality Control on Poultry Production (NLQP), Animal Health Research Institute, P.O. Box 264, Dokki, Giza 12618, Egypt
4
Avian and Rabbit Medicine Department, Faculty of Veterinary Medicine, Suez Canal University, Ismailia 41522, Egypt
5
Poultry Disease Department, Faculty of Veterinary Medicine, Aswan University, Aswan 81528, Egypt
6
Middle East for Veterinary Vaccine Company, Second Industrial Area, El-Salihya El-Gededa, El-Sharkia 44671, Egypt
7
Microbiology Department, Faculty of Veterinary Medicine, Cairo University, Giza 12211, Egypt
*
Authors to whom correspondence should be addressed.
Received: 3 April 2018 / Revised: 25 April 2018 / Accepted: 2 May 2018 / Published: 9 May 2018
Abstract
Egyptian poultry suffer from frequent respiratory disease outbreaks associated with Infectious Bronchitis Virus (IBV) variant 2 strains (Egy/VarII). Different vaccination programs using imported vaccines have failed to protect the flocks from field challenge. Recent studies confirmed a successful protection using homologous strains as live attenuated vaccines. In this study, a newly developed live attenuated IB-VAR2 vaccine representing the GI-23 Middle East IBV lineage was evaluated in day-old commercial broilers in an IBV-endemic area. A commercial broiler flock was vaccinated with the IB-VAR2 vaccine at day-old age followed by IB-H120 at day 16. The vaccinated flock was monitored on a weekly basis till the slaughter age. The health status and growth performance were monitored, and selected viral pathogen real-time RT-PCR (rRT-PCR) detection was conducted on a weekly basis. Finally, the flock was compared to a nearby farm with only the classical IB-H120 vaccination program. Results showed that the IB-VAR2 vaccine was tolerable in day-old broiler chicks. The IBV virus rRT-PCR detection was limited to the trachea as compared to its nephropathogenic parent virus. Respiratory disease problems and high mortalities were reported in the IB-H120-only vaccinated flock. An exposure to a wild-type Egy/VarII strain was confirmed in both flocks as indicated by partial IBV S1 gene sequence. Even though the IB-VAR2-vaccinated flock performance was better than the flock that received only IB-H120, the IBV ELISA (enzyme-linked immunosorbent assay) and log2 Haemagglutination inhibition (HI) antibody mean titers remained high (3128 ± 2713 and ≥9 log2, respectively) until the 28th day of age. The current study demonstrates the safety and effectiveness of IB-VAR2 as a live attenuated vaccine in day-old commercial broilers. Also, the combination of IB-VAR2 and classical IBV vaccines confers a broader protective immune response against IBV in endemic areas.
View Full-Text
►

▼

Figures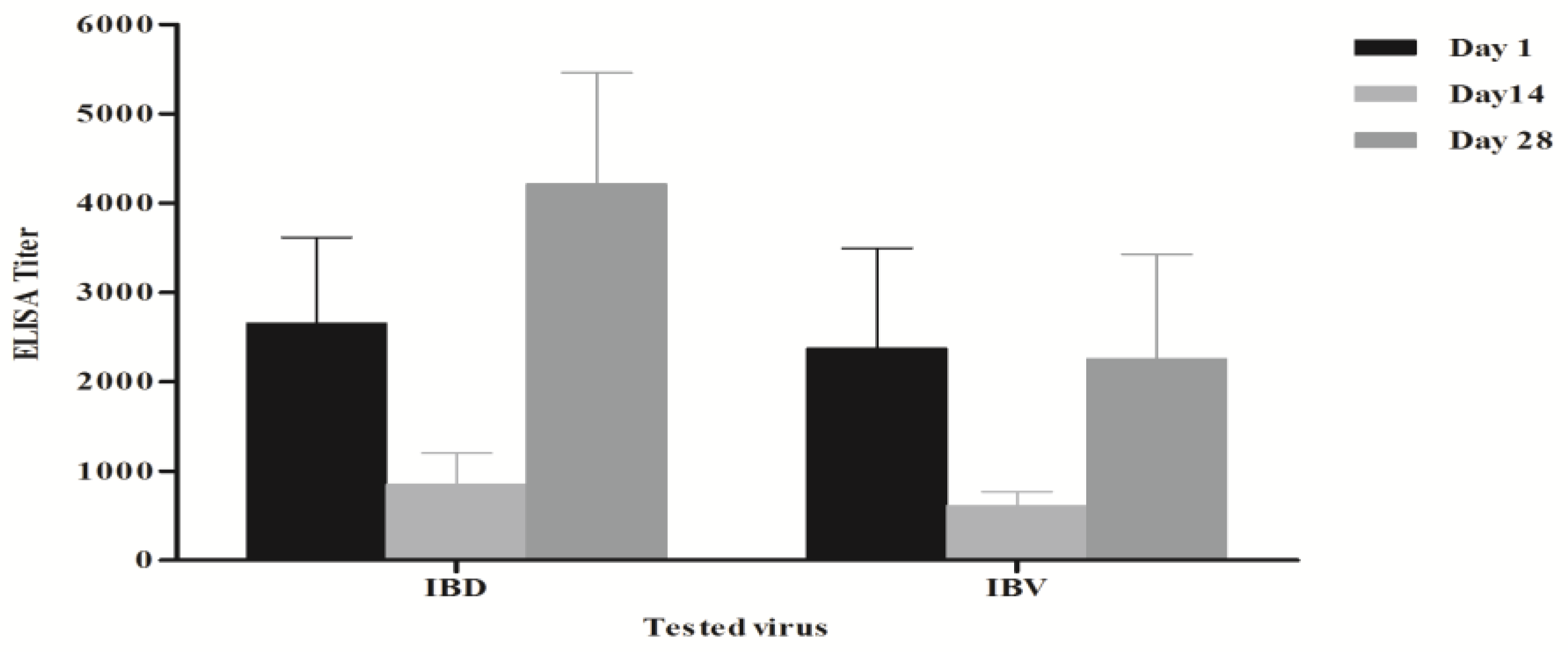 Figure 1
This is an open access article distributed under the
Creative Commons Attribution License
which permits unrestricted use, distribution, and reproduction in any medium, provided the original work is properly cited (CC BY 4.0).

Share & Cite This Article
MDPI and ACS Style
Elhady, M.A.; Ali, A.; Kilany, W.H.; Elfeil, W.K.; Ibrahim, H.; Nabil, A.; Samir, A.; El Sayed, M. Field Efficacy of an Attenuated Infectious Bronchitis Variant 2 Virus Vaccine in Commercial Broiler Chickens. Vet. Sci. 2018, 5, 49.
Note that from the first issue of 2016, MDPI journals use article numbers instead of page numbers. See further details here.
Related Articles
Comments
[Return to top]