Synthesis of Uniform Mesoporous Zeolite ZSM-5 Catalyst for Friedel-Crafts Acylation
1
Department of Chemistry, College of Science, Salahadin University-Hawler, Erbil 44002, Kurdistan Region, Iraq
2
Center of Excellence in Environmental Studies, King Abdulaziz University, Jeddah 21589, Saudi Arabia
3
Department of Nursing, Ishik University, 100 Meter Campus, Erbil 44001, Kurdistan Region, Iraq
4
Departments of Chemistry, College of Science, Universiti Technologi Malaysia (UTM), UTM Skudai 81310, Johor, Malaysia
5
School of Chemical and Process Engineering (SCAPE), University of Leeds, Leeds LS2 9JT, UK
*
Author to whom correspondence should be addressed.
Received: 4 March 2019 / Revised: 29 March 2019 / Accepted: 31 March 2019 / Published: 4 April 2019
Abstract
This work highlights how the treatment of ZSM-5 (parent Zeolite Socony Mobil–5, Si/Al = 23) with different surfactant templates and alkaline solution, improved the catalytic performance in the Friedel-Crafts acylation of anisole with a propionic anhydride to obtain p-methoxypropiophenone. The modified microporous to mesoporous zeolite catalysts were characterized using different analytical techniques, including X-ray diffraction (XRD), nitrogen porosimetry, Fourier-transform infrared spectroscopy (FT-IR), temperature-programmed desorption (ammonia-TPD) and field emission scanning electron microscopy (FE-SEM) to analyze the crystallographic structure, surface acidity, surface area, porosity, morphology, and particle size. The results showed that the formed mesoporous zeolite by NaOH solution had smaller mesopores (ca. 3.7 nm) as compared to the mesoporous zeolites obtained by surfactant templates, such as, CTAB (ca. 14.9 nm), TPAOH (ca. 11.1 nm) and mixture of CTAB/TPAOH (ca. 15.2 nm). The catalytic acylation reaction was conducted in a batch glass reactor at various temperatures and the products were analyzed using off-line gas chromatography–mass spectrometry (GC-MS). It was found that the activity of treated ZSM-5 with mixed surfactant templates (CTAB/TPAOH) exhibited enhanced selectivity towards the main product (p-methoxypropiophenone) by a factor 1.7 or higher than unmodified ZSM-5 due to its increased surface area by 1.5 times and enhanced acid sites.
View Full-Text
►

▼

Figures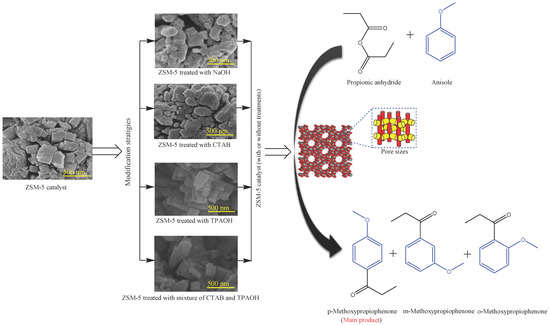 Graphical abstract
This is an open access article distributed under the
Creative Commons Attribution License
which permits unrestricted use, distribution, and reproduction in any medium, provided the original work is properly cited (CC BY 4.0).

Share & Cite This Article
MDPI and ACS Style
Smail, H.A.; Rehan, M.; Shareef, K.M.; Ramli, Z.; Nizami, A.-S.; Gardy, J. Synthesis of Uniform Mesoporous Zeolite ZSM-5 Catalyst for Friedel-Crafts Acylation. ChemEngineering 2019, 3, 35.
Note that from the first issue of 2016, MDPI journals use article numbers instead of page numbers. See further details here.
Comments
[Return to top]