Liquiritin and Liquiritigenin Induce Melanogenesis via Enhancement of p38 and PKA Signaling Pathways
1
Department of Pharmacognosy, Faculty of Pharmaceutical Sciences, Nagasaki International University, 2825-7 Huis Ten Bosch, Sasebo, Nagasaki 859-3298, Japan
2
Department of Health and Nutrition, Faculty of Health Management, Nagasaki International University, 2825-7 Huis Ten Bosch, Sasebo, Nagasaki 859-3298, Japan
*
Author to whom correspondence should be addressed.
Received: 21 May 2019 / Revised: 17 June 2019 / Accepted: 21 June 2019 / Published: 22 June 2019
Abstract
Background:
Liquiritin (LQ) and its aglycone, liquiritigenin (LQG), are major flavonoids in licorice root (
Glycyrrhiza
spp.). Our preliminary screening identified LQ and LQG, which promote melanin synthesis in the melanoma cells. In this study, we investigated the molecular mechanism of melanin synthesis activated by LQ and LQG.
Methods:
Murine (B16-F1) and human (HMVII) melanoma cell lines were treated with LQ or LQG. After incubation, melanin contents, intracellular tyrosinase activity, and cell viability were evaluated. Protein levels were determined using Western blotting.
Results:
LQ and LQG activated melanin synthesis and intracellular tyrosinase activity. The induction of melanin and intracellular tyrosinase activity by LQG was higher than that by LQ. LQ and LQG induced the expression of tyrosinase, tyrosinase-related protein (TRP)-1, and TRP-2. LQ and LQG also enhanced microphthalmia-associated transcription factor (MITF) expression, and cyclic AMP-responsive element-binding protein (CREB) phosphorylation. The phosphorylation of p38 and extracellular signal-regulated kinase (ERK), but not Akt, was significantly increased by LQ or LQG. Furthermore, LQ- or LQG-mediated melanin synthesis was partially blocked by p38 inhibitor (SB203580) and protein kinase A (PKA) inhibitor (H-89); however, ERK kinase (MEK) inhibitor (U0126) and phosphatidylinositol-3-kinase (PI3K) inhibitor (LY294002) had no effect.
Conclusions:
The results suggest that LQ and LQG enhance melanin synthesis by upregulating the expression of melanogenic enzymes, which were activated by p38 and PKA signaling pathways, leading to MITF expression and CREB phosphorylation.
View Full-Text
►

▼

Figures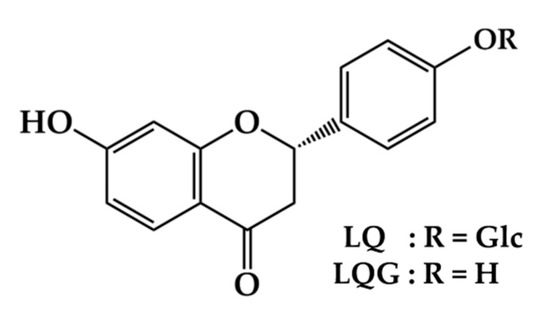 Figure 1
This is an open access article distributed under the
Creative Commons Attribution License
which permits unrestricted use, distribution, and reproduction in any medium, provided the original work is properly cited (CC BY 4.0).

Share & Cite This Article
MDPI and ACS Style
Uto, T.; Ohta, T.; Yamashita, A.; Fujii, S.; Shoyama, Y. Liquiritin and Liquiritigenin Induce Melanogenesis via Enhancement of p38 and PKA Signaling Pathways. Medicines 2019, 6, 68.
Note that from the first issue of 2016, MDPI journals use article numbers instead of page numbers. See further details here.
Related Articles
Comments
[Return to top]