Antioxidant, Cytotoxic, and Antimicrobial Activities of
Glycyrrhiza glabra

L.,

Paeonia lactiflora

Pall., and

Eriobotrya japonica

(Thunb.) Lindl. Extracts

Institute of Pharmacy and Molecular Biotechnology, Heidelberg University, Im Neuenheimer Feld 364, 69120 Heidelberg, Germany

*

Author to whom correspondence should be addressed.

Received: 27 February 2019 / Revised: 18 March 2019 / Accepted: 27 March 2019 / Published: 30 March 2019
Abstract
Background:
The phytochemical composition, antioxidant, cytotoxic, and antimicrobial activities of a methanol extract from
Glycyrrhiza glabra
L. (Ge), a 50% ethanol (in water) extract from
Paeonia lactiflora
Pall. (Pe), and a 96% ethanol extract from
Eriobotrya japonica
(Thunb.) Lindl. (Ue) were investigated.
Methods:
The phytochemical profiles of the extracts were analyzed by LC-MS/MS. Antioxidant activity was evaluated by scavenging 2,2-diphenyl-1-picrylhydrazyl (DPPH) and 2,2′-azino-bis (3-ethylbenzothiazoline-6-sulphonic acid) (ABTS) radicals and reducing ferric complexes, and the total phenolic content was tested with the Folin–Ciocalteu method. Cytotoxicity was determined with a 3-(4,5-dimethylthiazol-2-yl)-2,5-diphenyltetrazolium bromide (MTT) assay in murine macrophage RAW 264.7 cells. Antimicrobial activity of the three plant extracts was investigated against six bacterial strains with the broth microdilution method.
Results:
Only Pe showed high antioxidant activities compared to the positive controls ascorbic acid and (−)-epigallocatechin gallate (EGCG) in DPPH assay; and generally the antioxidant activity order was ascorbic acid or EGCG > Pe > Ue > Ge. The three plant extracts did not show strong cytotoxicity against RAW 264.7 cells after 24 h treatment with IC
50
values above 60.53 ± 4.03 μg/mL. Ue was not toxic against the six tested bacterial strains, with minimal inhibitory concentration (MIC) values above 5 mg/mL. Ge showed medium antibacterial activity against
Acinetobacter bohemicus
,
Kocuria kristinae
,
Micrococcus luteus
,
Staphylococcus auricularis
, and
Bacillus megaterium
with MICs between 0.31 and 1.25 mg/mL. Pe inhibited the growth of
Acinetobacter bohemicus
,
Micrococcus luteus
, and
Bacillus megaterium
at a MIC of 0.08 mg/mL.
Conclusions:
The three extracts were low-cytotoxic, but Pe exhibited effective DPPH radical scavenging ability and good antibacterial activity; Ue did not show antioxidant or antibacterial activity; Ge had no antioxidant potential, but medium antibacterial ability against five bacteria strains. Pe and Ge could be further studied for their potential to be developed as antioxidant or antibacterial candidates.
View Full-Text
►

▼

Figures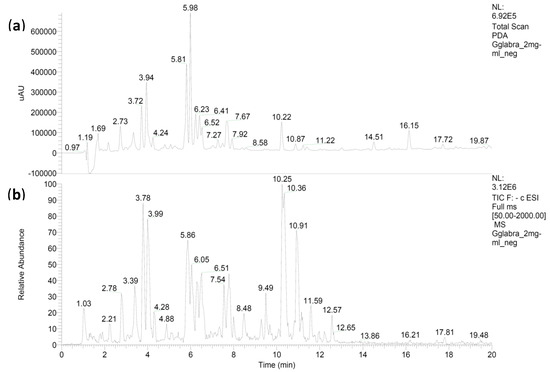 Figure 1
This is an open access article distributed under the
Creative Commons Attribution License
which permits unrestricted use, distribution, and reproduction in any medium, provided the original work is properly cited (CC BY 4.0).

Share & Cite This Article
MDPI and ACS Style
Zhou, J.-X.; Braun, M.S.; Wetterauer, P.; Wetterauer, B.; Wink, M. Antioxidant, Cytotoxic, and Antimicrobial Activities of Glycyrrhiza glabra L., Paeonia lactiflora Pall., and Eriobotrya japonica (Thunb.) Lindl. Extracts. Medicines 2019, 6, 43.
Note that from the first issue of 2016, MDPI journals use article numbers instead of page numbers. See further details here.
Related Articles
Comments
[Return to top]