Ultra-Low-Level Laser Therapy and Acupuncture Libralux: What Is so Special?
1
MMDD Centre of Pain Therapy and Angiology Cassino (FR), 03043 Cassino (FR), Italy
2
FKT Fisiocrea Srl Baldissero Canavese, 10080 Baldissero Canavese (TO), Italy
3
FKT Freelance, Via C. Colombo, 00124 Rome, Italy
4
FKT Rehability Center Padova, 35132 Padova, Italy
5
MD Ophthalmologist Acupuncturist Oculistica Viva Eye Clinic Bologna, Via U. Lenzi, 40122 Bologna, Italy
6
MD Prof. IRET Foundation, 40064 Ozzano Emilia, Bologna, Italy; Interdepartmental Centre for Industrial Research in Health Sciences and Technologies, University of Bologna, 40136 Bologna, Italy
7
Eng. Freelance MD Consultant, Sal. Maggiolo di Nervi, 16167 Genova, Italy
*
Author to whom correspondence should be addressed.
Received: 19 February 2019 / Revised: 5 March 2019 / Accepted: 12 March 2019 / Published: 14 March 2019
Abstract
Background
: Contrary to the most credited theories on laser therapy that see power/energy as the major factors to its effectiveness, a technique using an extremely low power/energy laser stimulation to treat musculoskeletal pain and dysfunction is proposed. The stimulus consists of a 20 s train of modulated pulses with an average power below 0.02 mW and is applied on sequences of acupuncture points selected according to the impaired segment of the patient's body.
Methods
: Modifications on the extracellular soft tissue matrix and on the "fascia" were sonographically demonstrated. Laboratory and clinical tests confirmed the effectiveness.
Results
: Responses similar to those experienced in acupuncture were observed. The device—a CE Class IIa certified medical device named Libralux—affords a clinically proven effectiveness exceeding 80% in the treatment of musculoskeletal conditions and associated motor dysfunctions. An average of just three application sessions was generally sufficient to overcome the dysfunction.
Conclusions
: The development of the method is supported by over 20 years of R&D activities, with a range of experiments discussed in several papers published in indexed peer-reviewed journals. A few considerations regarding the possible physiological action mechanisms involved are proposed in this paper.
View Full-Text
►

▼

Figures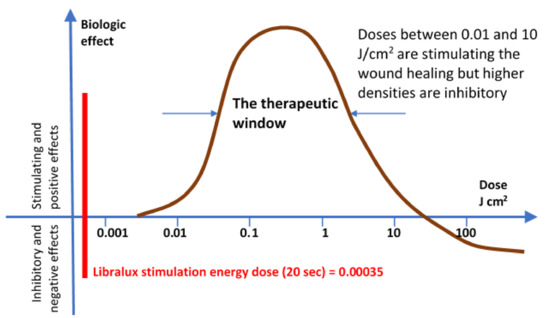 Figure 1
This is an open access article distributed under the
Creative Commons Attribution License
which permits unrestricted use, distribution, and reproduction in any medium, provided the original work is properly cited (CC BY 4.0).

Share & Cite This Article
MDPI and ACS Style
Evangelista, L.; De Meo, B.; Bernabei, G.; Belloni, G.; D'Angelo, G.; Vanzini, M.; Calzà, L.; Gallamini, M. Ultra-Low-Level Laser Therapy and Acupuncture Libralux: What Is so Special? Medicines 2019, 6, 40.
Note that from the first issue of 2016, MDPI journals use article numbers instead of page numbers. See further details here.
Related Articles
Comments
[Return to top]