Open Access This article is
freely available
re-usable
Review
Assessing the Role of Artificial Intelligence (AI) in Clinical Oncology: Utility of Machine Learning in Radiotherapy Target Volume Delineation
1
Department of Clinical Oncology, Leeds Cancer Centre, St James's Institute of Oncology, Leeds Teaching Hospitals NHS Trust, Leeds LS9 7TF, UK
2
Department of Radiology, Worcestershire Acute Hospitals NHS Trust, Worcester WR5 1DD, UK
3
Worcestershire Oncology Centre, Worcestershire Acute Hospitals NHS Trust, Worcester WR5 1DD, UK
*
Author to whom correspondence should be addressed.
Received: 30 November 2018 / Accepted: 7 December 2018 / Published: 11 December 2018
Abstract
:
The fields of radiotherapy and clinical oncology have been rapidly changed by the advances of technology. Improvement in computer processing power and imaging quality heralded precision radiotherapy allowing radiotherapy to be delivered efficiently, safely and effectively for patient benefit. Artificial intelligence (AI) is an emerging field of computer science which uses computer models and algorithms to replicate human-like intelligence and perform specific tasks which offers a huge potential to healthcare. We reviewed and presented the history, evolution and advancement in the fields of radiotherapy, clinical oncology and machine learning. Radiotherapy target delineation is a complex task of outlining tumour and organ at risks volumes to allow accurate delivery of radiotherapy. We discussed the radiotherapy planning, treatment delivery and reviewed how technology can help with this challenging process. We explored the evidence and clinical application of machine learning to radiotherapy. We concluded on the challenges, possible future directions and potential collaborations to achieve better outcome for cancer patients.
Keywords:
artificial intelligence (AI); clinical oncology; deep learning; image guided radiotherapy (IGRT); intensity modulated radiotherapy (IMRT); machine learning; radiotherapy; stereotactic ablative radiotherapy (SABR); target volume delineation; volumetric modulated arc therapy (VMAT)
1. Overview of Evolution and Advancement in Radiotherapy
2. Radiotherapy Planning, Target Volume Delineation and Quality Assurance
3. Artificial Intelligence, Machine Learning and Deep Learning
4. Application of Machine Learning in Radiotherapy Target Delineation
The process of manual contouring of tumour volumes and OARs in the radiotherapy target delineation process is a complex, labour intensive and time-consuming process. ML approach has been explored to help with this process by way of auto-delineate or producing auto-contours either to the tumour or normal structures.
5. Application of Machine Learning in Radiotherapy Delivery and Image Guided Radiotherapy
At present, many modern radiotherapy linear particle accelerators (Linac) have the capacity to perform daily "cone-beam" CT scans that use megavoltage X-rays for treatment verification [
23
]. These images have poor discrimination of soft tissue structures but, as these images are utilised to match the treatment plans to patients' day to day anatomy and reduce intra-fractional shifts, it is considered acceptable for current usage for image guided radiotherapy.
If the on-set cone-beam megavoltage CT scans does show significant anatomical changes such as weight loss or tumour movement (particularly in head and neck radiotherapy plans), this will trigger a manual decision to repeat a conventional CT planning scan using kilovoltage X-rays. These kilovoltage X-ray CT scans will have sufficient contrast between soft tissue structures to allow re-contouring and re-planning of each patient's radiotherapy plans.
Each of these steps will require significant manual input, in the case of daily reviews of the cone-beam images, by at least one (1), if not two (2) experienced treatment radiographer(s) to review each cone-beam image daily prior to delivery of the radiotherapy dose. If the said radiographer(s) were to notice significant anatomical mismatches, this will trigger either a senior radiographer, medical physicist or consultant clinical oncologist (or all of them) to decide on the suitability of treatment delivery or to delay and repeat kilovoltage X-ray CT planning scans. Each of these steps delays patient treatments and results in significant increase in workload for the department.
In addition, with the development of magnetic resonance imaging technology combined with conventional linear accelerators [
13
], the ability of technology to generate vast quantities of additional imaging data will require extra training for treatment radiographers, medical physicists and consultant clinical oncologists in order to safely utilise these newer technologies, let alone for the benefit to accrue to patients. This all opens the path to have machine learning growing in parallel with the training programme for medical and allied health professional staff.
The ability of current staff to cope with the growing workload as well as to innovate and benefit from modern technology is limited by access to sufficient human resources. Humans working together with machine learning will shorten the time needed to train staff as the algorithm can "learn" as well as train staff. This is best demonstrated by the rapid developments of modern chess players in rapidly learning hundreds of years of chess developments in a matter of months by repetitively training against the best computer AI programmes. A deep learning programme trained only for hours from first principle to play chess has managed to attain world champion status [
44
].
6. Opportunity and Challenges to Application of Machine Learning Approach to Oncology and Radiotherapy
7. Conclusions
Machine learning has and will probably continue to evolve rapidly with wide-ranging application to oncology and radiotherapy. Most of the software and models for radiotherapy target delineation or oncology available at this point in time are not yet used in the routine clinical setting, although improvements are expected with time. There are roles for AI in radiotherapy target delineation such as repetitive tasks, contouring of reproducible organ structures and others but it will be with clinician oversight.
Prior to any application to healthcare, AI needs to be validated, tested for reliability and have a robust quality assurance before it can gain the confidence of clinicians and patients to be introduced safely to routine clinical use. Understanding both the capability and, equally essential, the limitation and potential failures of AI is paramount before adapting AI into healthcare.
Crosstalk between computer scientists and oncologists is essential to ensure the full capability and potential of the technology is achieved. Both fields are very complex with the needs of oncologist often not known to computer scientists while the skills and capability of computer scientists can often be obscured by the nuances of computer science to the medical community. Close collaboration is essential so that we are not revisiting another "AI winter" but rather an "AI spring" heralding to a new dawn of digital healthcare for the benefit of our patients.
Author Contributions
I.S.B. concept, review and first draft; T.P.T.A.Y. revision; C.S.B. concept and revision.
Funding
This research received no external funding.
Acknowledgments
We wish to acknowledge and thank Daniel Park and Leeds Teaching Hospitals NHS Trust Library and Evidence Research Centre for assistance in literature search.
Conflicts of Interest
The authors declare no conflict of interest.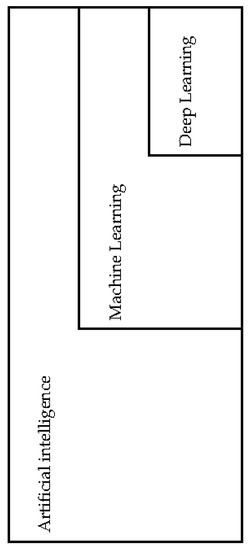 Figure 1. A diagrammatic representation in an attempt to reflect the overlapping domains and relationship of the fields of artificial intelligence, machine learning and deep learning.

Table 1. Relevant publications on machine learning approaches to radiotherapy target delineation. Abbreviations: organ at risk (OAR), computed tomography (CT), Dice similarity coefficient (DSC), magnetic resonance imaging (MRI), clinical target volume (CTV).
| Publication | Cancer Site | Machine Learning Method | Target Volume Delineation | Radiotherapy Planning Modality | Number of Patients | Validation | Outcome and Important Features |
| --- | --- | --- | --- | --- | --- | --- | --- |
| Nikolov S [32] | Head and neck | Deep Learning | OAR | CT | 663 | Compared against manual contours by senior radiographers adjudicated by senior consultant clinical oncologist | 19 out of 21 OAR surface DSC scores less than 5% deviation when compared to clinician manual contours. Did not achieved target for brainstem and right lens |
| Li Q [37] | Head and neck | Deep Learning | Tumour | MRI | 29 | Compared against manual contours by consultant clinical oncologists | Mean DSC 0.89. Good agreement when compared to manual contours |
| Cardenas CE [38] | Head and neck | Deep Learning | High risk CTV | CT | 52 | Compared against manual contours by clinicians | Median DSC 0.81. Good agreement when compared to manual contours by clinicians with only minor or no change |
| McCarroll R [39] | Head and neck | Machine Learning | OAR | CT | 128 | Compared against manual contours by consultant clinical oncologist | Mean DSC 0.78. Once validated was used in clinical setting and prospectively tested with accuracy of 63%. 50% of auto-contours were used without changes |
| Speight R [40] | Head and neck | Machine Learning | CTV | CT | 15 | Auto-contours edited by clinicians compared against manual contours by clinician | Edited CTV DSC 0.87. Mean clinician time saved by 112 min per plan when compared to manual contours |
| Martin S [41] | Prostate | Machine Learning | Tumour | MRI | 15 | Compared against manual contours by 5 clinicians of varying experience | 3 phases of trial. Mean DSC 0.89. Good agreement with clinician contours requiring minimal changes. Time saved in all cases |
| Lustberg T [42] | Lung | Deep Learning | OAR | CT | 20 | Compared against manual contours by a single radiotherapy technician | Median DSC 0.57 and median time saved by 79%. Saved time in lung and spinal cord contouring but not for left lung and oesophagus |
| Bell LR [43] | Breast | Machine Learning | Tumour | CT | 28 | Compared against manual contours by 8 clinicians | DSC more than 0.70. Good agreement with clinician manual contours. Coverage agreement poorest towards heart border structures |

© 2018 by the authors. Licensee MDPI, Basel, Switzerland. This article is an open access article distributed under the terms and conditions of the Creative Commons Attribution (CC BY) license (http://creativecommons.org/licenses/by/4.0/).