Open Access This article is
freely available
re-usable
Review
Pharma-Nutritional Properties of Olive Oil Phenols. Transfer of New Findings to Human Nutrition
1
Laboratory of Functional Foods, Madrid Institute for Advanced Studies (IMDEA)-Food, CEI UAM + CSIC, 28049 Madrid, Spain
2
Laboratory of Epigenetics of Lipid Metabolism, Madrid Institute for Advanced Studies (IMDEA)-Food, CEI UAM + CSIC, 28049 Madrid, Spain
3
Department of Molecular Medicine, University of Padova, Viale G. Colombo 3, 35121 Padova, Italy
†
These authors contributed equally to this work.

Received: 15 May 2018 / Accepted: 7 June 2018 / Published: 11 June 2018
Abstract
:
The Mediterranean diet has been long associated with improved cardiovascular prognosis, chemoprevention, and lower incidence of neurodegeneration. Of the multiple components of this diet, olive oil stands out because its use has historically been limited to the Mediterranean basin. The health benefits of olive oil and some of its components are being rapidly decoded. In this paper we review the most recent pharma-nutritional investigations on olive oil biophenols and their health effects, chiefly focusing on recent findings that elucidate their molecular mechanisms of action.
Keywords:
olive oil; biophenols; Mediterranean diet; pharma-nutrition; cardiovascular disease
2. Pharma-Nutritional Actions: A Summary of Recent Evidence
2.1. Cardioprotection
Most pharma-nutritional studies with olive oil biophenols are being carried out in the cardiovascular arena (note that we will use the term "biophenols" throughout the text because extra virgin olive oil contains a large variety of molecules, many of which are non-phenolic in nature). In vitro experiments with pure HT started 25 years ago [
9
] and led to the European Food Safety Authority (EFSA, Parma, Italy) granting HT a (somewhat debated) health claim based on this activity [
10
]. This is—in part—the result of many animal and human studies that have been performed in various experimental conditions; the vast majority indicate that olive oil biophenols do modulate a variety of surrogate markers of cardiovascular disease (CVD) [
3
]. We discuss the molecular actions below, but it is worth underscoring that investigation on the healthful potential of olive oil biophenols, namely HT, is very advanced and includes nutrigenomic [
11
] and proteomic studies [
12
] (vide infra). In terms of surrogate marker modulation, the effects of HT on cholesterol concentrations are apparently modest, yet other risk factors of CVD are positively modulated by olive biophenols [
3
]. One lipid-related example is that of HDL particles, for which functionality is improved by EVOO biophenols [
13
].
2.2. Chemprevention of Cancer
2.3. Neurodegeneration
One of the major challenges of current public health policy is the increasing prevalence of mental illness and neurodegenerative diseases, which is largely due to the rapid aging of the Western, i.e., European and American population. In socio-economic terms, this phenomenon is placing a heavy burden on national health care systems and on the overall population. Preventive strategies are indispensable and the most effective one is the early adoption of a healthy lifestyle and appropriate diet.
Epidemiological studies [
23
,
24
] have consistently associated olive oil consumption with better cognition. Moreover, several meta-analyses of observational studies suggest that using olive oil as the main culinary fat can reduce the incidence of depression [
25
,
26
]. Even though these association might be casual, some ad hoc studies with olive biophenols are being undertaken. One example is that of HT, which was able to restore proper insulin signaling in an in vitro model of Alzheimer's disease (AD) [
27
]. It is also noteworthy that Qosa et al. tested the effects of EVOO [
28
] and of oleocanthal (OC) [
29
] in a transgenic mouse model of AD. They reported lower beta-amyloid deposition, which corroborates the scant in vitro data available thus far.
2.4. Absorption, Distribution, Metabolism, and Elimination (ADME)
As in traditional pharmacology, pharma-nutrition studies gain credibility and strength when they assess and elucidate absorption, distribution, metabolism, and elimination of the putative active compound. In the case of olive oil and its phenolic components, the first evidence of human absorption was published in the year 2000 [
30
]. At the time, there were no available techniques to evaluate plasma concentrations of biophenols. Therefore, only urinary metabolites were measured. Subsequent studies confirmed and expanded those findings [
31
]. To date, the most comprehensive and technologically-advanced study is that of Pastor et al. [
32
]. In that study, the authors report C
max
of HT of 2.8 10
−6
mol/L, following ingestion of EVOO. HT excretion can also be evaluated after the administration of an olive mill waste water (OMWW) preparation devoid of secoroidoids. Khymenets et al. measured HT urinary concentrations and reported HT-S-3' as the major metabolite [
33
]. Of note, Gonzalez-Santiago et al. [
34
] described the association of HT to LDL after intake of the pure molecule. This might be important in light of the purported activities of HT in reducing ox-LDL concentrations, as per the EFSA health claim.
In short, there is plenty of information available on the ADME of HT in humans and rats. Of note, D'Angelo et al. had access to tritiated HT and reported its accumulation in the rat brain (the only such piece of evidence thus far) [
35
]. In summary, accumulated research indicates the low bioavailability of HT (common to nearly all biophenols) and therefore, strategies are in place to create formulations to overcome this issue.
2.5. Toxicity
EVOO consumption—of course—is safe and the only drawback of excessive use is heightened caloric intake. In light of the use of olive biophenols as nutraceuticals or functional foods ingredients, international bodies require proof of absence of toxicity. HT has been tested in a variety of models and a NOAEL of 500 mg/kg/d has been proposed [
36
,
37
]. The recent Novel Food (NF) status granted to HT outlines that "Taking into account that the anticipated daily intake of the NF would be in the range of or even less than the exposure of HT from the consumption of olive oils and olives, which has not been associated with adverse effects, and considering the similar kinetics of HT in rats and humans, […..] the Margin of Exposure for the NF at the intended uses and use levels is sufficient for the target population. The EFSA Panel concludes that the novel food, HT, is safe under the proposed uses and use levels" [
38
]. Finally, HT is generally recognized as safe (GRAS) in the USA and, in summary, there is no clear evidence of toxicity even at high doses.
In any event, caution should be exerted when using any kind of supplements/functional foods in the absence of clear health benefits and as a replacement for a healthful and balanced diet.
3. Molecular Insights into Mechanisms of Action
Reactive oxygen species (ROS) and reactive nitrogen species (RNS) are important inflammatory effectors contributing to the elimination of invading pathogens and supporting tissue repair, accelerating the resolution of inflammation. However, ROS/RNS can trigger the generation of inflammatory initiators (e.g., inflammatory cytokines) and damage macromolecules such as lipids, proteins, and nucleic acids. This damage eventually leads to cell death and tissue deterioration [
39
], which stimulates the development of several diseases, including those of a neurodegenerative nature [
40
], atherosclerosis [
41
], metabolic syndrome (MS) [
42
], type 2 diabetes (T2DM) [
43
], liver diseases [
44
], and cancer [
45
].
Numerous studies performed with animal and cell models suggest that biophenol intake may be beneficial for the prevention and adjuvant treatment of such diseases [
46
]. In particular, olive oil and its phenolic compounds exert beneficial health effects that encompass anti-inflammatory and antioxidant (direct or indirect) mechanisms, as reflected in many reviews [
47
,
48
,
49
,
50
,
51
]. We will briefly review recent evidence arising from studies carried out in the most recent decade (especially in the last lustrum), pointing to the protective effects of olive oil and its phenolic compounds in the context of neurodegenerative disease, CVD, liver disease, cancer, and rheumatic disease.
4. Cardiovascular Disease, Metabolic Syndrome, Type 2 Diabetes
It should be underscored that the oxidative stress hypothesis is still debated following the null results of antioxidant trials. Therefore, the true contribution of antioxidant actions (unlikely to be direct due to the low bioavailability of biophenols) to cardioprevention is yet to be fully elucidated.
5. Neurodegenerative Diseases
6. Hepatic Dysfunction
Continued liver damage can lead to chronic liver diseases, such as simple steatosis and steatohepatitis (steatosis with inflammation and hepatocyte injury and death) and fibrosis, among others, which are highly prevalent worldwide [
141
]. Accumulating evidence indicates that oxidative stress and inflammation are strongly linked and participate in the pathophysiological processes of liver diseases [
44
].
Modulation of hepatic lipid metabolism, including protective effects against steatosis [
142
,
143
], lipid synthesis [
144
,
145
], and endoplasmic reticulum stress [
146
,
147
], as well as induction of antioxidant/detoxicant enzymes [
148
], mitochondrial biogenesis, and mitochondrial function [
149
] by olive oil and its phenolic compounds has been reviewed recently [
150
,
151
]. Recent in vivo studies support a dose-dependent hepatic protective role for olive oil and its phenolic compounds. In C57BL/6J male mice, dietary supplementation with an EVOO (859 mg total biophenols) significantly reduced fat accumulation in liver and the plasmatic metabolic alterations caused by a high-fat diet (HFD) compared to EVOOs with lower amounts (116 and 407 mg) and produced a normalization of oxidative stress-related parameters, desaturase activities, and long-chan polyunsaturated fatty acids (LCPUFA) content in tissues [
152
]. Moreover, in male Sprague–Dawley rats, a biophenol-rich VOO (0.290 mg phenols/kg/day) was able to (as compared to a phenol-free olive oil), significantly reduce liver inflammation and mitochondrial oxidative stress and restore insulin sensitivity, while limiting HFD-induced insulin resistance, inflammation, and hepatic oxidative stress, preventing nonalcoholic fatty liver disease (NAFLD) progression [
153
]. Furthermore, the replacement of dietary fat with phenolic-rich EVOO (total phenolic compound concentration: 447 ppm) reversed HFD-induced hepatic steatosis in mice. Also, the use of a phenolics-rich EVOO rather than EVOO (104 ppm) improved the plasma lipid profile and adipose tissue cytokine expression in mice with NAFLD [
154
]. Olive oil, HT and tyrosol (TY) showed protective effects against TCDD-induced hepatotoxicity in male Wistar rats, restoring ALT, AST, ALP, nitrite, and protein carbonyl content as well as NQO1 and HO. In addition, treatment with olive oil and its phenolic compounds resulted in reduced CYP1A1 and apoptosis (reduction and rise in Bax and Bcl-2 levels, respectively) [
155
]. In a rat model of NAFLD, the most common chronic liver disease in western countries, HT (10 mg/kg/day) significantly corrected the metabolic impairment induced by HFD, increasing hepatic peroxisome proliferator activated receptor PPAR-α and its downstream-regulated gene fibroblast growth factor 21, the phosphorylation of acetyl-CoA carboxylase [
156
]. HT also reduced liver nitrosylation of proteins, reactive oxygen species production, and lipid peroxidation. In male mice C57BL/6J, HT supplementation (5 mg/day, for 12 weeks) significantly reduced fat accumulation in liver and plasma as well as tissue metabolic alterations induced by HFD, in addition to a normalization of Δ-5 and Δ-6 desaturase activities and oxidative stress-related parameters as compared to control animals [
157
]. In Wistar rats, a phenolic-rich olive fruit extract and an OLE extract showed protective effects against deltamethrin-induced hepato-renal toxicity by reducing lipid peroxidation (MDA), Cox-2, and apoptosis (reduction in p53 and rise in bcl-2), and by augmenting total antioxidant capacity and superoxide dismutase (SOD) and catalase (CAT) activities [
158
]. Treatment with a mix of PEOP was performed on rat hepatoma (FaO) cells exposed to a mixture of oleate/palmitate to mimic the conditions of NAFLD. Tyr, OLE and PEOP significantly reduced the triglyceride (TG) content with respect to steatotic cells. PEOP also decreased the number and size of lipid droplets in steatotic cells as compared to control. Furthermore, exposure to apigenin, caffeic acid, coumaric acid, OLE, and PEOP significantly decreased MDA level in steatotic FaO cells as compared to the control. Uptake of fatty acids (FAs) into hepatocytes and their oxidation are regulated mainly by PPARα, while the anabolic esterification and conversion of FAs to TGs is controlled by PPARγ, for which expression has been shown to increase in NAFLD. Incubation with PEOP resulted in a significant decrease and increase in PPARα and PPARγ expression, respectively, with respect to steatotic cells. With regard to mitochondrial β-oxidation, PEOP led to a further up-regulation of Cpt1 expression with respect to steatotic cells [
86
]. In male C57BL/6J mice, supplementation with HT attenuated liver metabolic alterations produced by HFD, activating transcription factors PPAR-α and Nrf2, and deactivating NF-κB [
159
]. Finally, in a recent study where individual compounds were administered, a 21-day dietary supplementation (5 mg/kg bw/day) with OLE or HT maintained higher levels of α-tocopherol in female Wistar rats' liver compared to a control diet, even though all diets supplied the same daily dose of α-tocopherol [
160
].
Human evidence on hepatic protective actions of olive oil phenolics coming from clinical trial is scarce and inconclusive (
Table 1
). Noteworthy, the PREDIMED study reported an improvement in fatty liver index, with potential implications in the delay or slowdown of NAFLD progression [
112
]. However, other studies where extracts of phenolic compounds from olive oil have been supplemented to healthy and hyperlipidemic subjects have reported an absence of effect on liver function [
91
,
92
,
97
].
8. Rheumatic Diseases
There are more than 200 different conditions that are labelled as rheumatic diseases, including rheumatic arthritis, systemic lupus erythematosus, and osteoarthritis (OA), among others. One of the major characteristics of rheumatic diseases is chronic inflammation and autoimmunity, which consequently leads to tissue destruction and reduces patient mobility [
182
]. Immune cells play a key role in inflammation due to involvement in initiation and maintenance of the chronic inflammatory stages. In particular, circulating monocytes that may differentiate towards macrophages or dendritic cells are able to produce proinflammatory cytokines and mediators (including ROS and COX-2), attracting T and B cells which contribute to maintaining the inflammatory process and eventually to tissue destruction.
Several in vitro and in vivo studies have been carried out with models of chronic inflammation and autoimmunity exposed to olive oil phenolics. LPS-exposed J774A.1 macrophages treated with olive oil biophenol extracts showed reduced iNOS and COX-2 expression (100 μg phenols/mL), and NO release in a dose-dependent manner (50–150 μg/mL) [
183
]. Furthermore, OC repressed MIP-1α, IL-6, IL-1β, and TNF-α levels, as well as GM-CSF protein synthesis and LPS-induced NO production in this cell line [
184
]. In a collagen-induced arthritis mice model, an EVOO biophenol extract significantly reduced the levels of proinflammatory cytokines, COX-2, and microsomal prostaglandin E synthase-1, inhibiting c-Jun N-terminal kinase, p38 and STAT-3, and reducing NF-κB translocation [
185
]. In the same mice model, intake of a HT acetate-supplemented diet significantly prevented arthritis development and decreased serum IgG1 and IgG2a, cartilage olimeric matrix protein (COMP) and metalloproteinase-3 (MMP-3) levels, as well as pro-inflammatory cytokine levels (TNF-α, IFN-γ, IL-1β, IL-6, and IL-17A). The activation of JAK/STAT, MAPKs, and NF-κB pathways were drastically ameliorated, whereas Nrf2 and HO-1 protein expressions were significantly up-regulated [
186
]. In male Wistar rats with induced rheumatoid arthritis, supplementation with HT-enriched refined olive oil led to decreased histological damage, as well as reduced COX-2 and iNOS expression [
187
]. OA progression is characterized by increased NO production, which has been associated with cartilage degradation. OC and its derivatives decreased MIP-1α and IL-6 levels [
184
], as well as lipopolysaccharide-induced NO synthase (NOS2) synthesis in ATDC-5 chondrocytes [
188
]. Although a consensus on the actual role of autophagy in OA has not been reached, several studies showed it is decreased in OA, and its activation is protective against OA [
189
]. HT increased markers of autophagy and protected human C-28/I2 and primary OA chondrocytes exposed to hydrogen peroxide from DNA damage and cell death induced by oxidative stress. This autophagy-inducing effect is engaged through SIRT1-dependent and -independent mechanisms [
190
]. In a pristane-induced systemic lupus erythematosus (SLE) mice model, administration of EVOO containing high levels of phenolic compounds (600 ppm) reduced renal damage and MMP-3 serum and PGE2 levels in the kidney, as well as proinflammatory cytokine production in splenocytes, while up-regulating Nrf-2 and HO-1 protein expression and the activation of JAK/STAT, MAPK, and NF-κB pathways [
191
]. Moreover, in PBMCs from patients with SLE and healthy donors, the phenolic fraction of EVOO modulated cytokine production (IFN-γ, TNF-α, IL-6, IL-1β, and IL-10) and attenuated induced T-cell activation, possibly via NF-κB signaling pathway, as increased expression of I-kappa-B-α and decreased extracellular signal regulated kinase phosphorylation accompanied these anti-inflammatory and immunomodulatory regulations [
192
].
To date, very few human studies (to the best of our knowledge) have been performed to ascertain the potential pharma-nutritional activity of olive biophenols in rheumatic disorders. Conceivably, their anti-inflammatory properties should augment the habitual pharmacological therapy of such diseases and contribute to increase patient wellbeing. In this context, supplementation of a HT extract to early-stage knee OA subjects for 4 weeks improved the pain measurement index and the visual analog scale score [
109
].
9. Conclusions
Nutrition science is shifting focus from caloric intake and macronutrient proportions to the molecular, "pharmacological" actions of food components. Pharma-nutrition partly helps overcome the many hurdles that impede providing sound dietary advice [
217
]. As many general reviews on olive biophenols are available [
18
], in this paper we focused on recent evidence (published in the last decade) of the cellular and molecular actions of these interesting molecules. Accumulated data do indicate that olive biophenols, chiefly hydroxytyrosol, have properties that largely explain the cardioprotective effects of diets where EVOO is the most prominent added fat [
218
]. It should be underscored that evidence-based pharmacology would require several high-quality human trials before health claims can be exhibited [
219
]. With regard to olive oil and its biophenols, these studies are urgently needed if we want to substantiate the numerous biological properties of these compounds. However, this is very difficult to implement in the area of nutrition [
7
]. Therefore, caution should be exerted before the formulation of strong, definitive statements about olive oil and its components, and as a matter of fact, any food ingredient. However, it is worth noting that the available evidence on olive biophenols is abundant and scientifically allows suggesting the use of high-quality olive oil as the principal form of dietary fat. Whether isolated molecules or well-characterized extracts could be employed as pharma-nutritional adjunct agents to, e.g., lessen inflammation and improve prognosis of inflammatory diseases should be addressed by future, high-quality human studies.
Author Contributions
Invitation by guest-editors, F.V. Writing-Review & Editing, M.C.C., J.T.-C., A.D., and F.V.
Funding
Supported by grants from the Spanish "Agencia Estatal de Investigación" and European FEDER funds to F.V. and J.T.-C. (AGL2017-87884) and to A.D. (AGL2016-78922-R); and by the Fundación Ramón Areces (CIVP18A3888) (Madrid, Spain) to M.C.C., J.T.-C., A.D. and F.V.
Conflicts of Interest
The authors declare no conflict of interest.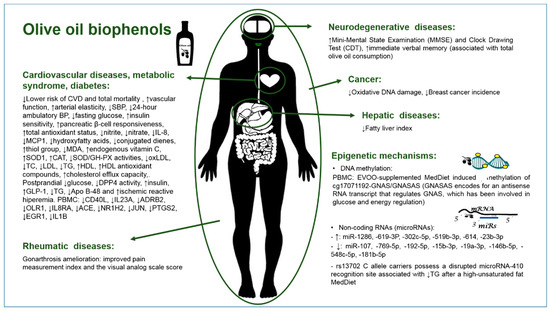 Figure 1. Clinical trials-derived evidence regarding biophenol-rich olive oils' benefits and mechanisms.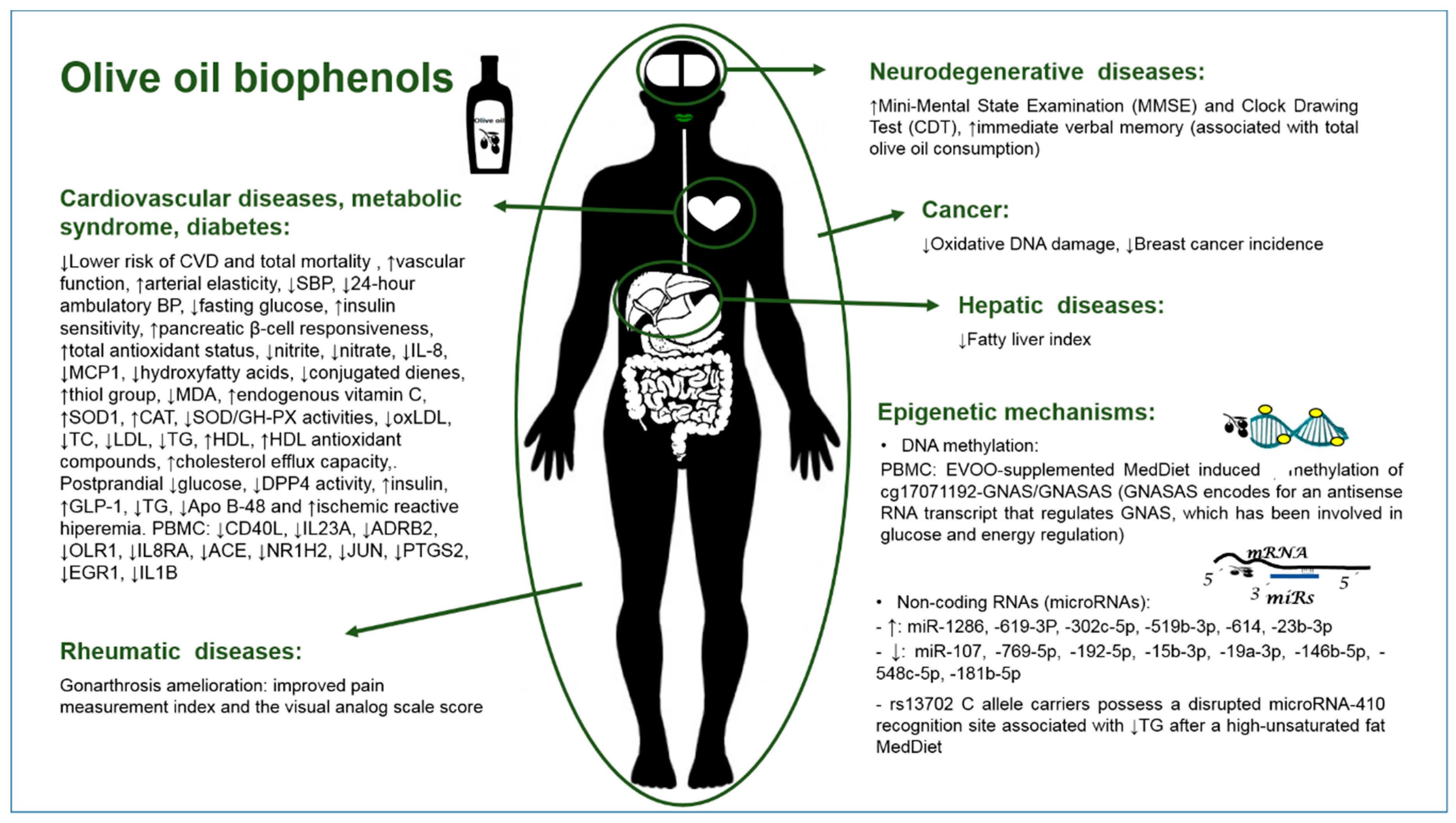 Table 1. Randomized clinical trials-based evidence on the effects and mechanisms after the consumption (acute or sustained) of phenol-rich olive oil and olive oil phenolic extracts.
Cardiovascular Disease, Metabolic Syndrome, T2DM
Subjects
Extract/OO
Duration
OO Phenolic Content Treatment (Daily)
OO Phenolic Content Control (Daily)
Main Results vs. Control
Reference
Healthy males
OO
3 week
8.38 or 3.76 mg TP
0.06 mg TP
Phenolic dose-dependent ↓oxLDL, ↑HDL and ↓TC/HDL
[93]
Healthy men
OO
3 week
14.4 mg TP
0 mg
↓oxLDL, ↓hydroxy fatty acids, ↓conjugated dienes
[94]
Metabolic syndrome
OO
Once
14.5 mg TP
2.56 mg TP
Postprandial ↓JUN, ↓PTGS2, ↓EGR1, ↓IL1β in PBMC
[95]
Healthy adults
OO
3 week
8.38 mg TP
0.06 mg TP
↓oxLDL, ↓MCP1. PBMCs: ↓CD40L, ↓IL23A,
↓ADRB2, ↓OLR1, ↓IL8RA
[96]
Overweight men
Extract
12 week
51.1 mg OLE/9.7 mg HT
0 mg
↑Insulin sensitivity, pancreatic β-cell responsiveness
[97]
Healthy elderly
OO
6 week
EVOO as the only diet-added fat, +24.5 mg TP
unspecified, control group maintained dietary habits
↑TAC, ↑CAT, ↓SOD and GH-PX activity, ↓LDL, ↓TG, ↑HDL
[98]
Healthy males
OO
3 week
8.38 mg TP
0.06 mg TP
↑Cholesterol efflux capacity
[99]
High cardiovascular risk
OO
1 year
EVOO (≥50 g, unspecified TP)-supplemented Mediterranean diet
unspecified, control group discouraged to consume olive oil
↓24-h ambulatory blood pressure (BP),
↓TC, ↓fasting glucose
[100]
Healthy adults
Extract
Once
51 mg OLE/10 mg HT
0 mg
↑Vascular function, ↓IL-8
[101]
Hypercholesterolemic
OO
3 week
11.45 mg TP
1.83 mg TP
↑Proteins related to cholesterol homeostasis, protection against oxidation and blood coagulation, ↓proteins implicated in acute-phase response, lipid transport, and immune response
[68]
Postmenopausal women with osteopenia
Extract
1 year
~120 mg TP
0 mg
↓TC, ↓LDL, ↓TG
[102]
Pre- and hypertensive adults
OO
Once
26.41 mg TP
7.94 mg TP
Postprandial ↓oxLDL, ↑ischemic reactive hyperemia
[103]
Healthy
Extract
1 week
5 or 25 mg HT
0 mg
No effect on lipid profile, inflammation, and oxidation markers
[91]
Arterial stiffness risk
Extract
11 days
50 or 100 mg HT
0 mg
↑Arterial elasticity, ↓TG
[104]
Mild hyperlipidemic
Extract
8 week
45 mg HT
no control
vs. baseline: ↑endogenous vitamin C; no influence on markers of CVD, blood lipids, inflammatory markers
[92]
Healthy adults
OO
Once
4.35 mg TP
0 mg
Postprandial ↓glucose, ↓DPP4 activity,
↑insulin, ↑GLP-1, ↓TG, ↓Apo B-48
[105]
Healthy males
OO
3 week
8.38 mg TP
0.06 mg TP
↓SBP. PBMC: ↓ACE, ↓NR1H2, ↓IL8RA
[65]
High cardiovascular risk
OO
~4.8 years
same as [100]
same as [100]
↓Lower risk of CVD and total mortality in elderly independently associated with high urinary
HVA (HT metabolite)
[90]
Healthy adults
Extract
3 week
15 mg HT
0 mg
↑Thiol group, ↑TAS, ↑SOD1, ↓nitrite, ↓nitrate, ↓MDA
[106]
Hypercholesterolemic adults
OO
3 week
26.41 mg TP
7.94 mg TP
↑HDL antioxidant compounds
[70]
Cancer
Postmenopausal women
OO
8 week
29.6 mg TP
7.35 mg TP
↓Oxidative DNA damage
[107]
Healthy males
OO
3 week
8.38 or 3.76 mg TP
0.06 mg TP
↓Oxidative DNA damage (phenolic content-independent)
[108]
High cardiovascular risk
OO
~4.8 years
same as [100]
same as [100]
↓Breast cancer incidence
[22]
Rheumatic diseases
Early-stage knee osteoarthritis
Extract
4 week
10.04 mg HT
0 mg
Improved pain measurement index and visual analog scale score
[109]
Neurodegenerative diseases
High cardiovascular risk
OO
~4.8 years
same as [100]
same as [100]
↑Immediate verbal memory (associated with total OO consumption)
[110]
High cardiovascular risk
OO
6.5 years
same as [100]
same as [100]
↑Mini-Mental State Examination and Clock Drawing Test
[111]
Hepatic Dysfunction
Overweight men
Extract
12 week
51.1 mg OLE/9.7 mg HT
0 mg
No effect on markers of liver function
[97]
Healthy
Extract
1 week
5 or 25 mg HT
0 mg
No effect on markers of liver function
[91]
Mild hyperlipidemic
Extract
8 week
45 mg HT
no control
No effect on markers of liver function
[92]
High cardiovascular risk
OO
6 years
same as [100]
same as [100]
↓Fatty liver index
[112]
OO, olive oil; TP, total phenols; HT, hydroxytyrosol; OLE, oleuropein; CVD, cardiovascular disease; TAS, total antioxidant status; TAC, total antioxidant capacity; SOD, superoxide dismutase; MDA, malondialdehyde; HVA, homovanillyl alcohol; HDL, high density lipoproteins; ox-LDL, oxidized low density lipoproteins; TG, triglycerides; TC, total cholesterol; PBMC, peripheral blood mononuclear cell; CAT, catalase; JUN, Jun proto-oncogene, AP-1 transcription factor subunit; PTGS2, prostaglandin-endoperoxide synthase 2; EGR1, early growth response protein 1; IL, interleukin; MCP1, monocyte chemoattractant protein 1; CD40L, CD40 ligand, ADRB2, adrenoceptor Beta 2; OLR1, oxidized low-density lipoprotein receptor 1, GH-PX, glutathione peroxidase; DPP4, dipeptidyl peptidase-4; GLP-1, glucagon-like peptide 1; Apo B-48, apolipoprotein B-48; ACE, angiotensin-converting enzyme; NR1H2, nuclear receptor subfamily 1 group H member 2; EVOO, extra virgin olive oil; T2DM: type 2 diabetes.
Dietary Component
Doses
Model
Epigenetic Study
Result
Ref.
DOA
5, 10, and 20 μmol/L
HMLER cells
Female athymic nude mice with SUM-159 cells (Tumor)
DNA methylation
DOA's ability to strongly and negatively impact the tumorigenic and self-renewal nature of cancer stem cells occurs through DNA methyltransferase -related epigenetic regulation.
[211]
MedDiet + EVOO
(1 L/week)
-Human
DNA methylation
Methylation changes in several peripheral white blood cell genes.
[212]
CO, OO or SO
CO: 80%
OO: 15%
SO: 12%
Sprague–Dawley rats
-3T3-L1
DNA methylation
Methylation levels changes of the CpG island at the Vegfb promoter and in the Vegfb expression levels in vivo and in vitro by different dietary fatty acids.
[213]
LCO, HCO or EVOO
LCO: 3% HCO: 20% EVOO: 17%

w

/

w

Sprague–Dawley rats
DNA methylation &
histone modifications
EVOO diet increased the levels of DNA methylation in mammary glands and tumor and changed histone modifications patterns.
CO diet increased DNA methyltransferase activity in both tissues, resulting in an increase in the promoter methylation of the tumor suppressor genes

RASSF1A

and

TIMP3

.
[214]
EVOO
100 ppm
EVOO 250 μL/300 g
-Caco-2 cells
Sprague–Dawley rats
DNA methylation
In vivo and in vitro evidence that DNA methylation of CB1, already associated with a cancer phenotype, can be modulated by EVOO.
[215]
OLE
100 μM
aged TgCRND8 mice
Histone modifications
OLE activates neuronal autophagy; it increases histone 3 and 4 acetylation, decreases histone deacetylase 2 expression, and causes a significant improvement in synaptic function.
[130]

n

-3 LCPUFA or OO
4 g daily
PBMCs from men and women
DNA methylation

n

-3LCPUFA or OO can induce selective changes in the methylation status of individual CpG loci in specific genes, which is contingent on the sex of the subject and the nature of the supplement.
[216]
DOA: decarboxymethyl oleuropein aglycone; MedDiet: mediterranean diet; EVOO: extra virgin olive oil. CO: coconut oil; OO: olive oil; SO: sunflower oil; LCO: low corn oil; HCO: high corn-oil; OLE: oleuropein aglycone;

n

-3 LCPUFA:

n

-3 long-chain polyunsaturated fatty acids; PBMCs: peripheral blood mononuclear cells.

© 2018 by the authors. Licensee MDPI, Basel, Switzerland. This article is an open access article distributed under the terms and conditions of the Creative Commons Attribution (CC BY) license (http://creativecommons.org/licenses/by/4.0/).