Open Access This article is
freely available
re-usable
Article
Applying Fourier Transform Mid Infrared Spectroscopy to Detect the Adulteration of
Salmo salar
with
Oncorhynchus mykiss
1
School of Agrarian and Veterinary Sciences, CECAV, University of Trás-os-Montes e Alto Douro, Quinta de Prados, B. Laboratorial, B1.03, 5001-801 Vila Real, Portugal
2
Physics Department, School of Sciences and Technology, University of Trás-os-Montes e Alto Douro, Quinta do Prados, 5001-801 Vila Real, Portugal
3
CAP/INESC TEC—Technology and Science and FCUP-Faculty of Sciences, University of Porto, 4169-007 Porto, Portugal
*
Author to whom correspondence should be addressed.
Received: 12 March 2018 / Accepted: 3 April 2018 / Published: 5 April 2018
Abstract
:
The aim of this study was to evaluate the potential of Fourier transform infrared (FTIR) spectroscopy coupled with chemometric methods to detect fish adulteration. Muscles of Atlantic salmon (
Salmo salar
) (SS) and Salmon trout (
Onconrhynchus mykiss
) (OM) muscles were mixed in different percentages and transformed into mini-burgers. These were stored at 3 °C, then examined at 0, 72, 160, and 240 h for deteriorative microorganisms. Mini-burgers was submitted to Soxhlet extraction, following which lipid extracts were analyzed by FTIR. The principal component analysis (PCA) described the studied adulteration using four principal components with an explained variance of 95.60%. PCA showed that the absorbance in the spectral region from 721, 1097, 1370, 1464, 1655, 2805, to 2935, 3009 cm
−1
may be attributed to biochemical fingerprints related to differences between SS and OM. The partial least squares regression (PLS-R) predicted the presence/absence of adulteration in fish samples of an external set with high accuracy. The proposed methods have the advantage of allowing quick measurements, despite the storage time of the adulterated fish. FTIR combined with chemometrics showed that a methodology to identify the adulteration of SS with OM can be established, even when stored for different periods of time.
Keywords:
food fraud; food authentication;
Salmo salar
adulteration; FTIR spectroscopy; chemometrics methods
1. Introduction
There are few studies that quantify fish adulteration using FTIR spectroscopy coupled with chemometrics. This study explores the potential of FTIR as a rapid and accurate method to detect and predict the adulteration of SS with OM, regardless of their storage period.
2. Material and Methods
2.1. Sampling
SS and OM fish were eviscerated, skin removal was carried out, and muscle was crushed separately in a mincer under sterilized conditions. Mini-burgers of SS adulterated with OM, from 0 to 100%
w
/
w
in steps of 10%
w
/
w
, were produced. For each sampling point, four mini-burgers were produced, two for fat extraction and FTIR and two for microbiological analysis.
The mini-burgers, weighing approximately 15 g, were prepared by mixing the fish and later packed in air overwrapped with polyethylene film. Following packaging, samples were stored at 3 °C and examined for microbiological parameters at intervals of 0, 72, 160, and 240 h.
The microorganisms analyzed were total mesophilic (TVC) and psychrotrophic (TP). In addition, after each predefined storage period, the samples were submitted to Soxhlet extraction and the extracted lipids were analyzed by FTIR.
The experiment was repeated four times, each batch having 176 samples, totaling 704 mini-burgers: 352 for FTIR measurements and 352 for microbiological determinations.
2.2. Microbial Analysis
Samples were homogenized with tryptone salt broth (tryptone 0.1% and NaCl 0.85%) in a stomacher for 90 s. Serial decimal dilutions were prepared in the same solution for microbiological determinations. TVC [
20
] and TP [
21
] populations were obtained after incubation on plate count agar (PCA) (Oxoid CM0325, London, UK) at 30 °C for 3 days and 7 °C for 10 days, according to ISO4833 of 2003 and NP2007 of 1987, respectively.
2.3. Determination of Moisture Content
The measurement of the moisture content consisted in drying the samples in an oven at 100 °C. The weight of the samples was controlled at 60-min intervals using an analytical balance with a resolution of 0.001 g. The process stopped when the mass of the last two weightings, separated by 60 min, did not differ by more than 0.1%. The samples were then stored in a desiccator with silica.
2.4. Determination of Free Fat Content/Soxhlet Extraction
Fat extraction was carried out by n-hexane in the dehydrated samples. The dried sample and traces of the sample on the Petri dish were removed using cotton wool moistened with n-hexane and later placed in an extraction thimble. Then, the extraction thimble was positioned in the extraction tubes together with n-hexane, and a flask was adapted to the extractor apparatus.
The extraction process lasted 8 h, after which the flask was placed in a water bath at 90 °C to remove n-hexane, leaving only the fat. After this process, the flask was placed in the oven for 1 h at 103 °C to remove n-hexane residues. These procedures (drying and weighing) were repeated until the results of both successive weightings, separated by 1 h, did not differ by more than 0.1% [
22
].
2.5. Fourier Transform Infrared Measurement
The infrared absorption spectra were collected in a FTIR spectrometer (Shimadzu, Tokyo, Japan) equipped with an ATR module (Golden Gate, Specac Ltd., Orpington, UK), a DLaTGS detector, and a KBr beam-splitter.
Samples of fish fat were placed on top of the ATR crystal, whose temperature was set to ~35 °C. The collection time for each sample spectrum was approximately 2 min. The spectrum was recorded in the region between 4000 and 500 cm
−1
with a resolution of 4 cm
−1
and 32 scans. In the ATR module, the infrared radiation underwent total internal reflection when the incident angle at the interface between the sample and the crystal was higher than the critical angle, which is a function of the refractive indices of the two surfaces, allowing the penetration of radiation into the sample [
18
]. The ATR base was carefully cleaned in situ by scrubbing with pure ethanol (Sigma Aldrich, Taufkirchen, Germany) before measuring the next sample. For each sample, two spectra were collected and the average was calculated.
2.6. Mathematical Treatment
2.6.1. Principal Component Analysis
Spectral data collected between 500 and 4000 cm
−1
were divided into two ranges, from 650 to 1850 and from 2800 to 3050 cm
−1
. Spectral dataset was initially submitted to smoothing based on the Savitzky-Golay algorithm. Following this, the data were mean-centered and standardized (SNV) [
23
].
For a preliminary exploration, the spectral dataset was handled by PCA, which allowed determining its main features as well as highlighting relations among the original variables (absorbance at different wavenumbers). The PCA projects the large number of potentially correlated original variables in a representation space of smaller dimensions and calculates new variables, called principal components (PC), that are linear combinations of the starting absorbances and thus reduce the size of the dataset [
24
].
2.6.2. Partial Least Squares Regression
For quantitative analysis, the measured factors, contributing to the variance of the dataset, were regressed using PLS-R onto the referred variables [
25
,
26
]. This multivariate calibration technique, sometimes called factor analysis, transformed the original variables (FTIR spectra absorbencies) into new ones (known as latent variables), which are linear combinations of the original variables [
27
]. The method relied on two phases: the so-called calibration and cross-validation steps. Calibration consists in building a mathematical model to establish a correlation between the matrix of FTIR spectra (predictor variables,
X
) and the concentration of analytes of interest (response variables,
Y
) which use a set of observations usually named the calibration set. Cross-validation is performed by using the calibration model to calculate the concentration of samples not used to set up the model [
28
].
The relative performance of the established model was accessed by the root mean square error of calibration (RMSEC), root mean square error of cross-validation (RMSECV), and multiple coefficient of determination or regression coefficient (
R
2
) [
29
]. The selected model was then used to determine the concentration of samples in an independent prediction set. The predictive ability of the model was evaluated from the root mean square of prediction (RMSEP). The lower the RMSEP value, the higher the degree of accuracy of the prediction result provided by the calibration model [
30
].
PCA, DA, and PLS-R calculations were performed using the Excel-based XLSTAT V2006.06 package (Addinsoft, Inc., New York, NY, USA) and statistical software Unscrambler V9.6 package (Camo, Oslo, Norway).
3. Results and Discussion
4. Conclusions
The use of FTIR coupled with chemometric methods allowed us to accurately estimate the percentage of adulteration of SS with OM. The process of classification using PLS-R allowed the discrimination of samples at 10 levels of adulteration, in steps of 10%, and was successful carried out using fresh samples as well as samples stored for different periods of time, and at diverse stages of the deterioration process.
Acknowledgments
This study was supported by the Portuguese Science and Technology Foundation (FCT) under projects UID/CVT/00772/2013 and UID/CVT/00772/2016. It was also financed by the ERDF—European Regional Development Fund through the Operational Programme for Competitiveness and Internationalisation—COMPETE 2020 Programme within project "POCI-01-0145-FEDER-006961", and by the National Funds through the FCT—
Fundação para a Ciência e a Tecnologia
(Portuguese Foundation for Science and Technology) as part of project UID/EEA/50014/2013.
Author Contributions
N.S. and M.J.M. performed the experiments and collaborated in the statistics. C.S. and J.M.M.M.D.A. did the statistics and wrote the manuscript.
Conflicts of Interest
N.S., M.J.M., C.S. and J.M.M.M.D.A. declare that they have no conflict of interest. The present paper does not contain any studies with human or animal subjects.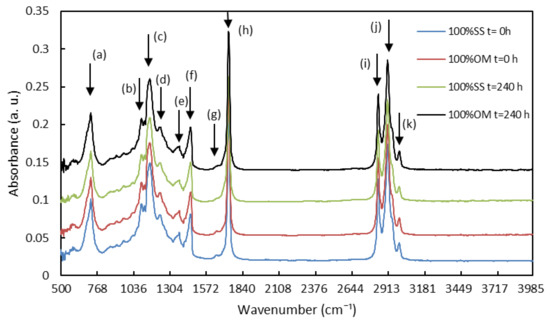 Figure 1.
Fourier transform infrared spectroscopy (FTIR) spectra of fat extracted from fresh samples of
Onconrhynchus mykiss
(OM) and
Salmo salar
(SS) and stored at 3 °C for 240 h (
y
-axis).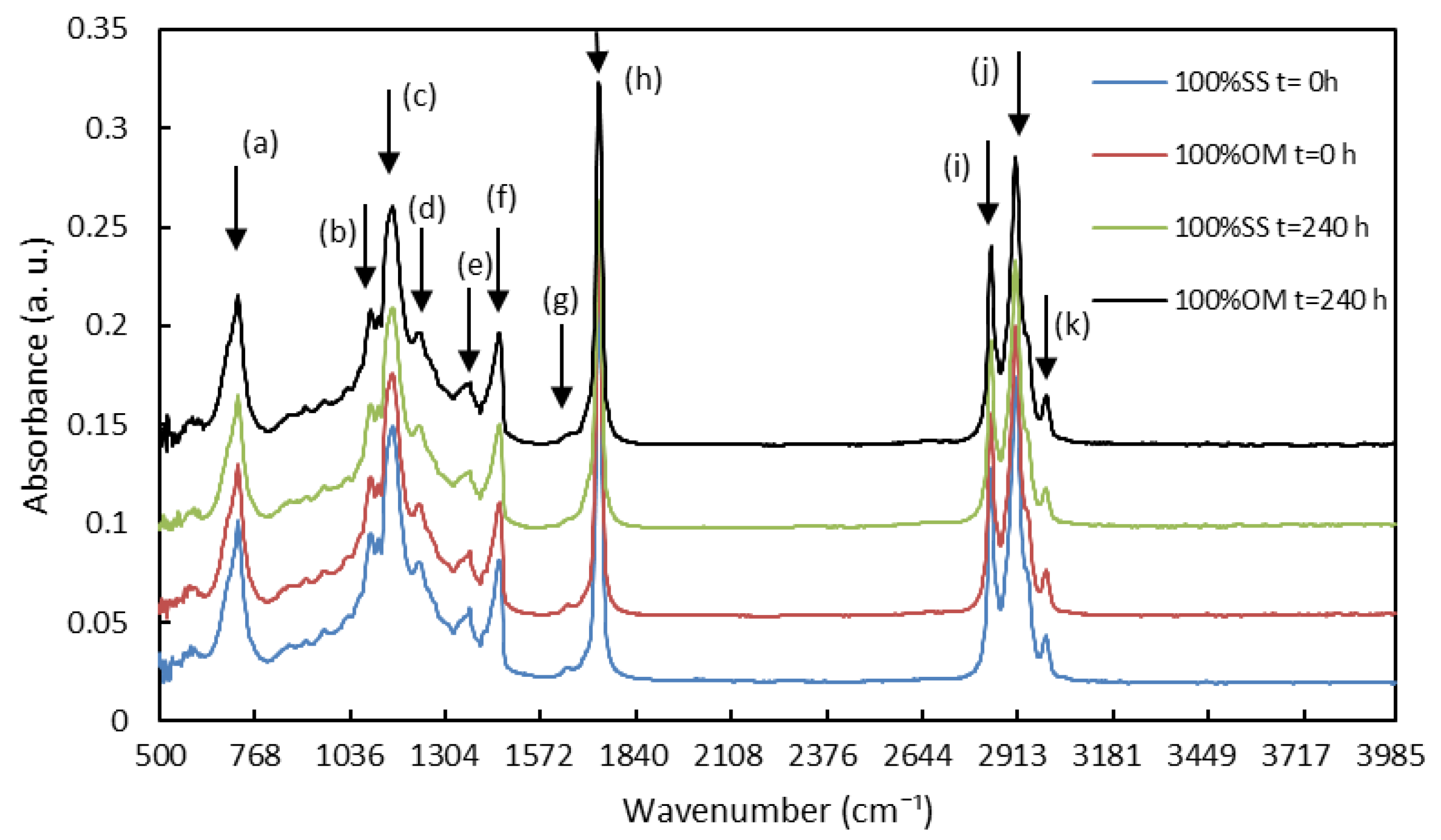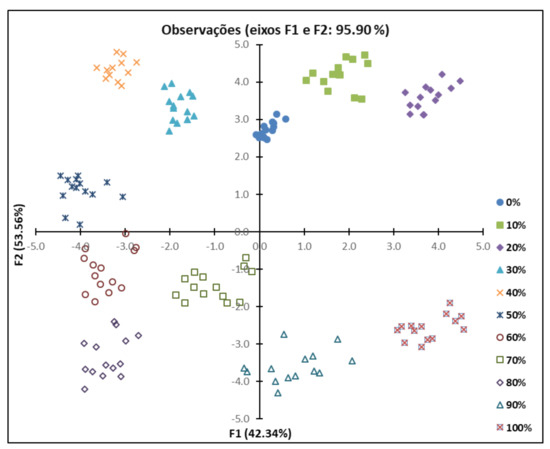 Figure 2.
Observations diagram obtained by principal component analysis (PCA) using the Fourier transform infrared spectroscopy (FTIR) spectral data for the 11 formulations of
Onconrhynchus mykiss
(OM) and
Salmo salar
(SS).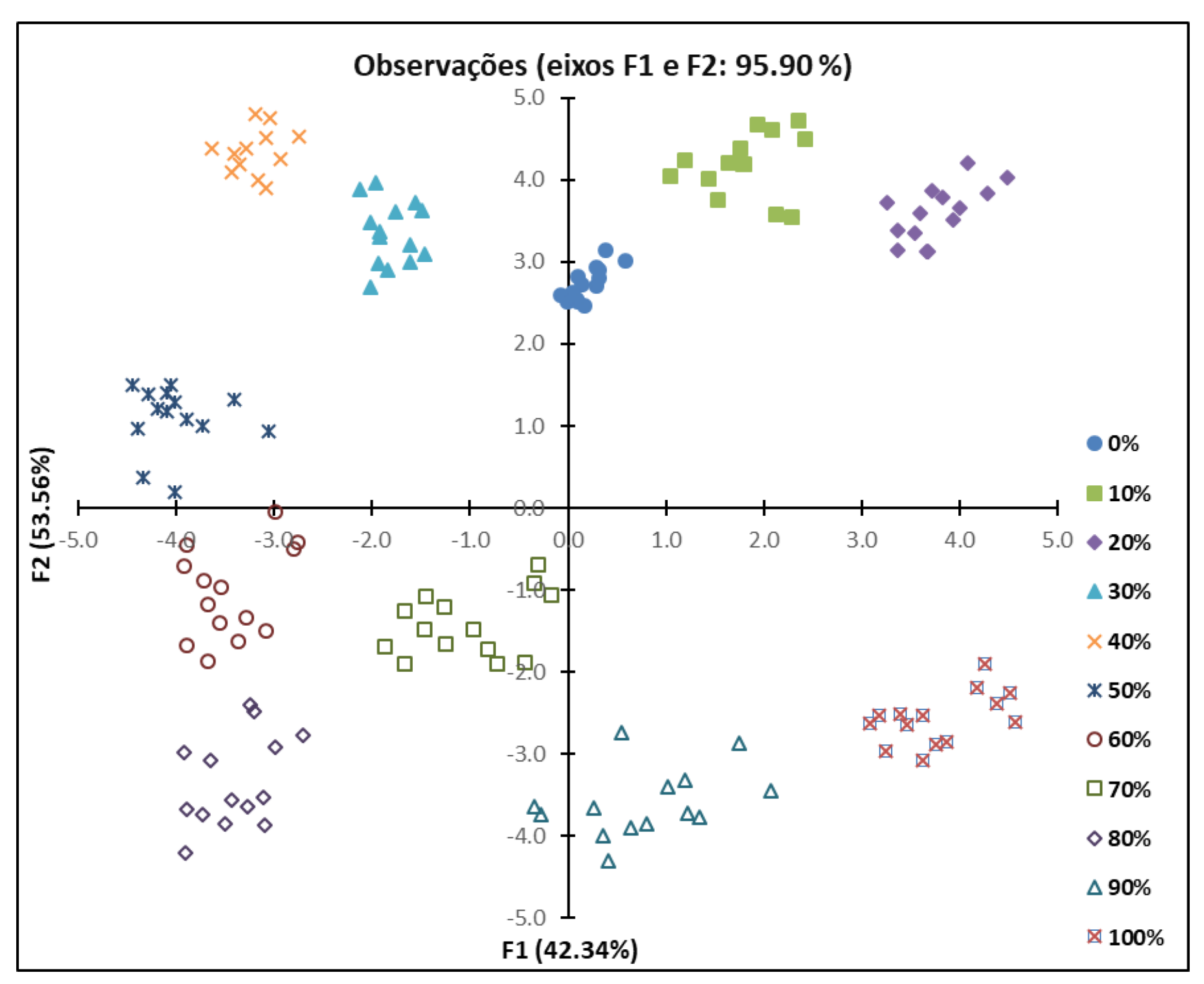 Figure 3.
Illustration of the quality of prediction models obtained by Fourier transform infrared spectroscopy (FTIR) for the observed and estimated values for the different mixtures of
Salmo salar
(SS) and
Onconrhynchus mykiss
(OM).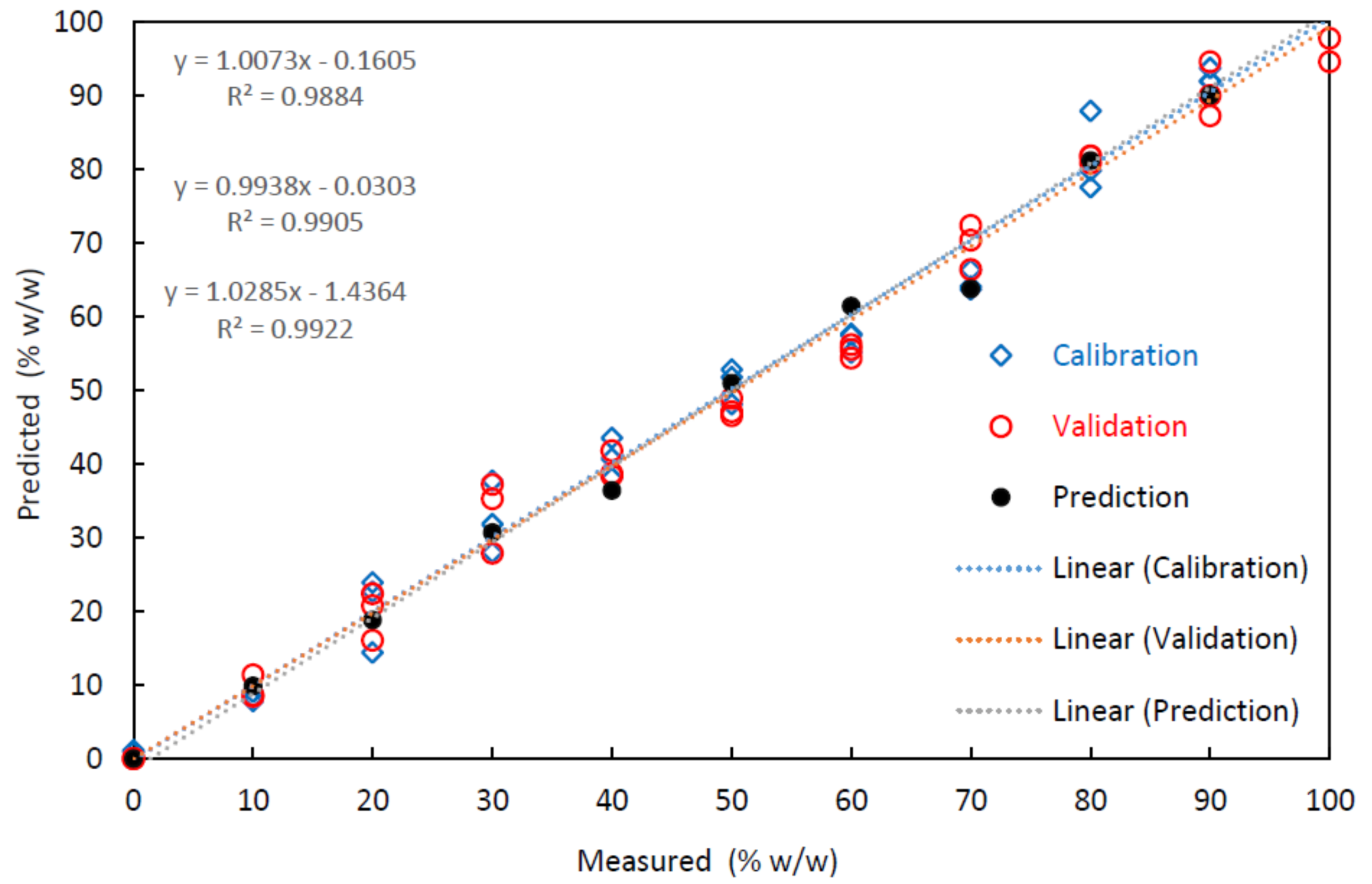 Table 1.
Total mesophilic (TVC) and total psychrotrophic (TP) microorganism counts (mean and standard deviation) in
Salmo salar
(SS) and
Onconrhynchus mykiss
(OM) samples, according to storage period.
Micro-Organisms
Fish Species
Time (h)
0
72
168
240
TVC
SS
3.44 ± 0.46
4.67 ± 0.10
6.82 ± 0.23
7.75 ± 0.22
OM
3.89 ± 0.61
6.26 ± 1.12
7.98 ± 0.25
8.81 ± 0.21
TP
SS
3.19 ± 0.52
4.61 ± 0.03
6.16 ± 0.06
7.47 ± 0.25
OM
3.89 ± 0.61
5.39 ± 0.31
8.00 ± 0.25
8.86 ± 0.21
Mixture (%

w

/

w

of OM/SS)
Fat Content (%

w

/

w

)
0
11.75 ± 0.78
10
11.62 ± 0.71
20
11.71 ± 1.11
30
12.6 ± 1.34
40
12.75 ± 0.81
50
12.62 ± 0.67
60
13.31 ± 0.71
70
13.15 ± 1.19
80
13.78 ± 0.66
90
14.21 ± 0.57
100
13.65 ± 1.35
Values of mixture are %

w

/

w

of OM in SS.

Table 3.
Assignment of functional groups present in
Salmo salar
and
Onconrhynchus mykiss
fat responsible for infrared absorption.
Assignment
Wavenumber (cm−1)
Functional Group Responsible for IR Absorption
(a)
721

cis

-disubstituted olefins (–CH2–, –HC=CH– (cis))
(b)
1097
ester of the –C–O group
(c)
–C–O, CH2 groups and are correlated with saturated acyl groups
(d)
–C–O, CH2 groups and are correlated with saturated acyl groups
(e)
1370
CH3 group
(f)
1464
CH2 and CH3
(g)
1655
unsaturated acyl group (–C=C–)
(h)
C=O group of triglycerides
(i)
2850 to 2925
symmetrical and asymmetric methylene (CH2)
(j)
2850 to 2925
symmetrical and asymmetric methylene (CH2)
(k)
3009

cis

olefinic CH double bonds (=C–H)

Table 4.
Quality parameters of the multivariate model for the quantification of adulteration of mixtures of
Salmo salar
(SS) and
Onconrhynchus mykiss
(OM). RMSE: Root Mean Square Error.
Number of Factors

R

2
RMSE (%

w

/

w

of OM/SS)
Calibration
Validation
Prediction
Calibration
Validation
Prediction
4
0.988
0.991
0.992
5.6
6.7
8.7

© 2018 by the authors. Licensee MDPI, Basel, Switzerland. This article is an open access article distributed under the terms and conditions of the Creative Commons Attribution (CC BY) license (http://creativecommons.org/licenses/by/4.0/).