Application of Ultrasound in Food Science and Technology: A Perspective
1
Department of Molecular Medicine and Medical Biotechnology, University of Naples Federico II, Via Pansini, 5, 80131 Naples, Italy
2
Department of Pharmacy, University of Naples Federico II, Via Domenico Montesano 49, 80131 Naples, Italy
3
Department of Chemical Sciences, University of Naples Federico II, Via Cintia 21, 80126 Naples, Italy
*
Author to whom correspondence should be addressed.
Received: 11 September 2018 / Accepted: 1 October 2018 / Published: 4 October 2018
Abstract
Ultrasound is composed of mechanical sound waves that originate from molecular movements that oscillate in a propagation medium. The waves have a very high frequency, equal to approximately 20 kHz, are divided into two categories (i.e., low-intensity and high-intensity waves) and cannot be perceived by the human ear. Nature has created the first ultrasound applications. Bats use ultrasound to navigate in the dark, and many cetaceans use echolocation to detect prey or obstacles using ultrasound produced by their vocal system. Ultrasound is commonly associated with the biomedical field. Today, ultrasound-based methods and equipment are available to detect organs, motion, tumour masses, and pre/post-natal handicaps, and for kidney stone removal, physiotherapy, and aesthetic cures. However, ultrasound has found multiple applications in many other fields as well. In particular, ultrasound has recently been used in the food industry to develop various effective and reliable food processing applications. Therefore, this review summarizes the major applications of ultrasound in the food industry. The most common applications in the food industry include cell destruction and extraction of intracellular material. Depending on its intensity, ultrasound is used for the activation or deactivation of enzymes, mixing and homogenization, emulsification, dispersion, preservation, stabilization, dissolution and crystallization, hydrogenation, tenderization of meat, ripening, ageing and oxidation, and as an adjuvant for solid-liquid extraction for maceration to accelerate and to improve the extraction of active ingredients from different matrices, as well as the degassing and atomization of food preparations.
View Full-Text
►

▼

Figures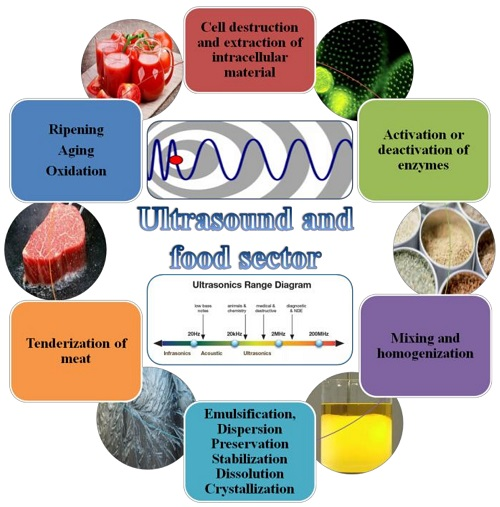 Graphical abstract
This is an open access article distributed under the
Creative Commons Attribution License
which permits unrestricted use, distribution, and reproduction in any medium, provided the original work is properly cited (CC BY 4.0).

Share & Cite This Article
MDPI and ACS Style
Gallo, M.; Ferrara, L.; Naviglio, D. Application of Ultrasound in Food Science and Technology: A Perspective. Foods 2018, 7, 164.
Note that from the first issue of 2016, MDPI journals use article numbers instead of page numbers. See further details here.
Related Articles
Comments
[Return to top]