Open Access This article is
freely available
re-usable
Article
Correlation between Implant Geometry, Bone Density, and the Insertion Torque/Depth Integral: A Study on Bovine Ribs
1
Dental School, Vita-Salute University IRCCS San Raffaele, 20132 Milan, Italy
2
Private Practitioner, Vimercate, 20871 Monza-Brianza, Italy
3
Department of Medical, Oral and Biotechnological Sciences, University of Chieti-Pescara, 66100 Chieti, Italy
4
Department of Medical, Oral and Biotechnological Sciences and CeSi-MeT, University of Chieti-Pescara, 66100 Chieti, Italy
*
Author to whom correspondence should be addressed.
Received: 19 December 2018 / Accepted: 27 February 2019 / Published: 5 March 2019
Abstract
:
During insertion of dental implants, measurement of dynamic parameters such as the torque-depth curve integral or insertion energy might convey more information about primary stability than traditional static parameters such as the insertion or removal torque. However, the relationship between these dynamic parameters, bone density, and implant geometry is not well understood. The aim of this investigation was to compare static and dynamic implant stability measurements concerning three different implant designs when implants were inserted into bovine bone ribs and dynamic parameters were collected using an instantaneous torque measuring implant motor. Standard implant osteotomies were created in segments of bovine ribs. After measuring the bone density using the implant motor, 10 cylindrical, 10 hybrid tapered-cylindrical, and 10 modified cylindrical implants were placed, and their primary stability was assessed by measuring the torque–depth curve integral, along with insertion and removal torque. The relationship between these quantities, bone density, and implant geometry was investigated by means of regression and covariance analysis. The regression lines describing the relationship between the torque–depth integral and bone density differed significantly from those describing the relationship between insertion torque, removal torque, and bone density for all three designs. The torque–depth curve integral provides different information about immediate primary stability than insertion and removal torque and in certain clinical conditions might be more reliable than these static parameters for assessing implant primary stability. Further research should be carried out to investigate the findings of the present study.
Keywords:
primary stability; bone density; implant morphology; torque–depth curve integral; insertion torque; removal torque
2. Materials and Methods
In this ex vivo study nine segments of bovine ribs were used after removing the periosteum. All surgical procedures were carried out by experienced operators.
Insertion depth and direction of the perforations were defined by using a 2.2-mm-diameter pilot drill to perforate the cortical bone. Each site was then prepared to the desired depth following the drilling sequences recommended by the manufacturer. The cortex of the upper portion of the bone specimens was then removed using a 3.0 mm reamer drill.
All measurements at probing and at insertion were stored in the device's solid-state memory and were later downloaded to a personal computer for statistical analysis.
For each implant placed, the RT also was measured as follows. One experimenter (P.A.) connected a high precision manual dynamometer (ATG6CN Torque Gauge, Tohnichi Mfg. Co., Tokyo, Japan) to the implant and manually applied an increasing counter-clock torque up to the initial unscrewing of the implant. The needle on the dynamometer display corresponded to the torque value measured. An independent experimenter read the display.
Data Analysis
To investigate the relationship between bone density and primary stability, I–density, IT–density, and RT–density plots were drawn, and linear regression analyses were performed. To investigate the effect of the implant geometry on primary stability, average values for each implant type and each primary stability parameter were calculated and compared by means of ANOVA tests followed by post-hoc Bonferroni tests. To investigate whether I, IT, and RT convey similar or different information, slopes of I–density, IT–density, and RT–density lines corresponding to the same implant type were compared using ANCOVA analysis [
48
]. All values in this work are provided as mean ± standard deviation (SD). Statistical calculations were performed using standard statistical software (Origin 9.0, OriginLab, Northampton, MA, USA). The methodology was reviewed by an independent statistician.
3. Results
The I–density plot shows two bone density thresholds, D1 and D2, below which the I for cylindrical-tapered and cylindrical-modified implants is greater than that of cylindrical implants. This does not hold for IT–density plots. The IT–density line for the cylindrical-tapered implants is always higher than that for cylindrical implants and two density values exist, D3 and D4, below which IT is greater for modified cylindrical implants than for cylindrical or tapered ones. RT–density plots show that, unlike the IT–density results, the RT–density line for tapered implants is always lower than that for cylindrical implants. Two density values, D5 and D6, exist below which the RT needed to remove this type of implant is greater than that necessary for the removal of the other two types. Average I, IT, and RT values are provided in
Table 4
and
Figure 5
.
The ANOVA testing found significant differences among the three implant types (
p
< 0.05 in all cases,
Table 4
). Post-hoc Bonferroni tests (
Figure 5
) showed that differences between one type of implant and another one were not equally significant concerning all three parameters. The average I for cylindrical implants was significantly different from that of cylindrical-tapered implants (
p
= 0.04). So was the average IT (
p
= 0.01), but the difference was not significant when RT was assessed. Average I of cylindrical implants was found to be not significantly different from that of cylindrical-modified ones, while average IT and average RT did differ significantly (
p
= 0.001 and
p
= 0.01, respectively). Average RT was found to be significantly different between cylindrical-tapered and cylindrical-modified implants (
p
= 0.03), but that was not observed for average I and average RT. Finally, results of ANCOVA tests (
Table 5
) showed that the slopes of the I–density regression lines were significantly different from those of the RT–density regression lines for all three types of implants. When the slopes of the IT–density regression lines were compared to those of the RT–density ones, no significant difference could be observed for any implant type.
4. Discussion
The results of the present study indicate that the relationship between bone density and primary stability of implants with various shapes may vary significantly, depending upon which parameter is chosen to assess the primary stability. Remarkably, when implants were placed according to the manufacturer's standard protocol, the primary stability of the cylindrical-tapered implants, when assessed using I, was shown to be greater than that of cylindrical implants for bone density values below a certain threshold, while cylindrical implants showed a greater primary stability for greater bone density values. This behavior was not observed when implant stability was measured either using IT or RT. Then the cylindrical-tapered implants always displayed greater primary stability than cylindrical ones.
These hypotheses should be examined further. Indeed, the dimensional parameters of the implants used in the present study may have enhanced the differences between the I–density and IT–density curves for cylindrical and cylindrical-tapered implants. Both implants were inserted in a 3-mm-diameter hole, but the head of the tapered implant was larger (4.3 versus 4.0 mm). This may have favored a greater exchange of energy between the coronal portion of tapered implants and the cortical bone layer.
On the basis of the above considerations, it could be assumed that a possible clinical advantage to measuring primary stability using the integral (I) (and, similarly, the IE) instead of IT might exist. The scenario that emerges from results of the present paper is that when the implant is subjected to surrounding topological conditions that imply a high IT value (such as, for example, the presence of a thick cortical layer), the degree of stabilization provided by the other bone portions around the implant, being unknown, might be overestimated by the surgeon. Such overestimation might lead the surgeon to favor early or immediate loading protocols over delayed ones even when the underlying conditions would not be actually favorable, therefore increasing the probability of early implant failure. Results of the present study indicate that this might be avoidable by measuring primary stability using energy-exchange parameters such as I. The first clinical implication is therefore that measuring primary stability using I instead of IT, the surgeon might have more reliable information concerning stability itself and might better plan the following loading protocol (immediate, early, or delayed), thus enhancing the short- and long-term implant and prosthetic survival and success rates. Further, results of the present study show that differences in implant stability between implants having different geometries may be small and negligible when stability is measured by IT and be much greater when measured by I; the cylindrical-tapered implants used in the present study had, in low-density bone, a much greater stability than the cylindrical one, if stability was measured using I, and should be therefore preferred in low-density sites. If stability was measured using IT, the difference was much smaller; in the clinical setting, this might have led the surgeon to regard the two shapes as equivalent, while he/she should have preferred using the cylindrical-tapered over the cylindrical one. The second clinical implication of the present study is, therefore, that using I instead of IT to measure primary stability might allow detection of differences in primary stability between different implant geometries that could not be detected otherwise, again enhancing the probability of carrying out more adequate loading protocols. From a wider perspective, the clinical advantage of using I instead of IT to measure implant primary stability might be allowing better characterization of the implant-specific response to a given site preparation protocol according to its macro- and micro geometrical features, and the features of the bone it will be placed into. This might lead to a brand- and shape-specific fine characterization of the response, in term of primary stability, of the implant to the patient-specific and site-preparation specific features at its insertion.
Another limitation of the present study lies in having not correlated the thickness of the cortical bone layer to the implant stability; while all sites were prepared according to the same protocol, the difference observed between the IT, RT, and I–density curves being therefore real, further studies should be carried out (and are actually being carried out by the authors) to investigate this point.
5. Conclusions
In conclusion, when the primary stability of cylindrical and cylindrical-tapered, as well as cylindrical-modified, implants is measured using the dynamic I parameter (a quantity proportional to the energy needed to position the fixture), a linear relation with bone density is observed, one that differs from that shown by the other primary-stability-measuring parameters, namely IT and RT. This finding may indicate that I conveys different information, and in certain clinical conditions could be more reliable than IT and RT in measuring implant primary stability. Based on the results of the present study, the authors recommend measuring primary stability using a dynamic parameter such as I as it might provide additional information to that provided by measuring IT. Results of the present study also show that, limited to the brand under investigation, cylindrical-tapered implants should be preferred to cylindrical, or cylindrical-modified implants, when placement is to be carried out in low bone density sites.
Additional research should be conducted to further investigate these findings, especially in terms of their validity in the clinical setting.
Author Contributions
Conceptualization, D.A.D.S. and A.P.; formal analysis, G.I. and A.S.; investigation, P.A. and V.P.; writing—original draft preparation, D.A.D.S.; writing—review and editing, A.P. and A.S.
Funding
This research received no external funding.
Conflicts of Interest
Danilo Alessio Di Stefano and Paolo Arosio have a scientific consultancy relationship with IDI Evolution S.r.l. All other authors declare that they have no conflicts of interest. Data belonged to the authors, and none of the manufacturers cited in the study interfered with its execution or results.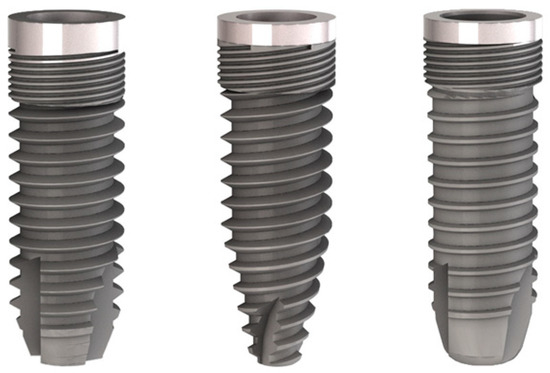 Figure 1.
The three implants used in the present study. Their geometrical features are provided in
Table 1
. Left, the cylindrical Stone implant; center, the cylindrical-tapered Tiger Due implant; right, the modified cylindrical Aries Due implant.

Figure 2.
The probe used to measure the density of the bone specimen. The probe has an inverse cone shape (
a
), enabling measurement the friction encountered by the first thread only during its descent (
b
). The average of all instantaneous torque values measured throughout the probe's descent, Cm, has been shown to be a reliable measurement of bone density [
46
].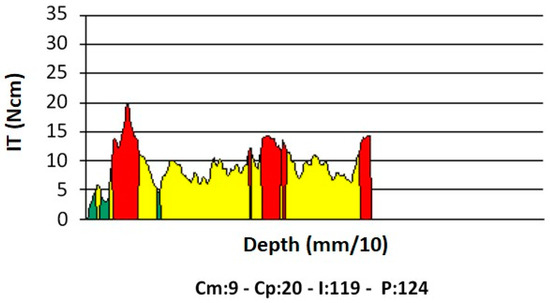 Figure 3. An example of a torque–depth plot generated from the micromotor measurements of bone density and during implant insertion. Cm, average torque; Cp, peak torque; I, integral of the torque–depth curve; P, depth reached by the probe/implant in tenths of a millimeter.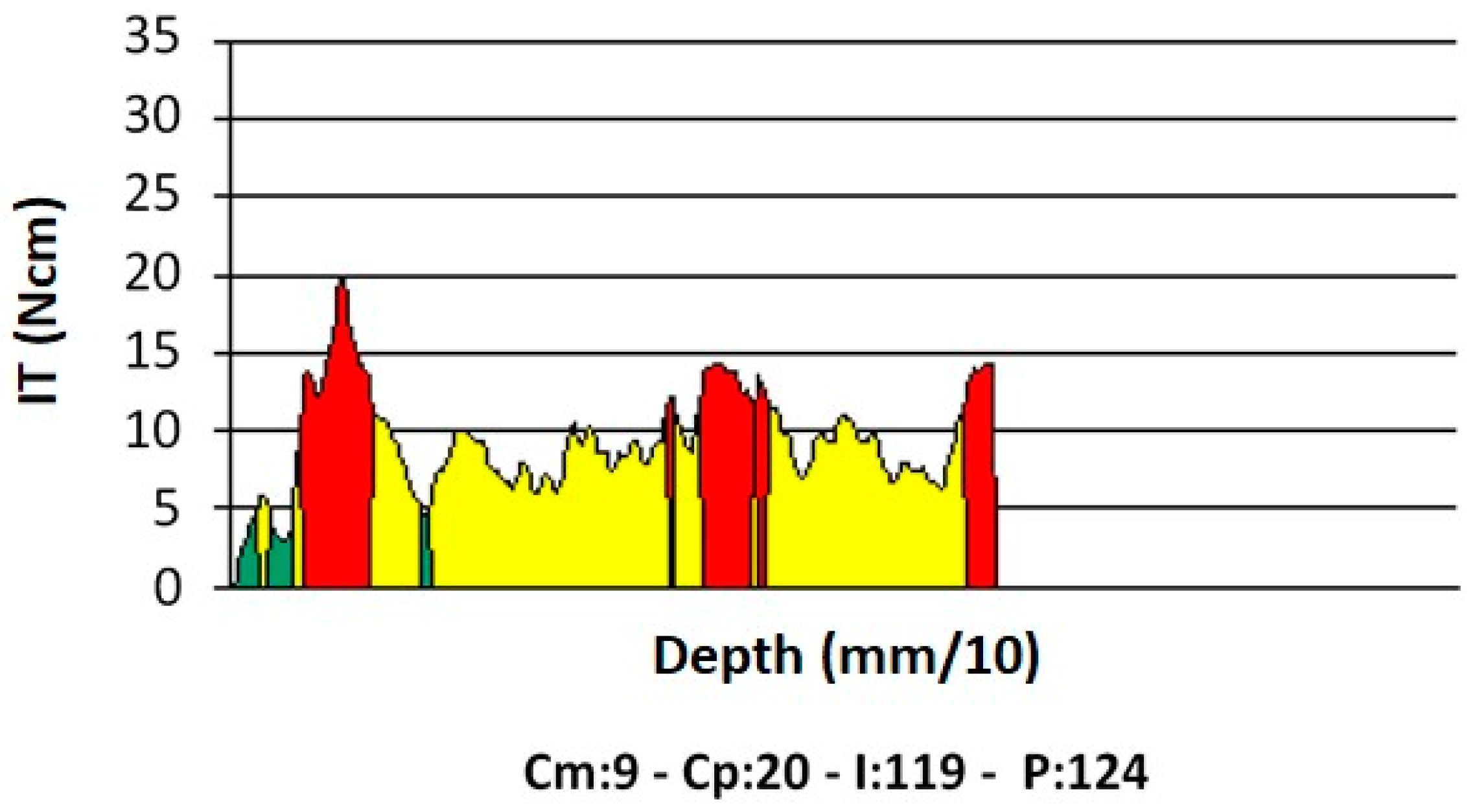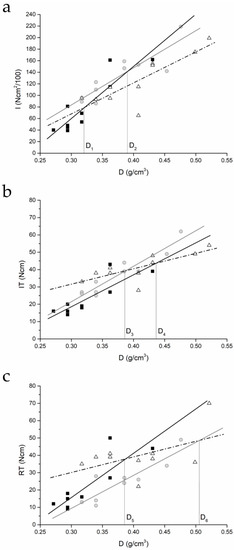 Figure 4. (a) Integral of the torque–depth curve (I)–density, (b) insertion torque (IT)–density, and (c) reverse torque (RT)–density plots for the three implants (square, cylindrical; circle, tapered; triangle, cylindrical-modified) placed after standard site preparation. The plots also show the density thresholds (Dx) where the lines cross.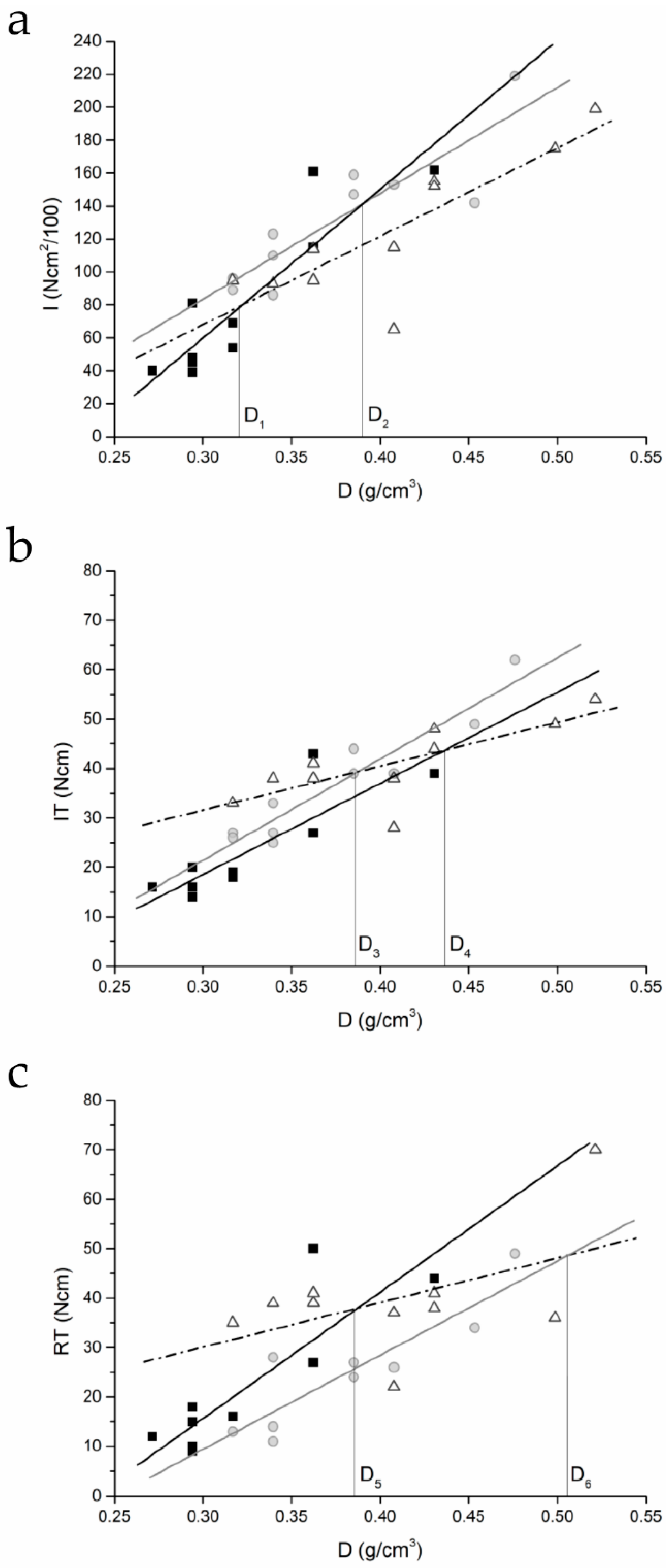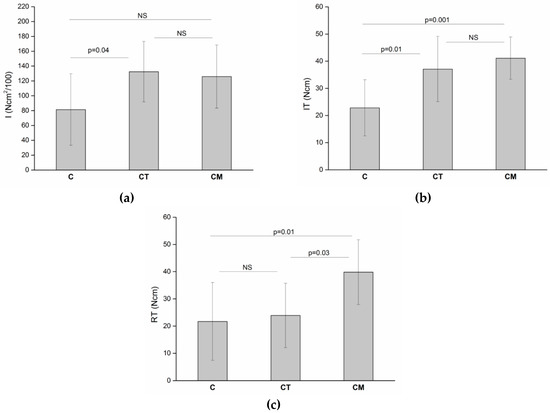 Figure 5. (a) Average I, (b) IT, and (c) RT values for the three types of implants (C, cylindrical; CT, cylindrical-tapered, CM, cylindrical-modified) and significance of the post-hoc Bonferroni paired comparison.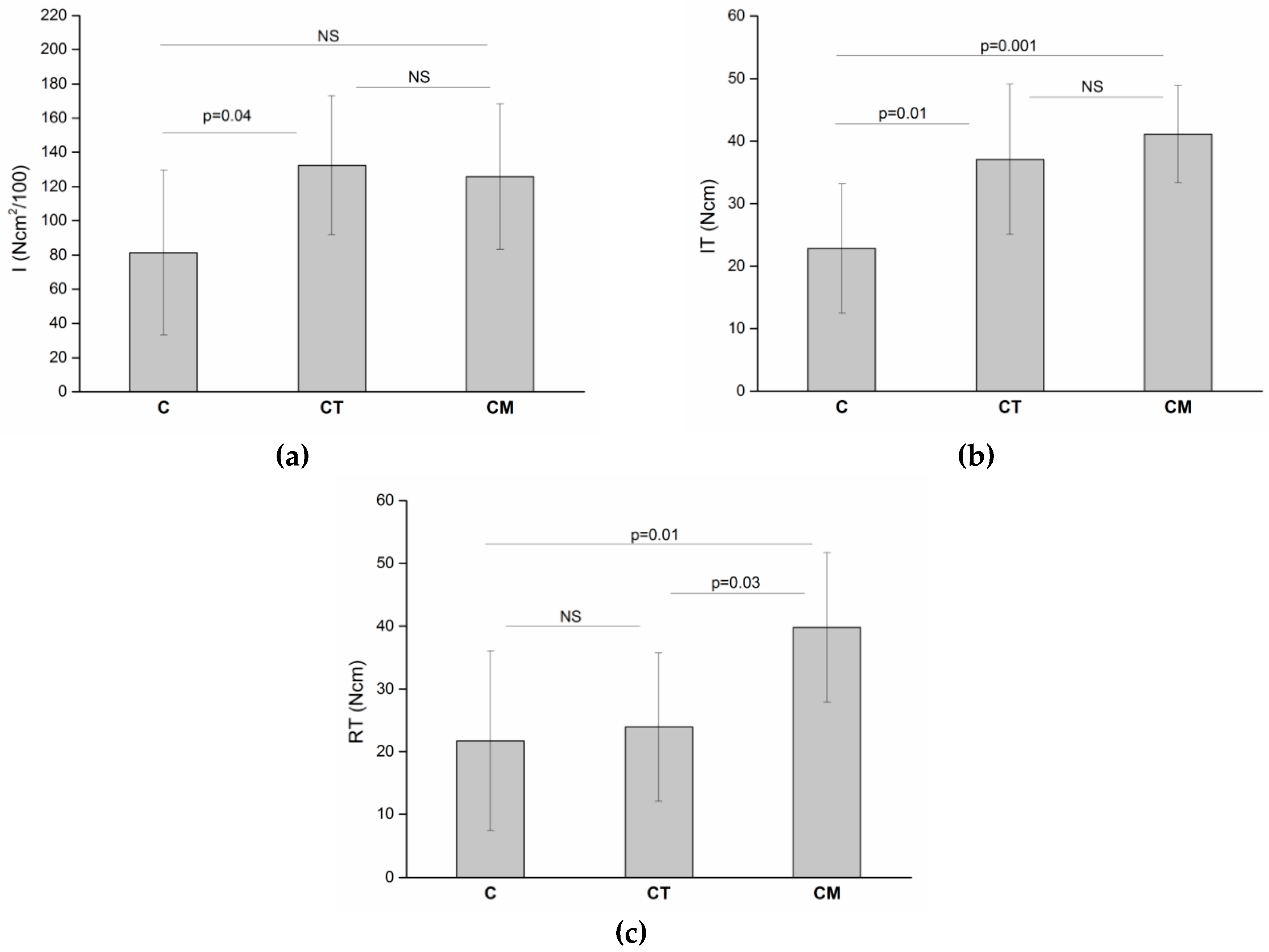 Table 1. Geometrical features of the implants used in the present study and corresponding final drilling sequence. C indicates cylindrical, CT cylindrical-tapered, and CM cylindrical-modified. All measures are given in mm.
Implant Characteristics
Implant type
C
CT
CM
Commercial name
Stone
Tiger Due
Aries Due
Head diameter
4.0
4.3
4.0
Thread diameter
4.0
4.3
3.75
Body diameter
3.2
3.6
3.4
Length
12
12
12
Thread
Single
Double
Single
Thread type
Standard V-thread
Standard V-thread and spiral
Standard V-thread
Thread pitch
0.75
0.75 (lead 1.50)
0.75
Thread depth
0.4
0.4
0.175
Threading at neck
Triple threaded, 0.75 mm pitch
Six-fold threaded, 1.50 mm pitch
Triple threaded, 0.75 mm pitch
Final drilling sequence
Final drill
3
3
3
Countersink drill
4
4.3
4
Measure
Symbol as Provided by the Micromotor
Unit of
Measure
Information Provided
Average torque
Cm
Ncm
When recorded at probing, it is a quantity measuring bone density. The mathematical relationship between Cm and density, D, (expressed as g/cm3), when no irrigation is used, is given by the equation D = (Cm + 11.93)/43.97 [46].
Peak torque
Cp
Ncm
When recorded at implant insertion, it is the maximum torque that was exerted by the micromotor during implant placement. In the present work, it has been indicated with the acronym IT (insertion torque).
Integral
I
Ncm2/100
When measured at implant insertion, it provides the area bounded by the torque–depth curve (Figure 3). If the implant threads are evenly spaced and the rotation speed at insertion is constant (two conditions that are met in this study), the integral (I) is equal to the insertion energy, IE, multiplied by a constant factor.
Depth
P
mm/10
Indicates the depth reached by the probe, when density is being measured, or by the implant when it is being placed.

Table 3. Parameters of the y = mx + q lines best fitting the I–density, IT–density, and RT–density plots and corresponding Pearson's r regression coefficients. C, cylindrical; CT, cylindrical-tapered; CM, cylindrical-modified, D, density.
Plot
Implant Type
Parameters of the Regression Line
Pearson's r
m (slope)
q (intercept)
I–density
C
904.4 ± 152.4
−211.3 ± 49.8
0.9027
CT
639.8 ± 122.3
−108.1 ± 46.5
0.8795
CM
535.2 ± 125.9
−92.4 ± 51.9
0.8325
IT–density
C
184.9 ± 38.1
−37.0 ± 12.4
0.8640
CT
204.8 ± 23.7
−39.9 ± 9.0
0.9504
CM
89.1 ± 27.5
+4.8 ± 11.4
0.7526
RT–density
C
255.4 ± 54.3
−60.9 ± 17.7
0.8569
CT
190.4 ± 33.0
−47.7 ± 12.5
0.8981
CM
90.2 ± 55.3
+3.0 ± 22.8
0.4998
I–density, IT–density, and RT–density plots for the three implant types are displayed in Figure 4.

Table 4.
Average I, IT, and RT values for each implant types and significance p of the ANOVA tests comparing them. A significant difference among the three implants can be observed for all three implant primary stability parameters under investigation. Values reported in this table are also shown as plots in
Figure 5
, together with the corresponding significance of paired comparisons.
| Implant Type | I | IT | RT |
| --- | --- | --- | --- |
| C | 81.4 ± 48.1 | 22.8 ± 10.3 | 21.7 ± 14.3 |
| CT | 132.4 ± 40.7 | 37.1 ± 12.05 | 23.9 ± 11.8 |
| CM | 125.8 ± 42.5 | 41.1 ± 7.8 | 39.8 ± 11.9 |
| P | 0.03 | 0.001 | 0.007 |

Table 5. Statistical significance p of ANCOVA tests comparing the slopes of I–density, IT–density, and RT–density regression lines for each type of implant.
| Implant Type | I vs. IT | I vs. RT | IT vs. RT |
| --- | --- | --- | --- |
| C | <0.001 * | 0.001 * | 0.30 (NS) |
| CT | 0.003 * | 0.003 * | 0.73 (NS) |
| CM | 0.003 * | 0.005 * | 0.98 (NS) |
*

p

< 0.05; NS: not significant.

© 2019 by the authors. Licensee MDPI, Basel, Switzerland. This article is an open access article distributed under the terms and conditions of the Creative Commons Attribution (CC BY) license (http://creativecommons.org/licenses/by/4.0/).