Open Access This article is
freely available
re-usable
Article
Green Synthesis of a Functionalized Zirconium-Based Metal–Organic Framework for Water and Ethanol Adsorption
1
Department of Chemistry and International Institute of Nanotechnology, Northwestern University, 2145 Sheridan Road, Evanston, IL 60208, USA
2
School of Chemistry and Chemical Engineering, South China University of Technology, Guangzhou 510640, China
†
These authors contributed equally to this work.

Received: 8 April 2019 / Accepted: 21 April 2019 / Published: 26 April 2019
Abstract
:
Aqueous synthesis of metal–organic frameworks (MOFs) at room temperature offers many advantages such as reduction in the generation of toxic byproducts and operation costs, as well as increased safety in the material's production. Functional group-bearing MOFs have received growing attention compared to nonfunctionalized analogues due to enhanced adsorption properties of the former in many cases. Here, we report an aqueous solution-based synthesis of a robust zirconium MOF, UiO-66-NO2, at room temperature. We evaluated the phase purity, porosity, thermal stability, particle morphology and size of the resulting material. High uptake, as well as near complete recyclability of water and ethanol vapor isotherms at room temperature supports the potential of UiO-66-NO2 as a solid adsorbent in adsorption-based cooling applications or water harvesting systems.
Keywords:
zirconium-based MOFs; water adsorption; ethanol adsorption; porous materials; adsorption heat pump
1. Introduction
Metal–organic frameworks (MOFs) [
1
,
2
,
3
,
4
,
5
] are a promising class of crystalline porous materials with a wide range of applications including but not limited to heterogeneous catalysis [
6
,
7
,
8
,
9
,
10
], enzyme and nanoparticle encapsulation [
11
,
12
,
13
,
14
], water capture [
15
,
16
,
17
,
18
,
19
], gas storage, and separation [
20
,
21
,
22
,
23
,
24
,
25
]. Importantly, physical and chemical properties of MOFs can be fine-tuned with the help of reticular chemistry, where pre-selected molecular building blocks are combined to yield pre-designed frameworks for targeted applications [
26
,
27
,
28
,
29
,
30
].
While gas adsorption is the most widely studied application of MOFs, vapor adsorption in MOFs has recently garnered some attention especially with the increasing number of water-stable MOFs reported [
15
,
16
,
17
,
18
,
19
,
31
,
32
,
33
]. MOFs with a high capacity for water uptake at room temperature have also gained increasing attention. By tuning features such as the topology, pore size, pore volume, and chemical functionality of MOFs, the relative pressure where the water uptake reaches maximum can be controlled. This is essential for many applications such as natural gas dehydration [
34
], water capture from air [
16
,
35
], adsorption-based cooling systems [
15
,
19
,
36
], and indoor humidity cooling systems [
18
]. Ethanol can be also used as refrigerant for adsorption-driven cooling application due to its lower freezing point compared to water [
37
]. Nevertheless, all of these adsorption-based applications such as adsorption beds [
21
,
38
], mixed-matrix membranes [
39
,
40
], or devices for capturing water from air [
35
,
41
], require large amounts of adsorbents for operation. Consequently, developing green and scalable methods for synthesis of MOFs is of interest for the aforementioned applications.
We have recently reported a promising strategy for the scalable synthesis of UiO-66 (UiO = University of Oslo) analogues (i.e., UiO-66-(COOH)
2
and UiO-66-F
4
) for toxic chemical removal [
42
]. Herein, we extended this method to the synthesis of a highly stable Zr MOF, UiO-66-NO
2
[
43
,
44
,
45
]. Various characterization techniques were implemented to confirm phase purity, morphology, thermal stability, and porosity of the resulting MOF. Moreover, we studied water and ethanol vapor adsorption of UiO-66-NO
2
, which showed high uptake as well as good recyclability.
2. Results and Discussion
3. Materials and Methods
All reagents were obtained from commercial sources and used without further purification, unless otherwise noted. Zirconium (IV) oxynitrate hydrate (99%) was purchased from Sigma-Aldrich (St. Louis, MO, USA).
3.1. X-ray Diffraction Analyses
Powder X-ray diffraction (PXRD) of MOFs were measured at room temperature on a STOE-STADIMP powder diffractometer (STOE & Cie GmbH, Darmstadt, Germany) equipped with an asymmetric curved Germanium monochromator (Cu Kα1 radiation, λ = 1.54056 Å) and one-dimensional silicon strip detector (MYTHEN2 1K from DECTRIS, Baden, Switzerland). The line focused Cu X-ray tube was operated at 40 kV and 40 mA. The activated powder was sandwiched between two Kapton foils and measured in transmission geometry in a rotating holder. Intensity data from 1 to 30 degrees two theta were collected over a period of 6 min. The instrument was calibrated against a NIST Silicon standard (640d) prior to the measurement.
3.2. N2 Sorption Measurements
N2 adsorption and desorption isotherms on activated materials were measured on a Tristar (Micromeritics, Norcross, GA, USA) instrument at 77 K. In general, about 30–50 mg of sample was used in each measurement after activated at 120 °C for 24 h.
3.3. Thermogravimetric Analyses (TGA)
TGA was performed on a TGA/DCS 1 system (Mettler-Toledo AG, Schwerzenbach, Switzerland), which runs on a PC with STARe software. Samples were heated from 30 to 600 °C at a rate of 10 °C/min under air with flow rate 20 mL/min.
3.4. Diffuse Reflectance for Infrared Fourier Transform Spectroscopy (DRIFTS)
DRIFTS spectra were recorded on a Nicolet 6700 FTIR spectrometer (Thermo Nicolet Corp., Madison, WI, USA) equipped with an MCT detector. The detector was cooled with liquid N2 and the spectra were collected under Ar atmosphere. KBr was utilized as a background spectrum.
3.5. Scanning Electron Micrographs (SEM)
Scanning electron micrographs (SEM) images were taken using a Hitachi SU8030 (Hitachi High Technologies Corporation, Tokyo, Japan) at the EPIC facility (NUANCE Center-Northwestern University). Samples were activated and coated with OsO4 to ~9 nm thickness in a Denton Desk III TSC Sputter Coater before imaging.
3.6. Water and Ethanol Vapor Sorption Measurements
Water and ethanol isotherms were measured on a 3Flex (Micromeritics), and the water uptake in g·g−1 unit is calculated as [(adsorbed amount of water)/(amount of adsorbent)]. Prior to the adsorption measurements, water or ethanol (analyte) was flash frozen under liquid nitrogen and then evacuated under dynamic vacuum at least 3 times to remove any gases in the water reservoir until the P0 of the analyte gas matches the suggested P0 at room temperature. The measurement temperature was controlled with an ISO Controller (Micromeritics).
3.7. Synthesis of UiO-66-NO2
1.5 mL of water was added to 20 mg (~0.094 mmol) of 2-nitroterephthalic acid. The mixture was then placed in the oven at 100 °C for 5 min. The color of the solution became pale yellow. Separately, 48 mg (~0.208 mmol) of zirconyl nitrate hydrate (ZrO(NO
3
)
2
·
x
H
2
O) was dissolved by adding 1.0 mL of water followed by sonication. The two solutions were combined, followed by an addition of 300 µL (~5.24 mmol) of acetic acid. The mixture was stirred for 72 h at room temperature. The crystalline powders were collected by centrifugation (7000 rpm for 30 min). As-synthesized sample was washed 3 times with DI water and then sequentially washed 2 times with ethanol, and finally immersed in acetone for 2 days, during which time the acetone was replaced 2 times per day. The product was obtained after initial drying via leaving exposed to ambient atmosphere overnight and activated at 120 °C for 24 h; yield: 25 mg.
4. Conclusions
In conclusion, we extended the room temperature, aqueous methodology of Zr MOFs to access a nitro-functionalized UiO-66 derivative, UiO-66-NO2. Importantly, the UiO-66-NO2 obtained here, using more environmentally benign methods, showed comparable BET area to MOFs obtained from solvothermal synthesis. Moreover, water and ethanol vapor sorption isotherms at room temperature indicated high uptake of both vapors, which suggests potential of UiO-66-NO2 for adsorption-based cooling applications or water harvesting systems.
Author Contributions
Conceptualization, Z.C., T.I. and O.K.F.; methodology, Z.C.; software, Z.C.; validation, T.I. and O.K.F.; formal analysis, X.W., Z.C.; investigation, Z.C. and X.W.; resources, O.K.F.; data curation, Z.C. and X.W.; writing—original draft preparation, Z.C.; writing—review and editing, X.W., T.I. and O.K.F.; visualization, Z.C. and X.W.; supervision, T.I. and O.K.F.; project administration, Z.C., T.I. and O.K.F.; funding acquisition, O.K.F.
Funding
This research was funded by STIR from ARO, grant number W911NF-18-1-0050.
Acknowledgments
The authors thank Zoha Syed for helpful discussions. This work made use of the EPIC facility of Northwestern University's NUANCE Center, which has received support from the Soft and Hybrid Nanotechnology Experimental (SHyNE) Resource (NSF NNCI-1542205); the MRSEC program (NSF DMR-1720139) at the Materials Research Center; the International Institute for Nanotechnology (IIN); the Keck Foundation; and the State of Illinois, through the IIN. This work made use of the IMSERC at Northwestern University, which has received support from the NSF (CHE-1048773 and DMR0521267); Soft and Hybrid Nanotechnology Experimental (SHyNE) Resource (NSF NNCI-1542205); the State of Illinois and International Institute for Nanotechnology (IIN). X.W. acknowledges support from China Scholarship Council (CSC) during his visit to Northwestern University.
Conflicts of Interest
The authors declare no conflict of interest.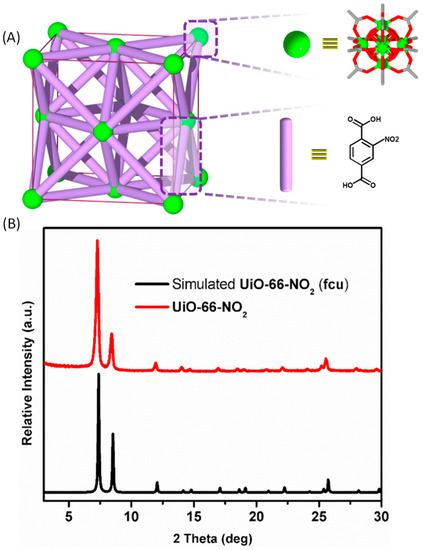 Figure 1. (A) Structural representation of UiO-66-NO2 constructed from 12-c Zr nodes and linear 2-nitroterephthalic acid (H2BDC-NO2) ligand. (B) Powder X-ray diffraction (PXRD) pattern of the as-synthesized sample matched well with the simulated UiO-66-NO2.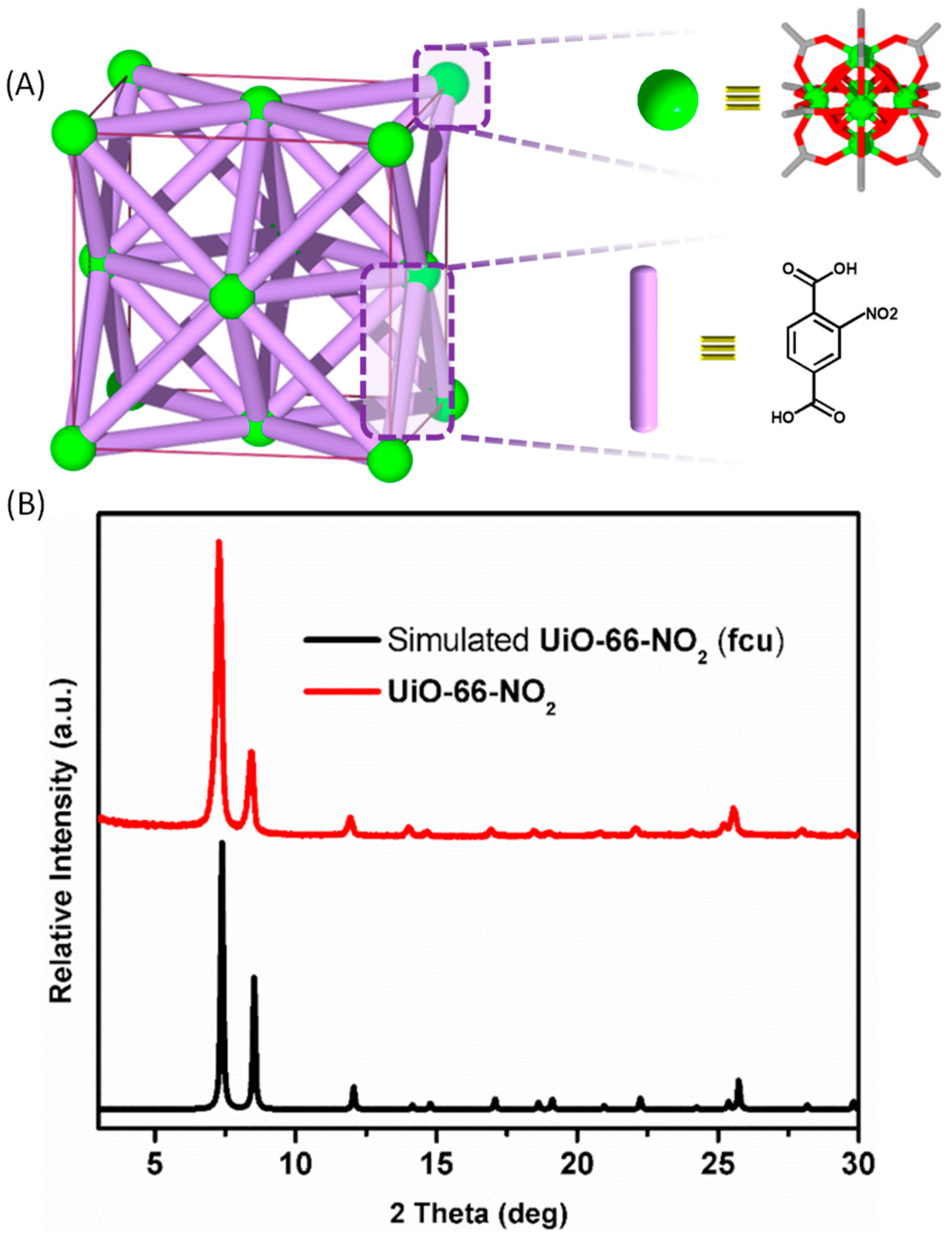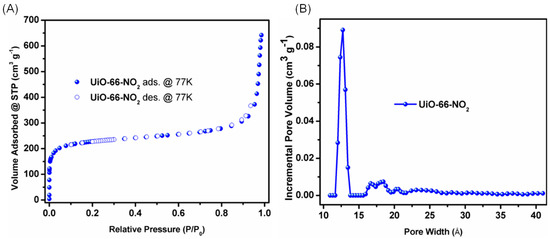 Figure 2. (A) N2 sorption isotherms of UiO-66-NO2 at 77 K and (B) pore-size distribution based on a non-local density functional theory (NLDFT) model.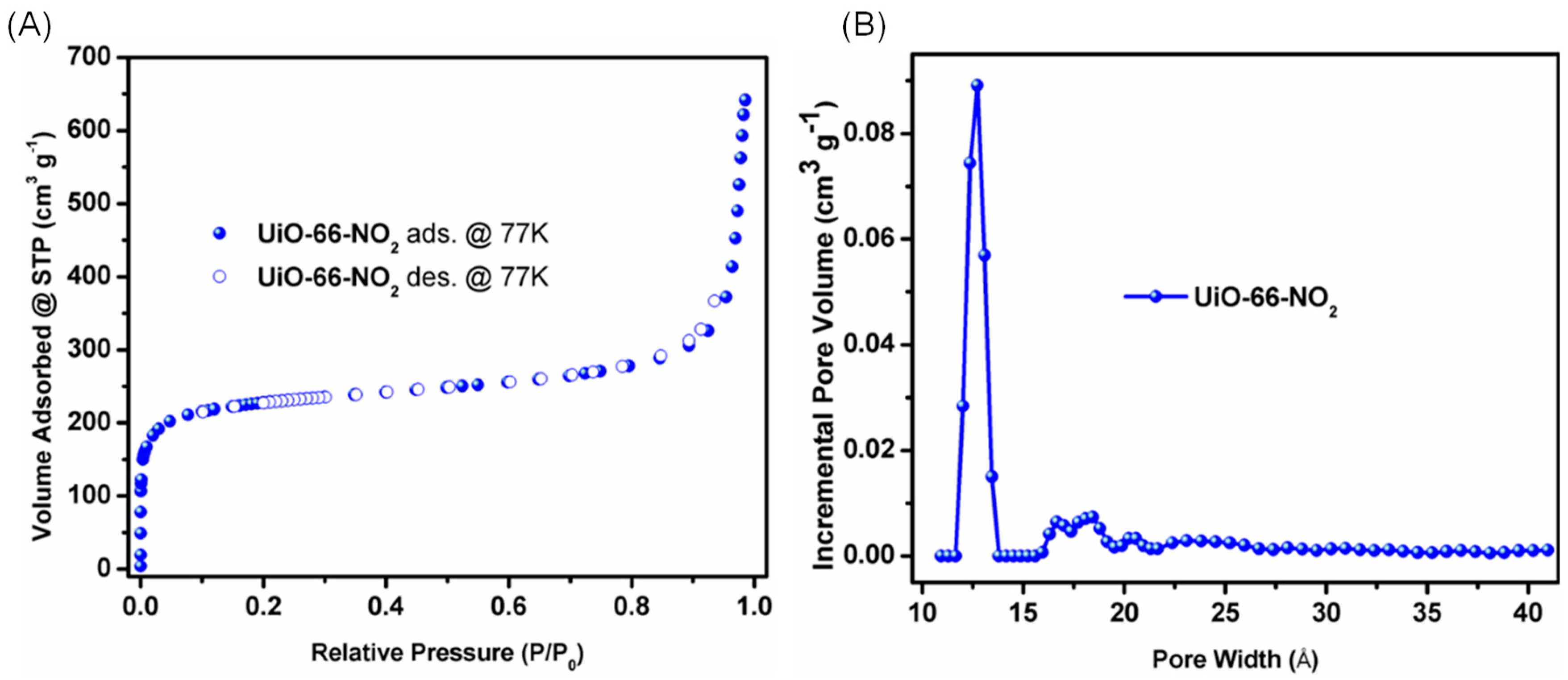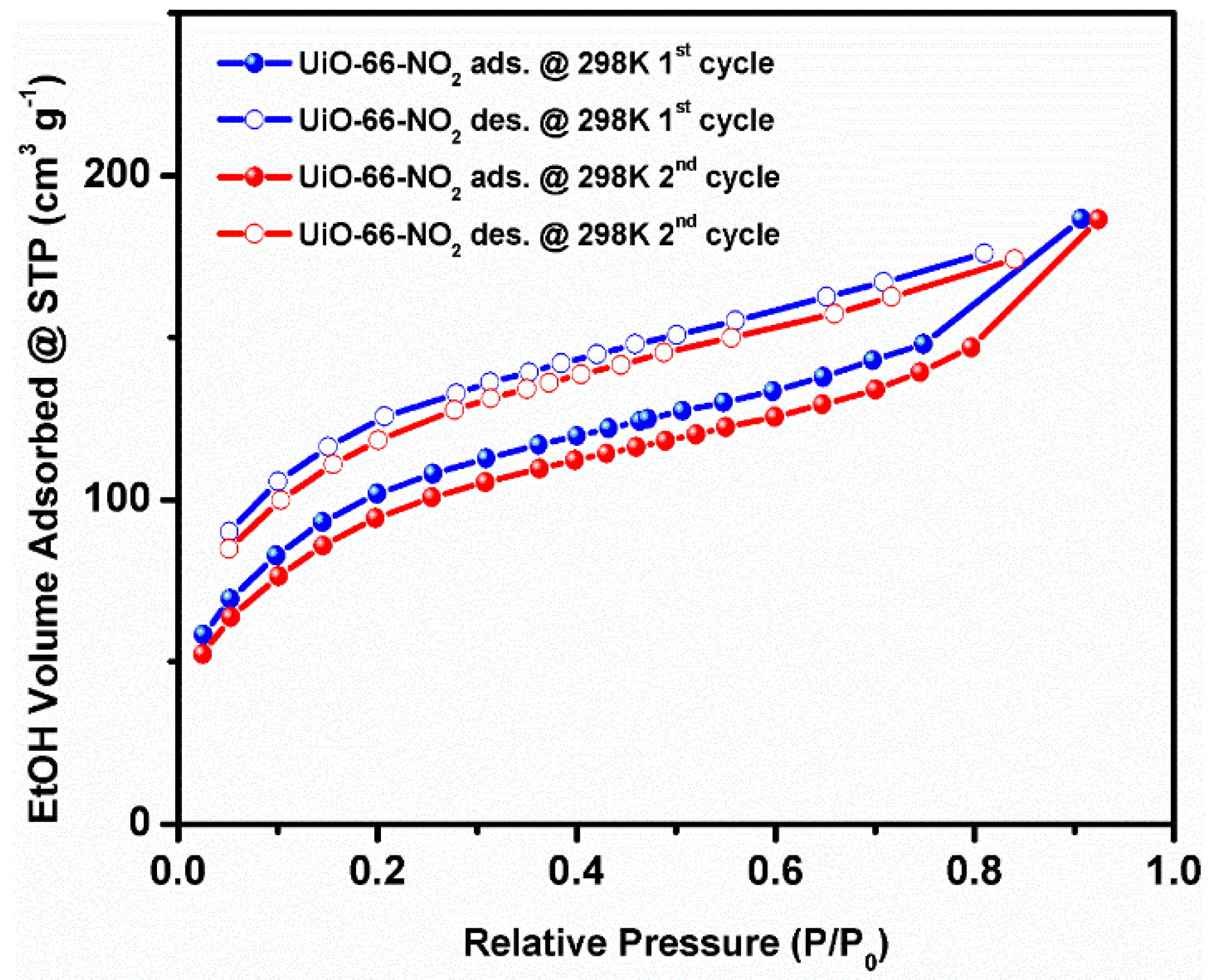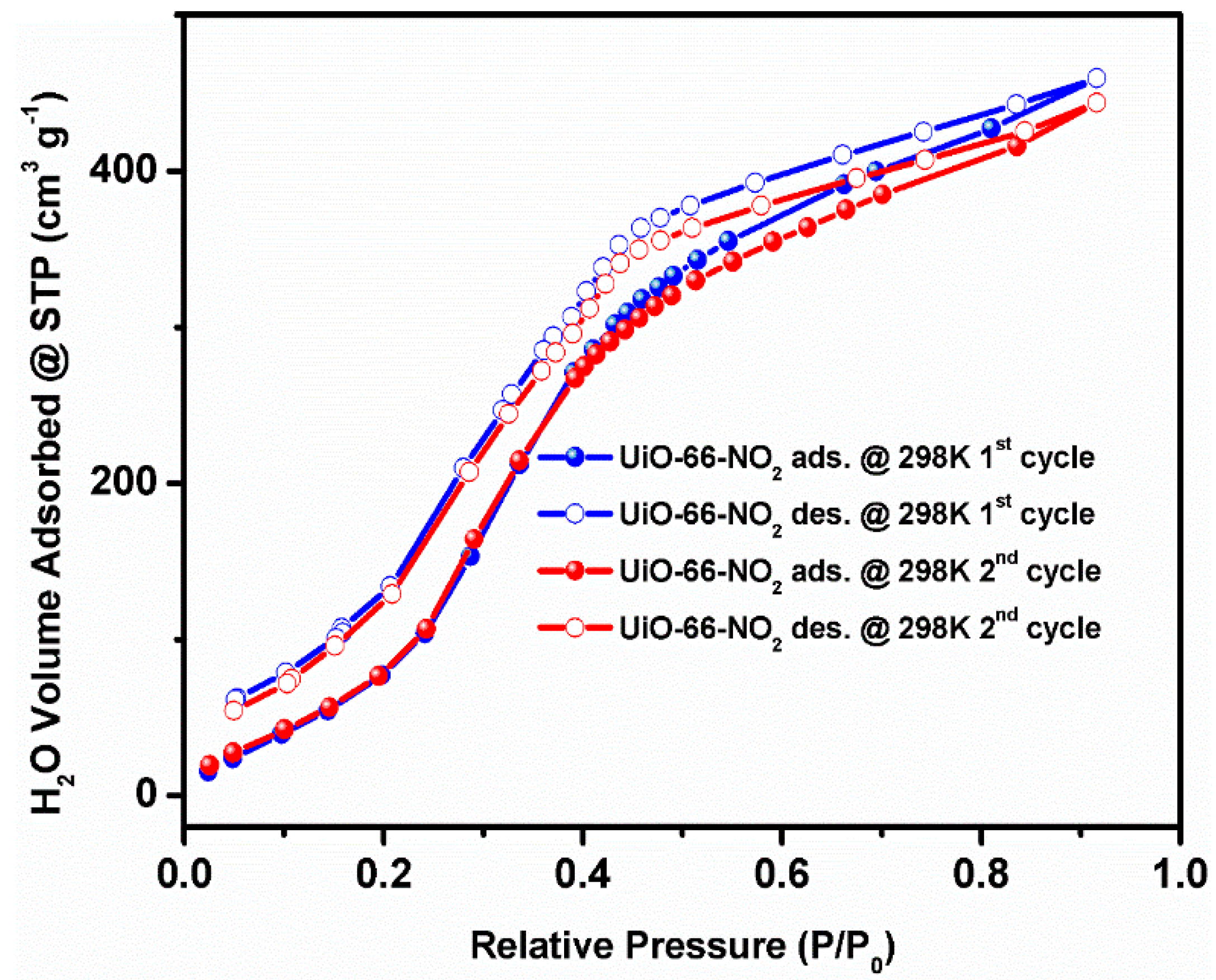 © 2019 by the authors. Licensee MDPI, Basel, Switzerland. This article is an open access article distributed under the terms and conditions of the Creative Commons Attribution (CC BY) license (http://creativecommons.org/licenses/by/4.0/).