Open Access This article is
freely available
re-usable
Article
Exploring New Extractive Phases for In-Tube Solid Phase Microextraction Coupled to Miniaturized Liquid Chromatography
MINTOTA Research Group, Department of Analytical Chemistry, Faculty of Chemistry, University of Valencia, Dr Moliner 50, 46100 Burjassot, Valencia, Spain
*
Authors to whom correspondence should be addressed.
Received: 30 December 2018 / Accepted: 14 February 2019 / Published: 25 February 2019
Abstract
:
In-tube solid-phase microextraction (IT-SPME) coupled on-line to miniaturized liquid chromatography (LC) has emerged as a powerful tool to address a variety of analytical problems. However, in order to expand its applicability, the development of new sorbents that enhance the efficiency and specificity of the extraction is highly desirable. In this respect, the employment of capillary columns coated with sorbents functionalized with nanoparticles (NPs) replacing the loop of the injection valve (in-valve IT-SPME) is one of the most attractive options. In this work, polymers of tetraethyl orthosilicate (TEOS) and trimethoxyethylsilane (MTEOS) modified with SiO2 and TiO2 NPs have been synthetized and used for the extraction of a variety of water pollutants, using both Capillary-LC and Nano-LC. Compounds with different chemical structures and polarities such as the artificial sweetener saccharine, the polycyclic aromatic hydrocarbons (PAHs) naphthalene and fluoranthene, and some phenylurea and organophosphorous herbicides have been used as target analytes. The extraction efficiencies found with the synthetized capillaries have been compared to those obtained with commercially available capillaries coated with polydiphenyl-polydimethylsiloxane (PDMS), nitroterephthalic acid modified polyetilenglicol (FFAP), and polystyrene-divinylbenzene (PS-DVB) phases. The results obtained in this preliminary study showed that, although PS-DVB phase has the strongest affinity for compounds with two or more aromatic rings, the extraction with TEOS-MTEOS coatings modified with NPs is the best option for a majority of the tested compounds. Examples of application are given.
Keywords:
in-tube solid phase microextraction (IT-SPME); SiO
2
nanoparticles; TiO
2
nanoparticles; capillary liquid chromatography; nano-liquid chromatography
Author Contributions
P.G.-N. performed part of the experiments; the rest of authors designed and performed part of the experiments, analyzed the data and wrote the paper.
Funding
This research was funded by EU FEDER and the Spanish Agencia Española de Investigación (AEI)(project CTQ2017-90082-P), and the Generalitat Valenciana (PROMETEO 2016/109) for the financial support received. P. S.-M. expresses his grateful to the EU FEDER and the Spanish AEI for his pre-doctoral grant.
Conflicts of Interest
The authors declare no conflicts of interest. The funders had no role in the design of the study; in the collection, analyses, or interpretation of data; in the writing of the manuscript, or in the decision to publish the results.
Figure 1. Effect of the sample volume (or mass of analyte introduced into the system) on the responses obtained with the different extractive capillary coatings tested for (a) saccharine (125 µg/mL), (b) naphthalene (20 μg/mL) and (c) fluoranthene (1 μg/mL).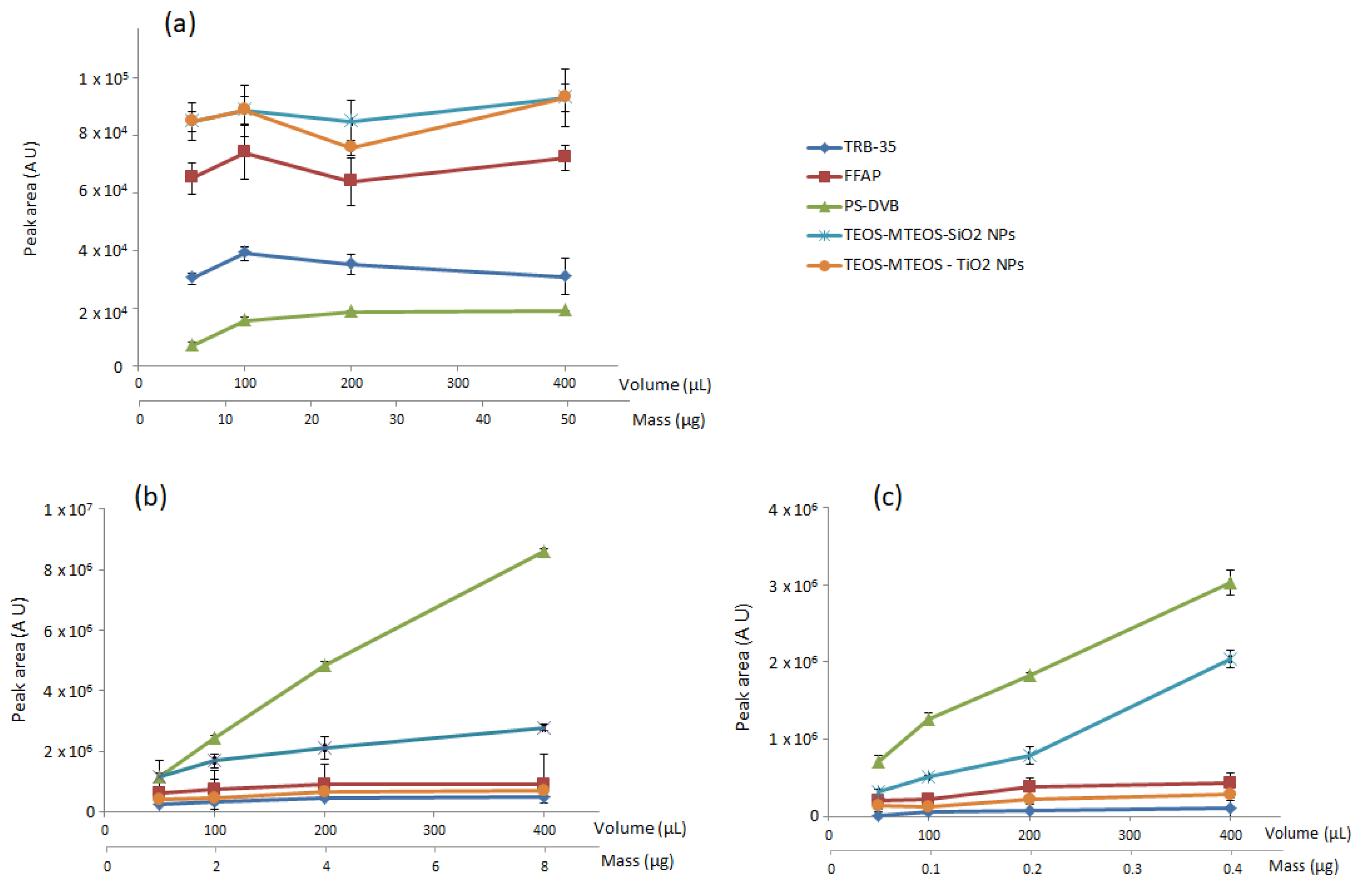 Figure 2. Chromatograms obtained under optimized conditions for (a) three successive injections of a standard solution containing 2.5 µg/mL of naphthalene and 0.18 µg/mL of fluoranthene; (b) a blank (nanopure water), ditch and river water, and for the extract obtained for a soil sample, and the same soil spiked with naphthalene and fluoranthene. Volume of working solution processed, 200 μL.
Figure 3. Variation of the peak areas with the sample volume with the TEOS-MTEOS extractive phase reinforced with TiO2 NPs. Concentration assayed, 25 ng/mL for linuron and 10 ng/mL for the rest of compounds.
Figure 4. Comparison of the peak areas obtained with the TEOS-MTEOS coated capillaries functionalized with SiO2 NPs and TiO2 NPs. Concentrations assayed, 25 ng/mL for linuron and 10 ng/mL for the rest of compounds.
| Compound | Chemical Structure | Log Kow |
| --- | --- | --- |
| Saccharine | | 0.45 |
| Naphthalene | | 3.3 |
| Fluoranthene | | 5.2 |
| Fluometuron | | 2.2 |
| Isoproturon | | 2.5 |
| Metobromuron | | 2.4 |
| Linuron | | 2.7 |
| Fenamiphos | | 3.2 |
| Fenitrothion | | 3.4 |
| Fenthion | | 4.0 |
| Bifenox | | 3.6 |

Table 2. Reproducibility obtained by IT-SPME–Cap-LC with the trimethoxyethylsilane (TEOS-MTEOS) capillaries functionallized with nanoparticles (NPs) and the commercial capillary that gave the best extraction rate for each compound (n = 3); volume of sample processed, 200 µL.
Compound
Concentration(µg/mL)
Extractive Phase
RDS (%)
Saccharine
125
TEOS-MTEOS/SiO2 NPs
TEOS-MTEOS/TiO2 NPs
FFAP
6
4
9
Naphthalene
20.0
TEOS-MTEOS/SiO2 NPs
TEOS-MTEOS/TiO2 NPs
PS-DVB
4
9
8
Fluoranthene
1.0
TEOS-MTEOS/SiO2 NPs
TEOS-MTEOS/TiO2 NPs
PS-DVB
4
7
2

© 2019 by the authors. Licensee MDPI, Basel, Switzerland. This article is an open access article distributed under the terms and conditions of the Creative Commons Attribution (CC BY) license (http://creativecommons.org/licenses/by/4.0/).