Modern Instrumental Limits of Identification of Ignitable Liquids in Forensic Fire Debris Analysis
1
Department of Chemistry, University of Alberta, Edmonton, AB T6G 2G2, Canada
2
Institute of Forensic Research, Westerplatte 9, 31-033 Krakow, Poland
3
Department of Analytical Chemistry, Institute of Chemistry, The University of Silesia, Szkolna 9, 40-006 Katowice, Poland
4
Royal Canadian Mounted Police, National Forensic Laboratory Services-Edmonton, 15707-118th Avenue, Edmonton, AB T5V 1B7, Canada
*
Author to whom correspondence should be addressed.
†
The author has retired from Royal Canadian Mounted Police.
Received: 14 September 2018 / Revised: 21 November 2018 / Accepted: 4 December 2018 / Published: 10 December 2018
Abstract
Forensic fire debris analysis is an important part of fire investigation, and gas chromatography–mass spectrometry (GC-MS) is the accepted standard for detection of ignitable liquids in fire debris. While GC-MS is the dominant technique, comprehensive two-dimensional gas chromatography–mass spectrometry (GC×GC-MS) is gaining popularity. Despite the broad use of these techniques, their sensitivities are poorly characterized for petroleum-based ignitable liquids. Accordingly, we explored the limit of identification (LOI) using the protocols currently applied in accredited forensic labs for two 75% evaporated gasolines and a 25% evaporated diesel as both neat samples and in the presence of interfering pyrolysate typical of fire debris. GC-MSD (mass selective detector (MS)), GC-TOF (time-of-flight (MS)), and GC×GC-TOF were evaluated under matched conditions to determine the volume of ignitable liquid required on-column for correct identification by three experienced forensic examiners performing chromatographic interpretation in accordance with ASTM E1618-14. GC-MSD provided LOIs of ~0.6 pL on-column for both neat gasolines, and ~12.5 pL on-column for neat diesel. In the presence of pyrolysate, the gasoline LOIs increased to ~6.2 pL on-column, while diesel could not be correctly identified at the concentrations tested. For the neat dilutions, GC-TOF generally provided 2× better sensitivity over GC-MSD, while GC×GC-TOF generally resulted in 10× better sensitivity over GC-MSD. In the presence of pyrolysate, GC-TOF was generally equivalent to GC-MSD, while GC×GC-TOF continued to show 10× greater sensitivity relative to GC-MSD. Our findings demonstrate the superior sensitivity of GC×GC-TOF and provide an important approach for interlaboratory benchmarking of modern instrumental performance in fire debris analysis.
View Full-Text
►

▼

Figures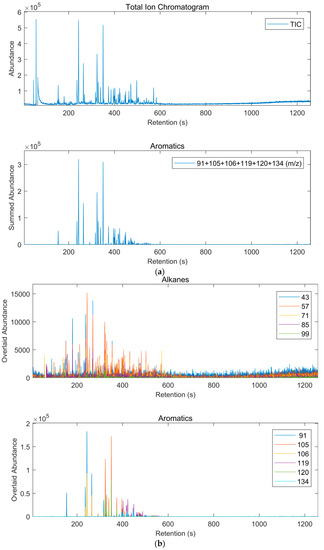 Figure 1
This is an open access article distributed under the
Creative Commons Attribution License
which permits unrestricted use, distribution, and reproduction in any medium, provided the original work is properly cited (CC BY 4.0).
Supplementary material
Externally hosted supplementary file 1
Link: https://tinyurl.com/ybxvmd4a
Description: Chromatograms, and other supporting information - note this is a large file (~650MB) to maintain high quality of chromatograms.

Share & Cite This Article
MDPI and ACS Style
Abel, R.J.; Zadora, G.; Sandercock, P.M.L.; Harynuk, J.J. Modern Instrumental Limits of Identification of Ignitable Liquids in Forensic Fire Debris Analysis. Separations 2018, 5, 58.
Note that from the first issue of 2016, MDPI journals use article numbers instead of page numbers. See further details here.
Comments
[Return to top]