Smoothed Body Composition Percentiles Curves for Mexican Children Aged 6 to 12 Years
1
Specialized Centre for Diabetes, Obesity and Prevention of Cardiovascular Diseases, Mexico City 11650, Mexico
2
Centro de Investigación en Ciencias de la Salud (CICSA), Faculty of Health Sciences, Department of Research, Anahuac University Mexico North, Mexico State 52786, Mexico
3
Service of Endocrinology, National Institute of Pediatrics, Mexico City 04530, Mexico
4
Department of Research, National Institute of Pediatrics, Mexico City 04530, Mexico
5
Sports Production Manager, Secretary of Public Education, Mexico City 01219, Mexico
*
Authors to whom correspondence should be addressed.
Received: 18 October 2017 / Revised: 29 November 2017 / Accepted: 7 December 2017 / Published: 20 December 2017
Abstract
Overweight children and childhood obesity are a public health problem in Mexico. Obesity is traditionally assessed using body mass index (BMI), but an excess of adiposity does not necessarily reflect a high BMI. Thus, body composition indexes are a better alternative. Our objective was to generate body composition percentile curves in children from Mexico City. A total of 2026 boys and 1488 girls aged 6 to 12 years old were studied in Mexico City. Body weight, height, and BMI calculation were measured. Total body fat percentage (TBFP) was derived from the skinfold thicknesses, and fat mass (FMI) and free fat mass indexes (FFMI) were calculated. Finally, age- and gender-specifıc smoothed percentile curves were generated with Cole's Lambda, Mu, and Sigma (LMS) method. In general, height, weight, waist circumference (WC), and TBFP were higher in boys, but FFM was higher in girls. TBFP appeared to increase significantly between ages 8 and 9 in boys (+2.9%) and between ages 10 and 11 in girls (+1.2%). In contrast, FFM% decreased noticeably between ages 8 and 9 until 12 years old in boys and girls. FMI values peaked in boys at age 12 (P97 = 14.1 kg/m
2
) and in girls at age 11 (P97 = 8.8 kg/m
2
). FFMI percentiles increase at a steady state reaching a peak at age 12 in boys and girls. Smoothed body composition percentiles showed a different pattern in boys and girls. The use of TBFP, FMI, and FFMI along with BMI provides valuable information in epidemiological, nutritional, and clinical research.
View Full-Text
►

▼

Figures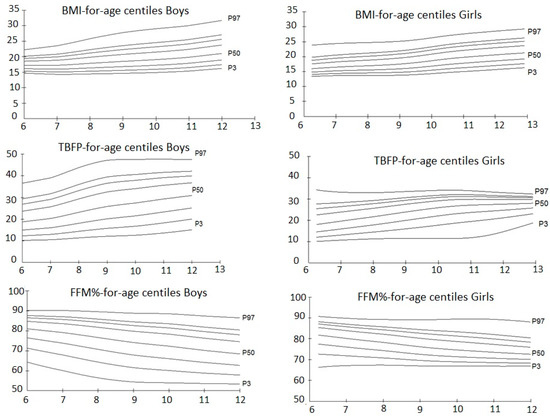 Figure 1
This is an open access article distributed under the
Creative Commons Attribution License
which permits unrestricted use, distribution, and reproduction in any medium, provided the original work is properly cited (CC BY 4.0).

Share & Cite This Article
MDPI and ACS Style
Alpizar, M.; Peschard, V.-G.; Escalante-Araiza, F.; Altamirano-Bustamante, N.F.; Murata, C.; Arenas-Pérez, R.; Rodriguez-Ayala, E. Smoothed Body Composition Percentiles Curves for Mexican Children Aged 6 to 12 Years. Children 2017, 4, 112.
Note that from the first issue of 2016, MDPI journals use article numbers instead of page numbers. See further details here.
Related Articles
Comments
[Return to top]