Open Access This article is
freely available
re-usable
Review
Hosts for Hostile Protein Production: The Challenge of Recombinant Immunotoxin Expression
1
Urological Research Institute, Division of Experimental Oncology, IRCCS San Raffaele Hospital, 20132 Milan, Italy
2
MIUR, Italian Ministry of Instruction, University and Research, 20090 Monza, Italy
3
Università Vita-Salute San Raffaele, 23132 Milan, Italy
*
Author to whom correspondence should be addressed.
Received: 31 March 2019 / Accepted: 13 May 2019 / Published: 17 May 2019
Abstract
:
For the recombinant expression of toxin-based drugs, a crucial step lies not only in the choice of the production host(s) but also in the accurate design of the protein chimera. These issues are particularly important since such products may be toxic to the expressing host itself. To avoid or limit the toxicity to productive cells while obtaining a consistent yield in chimeric protein, several systems from bacterial to mammalian host cells have been employed. In this review, we will discuss the development of immunotoxin (IT) expression, placing special emphasis on advantages and on potential drawbacks, as one single perfect host for every chimeric protein toxin or ligand does not exist.
Keywords:
recombinant immunotoxin; bacterial/eukaryotic expression systems; ribosome inactivating proteins; toxin-based drugs
Funding
This work was supported by the Italian Ministry of Health (GR-2011-02351220 to R.V.).
Acknowledgments
We are greatly indebted to Suzanne Holmes for critical reading and language editing of the manuscript.
Conflicts of Interest
The authors declare no conflict of interest.

Figure 1. Toxin mechanisms of action. Ribosome inactivating proteins (RIPs) such as ricin and saporin depurinate a specific adenine in a universally conserved GAGA-tetraloop in the rRNA, while diphtheria toxin (DT) and pseudomonas exotoxin A (PEA) inactivate the eukaryotic elongation factor 2 (eEF2) by ADP ribosylation, both causing protein synthesis inhibition and thus cell death.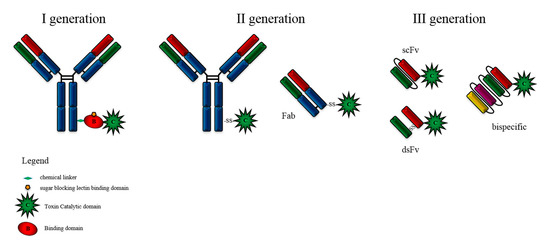 Figure 2. Development of immunotoxins for targeted therapy. Three generations of immunotoxins (Its) are displayed. First generation ITs were prepared by chemically conjugating antibodies to intact toxin with attenuated cell binding capability. In the second generation ITs, truncated toxins lacking binding domain were conjugated to the antibody antigen-binding fragment (Fab). Third generation ITs were produced through genetic engineering and the targeting moieties are represented by the light and heavy chain variable fragments either genetically linked (single-chain variable fragment—scFv) or held together by a disulphide bond (dsFv). Bispecific ITs contain two monodomains with different specificities.

© 2019 by the authors. Licensee MDPI, Basel, Switzerland. This article is an open access article distributed under the terms and conditions of the Creative Commons Attribution (CC BY) license (http://creativecommons.org/licenses/by/4.0/).