The TLR3 Agonist Poly Inosinic:Cytidylic Acid Significantly Augments the Therapeutic Activity of an Anti-CD7 Immunotoxin for Human T-Cell Leukaemia
The Simon Flavell Leukaemia Research Laboratory, Southampton General Hospital, Southampton SO16 6YD, UK
*
Author to whom correspondence should be addressed.
Received: 15 January 2019 / Revised: 7 February 2019 / Accepted: 12 February 2019 / Published: 16 February 2019
Abstract
We have previously shown that antibody-dependent cellular cytotoxicity (ADCC) cooperates with immunotoxin (IT)-mediated killing of human leukaemia cells in an severe combined immunodeficient (SCID) mouse model of human T-cell acute lymphoblastic leukaemia (SCID-HSB-2 mice), but not in an equivalent non-obese diabetic (NOD)/SCID mouse model. In these earlier studies, we reasoned that diminished ADCC due to the functional deficit in natural killer (NK) cell activity in NOD/SCID mice resulted in a failure of effective perforin/granzyme-mediated cytotoxicity necessary for the delivery of the augmentative effect. Poly-inosinic-cytidylic acid [poly (I:C)] is a synthetic dsRNA toll-like receptor 3 (TLR3) agonist that possesses a number of biological properties that includes the in vivo activation of NK cells. We show here that intravenous (i.v.) injection of SCID mice with [poly (I:C)] results in characteristic time-related changes in serum interleukin 2 (IL-2), IL-12, and interferon γ (INFγ) cytokine levels that are consistent with TLR3 driven activation of SCID mouse NK cells. Concomitantly, there are changes in the expression levels of CD2, CD16/32 (FcγRII/RIII), CD161 (NK1.1), and F4/80 in the bulk splenocyte population. These observed changes correlate with an increase in the in vitro lytic capabilities of putative NK cells from within the splenocyte population of [poly (I:C)] treated SCID mice. We demonstrate that the in vivo activation of NK cells with [poly (I:C)] in SCID mice bearing disseminated human T-cell leukaemia xenografts resulted in a significant improvement in the therapeutic activity exerted by an intact murine monoclonal antibody against human CD7. This was also seen for a saporin-based immunotoxin constructed with the same intact antibody (HB2-SAPORIN), but not with an F(ab')
2
derivative of the same antibody or of an IT constructed with the same F(ab')
2
HB2 antibody derivative. This study further demonstrates the previously reported reinforcing role of ADCC for the therapeutic activity of IT in an SCID mouse model of human T-ALL and the potential to significantly boost this further with [poly (I:C)]. Our study provides the rationale to justify the exploration of the clinical utility of IT based therapeutics in combination with TLR3 agonists, such as [poly (I:C)], for the treatment of haematological, and possibly other, malignancies.
View Full-Text
►

▼

Figures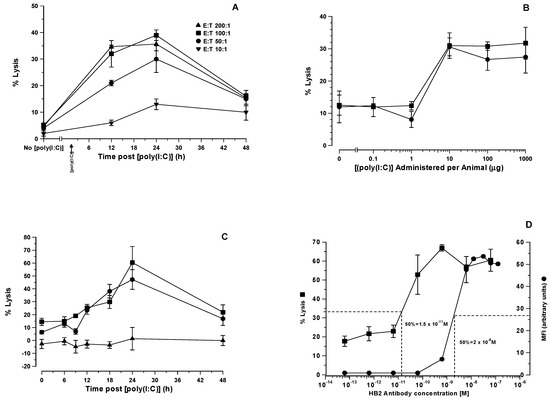 Figure 1
This is an open access article distributed under the
Creative Commons Attribution License
which permits unrestricted use, distribution, and reproduction in any medium, provided the original work is properly cited (CC BY 4.0).

Share & Cite This Article
MDPI and ACS Style
Flavell, D.J.; Holmes, S.E.; Warnes, S.L.; Flavell, S.U. The TLR3 Agonist Poly Inosinic:Cytidylic Acid Significantly Augments the Therapeutic Activity of an Anti-CD7 Immunotoxin for Human T-Cell Leukaemia. Biomedicines 2019, 7, 13.
Note that from the first issue of 2016, MDPI journals use article numbers instead of page numbers. See further details here.
Related Articles
Comments
[Return to top]