Open Access This article is
freely available
re-usable
Review
Metabolic Regulation of Hypoxia-Inducible Transcription Factors: The Role of Small Molecule Metabolites and Iron
Cambridge Institute for Medical Research, Department of Medicine, University of Cambridge, Cambridge CB2 0XY, UK
*
Authors to whom correspondence should be addressed.
Received: 24 April 2018 / Accepted: 15 May 2018 / Published: 17 May 2018
Abstract
:
Hypoxia-inducible transcription factors (HIFs) facilitate cellular adaptations to low-oxygen environments. However, it is increasingly recognised that HIFs may be activated in response to metabolic stimuli, even when oxygen is present. Understanding the mechanisms for the crosstalk that exists between HIF signalling and metabolic pathways is therefore important. This review focuses on the metabolic regulation of HIFs by small molecule metabolites and iron, highlighting the latest studies that explore how tricarboxylic acid (TCA) cycle intermediates, 2-hydroxyglutarate (2-HG) and intracellular iron levels influence the HIF response through modulating the activity of prolyl hydroxylases (PHDs). We also discuss the relevance of these metabolic pathways in physiological and disease contexts. Lastly, as PHDs are members of a large family of 2-oxoglutarate (2-OG) dependent dioxygenases that can all respond to metabolic stimuli, we explore the broader role of TCA cycle metabolites and 2-HG in the regulation of 2-OG dependent dioxygenases, focusing on the enzymes involved in chromatin remodelling.
Keywords:
hypoxia inducible factors; HIF; prolyl hydroxylase; PHD; 2-OG dependent dioxygenase; 2-hydroxyglutarate; 2-HG; iron metabolism; TCA cycle
1. Introduction
In this review, we describe recent developments in the understanding of the metabolic control of the HIF response by small molecule metabolites and iron. We first explore how PHDs can be regulated by TCA cycle intermediates and 2-OG derivatives, and then examine the relevance of this metabolic HIF response in physiological and disease settings. Lastly, we discuss the interplay between this metabolic regulation of HIFs and other 2-OG-dependent dioxygenases in cell fate decisions, and how exploring the pathways involved may present new opportunities to intervene therapeutically in HIF-dependent disease processes.
2. Regulation of HIFs by TCA Cycle Metabolites
The first observations that metabolite regulation of HIFs may be of relevance to disease stemmed from studies examining hereditary cancer syndromes arising from mutations in genes involved in TCA cycle function and mitochondrial respiration (
Figure 1
). Mutations in the succinate dehydrogenase (SDH) subunits (mainly SDHB and SDHD) lead to familial paraganglioma syndromes [
22
,
23
], and it has been noted that some of these tumours resemble the hypoxia-induced carotid body enlargement observed in individuals living at high altitudes [
23
]. Moreover, paragangliomas in patients with SDHD mutations have increased levels of HIF-2α and angiogenic factors [
24
], and the transcriptional profile of phaeochromocytomas with mutations in SDH subunits is similar to those seen in VHL-mutant tumours [
25
]. Interestingly, hereditary heterozygous mutations in another TCA cycle enzyme, fumarate hydratase (FH), also lead to the development of renal cell carcinomas following the loss of heterozygosity, similarly to VHL or SDH mutations [
26
,
27
]. Moreover, HIF-1α and HIF-2α levels have been observed to accumulate in tumours with FH mutations [
28
,
29
], implying that the accumulation of fumarate is linked to HIF activation.
The most plausible explanation for the activation of the HIF response in these familial cancer syndromes relates to altered PHD activity due to the accumulation of TCA cycle small molecule metabolites. Consistent with this hypothesis, Selak et al. [
30
] and Isaacs et al. [
28
] demonstrated that the HIF-α stabilisation, observed in SDH or FH loss, can be reversed in cells following the addition of 2-OG. However, it should be noted that SDH mutations also affect the function of the electron transport chain, which could also alter mitochondrial ROS formation and oxygen availability for PHD activity.
Based on these hereditary tumour syndrome observations, several groups have determined the levels of TCA cycle intermediates that would be required to directly inhibit PHD activity. Hewitson et al. [
31
] assayed the effect and structural basis for the inhibition of PHD activity by TCA cycle intermediates using a truncated form of human PHD2, and a synthetic peptide derived from the HIF-1α oxygen-dependent degradation domain. PHD2 contains a long, disordered region at its N-terminus (residues 1–187), and thus, most enzymatic assays and structures published involve constructs where this has been removed. Using this truncated PHD2, Hewitson et al. found that succinate and fumarate compete with 2-OG at the active site iron atom, forming a complex which is then unable to bind with the HIF peptide. Through this and other studies, estimates for the affinities of succinate and fumarate, as well as other TCA cycle intermediates, to the PHD isoforms have been determined [
31
,
32
,
33
,
34
] (
Table 1
). Fumarate has the highest affinity for PHDs, with PHD2 being most susceptible to competitive inhibition by this metabolite. However, it is important to consider that the relative abundance of 2-OG will also influence PHD activity and the binding of these enzymes to HIFs, as recently demonstrated by Abboud et al. [
35
].
3. Regulation of HIFs by 2-Hydroxyglutarate
Aside from the regulation of prolyl hydroxylation by TCA cycle intermediates, it is becoming clear that other 2-OG derivatives can also modulate HIF function through competitive inhibition of PHD activity (
Figure 1
).
The reduced form of 2-OG, 2-hydroxyglutarate (2-HG), is a chiral compound that can be detected in both enantiomeric forms,
d
(
r
)-2-HG and
l
(
s
)-2-HG, in cells. While this is unusual for metabolites, as stereoisomerism is key to physiological enzymatic processes, the identification of
d
-2-HG and
l
-2-HG specific dehydrogenases (D2HGDH [
37
] and L2HGDH [
38
]) in mammals indicates that both enantiomers have biological roles. Furthermore, human germline homozygous mutations in D2HGDH or L2HGDH lead to
d
- or
l
-2-hydroxyglutaric aciduria, (rare metabolic syndromes involving delayed development, seizures, progressive brain damage, and death usually in early childhood), consistent with both 2-HG enantiomers having physiological roles [
39
]. One explanation for these findings is that 2-HG enantiomers are unwanted by-products of oxidative metabolism that must be oxidised by their respective dehydrogenases to prevent mitochondrial dysfunction. Alternatively, 2-HG enantiomers may act as signalling molecules and have distinct metabolic functions. This latter hypothesis is supported by the identification that patients with homozygous germline mutations in both L2HGDH and D2HGDH are predisposed to brain tumours [
40
,
41
], and recent studies have implicated 2-HG enantiomers in tumorigenesis and cell fate decisions through their actions on 2-OG dependent dioxygenases (also discussed in
Section 6
).
3.1.
d

-2-HG and the HIF Response
3.2.
l

-2-HG Activates a HIF Response in Hypoxia or Following the Accumulation of 2-OG
4. Mitochondrial Lipoylation and the HIF Response
5. HIFs and Iron Metabolism
6. Metabolic Control of PHDs and Other 2-OG Dependent Dioxygenases in Disease
While PHDs are central to controlling HIFα stability and the hypoxia response, it is important to consider that other 2-OG dependent dioxygenases, which have diverse cellular functions, may also respond to changes in oxygen or metabolite availability. Here, we highlight the role of three families of 2-OG dependent dioxygenases which are of particular relevance to the HIF response: Factor Inhibiting HIF (FIH), Ten-Eleven Translocation (TET) methylcytosine dioxygenases, and Jumonji Histone DeMethylases (JHDMs).
6.1. Regulation of Factor Inhibiting HIF by Small Molecule Metabolites
FIH is a 2-OG dependent dioxygenase which hydroxylates an asparagine residue in the C-terminal transactivation domains of HIF-1α and HIF-2α [
94
], blocking the recruitment of p300 and thus, suppressing the transcription of oxygen-inducible genes. This is oxygen sensitive, but with a lower K
m
, such that it is active at lower oxygen concentrations than PHD2 [
95
]. As well as its role in regulating HIF, FIH also has broader asparagine hydroxylase activity [
96
], targeting proteins involved in Notch signalling [
97
,
98
], NF-κB signalling [
99
], and ubiquitination [
100
,
101
].
Similarly to PHDs, FIH activity can be altered by TCA cycle intermediates, but in vitro studies show a more specific pattern of inhibition. Citrate and oxaloacetate have an IC
50
for FIH hydroxylation of an HIF peptide within physiological concentrations (0.6 and 1.2 mM, respectively [
34
]), whereas fumarate and succinate do not appear to inhibit this asparagine hydroxylase (IC
50
> 10 mM) [
34
]. Interestingly,
l
-2-HG has been shown to inhibit FIH at similar concentrations to PHD2 (IC
50
<1 mM) [
36
]. Thus, it is possible that FIH inhibition may contribute to L-2-HG mediated upregulation of HIF target genes in hypoxia.
6.2. Metabolic Control of TETs and JHDMs
Metabolism can alter chromatin in diverse ways, but particularly relevant to this discussion are the roles of small molecule metabolites on DNA and histone methylation by the TETs and JHDMs.
6.3. 2-Hydroxyglutarate and Cancers
Although
d
-2-hydroxyglutarate is a poor inhibitor of PHDs, accumulation of this metabolite in IDH-mutant tumours has marked effects on chromatin remodelling. Firstly, global changes in DNA methylation have been observed in acute myeloid leukaemia (AML), with a specific subset of methylation patterns corresponding to tumours expressing mutant IDH [
112
]. Identical aberrances in DNA methylation are seen in AML cells with mutations in the TET2 DNA demethylase. Secondly, Lu et al. [
113
] observed that the expression of mutant IDH1 or IDH2 in cell lines or patient-derived cells was associated with marked increases in histone methylation, independent of changes in DNA methylation. This was replicated by exogenous addition of
d
-2-HG.
There remains, however, a paradox between the effects of the two 2-HG enantiomers in the development of cancers, much like that of their differential effect on HIF stabilisation. Exogenous delivery of the D enantiomer is in itself sufficient to drive proliferation of leukaemic cell lines, yet delivery of
l
-2-HG has no effect on cell growth [
114
]. In contrast, in vitro studies have suggested that the L enantiomer is a far more potent inhibitor of all 2-OG dependent dioxygenases [
115
]. The explanation for these findings remains uncertain. It is possible that concomitant stabilisation of HIF in conditions of
l
-2-HG accumulation is protective, as Losman et al. [
114
] showed that knockdown of PHD2 in mutant IDH1-expressing cell lines restored their differentiation.
6.4.
l

-2-Hydroxyglutarate in Cell Fate Decisions

The formation of

l

-2-HG in hypoxia has global effects on DNA and histone demethylation. Intlekofer et al. [

54

] observed that increases in total H3K9 trimethylation in glioblastoma cell lines induced by hypoxia could be attenuated by overexpression of L2HGDH [

38

], raising the possibility that the accumulation of

l

-2-HG in hypoxia might have direct and synergistic effects on JHDMs in epigenetic regulation. Tyrakis et al. [

58

] provided further evidence for a potential physiological role of

l

-2-HG. Treating cultured CD8+ lymphocytes with

l

-2-HG in normoxia led to increased expression of CD62L and other T cell differentiation markers, changes which persisted in lymphocytes from HIF-1α or HIF-2α knockout mice. Genetic manipulation of endogenous

l

-2-HG by either knockout or overexpression of L2HGDH led to significant changes in CD8+ T lymphocyte differentiation markers. This was associated with changes in histone H3K27 trimethylation and in DNA methylation, consistent with modulation of JHDM and TET activity.

Anso et al. [

116

] demonstrated the potential signalling implications of

l

-2-HG accumulation in haematopoietic cell fate decisions. Haematopoietic stem cells, despite being highly glycolytic cells with low mitochondrial mass, were highly susceptible to the knockout of mitochondrial complex III, which led to loss of their ability to differentiate, and a global increase in DNA and histone methylation. Unbiased metabolite analysis revealed elevated

l

-2-HG levels, as well as a markedly decreased NAD/NADH ratio. Anso et al. concluded that the disruption of mitochondrial complex III causes a reduced NAD/NADH ratio, thereby favouring reduction of 2-OG into

l

-2-HG [

116

]. Li and colleagues also observed that

l

-2-HG may alter cell fate determination in

Drosophila

larvae [

117

]. In this case

l

-2-HG is synthesized in aerobic glycolysis through the upregulation of

Drosophila

LDH (dLDH) and inhibition of dL2HGDH in a lactate-dependent manner [

117

].

Together, these studies indicate that

l

-2-HG levels influence cell phenotypes, which may be of importance in both physiological and disease settings. However, the relative importance of

l

-2-HG to the oxygen-mediated regulation of 2-OG-dependent dioxygenases remains unclear. In particular, whether

l

-2-HG accumulates in distinct subcellular compartments will be important to determine.
7. Conclusions and Future Directions
The advent of unbiased metabolite profiling technologies and advances in the interpretation of broad-spectrum metabolomics has offered important opportunities for the study of metabolic regulators of HIFs. However, little is understood about the relevance of metabolite transport between cell compartments and how this subcellular localisation impacts signalling via 2-OG dependent dioxygenases. In addition, the affinities of different 2-OG dependent dioxygenases for oxygen, iron and 2-OG are likely to have marked implications for modulating their activity in disease and physiological settings. Advances in localised metabolomics, such as the ability to isolate mitochondria for metabolite profiling [
118
], allow more detailed analysis of metabolite fluxes. However, the rapid movement of metabolites between compartments still makes these types of approaches challenging. Novel imaging modalities, such as hyperpolarised Magnetic Resonance Imaging (MRI) [
119
], now offer the ability to assess metabolite fluxes on a whole organism level, and these techniques will provide important new insight into the role of small molecule metabolites in altering cell fates. Alongside these technical developments, a deeper understanding of the relative importance of metabolic stimuli compared to oxygen sensitivity for the activity of individual 2-OG dependent dioxygenases may delineate cellular pathways where inhibition of the enzymes may be of therapeutic benefit.
Lastly, given the recent application of PHD inhibitors and HIF antagonists in the clinical setting, it will be important to explore the effect of small molecule metabolites on these drugs. Several PHD inhibitors are in phase III clinical trials for anaemia related to chronic kidney disease [
120
], and crystallographic studies predict that they bind to the active site metal and 2-OG to inhibit catalytic activity [
121
]. Therefore, 2-OG and the levels of other small molecule metabolites may influence the activity of these inhibitors, and such interactions may have important consequences for diseases where 2-OG metabolism is impaired. It is possible the association of TCA cycle intermediates or 2-HG with 2-OG dependent dioxygenases may offer insight into new approaches for developing drugs to target these enzymes.
Author Contributions
P.S.J.B. and J.A.N. conceived and wrote this review together.
Acknowledgments
We thank the Nathan laboratory for their helpful discussions regarding the preparation of this manuscript. This work was supported by a Wellcome Senior Clinical Research Fellowship to JAN (102770/Z/13/Z), and a Wellcome PhD Training Fellowship for Clinicians to PSJB (205252/Z/16/Z). The Cambridge Institute for Medical Research is in receipt of a Wellcome Trust Strategic Award (100140). James A Nathan is a Lister Prize Fellow.
Conflicts of Interest
The authors declare no conflict of interest.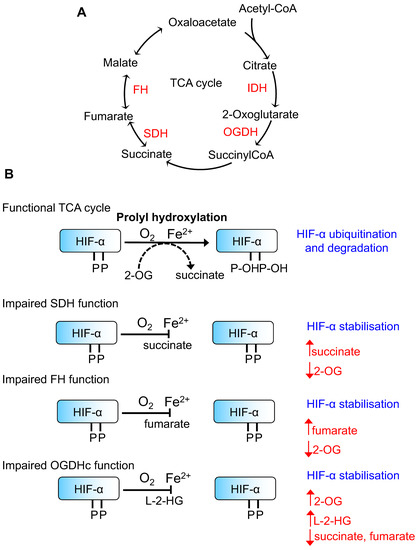 Figure 1. Tricarboxylic acid (TCA) cycle metabolites and Hypoxia-Inducible transcription Factor (HIF)-α prolyl hydroxylation. (A) Schematic of the TCA cycle illustrating key enzymes involved in altering the HIF response. (B) Schematic of HIF-α prolyl hydroxylation by Prolyl Hydroxylase Domain containing enzymes (PHDs). When the TCA cycle is functional, HIF-α is prolyl hydroxyated which acts as the signal for Von Hippel Lindau (VHL)-mediated ubiquitination and subsequent proteasome-mediated degradation. The effects of different TCA cycle enzyme mutations/loss of function on key metabolites and prolyl hydroxylation are shown. IDH = isocitrate dehydrogenase, OGDHc = 2-oxoglutarate dehydrogenase complex, SDH = succinate dehydrogenase, FH = fumarate hydratase.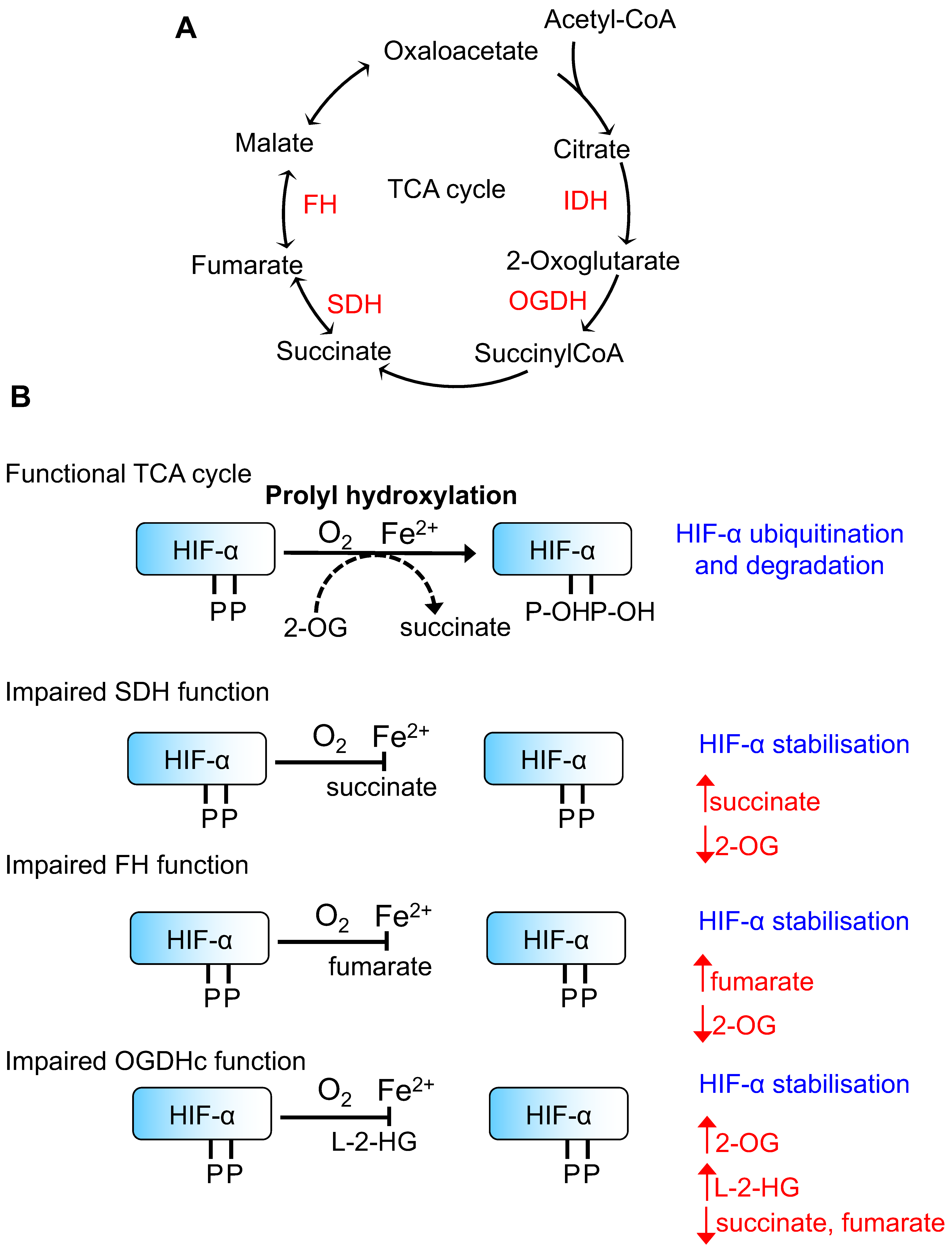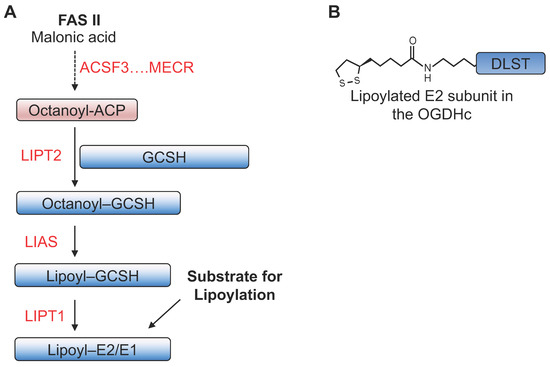 Figure 2. Mitochondrial protein lipoylation. (A) Schematic of the pathway involved in the formation of lipoylated proteins, highlighting some of the enzymes involved. Octanoyl-acyl carrier protein (ACP) is formed from FAS II. Acyl-CoA Synthetase Family Member 3 (ACSF3) is thought to be the first enzyme involved in this pathway. Mitochondrial enoyl-CoA reductase (MECR) is involved in the formation of acyl-ACP. Lipoylated substrates consist of the E1 and E2 subunits of the pyruvate dehydrogenase complex, the E2 subunit of the branched chain ketoacid dehydrogenase complex, and the H subunit of the glycine cleavage system (GCSH). GCSH is thought to be first octanoylated by Lipoyl(Octanoyl) Transferase 2 (LIPT2), and lipoic acid synthase (LIAS) then catalyses the formation of lipoate from the octanoylated protein. LIPT1 is thought to be involved in the transfer of the lipoate moieties to the other E1/E2 subunits. (B), The lipoyl moiety of dihydrolipoamide succinyltransferase (DLST) within the 2-oxoglutarate dehydrogenase complex (OGDHc) is shown.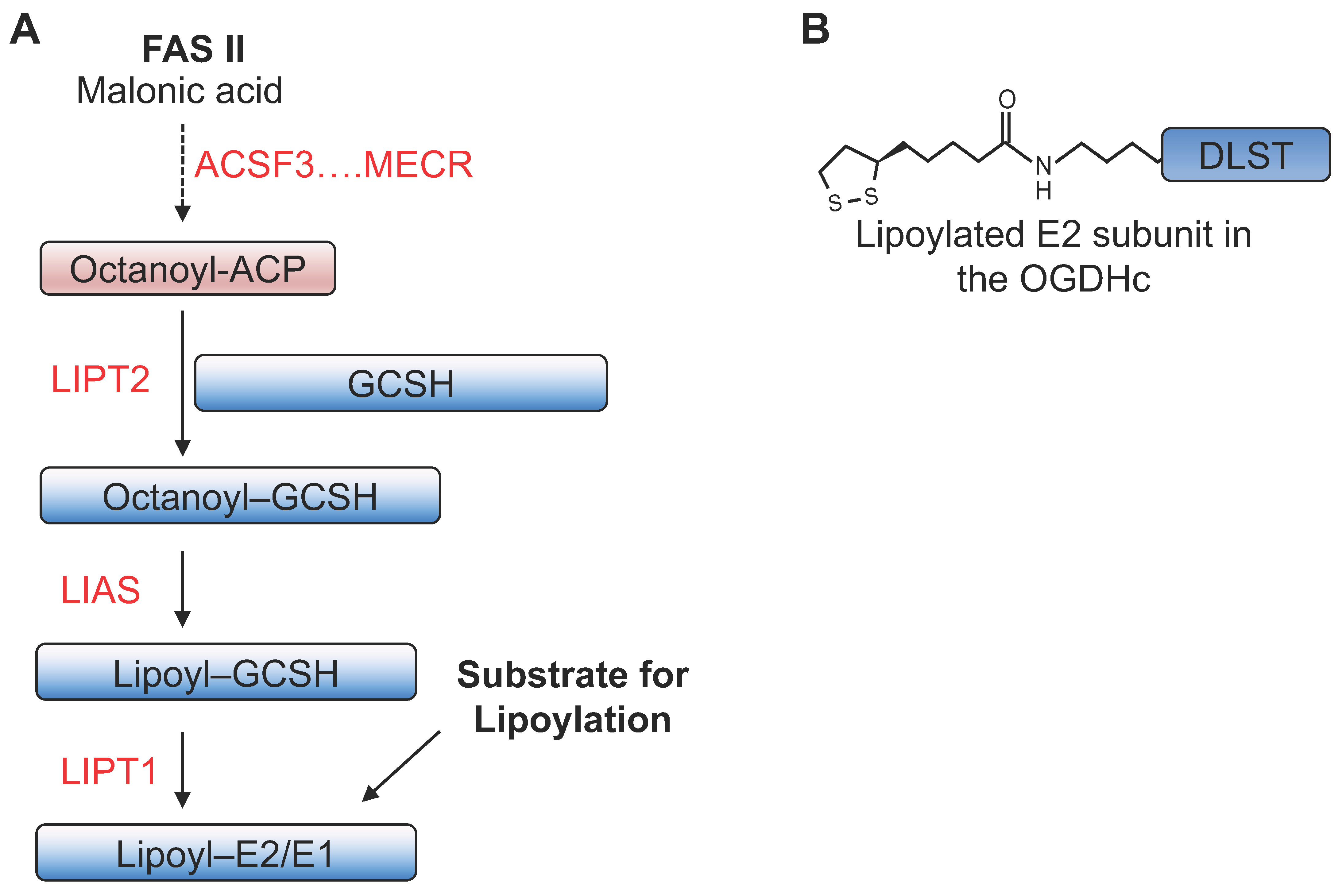 Table 1. Published IC50 values of TCA cycle metabolites and 2-hydroxyglutarate (2-HG) enantiomers as inhibitors of HIF prolyl hydroxylases PHD1, PHD2 and PHD3.

© 2018 by the authors. Licensee MDPI, Basel, Switzerland. This article is an open access article distributed under the terms and conditions of the Creative Commons Attribution (CC BY) license (http://creativecommons.org/licenses/by/4.0/).