Open Access This article is
freely available
re-usable
Review
Mammary Stem Cells and Breast Cancer Stem Cells: Molecular Connections and Clinical Implications
Cancer Research Program, IMIM (Hospital del Mar Medical Research Institute), 08003 Barcelona, Spain
Received: 5 March 2018 / Accepted: 31 March 2018 / Published: 4 May 2018
Abstract
:
Cancer arises from subpopulations of transformed cells with high tumor initiation and repopulation ability, known as cancer stem cells (CSCs), which share many similarities with their normal counterparts. In the mammary gland, several studies have shown common molecular regulators between adult mammary stem cells (MaSCs) and breast cancer stem cells (bCSCs). Cell plasticity and self-renewal are essential abilities for MaSCs to maintain tissue homeostasis and regenerate the gland after pregnancy. Intriguingly, these properties are similarly executed in breast cancer stem cells to drive tumor initiation, tumor heterogeneity and recurrence after chemotherapy. In addition, both stem cell phenotypes are strongly influenced by external signals from the microenvironment, immune cells and supportive specific niches. This review focuses on the intrinsic and extrinsic connections of MaSC and bCSCs with clinical implications for breast cancer progression and their possible therapeutic applications.
Keywords:
mammary stem cells; cancer stem cells; cell plasticity; immune interplay; tumor microenvironment; targeting CSCs
Funding
This work was supported by grants from Instituto de Salud Carlos III-FSE (MS17/00037) to Toni Celià-Terrassa, and FEDER (CP17/00037).
Acknowledgments
I thank Daniel D. Liu for critical reading of the manuscript. I also apologize to the many investigators whose important studies could not be cited directly here owing to space limitations.
Conflicts of Interest
The author declares no conflict of interest.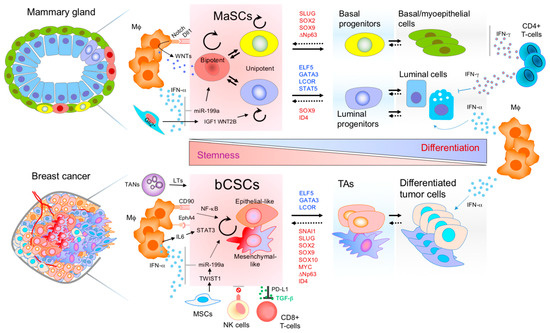 Figure 1. Molecular networks and immune regulation of mammary stem cells (MaSCs) and breast cancer stem cells (bCSCs). Similar immune cell components form the stem cell niche and the microenvironment of both stem cell phenotypes, normal and malignant. Transcription factors (TFs) inducing stem cell properties in the normal mammary gland (red letters), also induce stemness in breast cancer cells and increase tumor aggressiveness. On the other hand, luminal differentiation TFs of the mammary gland (blue letters), also induce differentiation in breast cancer cells and tumor suppression. Breast CSCs can be epithelial-like CSC or mesenchymal-like CSCs. The hierarchical organization of both tissues is highly dynamic, and the stem cell pool can be replenished from non-stem cell populations. Therefore, transitions can be bidirectional demonstrating cellular plasticity and environmental regulation of the mammary epithelial cells. Mφ, macrophage; TANs, tumor associated neutrophils; MSCs, mesenchymal stem cells; NK, natural killer; TAs, transit amplifying cells; LTs, leukotrienes.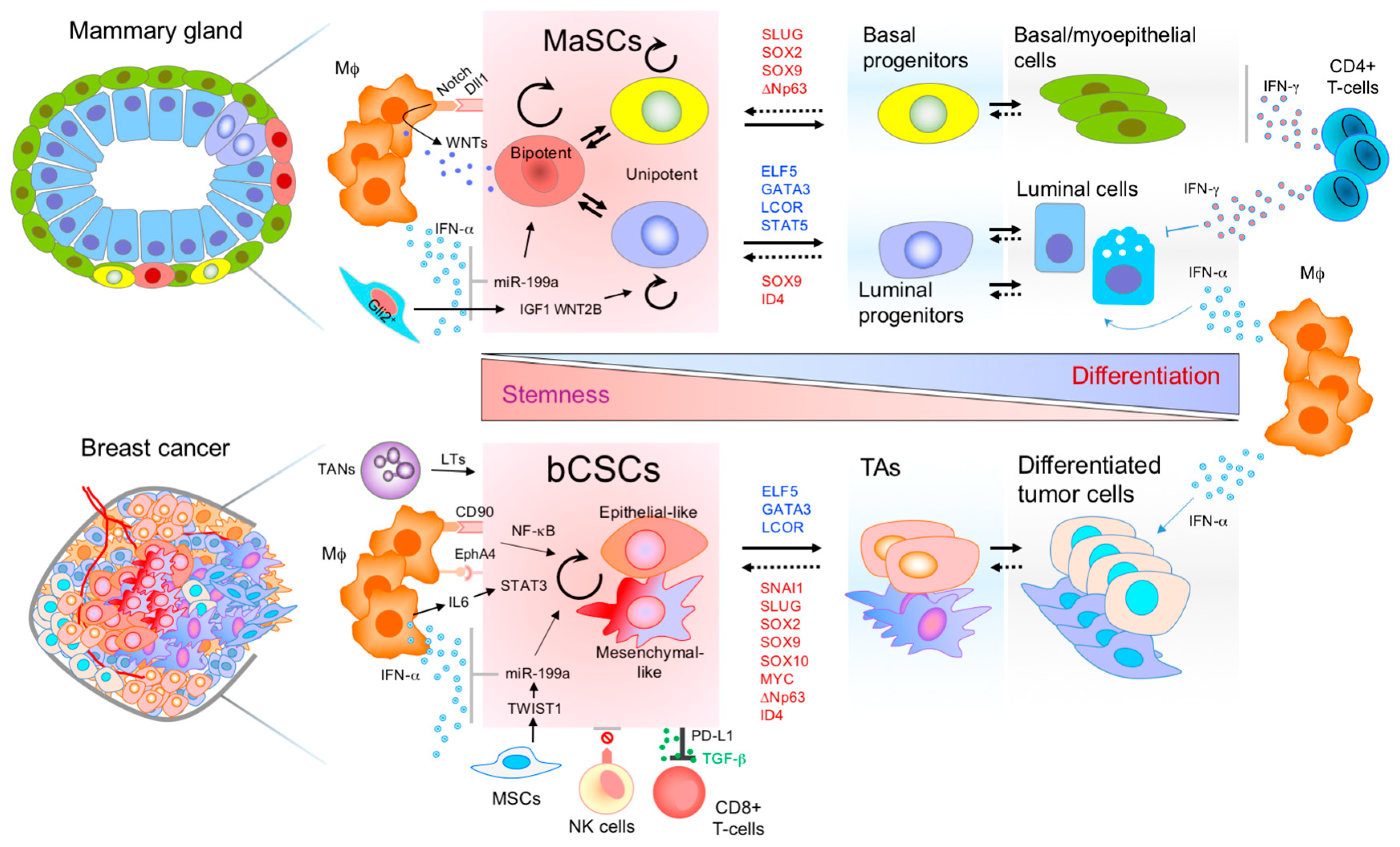 © 2018 by the author. Licensee MDPI, Basel, Switzerland. This article is an open access article distributed under the terms and conditions of the Creative Commons Attribution (CC BY) license (http://creativecommons.org/licenses/by/4.0/).