Open Access This article is
freely available
re-usable
Review
Recent Progress on the Evolution of Pourbaix Sensors: Molecular Logic Gates for Protons and Oxidants
Department of Chemistry, Faculty of Science, University of Malta, MSD 2080 Msida, Malta
Received: 8 October 2018 / Accepted: 29 October 2018 / Published: 31 October 2018
Abstract
:
Recent progress in the area of molecular logic, in particular molecules capable of sensing for acidity and oxidizability, are gathered together in this short review. Originally proposed as AND logic gates that provide a high fluorescence output when simultaneously protonated and oxidized, the concept has been extended from two-input to three-input variants and to include molecules that function as INHIBIT logic gates. Photochemical concepts such as photoinduced electron transfer (PET) and internal charge transfer (ICT) are exploited as favorite design concepts. This review highlights the evolution of Pourbaix sensors with anthracene, pyrazoline, and naphthalimide fluorophores. Future applications abound in various disciplines from corrosion science, material science, geochemistry to cell imaging.
Keywords:
molecular logic gate; photoinduced electron transfer; internal charge transfer; fluorescence; luminescence; molecular sensor; redox indicator; pH indicator
1. Introduction
The 6th International Conference on Molecular Sensors and Molecular Logic Gates (MSMLG) was held in Dalian, China on June 4 and 5 [
1
]. The conference presentations were dominated by work on fluorescent molecular sensors for metal cations, and to a lesser extent, on the detection of anions and organic molecules, in solution, luminescent materials, and cell imaging applications [
2
]. Presentations on the recent developments of molecular logic gates [
3
] were underrepresented as many in the field did not make the pilgrimage to Dalian. Nonetheless, the conference was an overwhelming success with 193 registered participants [
1
].
This year, 2018, marks the 25th anniversary since the publication of the first book on fluorescent chemosensors as a symposium series [
4
]. As comes with technological advancements, it is usually not without criticism and controversy. The analytical chemistry community, as pointed out by Wolfbeis, consider chemical sensors as miniaturized analytical devices that can deliver real-time and online information on the presence of specific compounds or ions in complex samples [
5
]. In 1997 Desvergne and Czarnik published
Fluorescent Chemosensors of Ion and Molecule Recognition
and provided a less restrictive definition from an organic chemist's perspective such that a continuous time-measure parameter was not a necessary consideration [
6
]. A positive consequence has been the creative pursuit of libraries of new molecules for a range of analyte targets. This year also marks the silver anniversary of de Silva's digital leap from fluorescent chemical sensing for a single analyte to multi-input detection with the introduction in 1993 of the cross-fertilization of Boolean algebra with the organic chemistry realm [
7
]. The current testament in the field of information processing with molecules
Molecular Logic-based Computation
by de Silva celebrates its 5th birthday [
8
]. This year is also the 5th anniversary of the concept of 'Pourbaix sensors', the thematic topic of this article [
9
,
10
].
2. Background
Marcel Pourbaix was a Belgian electrochemist with a particular interest in understanding corrosion processes. Regarded as a pioneer in the field, he is credited for developing and popularizing potential–pH diagrams constructed from the Nernst equation [
11
]. These two-dimensional figures display in a pictorial manner horizontal, vertical, and diagonal lines, which correspond to the thermodynamic boundary conditions for the various states of an element. The areas within the predicted zones reveal under what conditions an element will dissolve, precipitate, corrode, or be immune to corrosion by passivation of an oxide layer.
In the industrialized world, iron is symbolic of the various states of an element in the natural environment. Iron(III) is readily soluble species in water below pH 4 under oxidizing conditions of 0.8–1.6 V. Iron(II) is also a water soluble species, but over a broader range between pH 0–8. At pH above 8, iron tends to exist as either an oxide or in elemental state. Iron is the core element of steel.
A large amount of capital expenditure, amounting to billions of euros, is on corrosion-prone infrastructure such as merchant vessels, ocean wind turbines, expansion bridges, and military vehicles. There is also the additional economic cost of routine maintenance. Tremendous effort goes into the protection and prevention of corrosion using paints, protective coatings, and sacrificial electrodes. A method for the early detection of corrosion of ferrous and other metallic materials, when damage is minimal, could have tremendous economic savings. The early detection of corrosion before it is visible to the naked eye, using fluorescent molecules, is a viable approach.
The relationship between acidity and redox chemistry is also of paramount importance to medicine and cell biology. Substantial research has documented that many forms of cancer have high levels of H
+
and metal ions, notably Fe
3+
, a common biological oxidant [
12
]. Many blood disorders result from an imbalance of high H
+
levels and elevated Fe
3+
levels released from haemoglobin or the enzyme transferrin [
13
]. Research is on-going to develop acid and redox-responsive micelles as intracellular drug delivery systems [
14
]. However, despite the known interdependence of acidity and redox chemistry in biology, there are no fluorescent probes commercially available for the simultaneous detection of acidity and oxidizability in living cells [
15
].
This review provides an overview of the current state in the evolution of Pourbaix sensors, fluorescent molecular logic gates for pH (acidity) and pE (redox potential) [
9
,
10
]. Researchers within the chemosensor community with an interest in the design, synthesis, and function of molecular sensors and molecular logic gates are the target audience. Previous articles have highlighted aspects of design concepts, the mechanisms of operation (photoinduced electron transfer (PET) and internal charge transfer (ICT)) [
16
,
17
,
18
] and some envisioned applications of this new class of chemosensor [
19
,
20
]. Pourbaix sensors could, in principle, have applications in various disciplines from living cell imaging, corrosion detection, water quality, medical diagnostics, and environmental analysis. Although this new field is currently at the proof-of-concept stage, we are already considering pragmatic uses. This paper highlights many of our recent advances reported at the 2018 MSMLG conference as well as our latest published results.
4. Conclusions
Chemosensors that function as molecular logic gates responsive to pH and redox potential could have practical applications in corrosion science, medical diagnostics, catalysis, environmental monitoring, and cell biology [
19
,
20
]. With the proof-of-concept now established, one obvious direction is the testing of Pourbaix sensors in living cells. Many of the presented examples, notably with a naphthalimide fluorophore, are naturally suited as fluorescent cellular imaging probes and as potential cancer therapy agents [
51
,
52
]. Other avenues to consider are the development of solid-bound fluorescent Pourbaix sensors [
49
] and luminescent-based nanomaterial platforms (e.g., carbon quantum dot sensors [
53
,
54
]).
For those interested in a challenge, current limitations to be addressed include: (1) enhanced aqueous solubility without the need for a co-solvent; (2) improved fluorescent quantum yields (
Φ
f
≥ 0.1); (3) longer emission wavelengths towards the infra-red region; and (4) prototypes responsive to various oxidants.
To conclude, the 7th International Conference on Molecular Sensors and Molecular Logic Gates (MSMLG) will be held in 2020 in Rio, Nevada, America. Our host will be Anthony Czarnik.
Funding
This research received no significant external funding.
Acknowledgments
The University of Malta, the Embassy of France to Malta, CNRS (Centre national de la recherché sciéntifique) and MCST (Malta Council for Science and Technology) are acknowledged for financial support. Gratitude is extended to colleagues at the Université de Bordeaux and CNRS, and AGH University of Science and Technology for fruitful collaborations.
Conflicts of Interest
The author declares no conflict of interest.
Figure 1. Fluorescent two-input AND logic gates 1–4 for protons and redox potential with an anthracene fluorophore.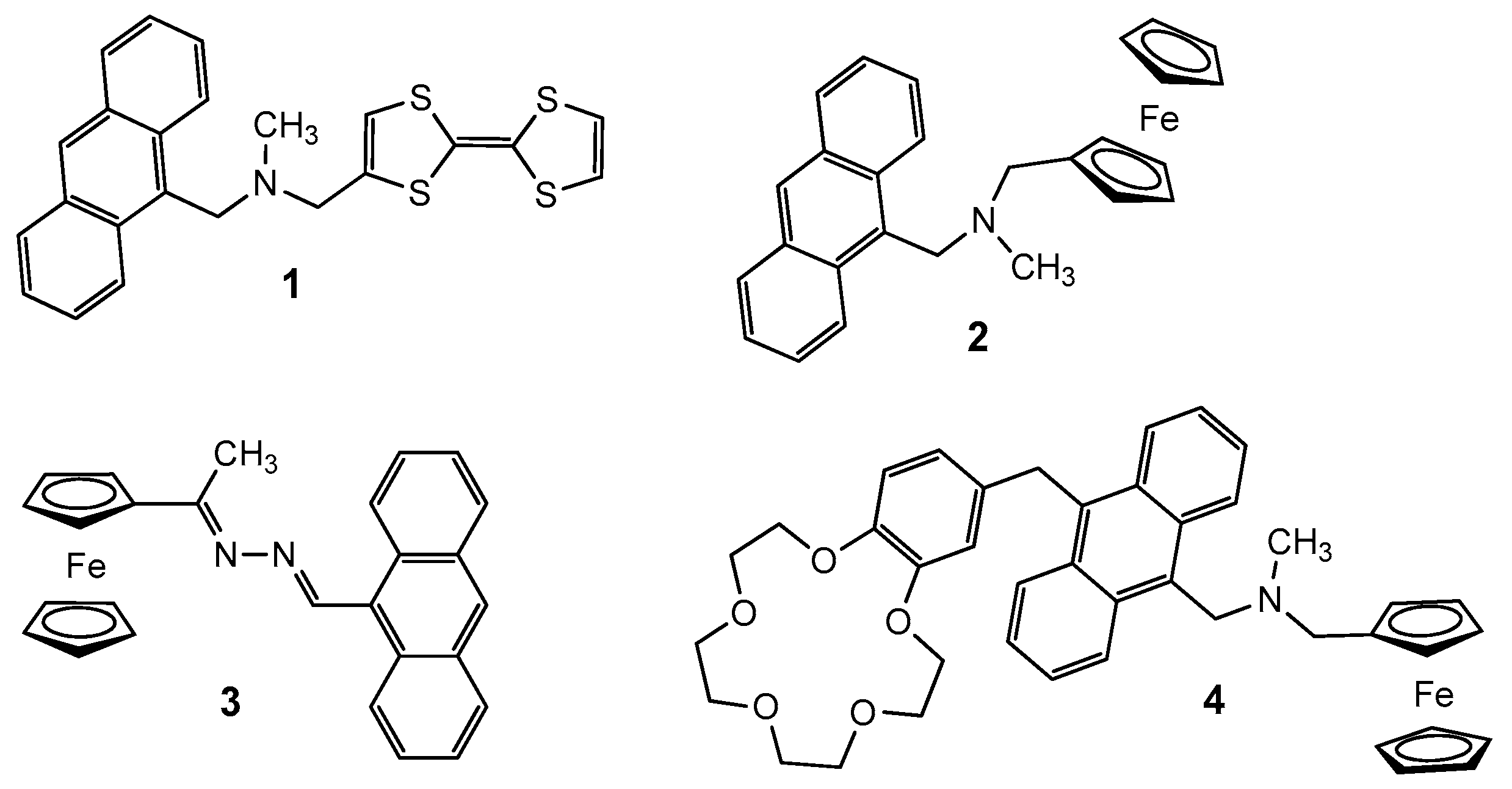 Figure 2. Fluorescent two-input AND logic gates 5–7 for pH and redox potential with a naphthalimide fluorophore and two-input PASS 0 logic gate 8.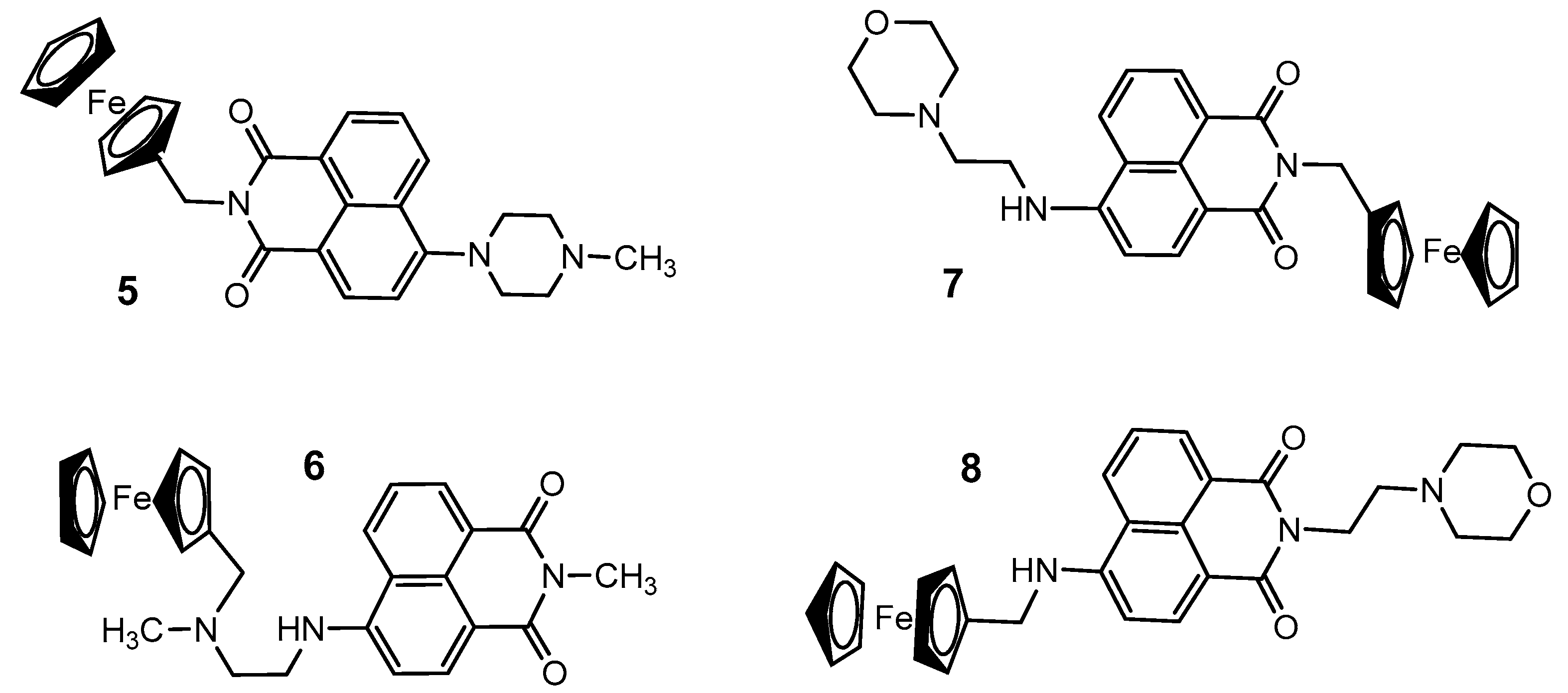 Figure 3. Fluorescent logic gates 9, 11 and 13 with INHIBIT logic functions and 10 with ternary 'off-on-off' logic functions. Logic gate 12 was not fully analyzed.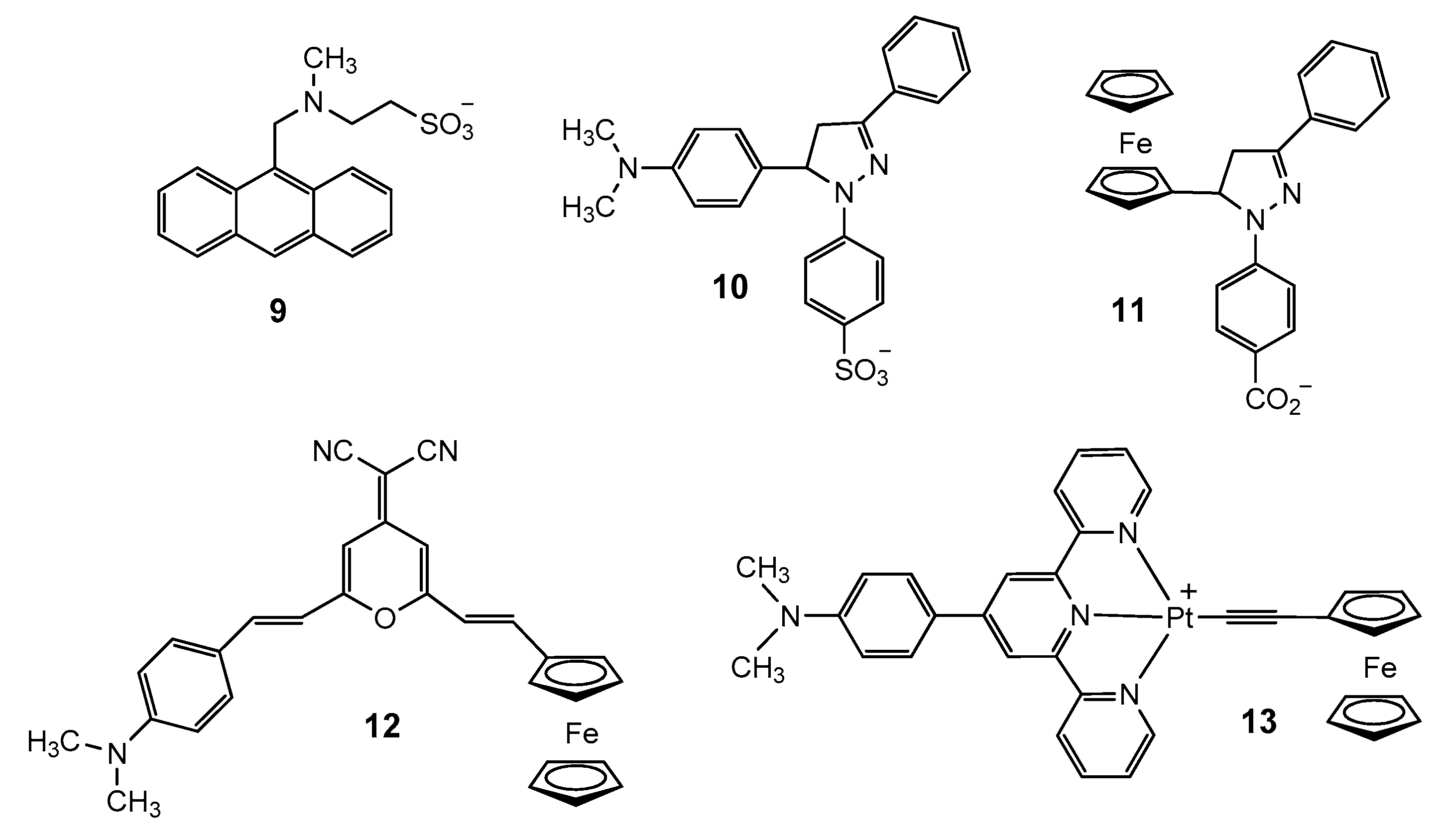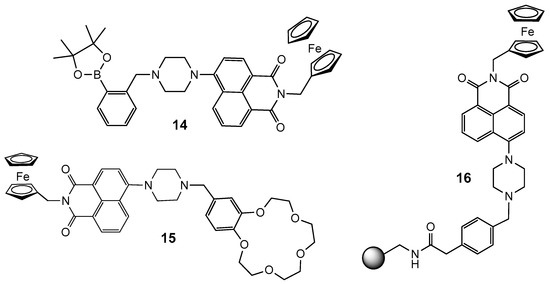 Figure 4. Fluorescent logic gates 14 and 15 with more complex logic functions and logic tagged polymeric bead 16.

© 2018 by the author. Licensee MDPI, Basel, Switzerland. This article is an open access article distributed under the terms and conditions of the Creative Commons Attribution (CC BY) license (http://creativecommons.org/licenses/by/4.0/).