Open Access This article is
freely available
re-usable
Review
Phosphoproteome Discovery in Human Biological Fluids
Department of Pharmaceutical Sciences, University of Tennessee Health Science Center, Memphis, TN 38163, USA
*
Author to whom correspondence should be addressed.
Academic Editors: Edwin Lasonder and Jacek R. Wisniewski
Received: 9 June 2016 / Accepted: 23 November 2016 / Published: 1 December 2016
Abstract
:
Phosphorylation plays a critical role in regulating protein function and thus influences a vast spectrum of cellular processes. With the advent of modern bioanalytical technologies, examination of protein phosphorylation on a global scale has become one of the major research areas. Phosphoproteins are found in biological fluids and interrogation of the phosphoproteome in biological fluids presents an exciting opportunity for discoveries that hold great potential for novel mechanistic insights into protein function in health and disease, and for translation to improved diagnostic and therapeutic approaches for the clinical setting. This review focuses on phosphoproteome discovery in selected human biological fluids: serum/plasma, urine, cerebrospinal fluid, saliva, and bronchoalveolar lavage fluid. Bioanalytical workflows pertinent to phosphoproteomics of biological fluids are discussed with emphasis on mass spectrometry-based approaches, and summaries of studies on phosphoproteome discovery in major fluids are presented.
Keywords:
phosphoproteome; mass spectrometry; biological fluid; biomarker
1. Introduction
From the bioanalytical standpoint, large-scale analysis of complex phosphoproteomes is a highly challenging endeavor. During the last decade, tandem mass spectrometry (MS/MS) has emerged as the principal technology for global-scale qualitative and quantitative examinations of protein phosphorylation. Analogously to phosphoproteome investigations in cells and tissue, MS/MS plays a critical role in bioanalytical strategies applied to analyses of the phosphoproteome in biological fluids, owing to its sensitivity, throughput, and the capability to provide information on protein identity as well as on the precise location of the site(s) of phosphorylation. Workflows for MS/MS-centric phosphoproteomics of biological fluids also encompass a collection of various protein chemistry techniques, chromatographic separation, and bioinformatics tools.
Herein, we review progress in characterizing the phosphoproteome in five major biological fluids: serum/plasma, urine, cerebrospinal fluid (CSF), saliva, and bronchoalveolar lavage fluid (BAL). In the first part we discuss bioanalytical aspects relevant to workflows applied for global phosphoproteome discovery in these biological fluids. In reviewing the bioanalytical strategies, we focus mainly on features pertinent to published biological fluid phosphoproteomics studies, with some discussion of new developments for potential inclusion in future workflows. This review is not intended as a complete presentation of new developments and trends in phosphoproteomics. Instead, when appropriate, we provide references to original research articles or to recent reviews to guide readers interested in more details of a particular sub-topic related to phosphoproteome bioanalytics. In the second part of the review, we present synopses of phosphoproteome studies in individual fluids that have been published to date, and give our opinions on future directions in this field.
2. Bioanalytical Strategies
2.1. General Workflow Characteristics
Phosphoproteome discovery studies in biological fluids to date utilized the so-called bottom-up approach, which denotes a strategy in which information on phosphoproteins present in a biological system and on localization of the phosphosites in these proteins is reassembled from data obtained from direct analysis of proteolytic peptides derived from the constituent proteins. The proteolytic peptides are analyzed with high-end mass spectrometry and bioinformatics tools for amino acid sequence and site assignment information. The general steps in a global phosphoproteome analysis workflow are shown in
Figure 1
.
Proteomics of biological fluids presents specific challenges. A major issue stems from the wide dynamic range of protein levels and the presence of a small group of high-abundance proteins that constitute a large fraction of the total protein mass [
18
,
19
]. These proteins tend to dominate proteomic analyses of plasma/serum and other biological fluids and therefore present a barrier for detection of lower-abundance proteins. For some of the biological fluids, specific other factors such as protein dilution, high content of salts and other interfering components, protease action, etc., need to be taken into account for the design of an effective bioanalytical strategy. Furthermore, the task of phosphoproteome discovery extends beyond determination of protein identities and hence specific peptides bearing the phosphorylation must be probed and the locations of the phosphorylated amino acids must be determined in a comprehensive manner. There is no single, optimum bioanalytical strategy for biofluid phosphoproteomics, and to meet the challenges associated with this research, the phosphoproteome examinations published to date employed various combinations of methods and technologies within the general workflow depicted in
Figure 1
.
2.3. Protein Digestion
Trypsin is the most common protease to digest proteins in proteomics and phosphoproteomics. Trypsin cleaves with high specificity at the C-terminal side of Lys and Arg residues, and produces peptides with lengths that are well suited for LC–MS/MS analysis. In phosphoproteome analyses, phosphorylation of serines or threonines in the vicinity of cleavage sites may impair digestion efficiency [
23
]. A modified digestion methodology that involves pre-digestion of the proteome with endoprotease Lys-C followed by trypsin is one option to enhance reproducibility and the number of identified phosphopeptides [
24
]. In general, protein digestion may be performed in various formats (in-gel, in-solution, filter-aided sample preparation—FASP [
25
], etc.), depending on sample type and workflow choice. Specifically for biofluid phosphoproteomics, studies published to date involved in-solution digestion incorporating reduction/alkylation steps prior to protease treatment; urea (at concentrations compatible with protease activity) was used in some applications to aid protein solubilization.
2.4. Separation of Peptide Mixtures
For fractionation of complex proteomes, electrophoretic or chromatography approaches are often incorporated to reduce complexity of the peptide mixtures in each LC–MS/MS run. For biological fluid phosphoproteomics, multidimensional chromatography (MDLC) approaches that were employed in some workflows involve strong-cation exchange (SCX) and strong-anion exchange (SAX). The second dimension is then comprised by reversed-phase (RP) in a nanoflow regime, connected online to a mass spectrometer. In SCX or SAX separations, multiple fractions are collected, and each of these fractions undergoes separate LC–MS/MS analysis. Search results for each fraction are concatenated to generate an overall panel. Other modalities may be used in the first dimension of MDLC. For example, RP with high-pH mobile phase has gained popularity in proteomics and phosphoproteomics [
26
]; this RP–RP approach has not yet been used in biofluid phosphoproteomics. Besides additional variability introduced through the MDLC element, the major issue associated with inclusion of MDLC (or any multidimensional separation) in a bioanalytical workflow is the concern of throughput. The tradeoff between the ability to reach maximum depth of (phospho)proteome coverage vs. the impact on throughput is significant. Workflows that incorporate MDLC suffer this major disadvantage and while they are suitable for studies that intend to profile a small number of samples for initial characterization of a new proteome subset such as the phosphoproteome, they would be exceedingly technically demanding and costly for analyses of large sample cohorts. These drawbacks effectively preclude application of these workflows in clinical biomarker discovery studies. An approach developed recently as an alternative to multidimensional analyte fractionation is single-dimension RP (nanoflow LC–MS/MS) with extended duration of the separation (up to 10 h) [
27
], and this approach appears to be a valuable option to be considered when extensions of pilot studies to follow up examinations of high number of clinical specimens are being designed [
27
,
28
].
2.5. Phosphopeptide Enrichment
2.6. LC–MS/MS
LC–MS/MS is a key component and the common denominator of (phospho)proteomics workflows. Identification of peptides and proteins in bottom-up approaches is based on data generated by LC–MS/MS analysis of the peptide mixtures produced in proteolytic digestion of the proteome. Reversed-phase chromatography interfaced with high-end tandem mass spectrometers provides separation of the complex analyte mixtures prior to MS and MS/MS. To achieve high sensitivity that is required, the LC configurations commonly feature capillary columns with 75-μm inner diameter and mobile phase flowrates of several hundred nanoliters/min. In an increasing number of LC–MS/MS instrument configurations, the LC is performed in the ultra-high pressure/performance (UPLC) regime, which utilizes sub-2 μm stationary phase particles for major improvements of column efficiencies to achieve high resolution and reproducibility of chromatographic separations.
The peptide analytes in the eluent from nanoLC are introduced into the mass spectrometer and ionized by nanoelectrospray to produce multi-protonated gas-phase molecular ions for MS and MS/MS analysis. The basic goal of the mass spectrometry measurement in the context of (qualitative) phosphopeptide analysis is to determine specific attributes that are then used in subsequent database searches to provide (1) the identity of the proteins present in the sample, and (2) location of the site(s) of phosphorylation in these proteins. Both pieces of information are derived from the mass of the peptide and, most importantly, from the gas-phase dissociation patterns that are diagnostic of the peptide's amino acid sequence and phosphosite location.
2.7. Bioinformatics
Bioinformatics elements associated with MS/MS-based phosphoproteome discovery workflows include tools and methods used in global-scale examination of unmodified proteins, with modifications tailored to the purpose of analysis. For identification of phosphopeptides/proteins and for localization of the sites, MS/MS spectra containing series of product ions diagnostic of the peptide amino acid sequence, together with the mass of the corresponding precursor ion, are used in searches of a protein sequence database. Matches between theoretical MS/MS dissociation patterns for peptide sequences in the database and the MS/MS spectra obtained experimentally are generated, and the candidate peptide-spectrum matches are scored and ranked using various scoring algorithms [
47
]. Target-decoy search strategies are often used to estimate the false discovery rate (FDR) of the dataset [
48
]. Since phosphorylation increases the mass of the modified amino acid residue by a known differential, putative modification sites can be considered in database searches and the exact location of the phosphosite(s) in a peptide can be determined provided that sufficient information is present in the MS/MS data to allow an unambiguous site assignment. Several software tools have been developed to aid in the task of high-confidence phosphosite assignment [
49
]. Software packages are also available for quantitative phosphoproteomics with label-free and labeling strategies [
50
,
51
]. Beyond phosphopeptide/protein characterization and assignment of phosphorylation sites, additional bioinformatics analyses are frequently applied for functional interpretation of phosphoproteomics findings in the context of molecular networks, pathways and diseases [
52
]. Finally, information on experimentally determined protein phosphorylation is compiled in the publicly accessible knowledgebase PhosphoSitePlus, which also serves as an interactive resource to facilitate biological interpretation of phosphoproteome data [
53
].
3. Applications to Biofluid Phosphoproteome Characterization
Phosphoproteome discovery studies in serum/plasma, urine, CSF, saliva, and BAL have been carried out. There is a great variety among the individual studies in terms of specimen characteristics, workflow elements utilized, and the size of phosphoproteome panels reported. In addition, the number of specimens analyzed in these phosphoproteome investigations ranged from one [
54
] to eighty [
15
]. A snapshot of phosphoproteome studies reported for each biological fluid is shown in
Table 1
. Details of these studies are presented in
Section 3.1
(serum/plasma),
Section 3.2
(urine),
Section 3.3
(CSF),
Section 3.4
(saliva) and
Section 3.5
(BAL).
3.3. Cerebrospinal Fluid
Cerebrospinal fluid (CSF) is in direct contact with the entire surface of the central nervous system. Because of its proximity to the brain and the spinal cord, molecular constituents in CSF reflect the status of these structures. CSF is most commonly collected via lumbar puncture, which is an invasive procedure [
64
]. Normally only a small amount of protein is present in CSF, and protein concentration in CSF (ca. 0.5 mg/mL) is 1% of that of serum [
24
,
65
].
In examination of CSF by Bahl et al. [
24
], pooled samples from multiple individuals were analyzed with the goal to optimize the bioanalytical workflow, with particular emphasis on the processing of CSF, protein digestion, and phosphopeptide enrichment, and to produce the initial description of the phosphoproteome in this biological fluid. Because of the low protein concentration in CSF, spin filters with 3 kDa cutoff were employed to concentrate CSF proteins. For digestion, the authors reported that multiprotease combination of Lys-C followed by trypsin was used to enhance digestion efficiency to result in improved coverage of the CSF phosphoproteome. Deglycosylation step with with PNGase F was included to remove sialic acid-containing glycans that may interfere with TiO
2
capture of CSF-derived phosphopeptides [
66
]. Based on LC–MS/MS performed with an LTQ-Orbitrap mass spectrometer using multistage activation (pseudo-MS
3
), phosphopeptides mapping to 44 phosphoproteins were identified in this study. Thirty-eight of the proteins contained a total of 56 phosphosites that were novel at the time of publication. Some of these were new sites discovered in known phosphoproteins such as secretogranin 1; in addition, a number of proteins were described for the first time to exist in their phosphorylated forms.
3.4. Saliva
Saliva is a clear fluid that serves to aid food processing, to maintain health of the oral cavity, and in other functions [
67
,
68
,
69
]. Saliva specimens are easy to collect by non-invasive means. Whole saliva is composed of proteins and other biomolecules originating from major and minor salivary glands and from gingival crevicular fluid; in addition to proteins intrinsic to the salivary glands, saliva also contains serum components. Composition of saliva is influenced by many factors, such as circadian rhythm, rate of flow, stress, and numerous other factors which may contribute to variability in saliva composition among individuals and also within the same individual.
Salih et al. [
36
] investigated whole saliva to characterize on large-scale the salivary phosphoproteome as an initial phase of a long-term direction towards developing saliva-based biomarkers for diagnosis for oral and systemic disease. Pooled samples of whole saliva collected from five individuals were used in multiple analyses. The samples were centrifuged and the proteome was digested with trypsin. To enrich for phosphorylated peptides, the bioanalytical workflow used chemical derivatization of phosphoserine and phosphothreonine residues by a thiol reagent (dithiothreitol, DTT); this reaction involved base-catalyzed beta-elimination of the phosphate group followed by reaction of the resultant dehydroalanine with DTT. The DTT-derivatized peptides were isolated with thiol interchange chromatography using Sepharose 4B glutathione-pyridyl disulfide. The enriched digests were analyzed by nanoLC–MS/MS with an LTQ linear ion trap mass spectrometer. Upon CID, in contrast to regular phosphopeptide molecular ions that undergo facile loss of phosphoric acid, the DTT-derivatized phosphopeptides showed enhanced sequence-specific product ions in their MS/MS spectra. Overall, the initial catalog of phosphoproteins obtained in this study of whole saliva encompassed 65 proteins, classified as originating from multiple cellular sources.
To expand the inventory of whole saliva phosphoproteins, Stone et al. [
59
] analyzed the phosphoproteome in pooled samples procured from healthy donors. Processing of the whole saliva samples involved centrifugation followed by treatment with ProteoMiner hexapeptide library beads to reduce the amounts of high-abundance proteins while simultaneously capturing and concentrating lower-abundance proteins. Non-treated samples were also analyzed. SDS-PAGE in combination with ProQ Diamond phospho-specific staining was used to obtain an initial profile of the whole saliva phosphoproteome. For MS/MS-based phosphoproteomics, the Proteominer-treated and untreated samples were digested in solution with trypsin. The peptides in the digests were separated by off-line SCX chromatography and phosphopeptides in each SCX fraction were enriched with IMAC. LC–MS/MS was performed with an LTQ-Orbitrap mass spectrometer; to maximize phosphopeptide detection, MS/MS incorporated CID and ETD. Protein sequence database searches with the LC–MS/MS datasets considered semitryptic specificity among the search parameters to enable characterization of salivary phosphoproteins that underwent post-translational processing. Because initial searches gave inconclusive output for tyrosine-phosphorylated peptides, the searches were repeated with only pSer and pThr considered as variable modifications (together with oxidation of methionine) to achieve <2% FDR. With the chosen bioanalytical and informatics format, a total of 217 distinct phosphopeptides were characterized in 85 phosphoproteins. The effect of dynamic range compression (ProteoMiner treatment) was not compelling in this particular application; 17% of the phosphopeptides in the characterized set were unique to the ProteoMiner-processed samples. Similarly, ETD-based LC–MS/MS provided unique characterizations of 22 phosphopeptides (10% of the total panel) and corroboration of additional 30 phosphopeptides that were also detected based on CID MS/MS spectra. Comparison of cellular distribution of the characterized phosphoproteins to that of salivary glycoprotein panel generated by the same group in a separate study revealed differences in the distribution of the phospho- vs. glycoproteins. One third of the characterized phosphoproteins were from cytoplasm while the majority of the glycoproteins were categorized as extracellular or localized to plasma membrane. Alignment of the peptide sequences flanking the characterized phosphosites to identify consensus sequences showed diversity of kinase recognition motifs suggesting a variety of kinases potentially acting on the salivary phosphoproteome.
3.5. Bronchoalveolar Lavage Fluid
In contrast to the other biological fluids discussed herein, BAL is not produced naturally. Specimens of BAL are procured via fiberoptic bronchoscopy as washout of the epithelial lining of the lung with a saline vehicle. The procedure to obtain BAL is invasive but generally well tolerated [
70
]. The protein composition in BAL includes proteins released locally by the airway epithelium and other resident cell types, and also serum proteins diffusing across the air–blood barrier [
71
,
72
]. Presence of overabundant serum proteins, high salt content, and analyte dilution (tens of mL of BAL are typically collected) necessitate inclusion of analyte concentration/salt removal steps in the upstream sample processing. Depletion of overabundant proteins is also to be considered in bioanalytical workflows for BAL (phospho)proteomics [
73
].
Giorgianni et al. [
60
] completed pilot interrogation of the BAL phosphoproteome to generate an initial phosphoproteome catalog of this biological fluid. This study involved analyses of two pools of 3–7 individual human BAL samples in two independent experiments; BAL specimens were from individuals without diagnosis of lung cancer or chronic obstructive pulmonary disease. BAL samples were centrifuged to remove cell debris, followed by desalting/protein concentration via ultrafiltration. High-abundance proteins were depleted with Hu-6 MARS immunoaffinity chromatography, in-solution digested with trypsin, and enriched with IMAC. LC–MS/MS was performed with an LTQ ion trap mass spectrometer. With this bioanalytical workflow, 26 phosphosites were characterized in 36 phosphopeptides mapping to 21 proteins. The MARS-bound portion of the phosphoproteome was not analyzed. Phosphorylated serine residues comprised 92% of the phosphosites characterized. Analogously to pilot phosphoproteome discoveries in other biological fluids, large variability in the phosphoproteins between the two sample pools was observed, with only five phosphoproteins (24%) detected in both samples. Based on information collected from the Human Proteome Atlas (HPA), the phosphoproteins were expressed in the lung and in other tissues, reflecting the diverse origin of BAL proteins. This initial examination of BAL demonstrated that phosphoproteome discovery in BAL is feasible, and provided the first map of BAL phosphoproteins, intended as a foundation for future biomarker discovery studies.
4. Concluding Remarks
Phosphoproteomics interrogation of major biological fluids provides an attractive opportunity to gain expanded, unique scientific knowledge complementary to global-scale profiling of protein expression. This unique knowledge on protein phosphorylation holds the promise of new mechanistic insights into protein function in health and disease, and the potential to be translated into clinical applications for improved patient care outcomes. Despite the potential for major impact, research on the phosphoproteome in biological fluids occupies a small niche in proteomics. There are a handful of groups who have published in this arena, and the pace of moving beyond initial phosphoproteome discovery has generally been slow. We believe that it is time to regain the momentum, and we hope that this review will spark renewed interest in biological fluid phosphoproteomics.
From the technical standpoint, there is a huge variety of options for essentially every element of contemporary bioanalytical strategies for phosphoproteomics, from upstream sample processing, to separations of the analytes at the protein and/or peptide level, enrichment strategies, LC-MS/MS configurations and data acquisition modes, and final bioinformatics analyses. The plethora of bioanalytical workflows used to date in the field reviewed herein reflects these realities. Looking into the future, as the field progresses towards the examination of large sample cohorts, sample throughput and method robustness will become prime considerations even if counterbalanced by relatively moderate phosphoproteome coverage. Therefore, workflows that rely on "single-shot" analyses with extended LC gradients and/or with latest-generation high-performance mass spectrometers will likely prevail over approaches involving multidimensional separations. For quantification, multiplexed MRM is a prospective option, targeting panels of phosphopeptides chosen to be pursued as e.g., biomarker candidates based on phosphoproteome discovery and/or pilot comparative phosphoproteome profiling. DIA strategies are to be watched for further developments in computational data analysis and other aspects; it remains to be seen if these methods fulfill their promise and are broadly adopted in the coming years.
As discussed in this review, the initial discovery phase of the phosphoproteomes in the five major biological fluids has been carried out. The size of the phosphoproteome panels described varies considerably from ca. 20 phosphoproteins mapped in BAL to 500 phosphoproteins characterized in plasma. There is certainly opportunity for continued discovery to deepen the phosphoproteome coverage in the fluids, and research in this direction should continue. However, the sets of phosphoproteins and exact sites of phosphorylation assigned in these proteins already represent a wealth of discoveries to be pursued further. Thus the foundation has been laid and research studies building on this foundation are needed to capitalize on and expand the initial findings to move the field forward.
Although qualitative discoveries have uncovered phosphoproteins that are known to be disease-relevant, transition from qualitative discovery to the quantitative assessment of phosphorylation changes in a carefully defined context needs to be pursued more vigorously. Phosphorylation status of a biological fluid proteome reflect the health/disease status of distant tissue or proximal organs. For biomarker discovery and development, biofluid phosphoproteomics should take into account the (hard) lessons learned from the decade-and-a-half of biomarker proteomics efforts. Close attention should be paid to issues such as collection of high-quality biological specimens and proper study design. Continued innovations in analytical technologies and informatics tools are anticipated and these should be harnessed for improved workflows, together with efforts for standardization to reduce variability across workflows and laboratories. Active collaboration between basic and clinical scientists is necessary to define a clinically meaningful question for which biomarker(s) is intended, and to drive the research in that direction, which extends far beyond publications of phosphoproteins lists or putative biomarker panels. Finally, to sustain this drive in the long term, allocation of sufficient resources is required. While we must operate within the current budget realities, a research route that ends with dissemination of pilot phosphoproteome findings would be an opportunity missed. Collectively, investments to support longer-term translational endeavors, commitment of expert teams to these endeavors, and technological advancements are critical factors that will influence the future of biological fluid phosphoproteomics research and shape its ultimate impact.
Acknowledgments
The authors gratefully acknowledge funding support from NIH (S10RR16679), Chiesi Farmaceutici, and the University of Tennessee Health Science Center College of Pharmacy.
Conflicts of Interest
The authors declare no conflict of interest.
Abbreviations
The following abbreviations are used in this manuscript:
| | |
| --- | --- |
| BAL | bronchoalveolar lavage fluid |
| CID | collision-induced dissociation |
| CSF | cerebrospinal fluid |
| DIA | data-independent acquisition |
| DDA | data-dependent acquisition |
| ETD | electron-transfer dissociation |
| IMAC | immobilized metal ion affinity chromatography |
| iTRAQ | isobaric tag for relative and absolute quantification |
| MARS | Multiple Affinity Removal System |
| MDLC | multidimensional liquid chromatography |
| MRM | multiple reaction monitoring |
| MOAC | metal oxide affinity chromatography |
| mTRAQ | mass differential tag for relative and absolute quantification |
| RP | reversed-phase |
| SAX | strong anion exchange |
| SCX | strong cation exchange |
| TMT | tandem mass tag |
| TOF | time-of-flight |
| UPLC | ultra-high pressure chromatography |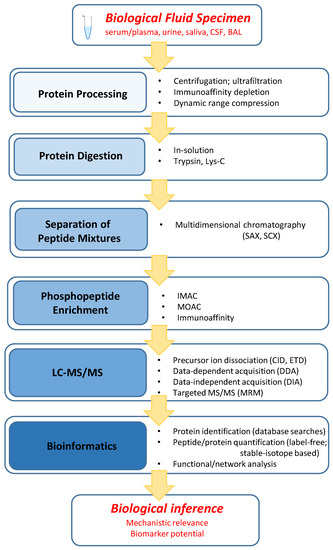 Figure 1. General workflow elements for phosphoproteome characterization in biological fluids. As discussed in the text, there is a variety of options within each element, and not all elements must be part of a chosen workflow. Abbreviations: SAX—strong anion exchange chromatography; SCX—strong cation exchange chromatography; IMAC—immobilized metal ion affinity chromatography; MOAC—metal ion affinity chromatography; CID—collision-induced dissociation; ETD—electron-transfer dissociation; MRM—multiple reaction monitoring.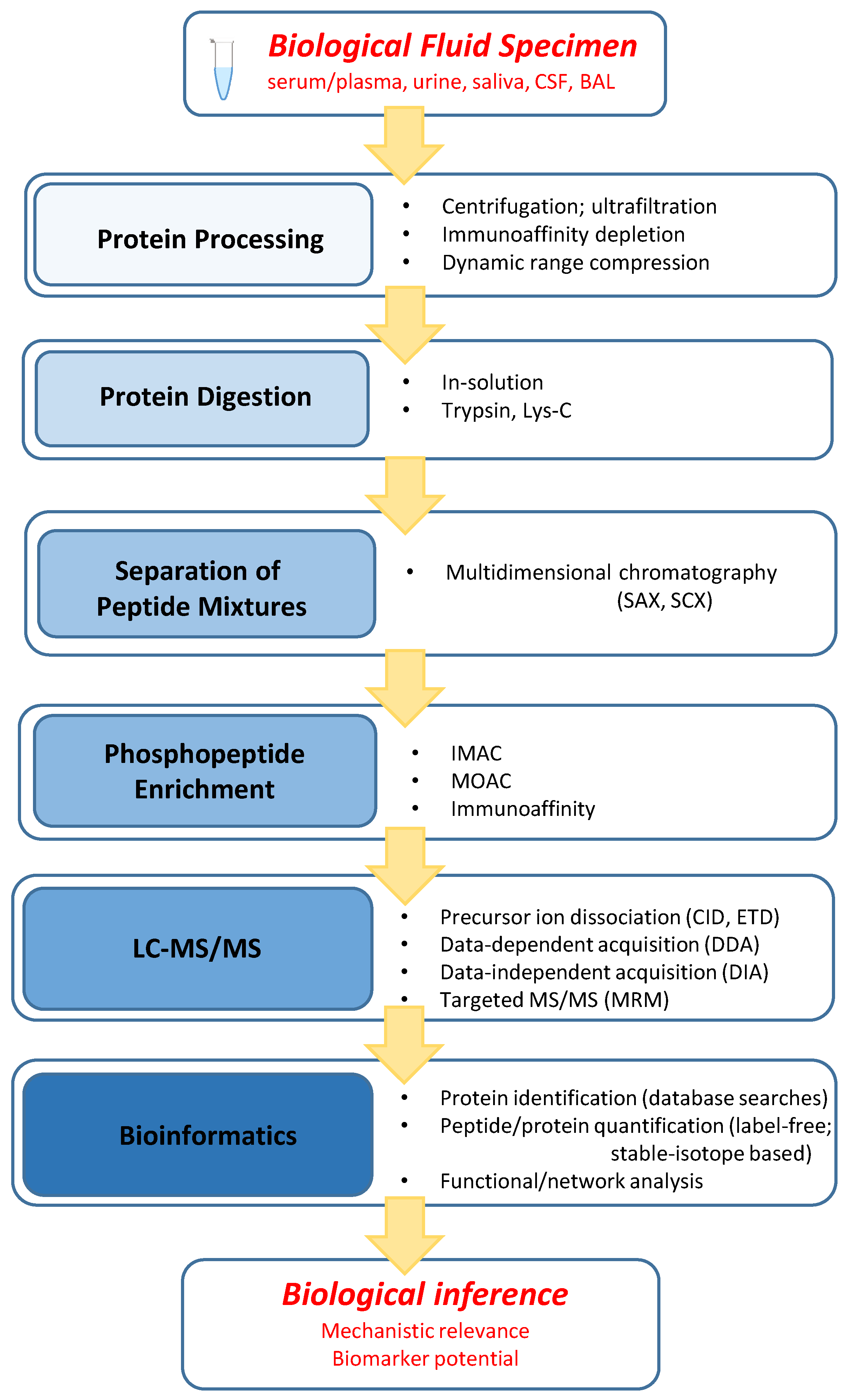 Table 1.
Summary of phosphoproteome discovery studies in five biological fluids: serum/plasma, urine, CSF, saliva, and BAL. Details of these studies are presented in the text (
Section 3.1
,
Section 3.2
,
Section 3.3
,
Section 3.4
and
Section 3.5
). MDLC: multidimensional chromatography; CID: collision-induced dissociation; ETD: electron-transfer dissociation; DDA: data-dependent acquisition; DIA: data-independent acquisition.
Table 1. Summary of phosphoproteome discovery studies in five biological fluids: serum/plasma, urine, CSF, saliva, and BAL. Details of these studies are presented in the text (Section 3.1, Section 3.2, Section 3.3, Section 3.4 and Section 3.5). MDLC: multidimensional chromatography; CID: collision-induced dissociation; ETD: electron-transfer dissociation; DDA: data-dependent acquisition; DIA: data-independent acquisition.
Fluid Studied
Disease or Condition
Protein Depletion
MDLC
Phospho Enrichment
CID/ETD
DDA/DIA
Phosphoproteome Panel Reported
Reference
Serum
Prostate Cancer
Y
N
Y
Y/Y
DDA (qual.)
~100 phosphopeptides
[54]
Plasma
Normal
Y
Y
Y
Y/N
DDA (qual.)
138 phosphopeptides/127 sites in 70 proteins
[55]
Serum
Benign Prostate Hyperplasia
N
Y
Y
Y/N
DDA (qual.)
375 phosphopeptides in 375 proteins
[56]
Serum
N/A
Y
N
Y (at protein level)
Y/N
DIA (qual.)
5800 phosphopeptides in 502 proteins
[15]
Serum
Schizophrenia vs. Control
Y
N
Y (at protein level)
Y/N
DIA (quant.)
59 altered phosphoproteins
[16]
Urine
Normal
N
Y
N
Y/N
DDA (qual.)
45 phosphopeptides/59 sites in 31 proteins
[57]
Urine
Pregnancy (Before/after delivery)
N
N
Y
Y/N
DDA (quant.)
130 phosphopeptides/222 sites in 105 proteins; 16 altered phosphoproteins
[17]
Urine
Normal
N
N
Y
Y/N
DDA (qual.)
106 phosphosites in 64 proteins
[58]
CSF
Suspected Neurological Disorder
N
N
Y
Y/N
DDA (qual.)
44 phosphoproteins (include 56 novel sites)
[24]
Saliva
Normal
N
N
Y (derivatization)
Y/N
DDA (qual.)
65 phosphoproteins
[36]
Saliva
Normal
Y
Y
Y
Y/Y
DDA (qual.)
217 phosphopeptides in 85 phosphoproteins
[59]
BAL
N/A (

not

Lung Cancer or COPD)
Y
N
Y
Y/N
DDA (qual.)
36 phosphopeptides/26 sites in 21 proteins
[60]
© 2016 by the authors; licensee MDPI, Basel, Switzerland. This article is an open access article distributed under the terms and conditions of the Creative Commons Attribution (CC-BY) license (http://creativecommons.org/licenses/by/4.0/).