Open Access This article is
freely available
re-usable
Article
Comparison as a Method for Geography Education
1
Holger Wilcke, Department of Social Sciences, Humboldt-University of Berlin, 10099 Berlin, Germany
2
Alexandra Budke, Institute of Geography Education, University of Cologne, 50923 Cologne, Germany
*
Authors to whom correspondence should be addressed.
Received: 29 May 2019 / Accepted: 21 August 2019 / Published: 27 August 2019
Abstract
:
Comparison is an everyday process of thinking, which is also frequently used in geography lessons. However, in geography pedagogy, the term 'comparison' remains vague and insufficiently defined. In this paper, we will propose a clear definition of what comparison is and introduce it as a systematic method for secondary school geography education. This definition and method is the result of our theoretical–conceptual approach, according to which we have analyzed the current academic discussion about scientific comparison and converted it into a method for teaching. We argue that applying comparison as a pedagogical tool may improve students' skills to argue, reflect, solve problems, and promote good judgement.
Keywords:
comparison; comparative method; geography education; European asylum policies
1. Introduction
Comparison is an ordinary thinking process that makes it easier for people to sharpen perceptions, practice categorization, and solve problems in their everyday lives. As such, it was operationalized for scientific knowledge production. The method of comparison is as old as the discipline of geography itself. For example, Alexander von Humboldt's comparisons of climate zones and botanical complexities of high mountains [
1
] became highly respected academic pieces of work. Similarly, Karl Ritter, the author of Comparative Geography [
2
], who stated that "the personal study of the earth, with critical closeness, and in the comparative method, is the true way" [
2
] (p. xxvii) is highly regarded. In a Eurocentric manner both scientists are often considered as two of the founders of geography as a scientific discipline and for both, comparison was one of the central methods of generating knowledge.
Up until today, comparison remains applied frequently. For example, comparison plays an important role in ongoing discussions about comparative urbanism [
3
,
4
,
5
]. However, it is not only in Geography that comparison is a commonly used method, and a matter of debate: with its own disciplinary traditions of comparison likewise exist in other academic fields such as Social Sciences [
6
,
7
,
8
], Cultural Studies [
9
,
10
,
11
], Political Sciences [
12
,
13
,
14
], History [
15
,
16
,
17
], Religious Studies [
18
,
19
,
20
], Communication Studies [
21
,
22
,
23
], or Comparative Education [
24
,
25
,
26
], and are even discussed transdisciplinarily [
27
,
28
,
29
]. However, none of these studies used, tested, or studied the transferability of comparison to school education. More specifically, very few scientific publications discuss the applicability of comparison in geography classes. Some of those studies that are available are more than 30 years old [
30
,
31
]. In current geography education articles and lesson plans, the idea of comparison is used frequently. We have checked all issues of The Geography Teacher and Teaching Geography from 2017 and 2018 and, in a few papers, it is pointed out that comparisons can help "reach a clear judgement" [
32
] (p. 10), to "understand how things may be connected" [
33
] (p. 67), "to gain a better insight" [
34
] (p. 34), or "to stimulate further reflections" [
35
] (p. 56). Comparing is often mentioned as a task for students, but without referring to a concrete procedure or even a method [
36
,
37
,
38
,
39
,
40
,
41
,
42
,
43
,
44
,
45
,
46
,
47
,
48
,
49
,
50
,
51
,
52
,
53
,
54
,
55
]. Thus, the aim of this article is to provide a clear definition and systematic method of comparison, which can be used as a tool in geography school education to make the full potentials of comparison usable.
In this paper, we follow a theoretical–conceptual approach, which is widely used in geography [
56
] to develop a new concept of comparison based on a conceptual literature review [
57
]. We reviewed the different discussions regarding comparison in the above-mentioned scientific disciplines in order to provide an overview of the main ideas, debates, and models in the given fields of comparison [
57
]. Our objective was to identify how comparisons are defined, to what extent the process of comparison can be systematized, and whether there are models that provide an accurate description of comparison as a scientific method. We also examined the discussed possibilities as well as limitations of comparison methods. The findings of this analysis are summarized in the following section, with special focus on these four aspects. In this section, we also reflect on these aspects considering of the specific requirements of geography education.
Based on this analysis, we will derive a definition for comparison in geography education in the following section. Building on this, we propose a systematic method of comparison for geography education in secondary classes in section four. In order to illustrate this step by step method, we will use the example of European asylum policies. Both the definition and the method are derived from the analysis of the various scientific studies from different disciplines.
2. Comparisons in Science and Its Potential as a Teaching Method for Geography School Education
In the following, we will summarize the discussions we have analyzed about comparison in the various scientific disciplines along four aspects, namely our analytical search for a definition, for systematization and models of comparison, as well as for the possibilities and limitations that come with comparing. Our aim in the following section is to draw first conclusions from recent academic debate on comparison and to check the transferability for geography education in secondary classes.
3. Comparison as a Method in Geography School Education
The four aspects discussed in the last section provide an overview of how scientific comparison is considered in different disciplines. In addition, these discussions were related to current contributions from geography education. For each of the four aspects discussed, we have analyzed key considerations that are key for translating comparison from a scientific method to a dedicated teaching method. Combining these crucial considerations, we propose the following definition for a comparison method.
Comparison is a reflective and argumentative process. Based on a geographical question, a number of units are selected, whose similarities and differences are identified along determined variables in order to work out interrelations. Based on this, justified explanations are formulated to answer a specific question, or further questions are raised, which need to be considered to develop a final answer.
This definition is derived from the aforementioned discussions, and already takes into account the limitations of these previously published studies from various scientific disciplines. In the following section, we will discuss the four central aspects of our definition for a method of comparison in more detail. In addition, we highlight the potential for skill improvements through the inclusion of comparison as a method in geography school education.
4. Comparison as a Method in Geography Education
Having proposed a definition of comparison for geography school education, we here argue for a systematic step-by-step method that can be used in secondary school education to improve learner's skills as described above. The following proposal for a step-by-step procedure is also based on the analysis of the literature for scientific comparison and our derived definition for geography teaching. In particular, the model of Hilker [
64
] and Bereday [
65
], as well as the comparison description of Silver [
66
], are taken as a starting point and will be extended critically along all aspects of our definition discussed above. In order to better illustrate our proposal for a systematic method of comparison, the individual steps are explained using the example of European asylum policies.
We propose a method of comparison that is carried out by students in six steps. These steps are presented one after the other in a typically used order. It should be noted that comparison can take different forms in its practical application, and it may make sense to adjust and postpone individual steps, while carrying out the method (see
Figure 1
).
4.1. Development of a Geographical Question (Step 1)
A geographical question is an essential prerequisite for a comparison, since all further steps of the comparison depend on it (see
Figure 1
). Two distinct procedures are considered when identifying a question, which determine the degree of complexity for students. The question could be given by the teacher or as a textbook task. In this case, the first step for the students would be to clarify exactly what is needed to address the question and to check whether the question requires a comparison. Furthermore, the focus of the question should be questioned critically, including the perspective and intention of the question. Alternatively, students could develop a geographical question themselves. The latter is the more complex option, which we will focus on further in the following.
Such a question developed by students, in the context of migration and asylum in Europe, could be whether the numbers of refugees received in European countries differ from one another and whether the differences in distributions are fair. According to the geographical concepts mentioned previously, the proposed question can be identified as geographical. In terms of space, the question of Europe is addressed and requires the specific comparison of individual countries. The scale of the subject must also be taken into account, in particular the size, number of inhabitants and economic strength of the respective countries. In discussions about a joint European asylum policy, questions of solidarity and social change are also negotiated and can be grasped by the concepts of change, interaction, and diversity. Overall, this is a geographical issue which can be approached in a comparison.
4.2. Determining the Units of Comparison (Step 2)
In the second step, two or more units of comparison should be defined, which can then provide further insights into the comparison. Again, two different procedures can be distinguished. Either the units of comparison can be given to the student, for which it must then be determined whether answers can be generated with these predefined units. Or the students can determine the units themselves, which is the more demanding path as students must weigh up and justify arguments on why the selected units were chosen for comparison.
For the example of asylum policies in Europe, three states of the 28 EU member states could be compared to provide an initial overview of the comparison. The number of units of comparison also determines the degree of complexity in the comparison. It is also necessary to define the specific countries that are compared and that the tertium comparationis must be identified and justified. In the example provided it would be possible to define Malta, Sweden, and Germany as reference units. This choice could be justified by the size and by the fact that Malta is a country with an EU external border.
4.3. Defining the Variables of the Comparison (Step 3)
The third step of undertaking a comparison is necessary to define the variables according to which the units are to be compared. As with the first two steps, there are two different approaches. If the comparison variables are given to the students, they need to check whether the characteristics are likely to lead to meaningful results and whether sufficient information on the comparison variables and units is available. The method becomes more complex for students when they have to define the comparison variables themselves. The comparison variables determine the further course and the perspective of the comparison and must be appropriately justified by the students. It is essential that students retrieve further information with regard to the variables of the comparison. Where necessary, the units of comparison must be revised or adjusted if, for example, insufficient information is available for a unit. The degree of complexity of the comparison is also determined in this step, as it increases with the number but also the quality of the variable.
For the proposed example of asylum policies in Europe, the question addresses the first comparative parameter: the number of refugees admitted to EU countries. When reference is made to the number of recordings, it is important to determine exactly who is included in this definition. In this given example refugees are defined as recognized refugees, those recognized as such, i.e., under the Geneva Convention, as well as people who are still in the asylum procedure. These figures do not provide any information on the number of refugee's newcomers in 2017.
However, what is meant to be a simple comparison where students initially only have to consider one variable, becomes more complex when students also need to go on to consider whether to compare the absolute figures or relative figures, such as the population or GDP of the host countries. This choice requires an argument-based explanation.
4.4. Juxtaposing Differences and Similarities (Step 4)
The comparison based on the differences and similarities of units using the defined variables is a descriptive step. A table is often useful to define this step. Such a table could be drawn up by students to provide an initial overview of the chosen study locations within the EU, including the economic strength and size of the country and the number of refugees living in each country in 2017. In order to increase the usefulness of the figures, the total number of refugees living in the countries concerned can be compared with the size of the country and its economic strength (see
Figure 2
):
According to the UNHCR, the number of refugees living in Germany in 2017 is 1,399,669 and is therefore considerably higher than in Sweden (292,608) and Malta (9378) (Ibid.). However, if these figures are compared to the population of the countries in question a different picture emerges. There are 17 refugees per 1000 inhabitants in Germany, whilst Sweden (29) and Malta (21) have a higher number per 1000 inhabitants. A similar picture emerges when the number of refugees is put in relation to GDP. For every 10 million euros of GDP there are 5 refugees in Germany, 6 in Sweden, and 8 in Malta.
These relative values show why identifying similarities between units of comparison is not a straightforward task. For example, how should the 21 refugees living in Malta per 1000 inhabitants to be compared to the 17 in Germany. Are the two figures on a similar level or is there already a difference? Such a consideration must be justified on the basis of the available information.
4.5. Weighing Variables, Developing Connections Between the Units, and Deriving Explanations (Step 5)
A crucial point for this step is the weighting of the comparison variables and defining the connections between the juxtaposed similarities and differences of the units of comparison. The decision of the weighting of variables in the comparison must be justified. The weighting and its justification are therefore important as it determines the course of the comparison in terms of content. Thus, the interpretation follows the weighting of comparison variables. For this purpose, connections between similar or different characteristic values of units have to be worked out. Furthermore, it is necessary to evaluate the results and findings of the comparison where students can apply both factual and normative evaluation standards. In the following, we outline a possible approach for students with regard to the example topic. Note, however, that this is only one way in which students may handle the present comparison.
The juxtaposition (see
Figure 2
) initially revealed that the three chosen countries have different total numbers of refugees, but that the figures differ in relation to the number of inhabitants and economic power. In their weighting of the variables, students could argue objectively that the absolute figures are only meaningful in relation to the size of the country or its economic strength. Guided by the normative concepts of justice and solidarity, students could consider the unequal distribution of refugees in Europe as unfair in terms of the size and economic strength of the individual host countries.
4.6. Evaluating the Results and Answering the Question (Step 6)
In this step, students answer the question from a geographical perspective. They may also formulate further questions or subsequent steps which may seem integral to answering the initial question. Additionally, it is necessary to reflect on the insights into the comparison identified so far.
An answer to the question whether refugee reception figures in European countries differ from one another and whether the differences are fair could be as follows: A comparison of the three EU member states revealed that the distribution of recognized refugees and people whose asylum procedures are still ongoing are distributed differently. In order to assess these differences comprehensively, the absolute number of refugees must be put in relation to the size and economic strength of the countries. Out of the considered three countries, most refugees live in Germany, but when taking into account the size and economic strength of the countries, more refugees live in Malta or Sweden than Germany. A question that students might ask subsequently is what a fairer distribution of refugees in Europe may look like. In order to counter the disparities, one could argue for an asylum system based on solidarity and binding quotas. Students could argue for a concrete distribution key, which takes equal account of the size and economic strength of the respective country and would therefore make it possible to calculate a fair distribution for all EU member states.
At the same time, it should be noted that this possible answer takes into account the insights gained during the outlined comparison process. As previously stated, reflection is an essential part of the method of comparison proposed here, and is a cross-over step that should be considered at each step. At this point, reflection is made explicit in order to make it clear that through reflection, other perspectives can be identified and thus other insights and answers to the question can be found. Two further aspects might be considered critically. The first could be questioned in the focus on European nation states. For example, if a country such as Lebanon were included in the comparison, the refugee protection found in the European Union could be put in a global context. This would shift the comparison to a different scale and not just compare states with each other, but place the European Union and its Asylum Politics in contrast to other regions of the world (see
Figure 3
).
Secondly, the perspective on EU asylum policies can be critically questioned, as the perspectives of the refugees themselves are not considered, in particular where the refugees want to live. This leaves the answer to the question presented, in which refugees are talked about without being given a voice. On the basis of these considerations, the question and the perspective created by it could be criticized. Through these critical considerations the answer given above could be further differentiated. The proposed quota system could enable refugees' perspective to be considered and provide newcomers a say in the choice of country they are to reside in, which may be influenced by factors such as whether they already have family members living in a certain country. Taking into account a global responsibility for current movements of people, the EU should also not only be able to bring people into the asylum process who manage to overcome the deadly external borders of Schengen Europe, but also to take off the pressure on countries such as Lebanon, which hosts the majority of refugees worldwide. This broadening of perspectives could also lead to the deconstruction of European discussion(s) about 'limits of receptiveness'. This possible addition to the outlined answer illustrates that reflection can increase the importance of considering different answers. Overall, it can be assumed that the method by which comparison is undertaken causes different results and depends on students' previous knowledge, their ideas of norms and values, and the level of their competences relevant to this method. This in turn offers the opportunity for discussion in the classroom.
5. Conclusions
Comparison is an everyday process of thinking which is also constantly being used in geography lessons. However, in geography pedagogy, the term 'comparison' remains vague and insufficiently explained. Therefore, we have examined the recent academic discussions on comparison in various scientific disciplines and identified four essential aspects, that are relevant for the use of a comparison method in geography classes. Comparison is an everyday thinking process that requires systematization for use as a method that goes beyond the simple juxtaposition of similarities and differences. An initial question is essential for a systematic method of comparison, as it determines the criteria and factors for the whole comparison procedure. It is necessary to ensure that the units of comparison have at least one common feature in order to guarantee comparability. Reflection has to be an inevitable element of a comparative method. With this in mind, we have defined comparison as a reflective and argumentative process, which is based on a geographical question. A number of units are selected, whose similarities and differences are identified along determined variables in order to work out interrelations. Furthermore, justified explanations are formulated to answer the initial question. Besides this definition, we proposed a systematic step by step method, that can be used in the geography education in secondary classes to improve learner's skills to argue, reflect, solve problems, and promote good judgement. This definition and method is the result of our conceptual approach, according to which we have analyzed the current academic discussions about scientific comparison and convert it into a method for teaching. The next step would be to empirically examine the applicability of the method in teaching situations. Nevertheless, the result of this paper is the explicit definition and a systematic method, as so far there has been no precise understanding of what comparison in geography education is about.
Author Contributions
Conceptualization, H.W. and A.B.; Methodology, H.W. and A.B.; Writing – original draft, H.W. and A.B.
Funding
This research is part of the Collaborative Research Centre 806—"Our Way to Europe: Culture-Environment Interaction and Human Mobility in the Late Quaternary". The Collaborative Research Center 806 is funded by the German research funding organization "Deutsche Forschungsgemeinschaft" (DFG).
Conflicts of Interest
The authors declare no conflict of interest.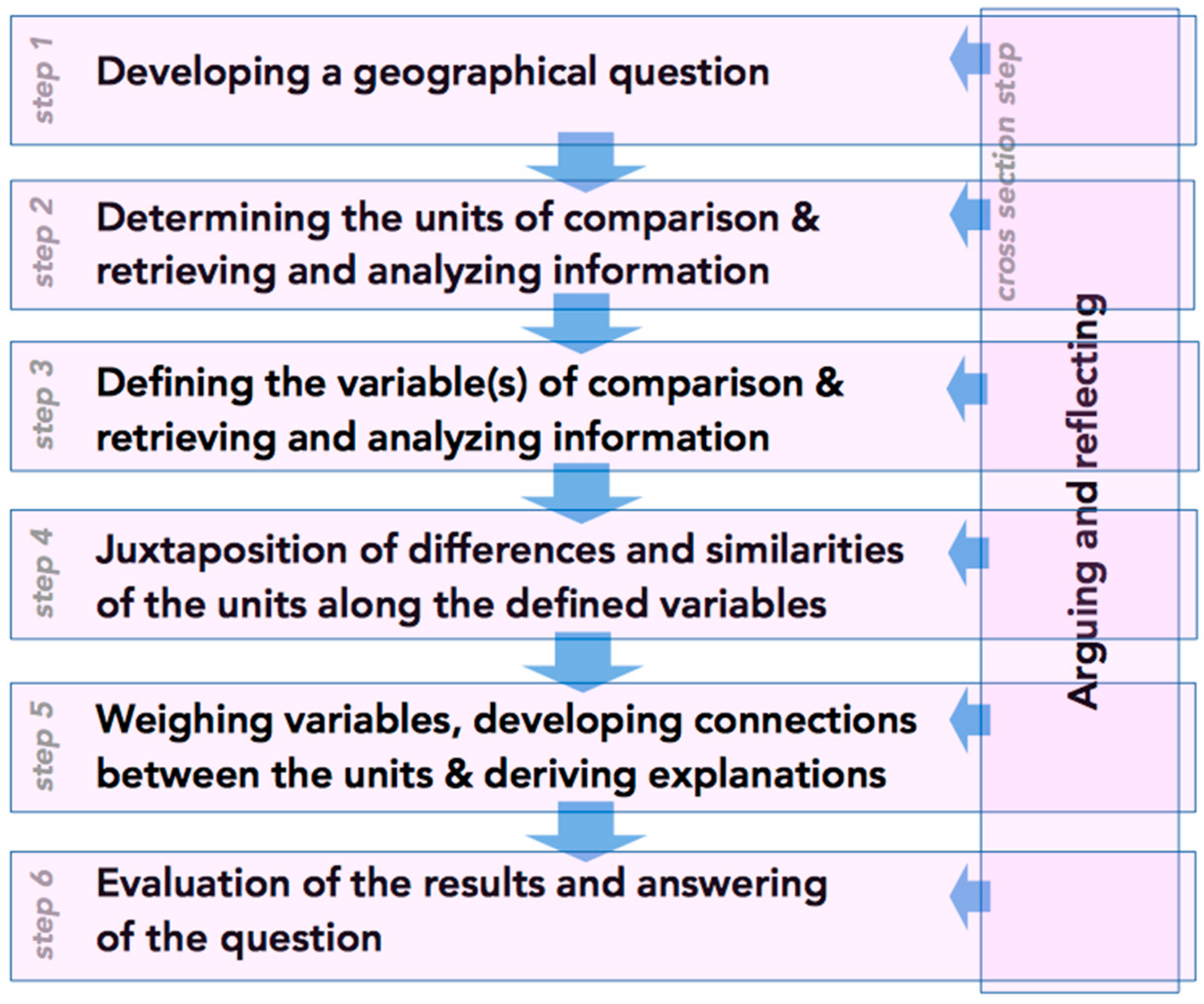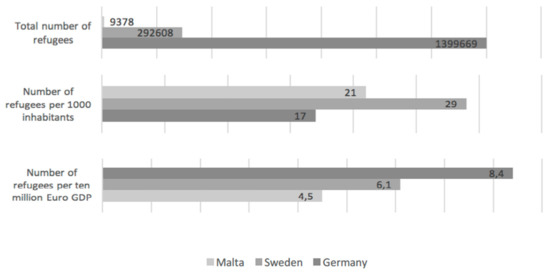 Figure 2.
Recording figures for refugees living in Germany, Sweden, and Malta in 2017 (Source: [
96
], own calculations).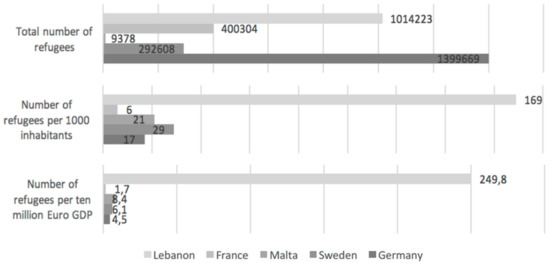 Figure 3.
Recording figures for refugees living in Germany, Sweden, Malta, France, and Lebanon in 2017 (Source: [
96
], own calculations).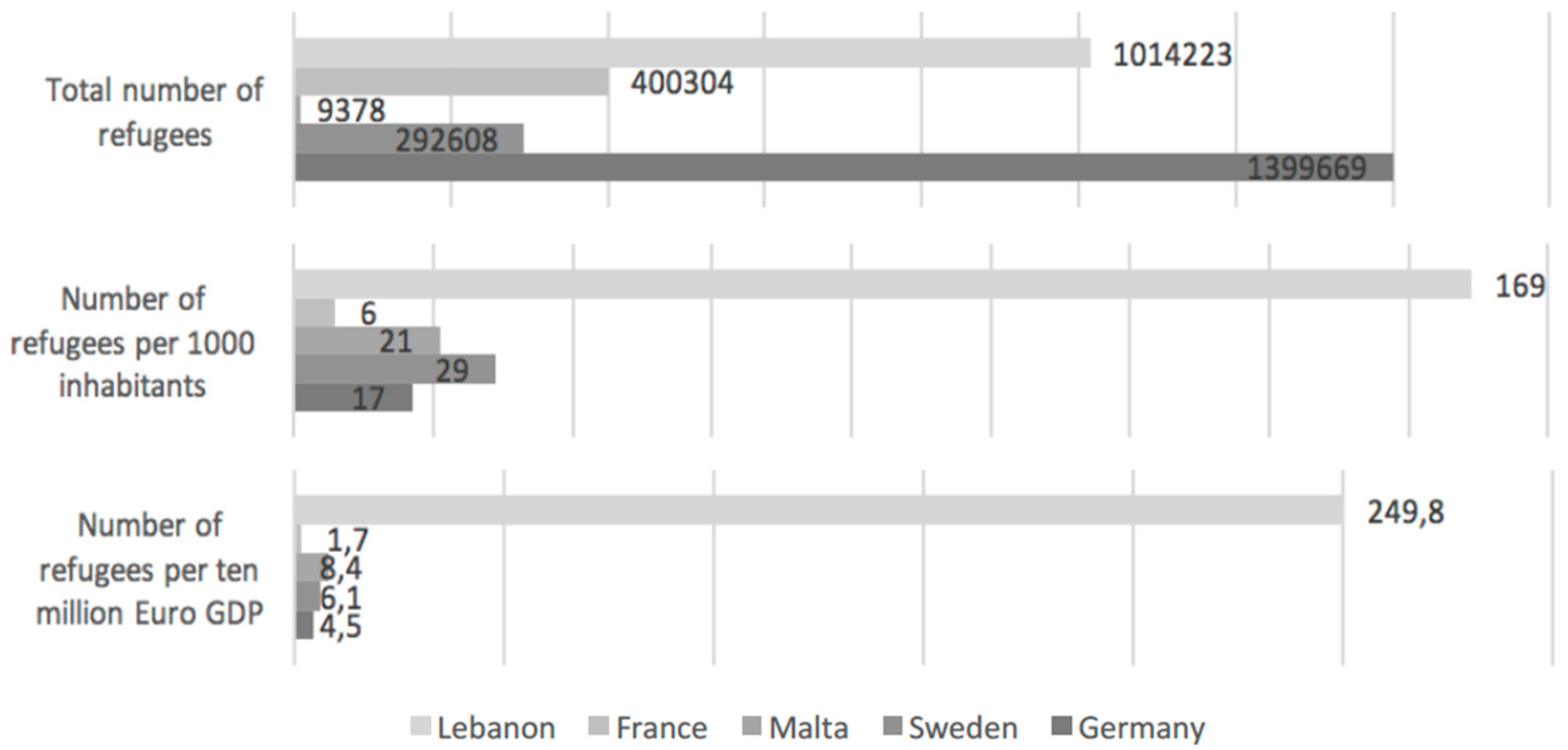 © 2019 by the authors. Licensee MDPI, Basel, Switzerland. This article is an open access article distributed under the terms and conditions of the Creative Commons Attribution (CC BY) license (http://creativecommons.org/licenses/by/4.0/).