Open Access This article is
freely available
re-usable
Article
Processing Image to Geographical Information Systems (PI2GIS)—A Learning Tool for QGIS
1
Department of Geosciences, Environment and Land Planning, Faculty of Sciences, University of Porto, 4169-007 Porto, Portugal
2
Earth Sciences Institute (ICT), Faculty of Sciences, University of Porto, 4169-007 Porto, Portugal
3
Research Center in Biodiversity and Genetic Resources, University of Porto, 4169-007 Porto, Portugal
*
Author to whom correspondence should be addressed.
Received: 26 April 2018 / Accepted: 31 May 2018 / Published: 6 June 2018
Abstract
:
Education, together with science and technology, is the main driver of the progress and transformations of a country. The use of new technologies of learning can be applied to the classroom. Computer learning supports meaningful and long-term learning. Therefore, in the era of digital society and environmental issues, a relevant role is provided by open source software and free data that promote universality of knowledge. Earth observation (EO) data and remote sensing technologies are increasingly used to address the sustainable development goals. An important step for a full exploitation of this technology is to guarantee open software supporting a more universal use. The development of image processing plugins, which are able to be incorporated in Geographical Information System (GIS) software, is one of the strategies used on that front. The necessity of an intuitive and simple application, which allows the students to learn remote sensing, leads us to develop a GIS open source tool, which is integrated in an open source GIS software (QGIS), in order to automatically process and classify remote sensing images from a set of satellite input data. The application was tested in Vila Nova de Gaia municipality (Porto, Portugal) and Aveiro district (Portugal) considering Landsat 8 Operational Land Imager (OLI) data.
Keywords:
GIS; learning tool; open source software; satellite data
Author Contributions
R.C., A.C.T. and L.D. conceived and designed the experiments; R.C. performed the experiments; A.C.T. and L.D. analyzed the data; A.M. contributed reagents/materials/analysis tools; R.C., A.C.T., L.D. and A.M. wrote the paper.
Conflicts of Interest
The author declares no conflicts of interest.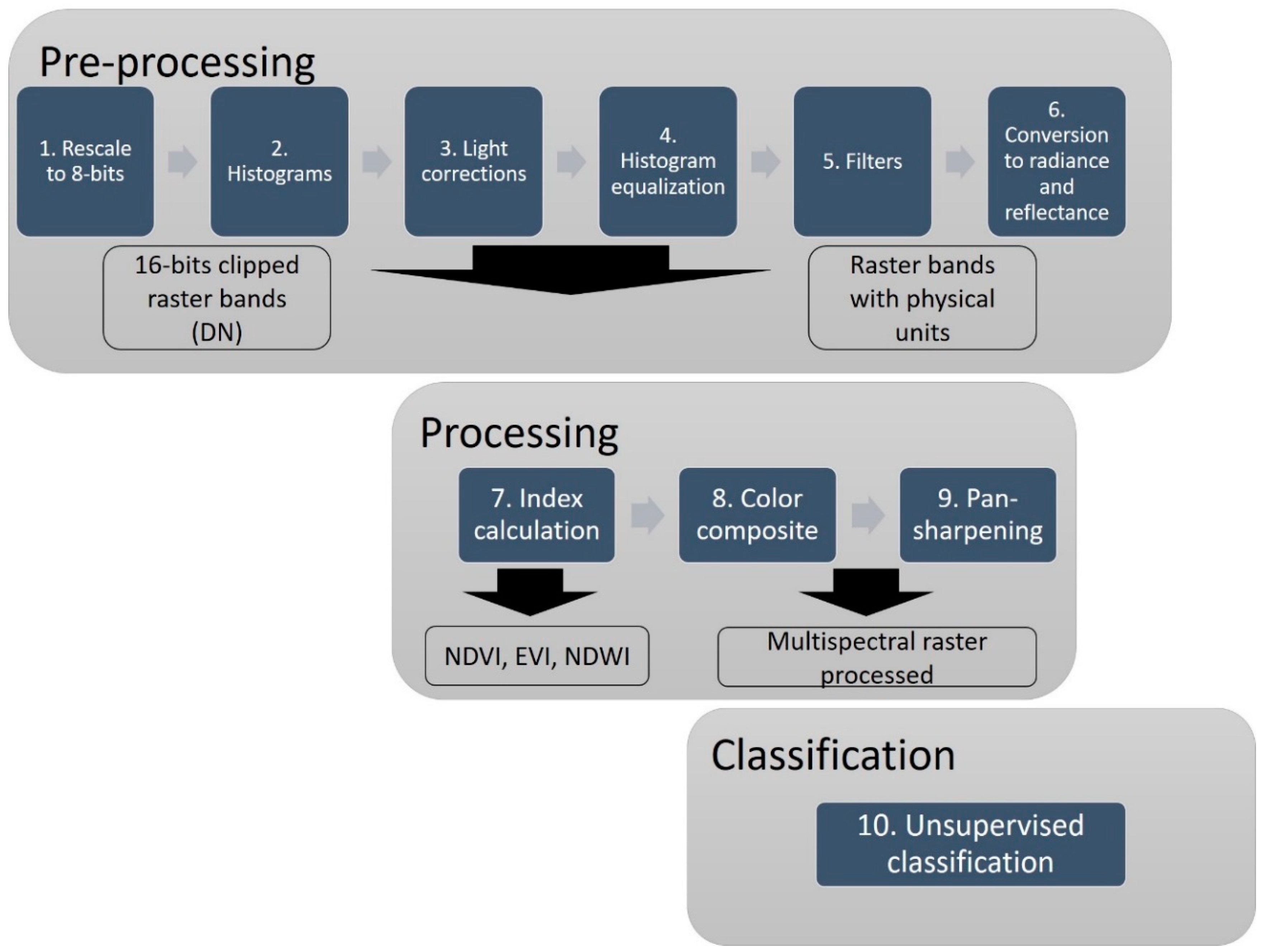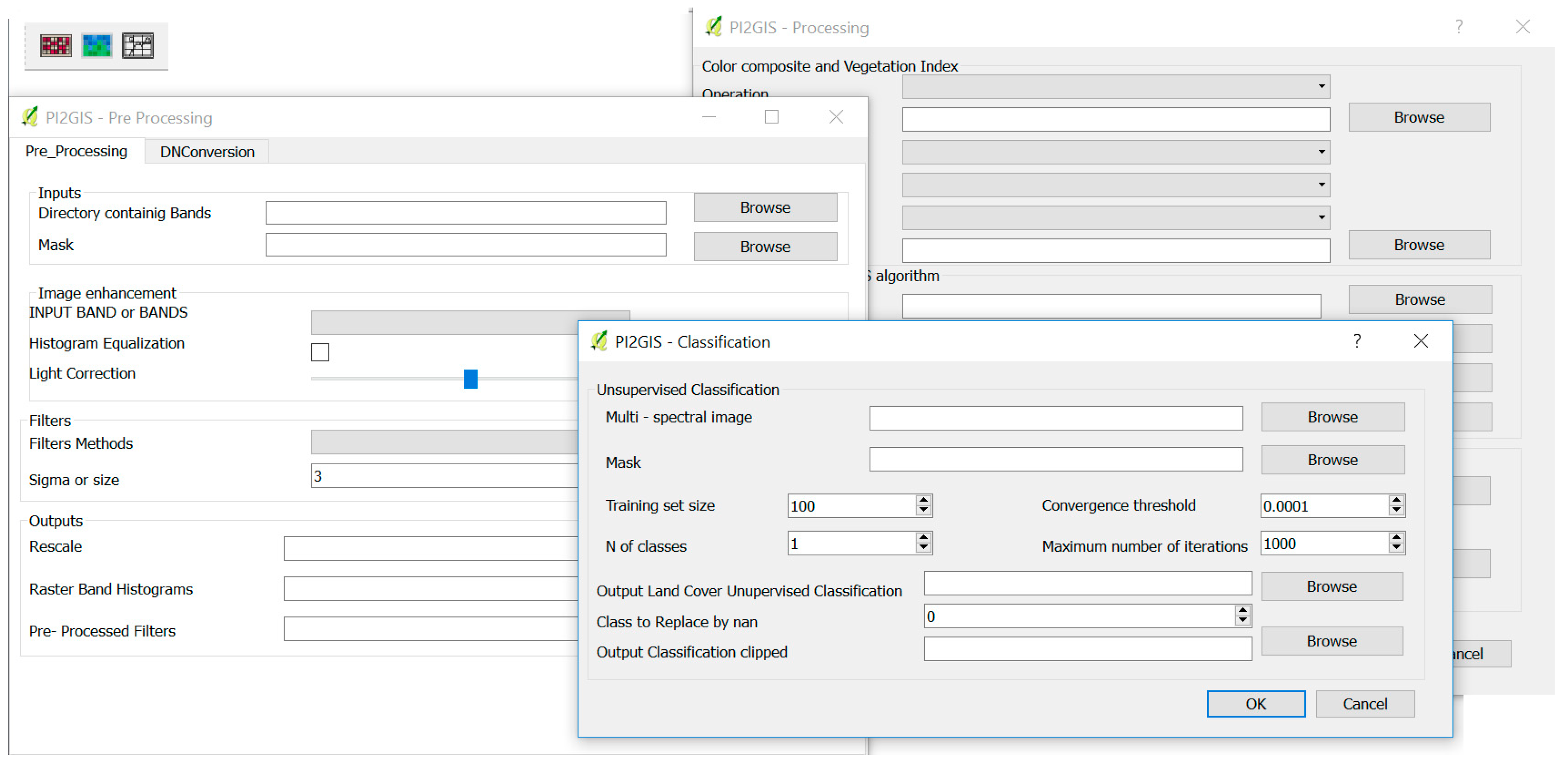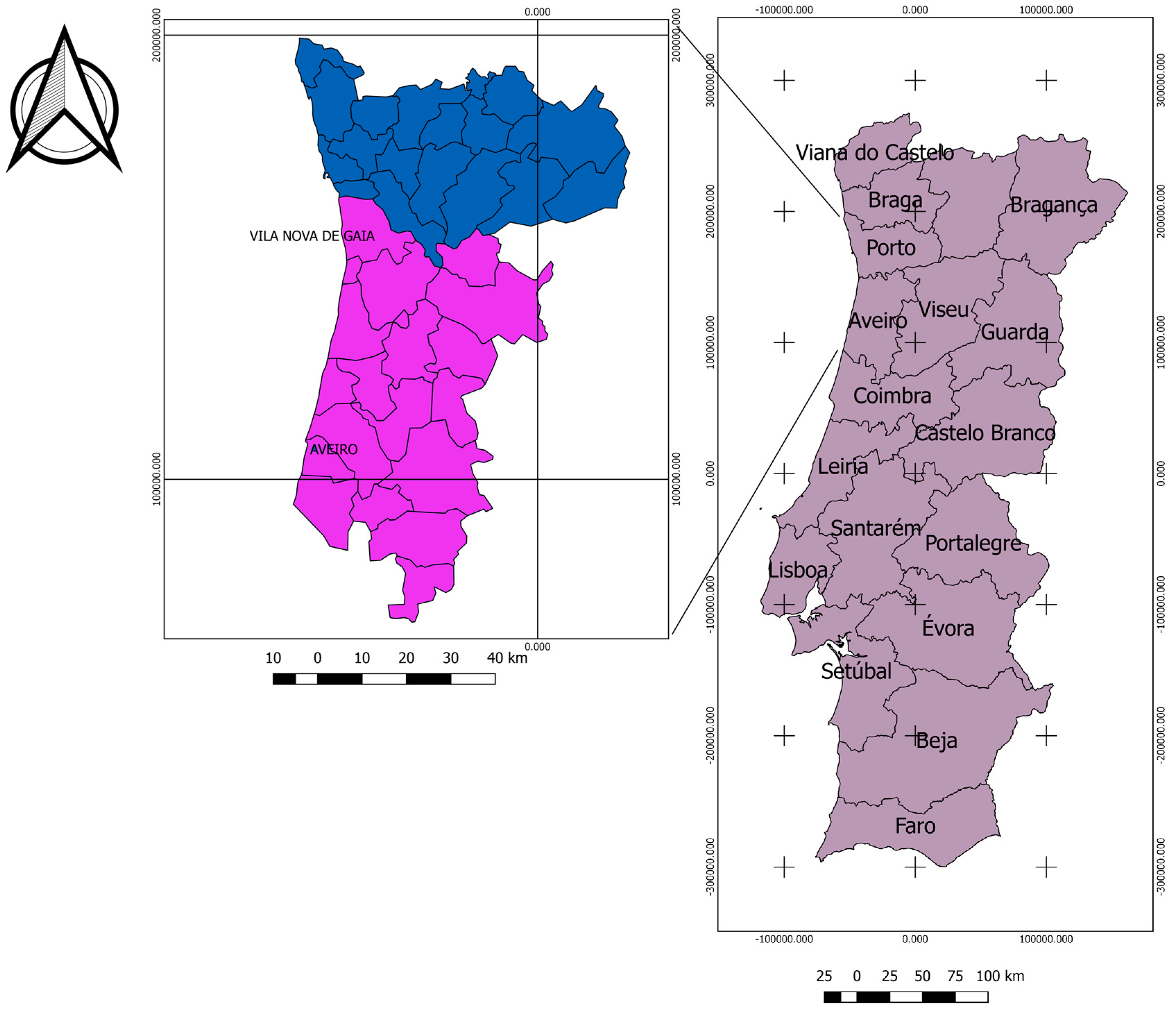 Figure 5. (a) Landsat B2; (b) histogram equalization of Landsat B2; (c) Landsat B2 with increasing brightness; (d) Landsat B2 with a low pass filter applied; (e) Landsat B2 with a medium pass filter applied; (f) Landsat B2 with a high pass filter applied to VNG; and (g–l) the same procedures applied to Aveiro district.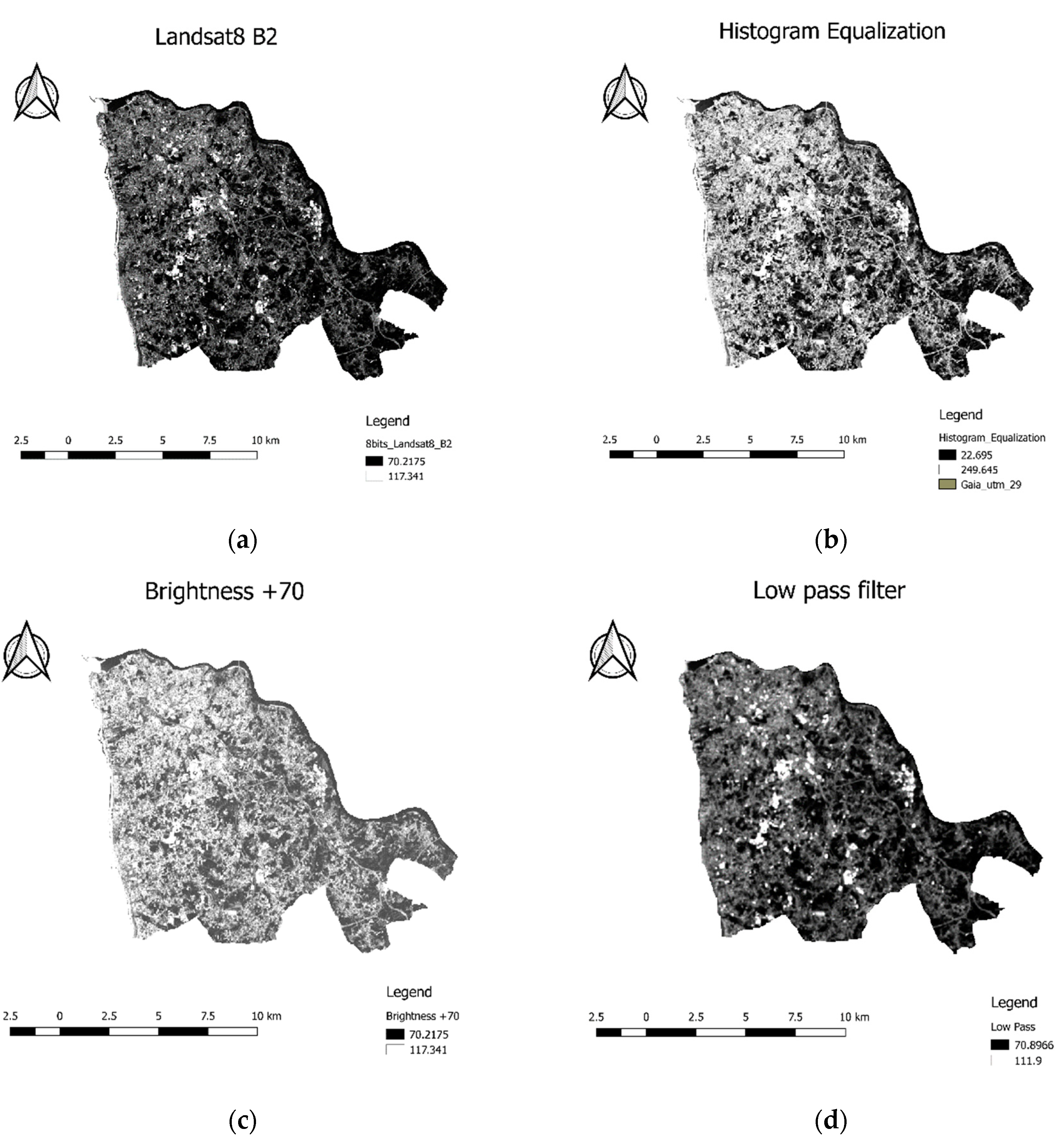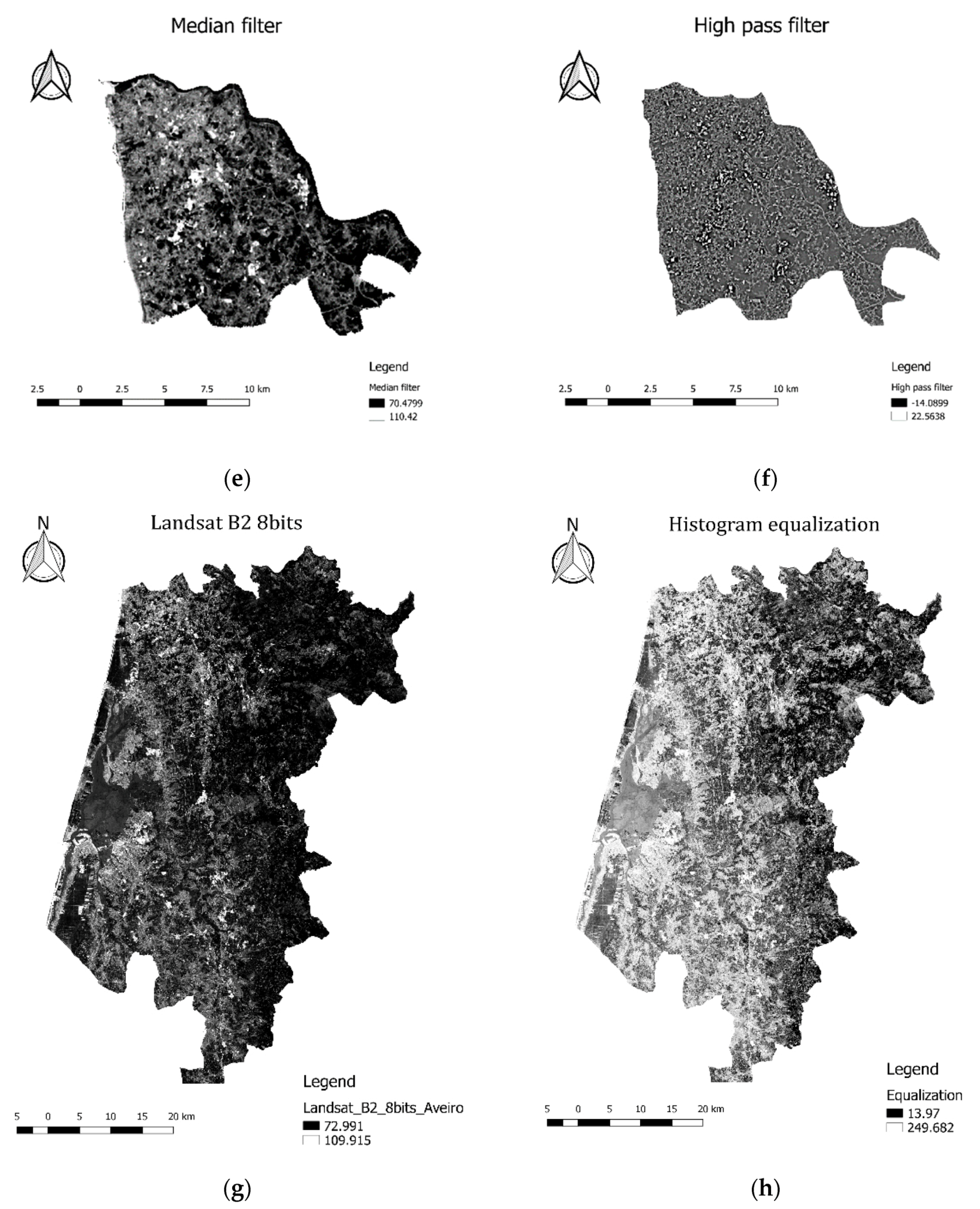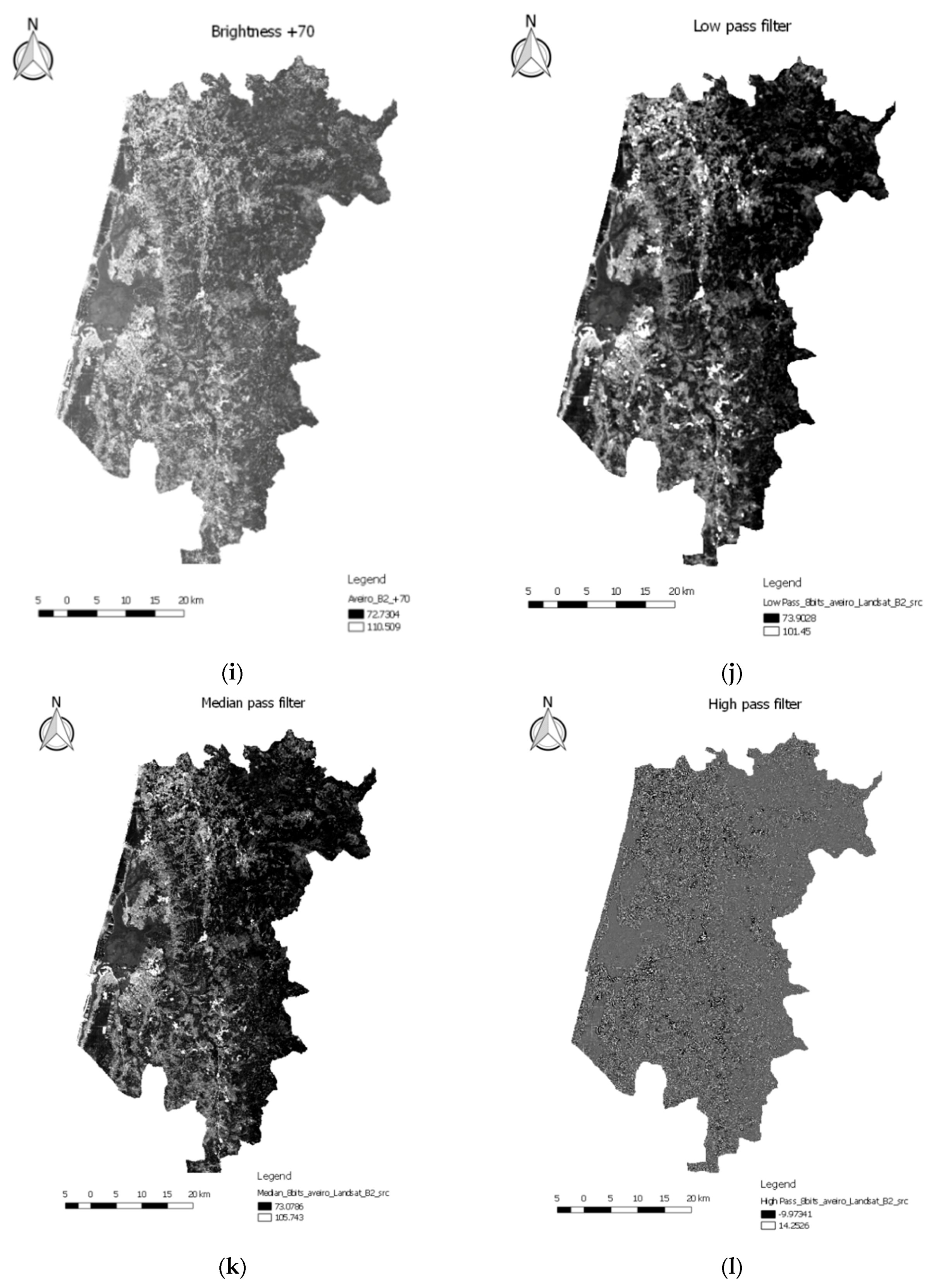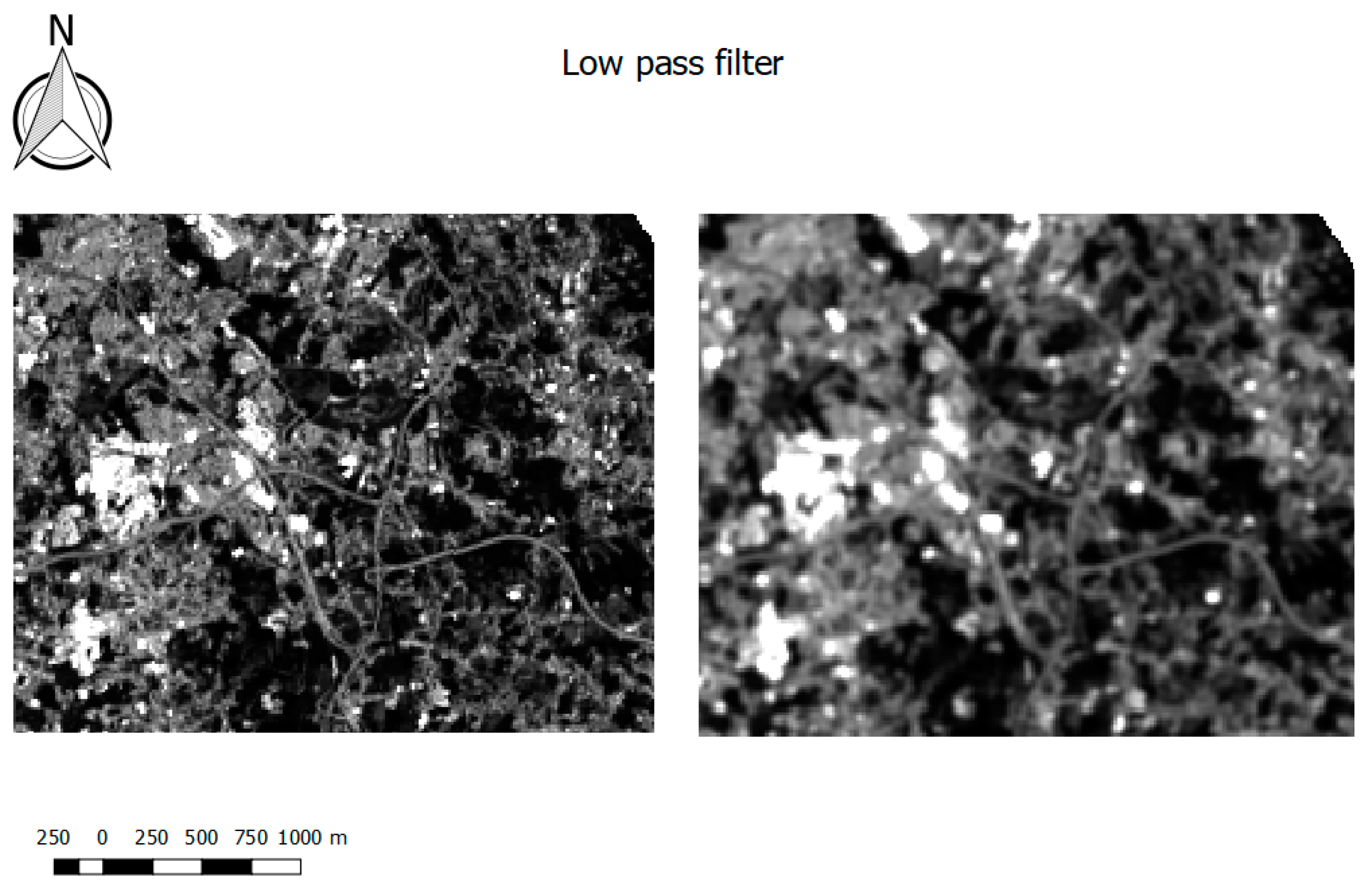 Figure 7. (a) RGB composite; (b) NDVI map; (c) EVI map; (d) NDWI map applied to VNG; and (e–h) the same procedures applied to Aveiro.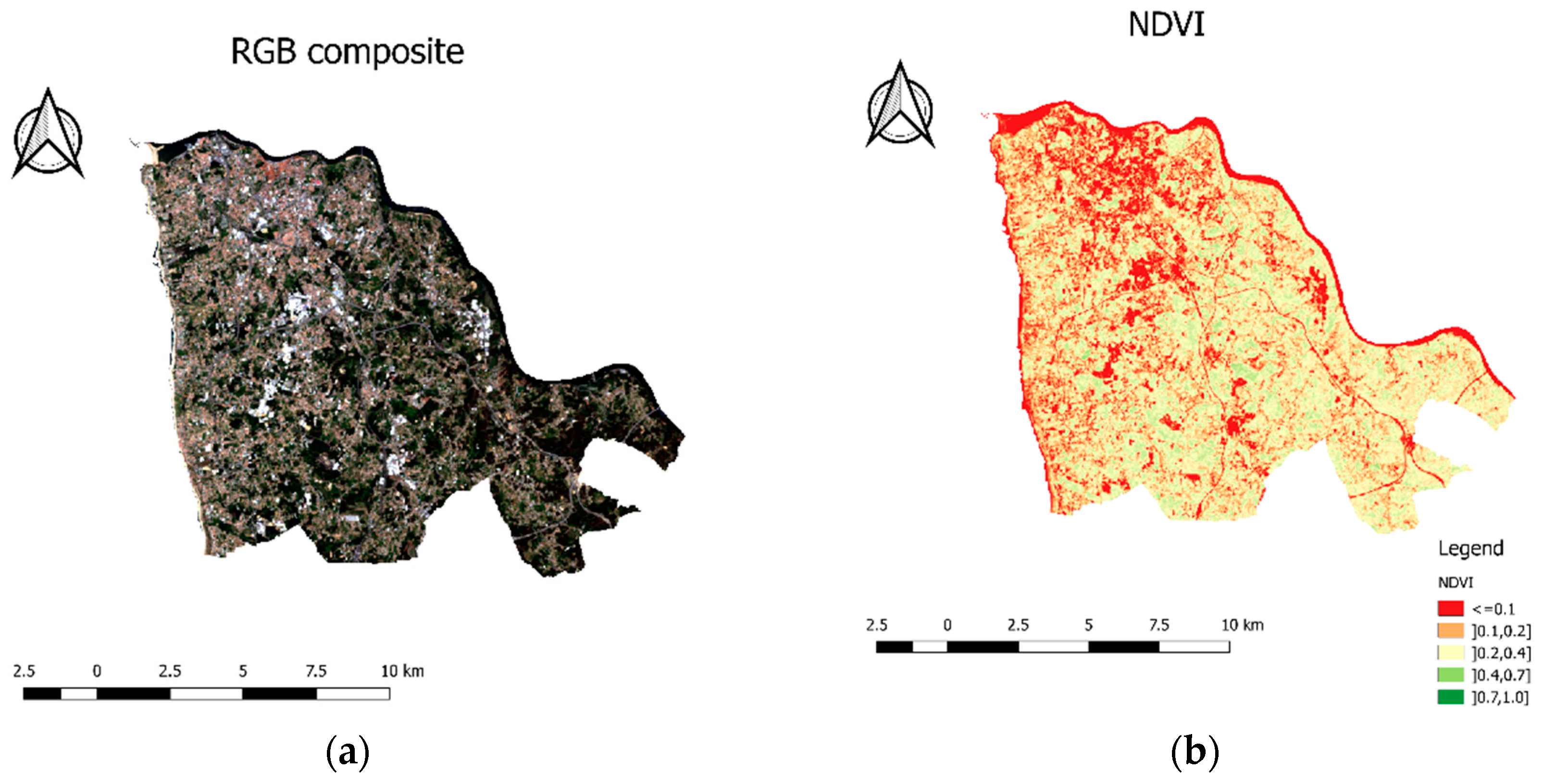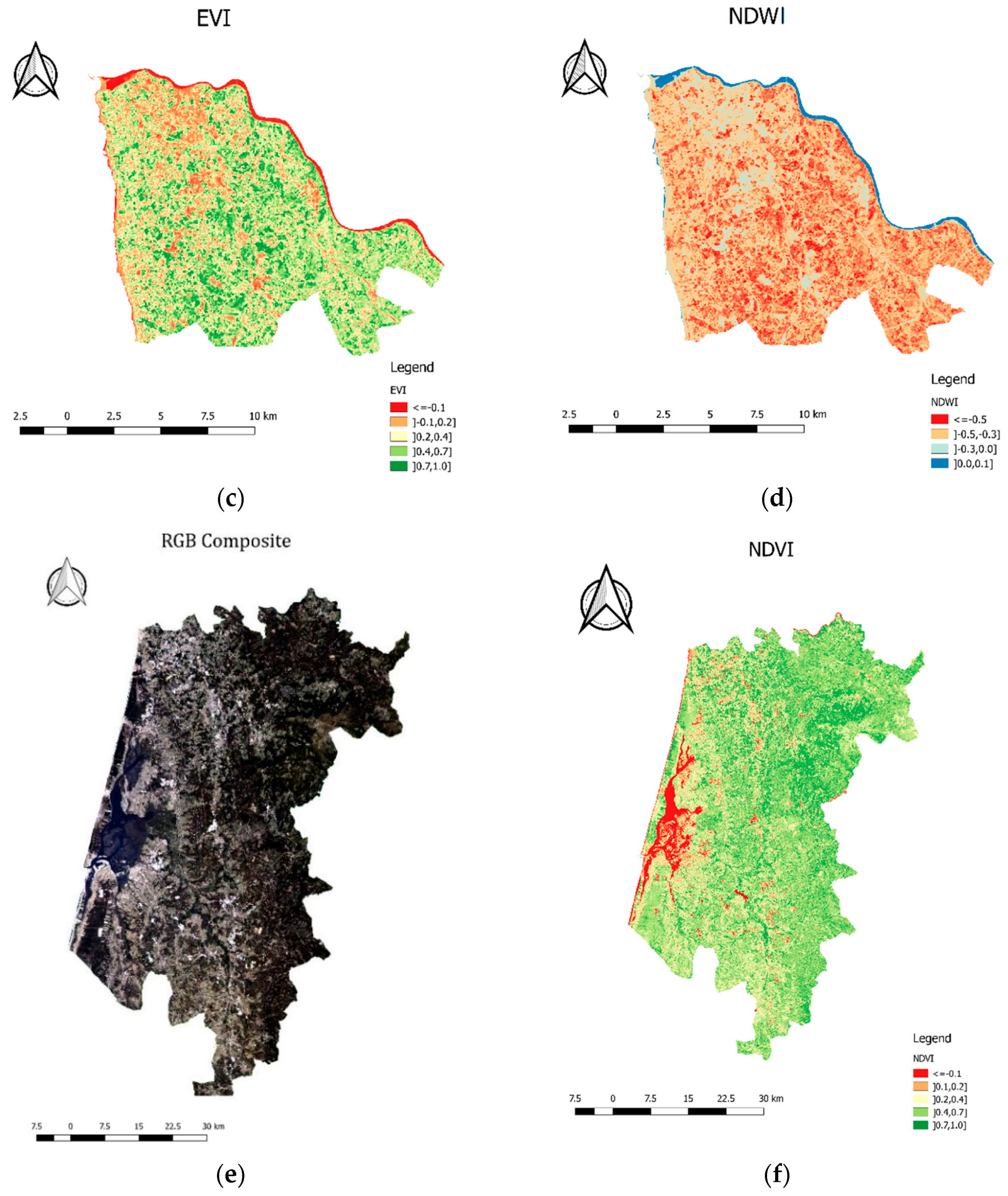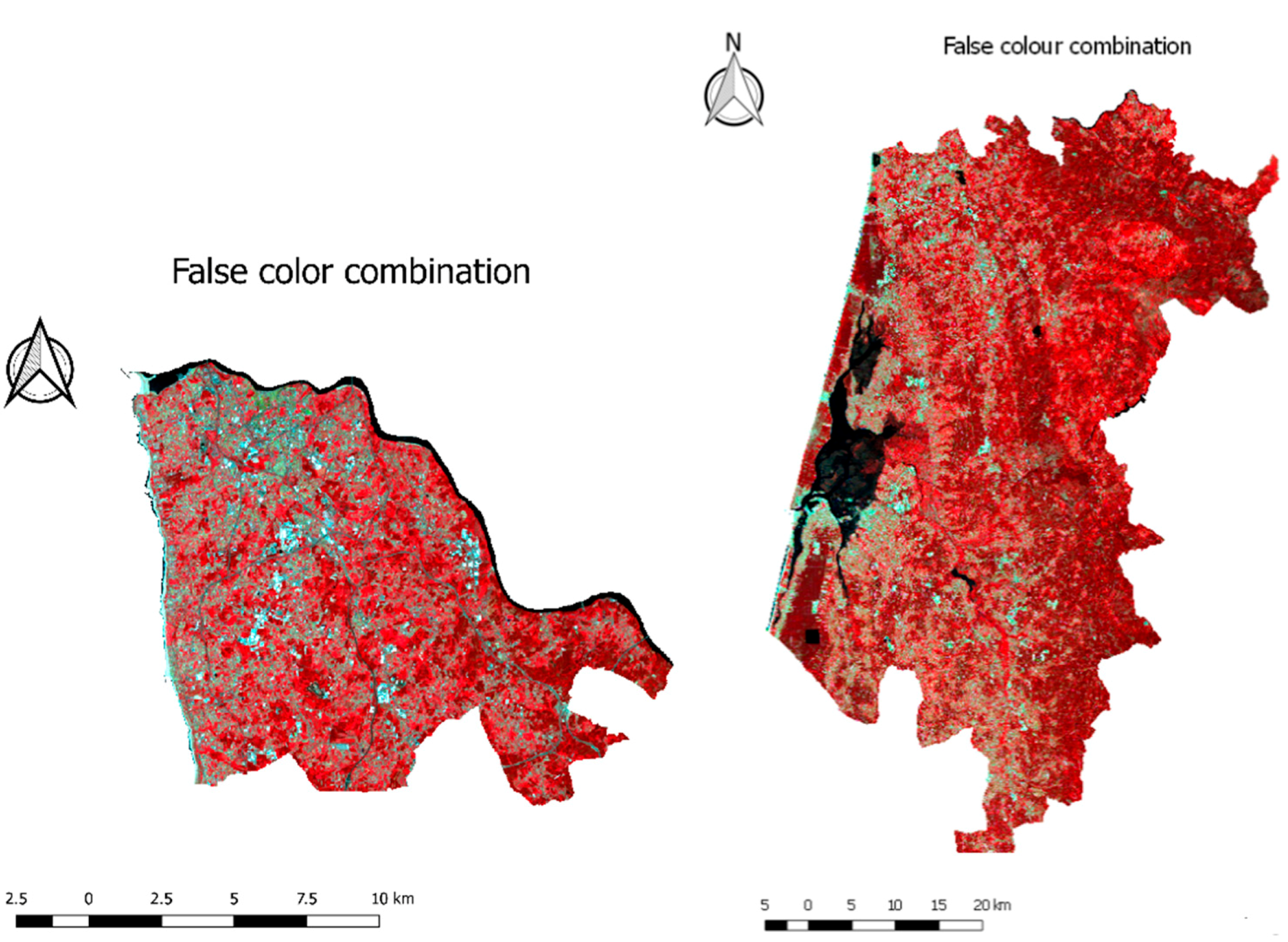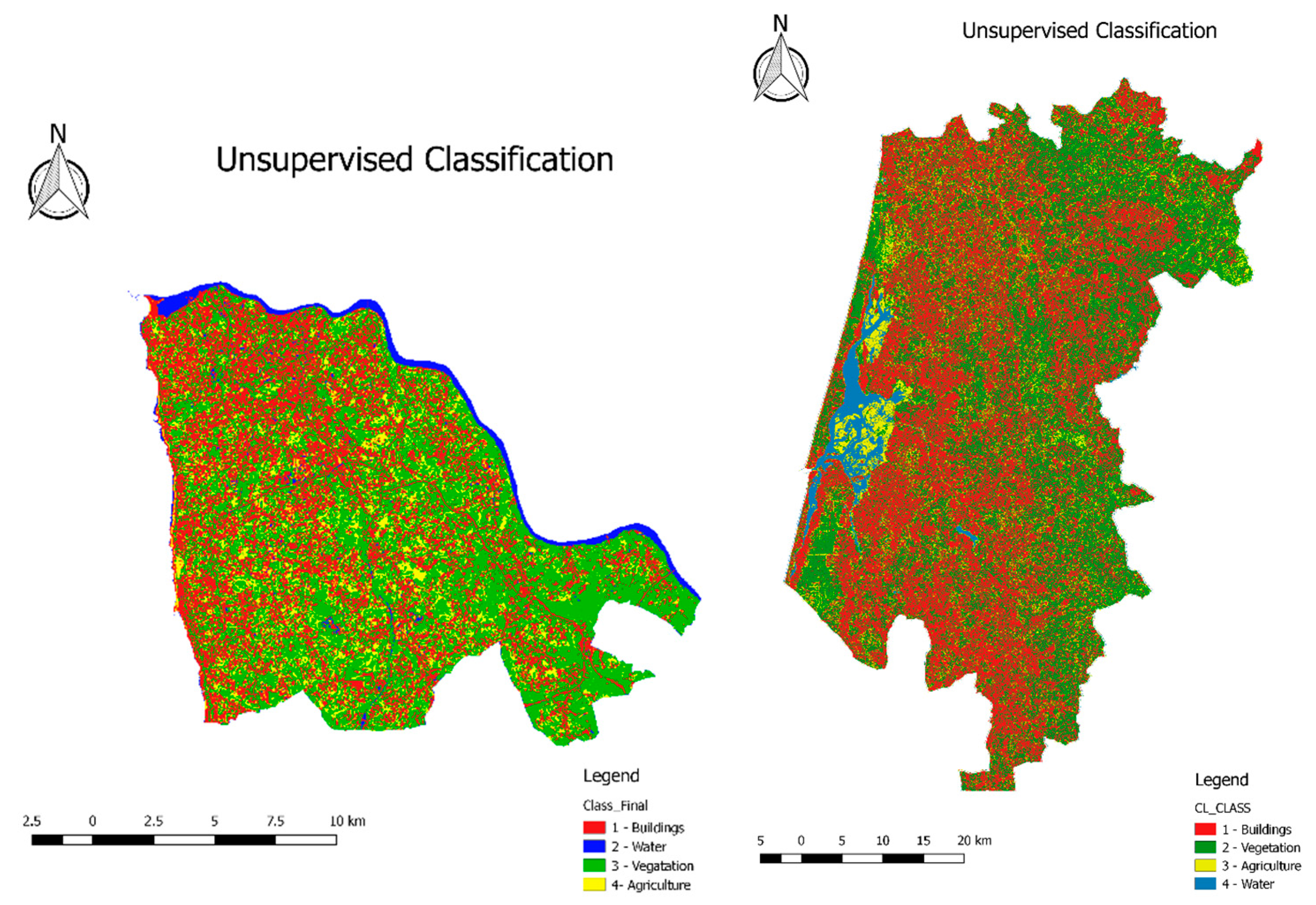 Processing Image Method
Tool
Algorithm
Histograms
Not available
Properties of a file (without details)
Filters
OTB
Despeckle (frost, gammamap, kuan, lee), DimensionalityReduction (independent component analysis (ica), maximum autocorrelation factor (maf), noise adjusted principal component analysis (nacpa), pca), Exact Large-Scale Mean-Shift segmentation, step 1 (smoothing), Smoothing (anidif, gaussian, mean)
SAGA
DTM filter (slope-based), Gaussian filter, Laplacian filter, Majority filter, Morphological filter, Multi direction lee filter, Rank filter, Resampling filter, Simple filter, User defined filter
GRASS
r.fill.dir, r.mfilter, r.mfilter.fp, r.resamp.filter
DN conversion to reflectance and atmospheric correction
Semi-Automatic Classification Plugin
DOS1
Environmental indexes (NDVI, EVI, NDWI)
SAGA
GRASS
Vegetation index (slope-based)—NDVI
Enhanced vegetation index—EVI
i.vi—NDVI and EVI
Colour composite
GDAL
Merge
Pan-sharpening
OTB
GRASS
Pansharpening (bayes, local mean and variance matching (lmvm), Simple RCS Pan sharpening operation (rcs))
i.pansharpen
Unsupervised classification
OTB
SAGA
GRASS
Unsupervised KMeans image classification
K-means clustering for grids
i.cluster

© 2018 by the authors. Licensee MDPI, Basel, Switzerland. This article is an open access article distributed under the terms and conditions of the Creative Commons Attribution (CC BY) license (http://creativecommons.org/licenses/by/4.0/).