Open Access This article is
freely available
re-usable
Article
Transducer Placement Option of Lamb Wave SHM System for Hotspot Damage Monitoring
1
Aerospace Non-Destructive Testing Laboratory, Faculty of Aerospace Engineering, Delft University of Technology, 2628 CD Delft, The Netherlands
2
Chair of Structural Integrity and Composites, Faculty of Aerospace Engineering, Delft University of Technology, 2628 CD Delft, The Netherlands
*
Author to whom correspondence should be addressed.
Received: 27 February 2018 / Accepted: 28 March 2018 / Published: 4 April 2018
Abstract
:
In this paper, we investigated transducer placement strategies for detecting cracks in primary aircraft structures using ultrasonic Structural Health Monitoring (SHM). The approach developed is for an expected damage location based on fracture mechanics, for example fatigue crack growth in a high stress location. To assess the performance of the developed approach, finite-element (FE) modelling of a damage-tolerant aluminum fuselage has been performed by introducing an artificial crack at a rivet hole into the structural FE model and assessing its influence on the Lamb wave propagation, compared to a baseline measurement simulation. The efficient practical sensor position was determined from the largest change in area that is covered by reflected and missing wave scatter using an additive color model. Blob detection algorithms were employed to determine the boundaries of this area and to calculate the blob centroid. To demonstrate that the technique can be generalized, the results from different crack lengths and from tilted crack are also presented.
Keywords:
sensor placement option; hotspot damage; Lamb wave; Structural Health Monitoring (SHM); finite element modelling; image processing; additive color model
Acknowledgments
The project is funded by the TKI Smart Sensing for Aviation project of Delft University of Technology, Netherlands sponsored by the Dutch Ministry of Economic Affairs under the 'Topsectoren' Policy for High-Tech Systems and Materials.
Author Contributions
Vincentius Ewald designed and performed the experiments and wrote the paper draft. Roger M. Groves is daily supervisor of Vincentius Ewald. He critically evaluated the experimental design and results and corrected the paper draft. Rinze Benedictus is the doctoral promotor of Vincentius Ewald and tracks his overall scientific output.
Conflicts of Interest
The authors declare no conflict of interest.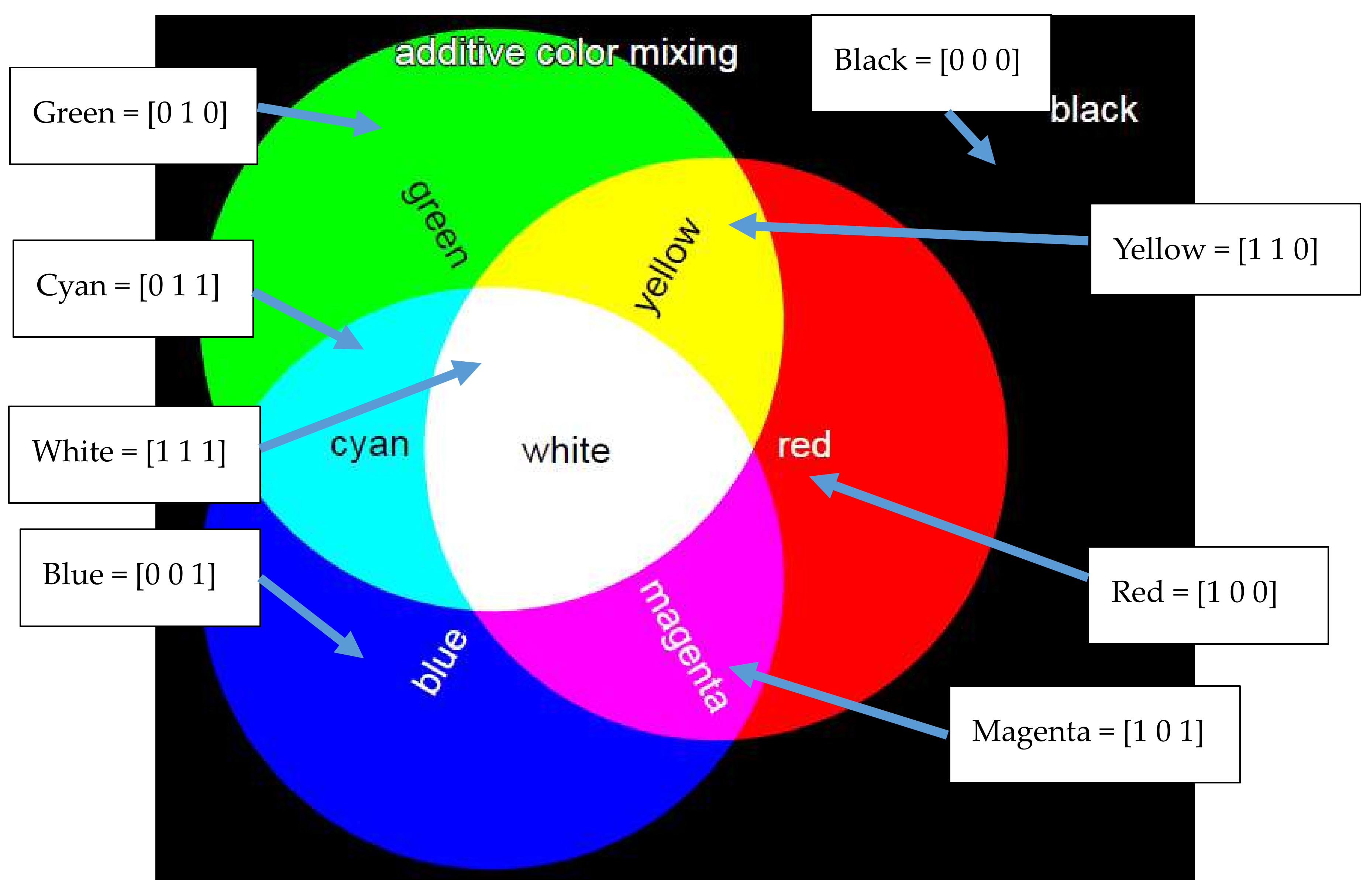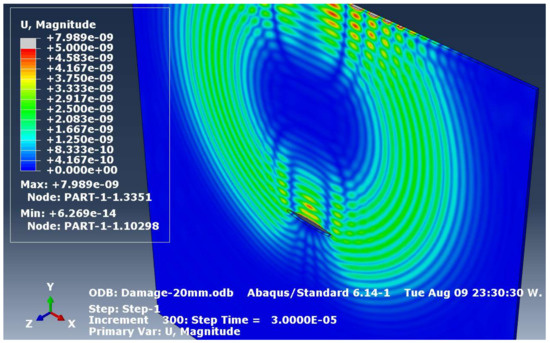 Figure 2. Lamb wave propagation at the step time of 30 μs after excitation in an Al-7075-T6 plate with dimensions of 200 mm × 200 mm × 1 mm. (shown in ABAQUS GUI Viewer. Note that there is no 'unit' in ABAQUS). The default scientific notation of displacement magnitude 'e-09' means [nm]. Displacement magnitude shown in grey color signifies displacement above 7.989 nm.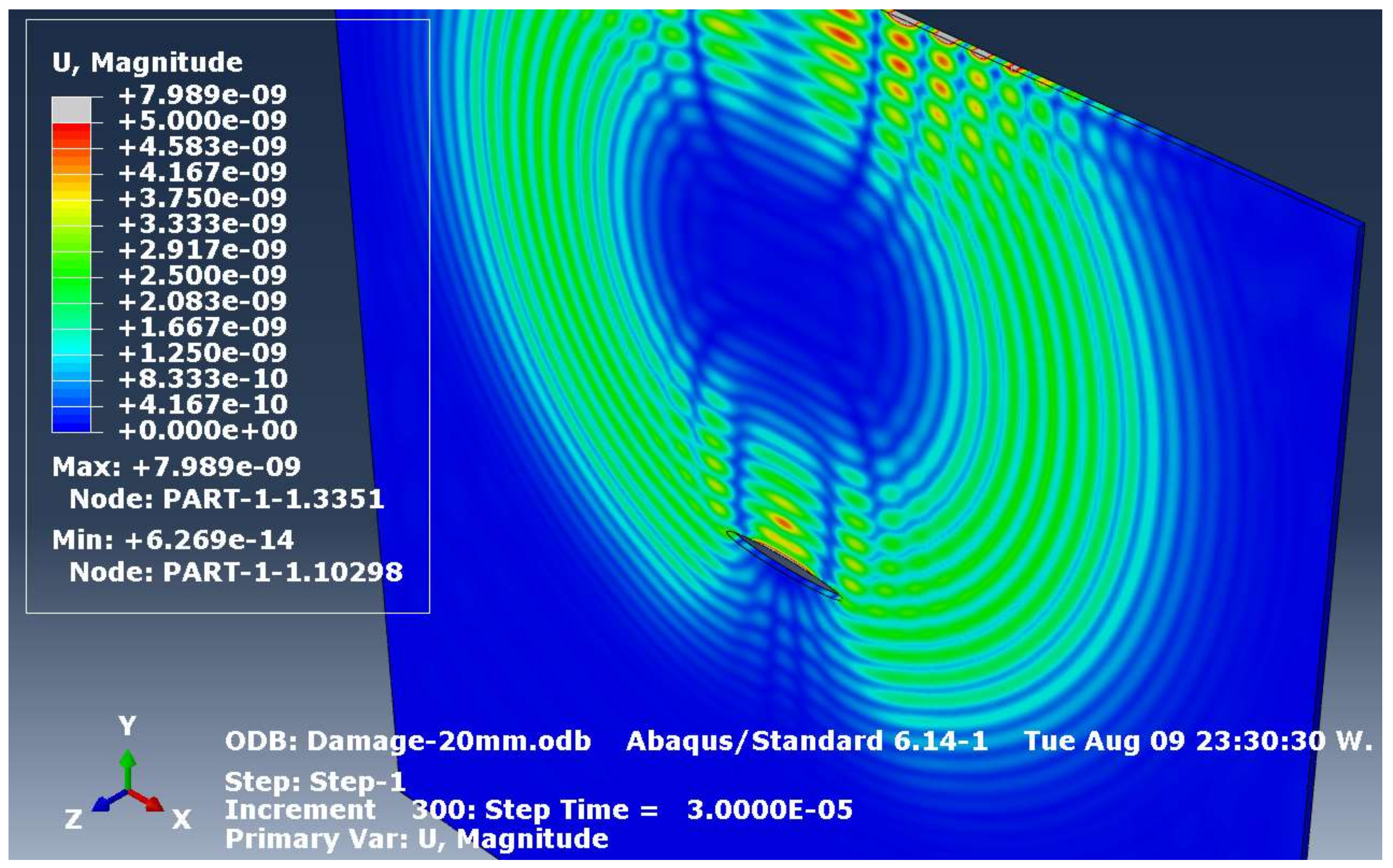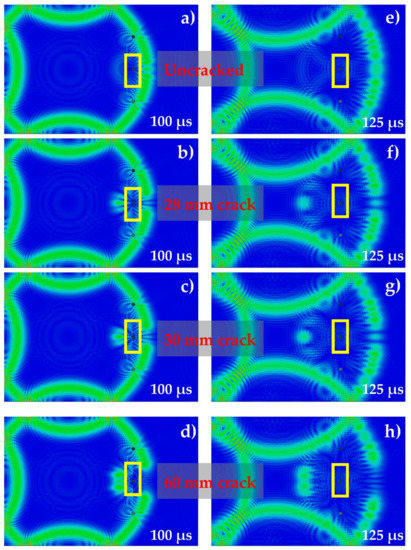 Figure 3.
(
a
–
h
) Lamb wave propagation at
t
= 100 and 125 μs in Al 7075 Plate with different crack lengths.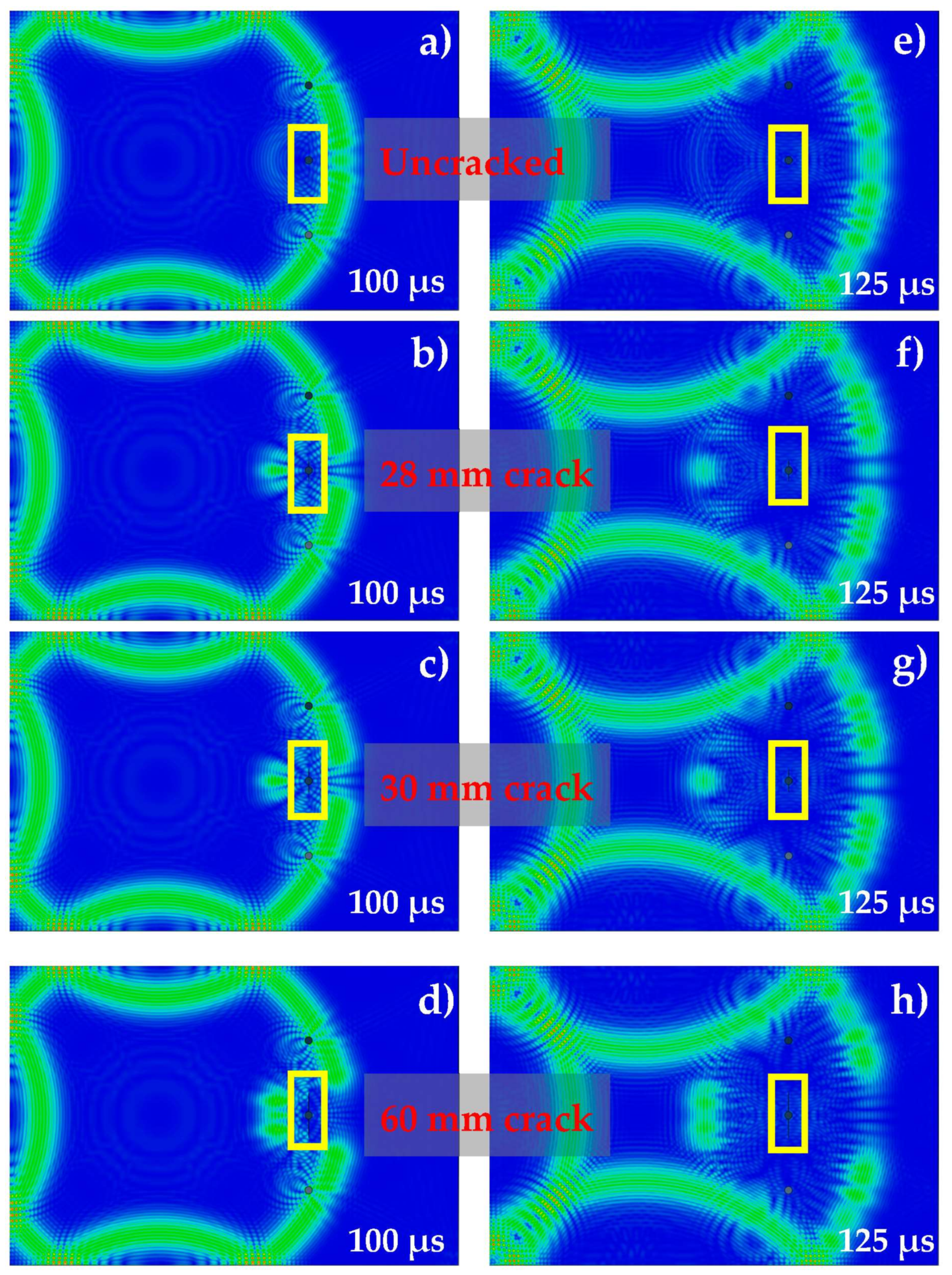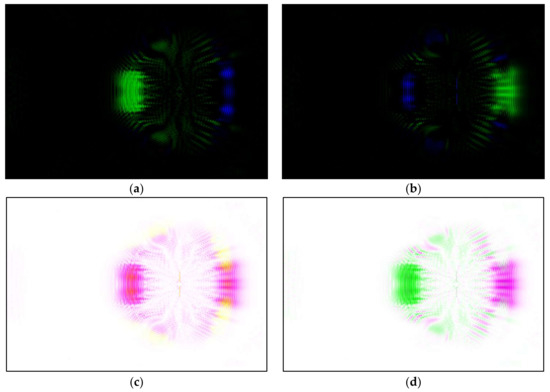 Figure 4. (a) Differential image of (3h − 3e); (b) Differential image of (3e − 3h); (c) Inverse of added image (4a + 4b); (d) Inverse of fused image (4a + 4b).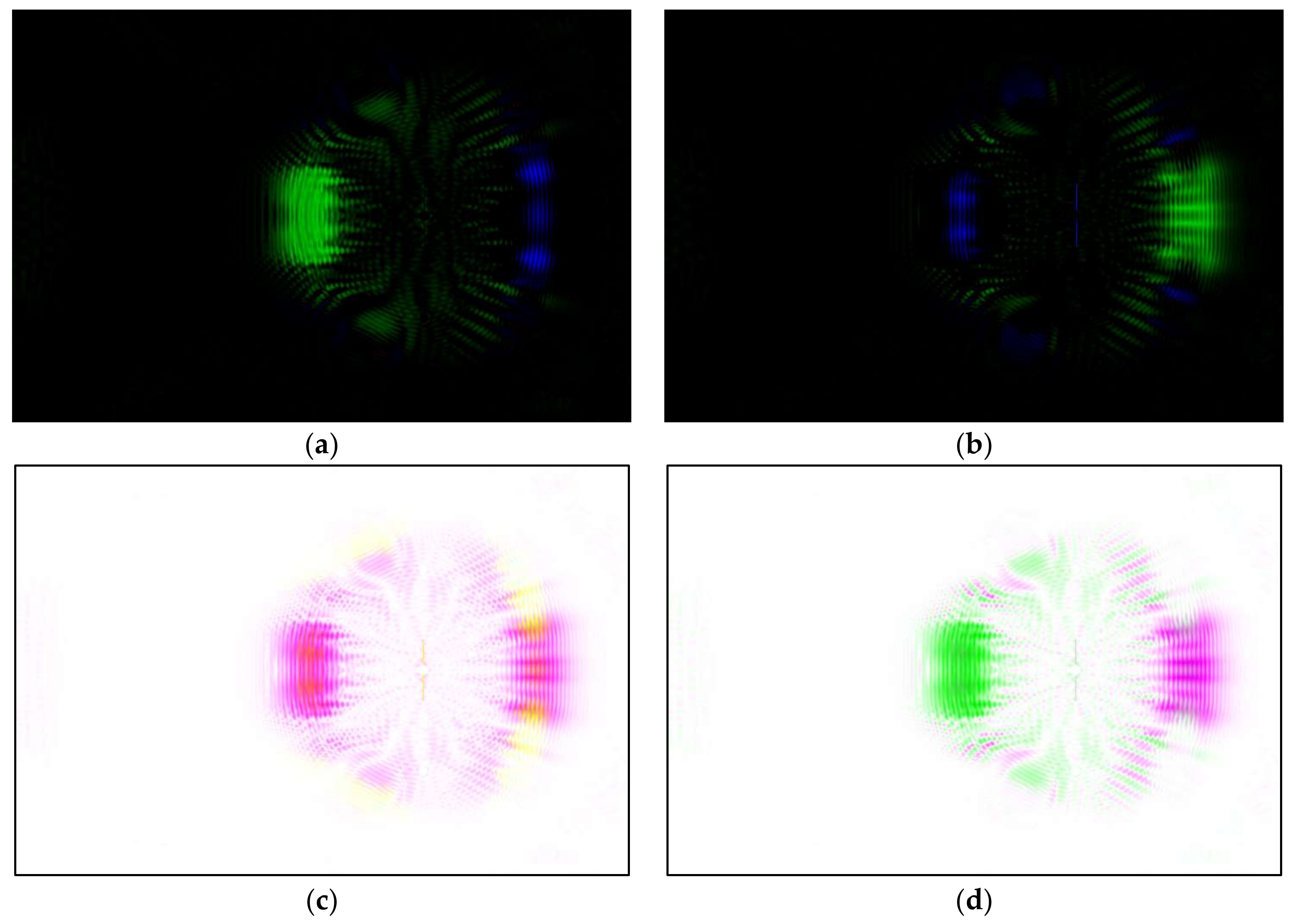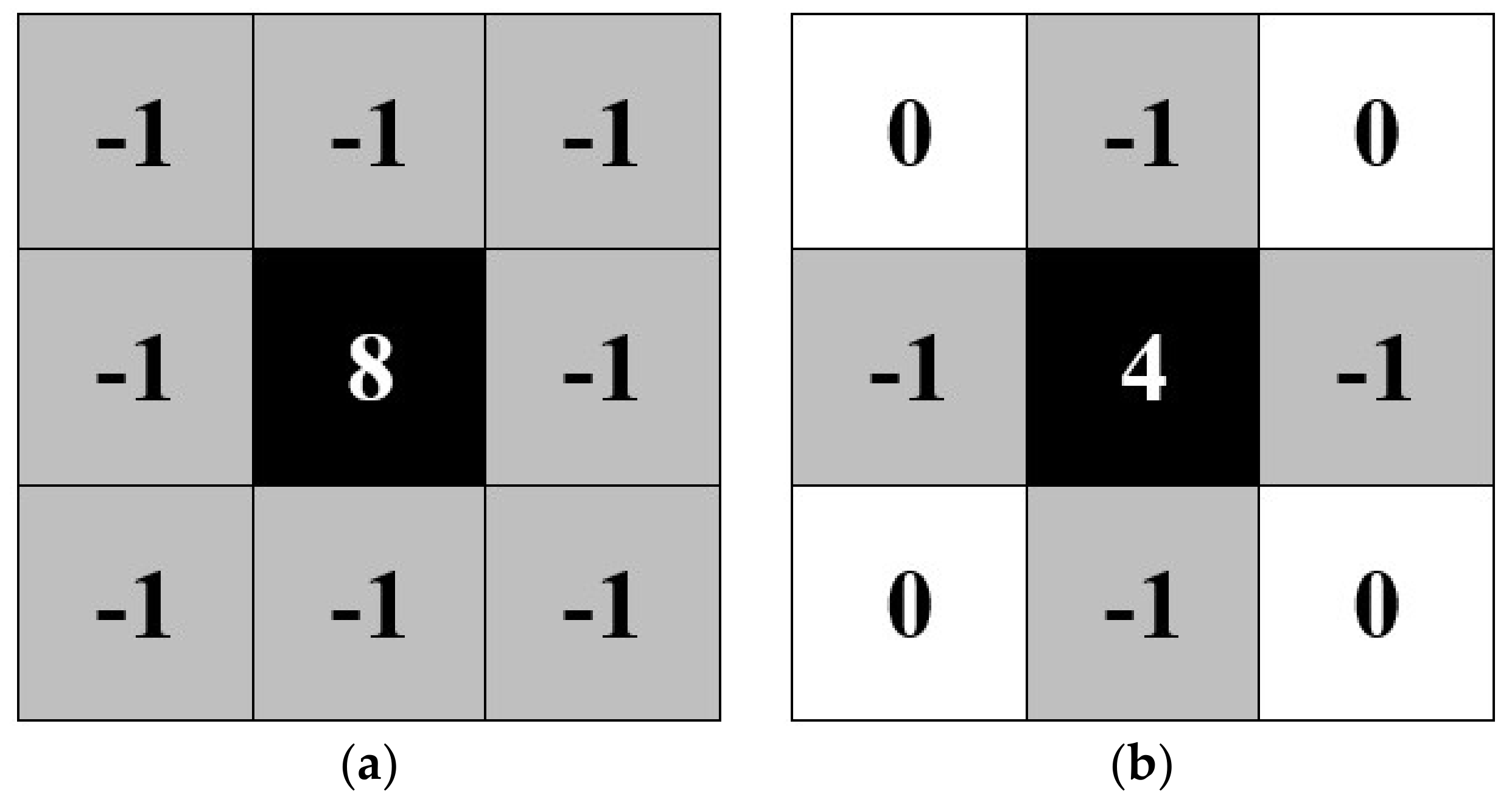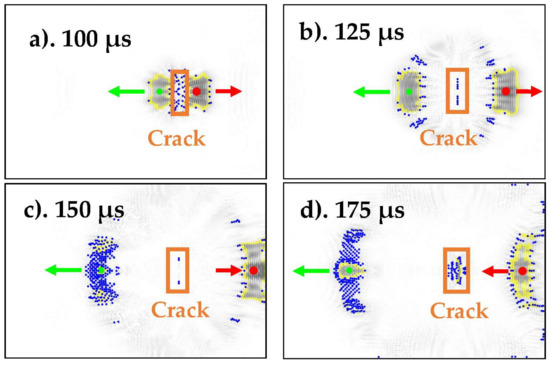 Figure 6. Detected blobs at (a) 100 μs, (b) 125 μs, (c) 150 μs, and (d) 175 μs. The largest and second-largest blobs are marked in red and green, respectively. Arrows indicate the direction of movement of the blobs.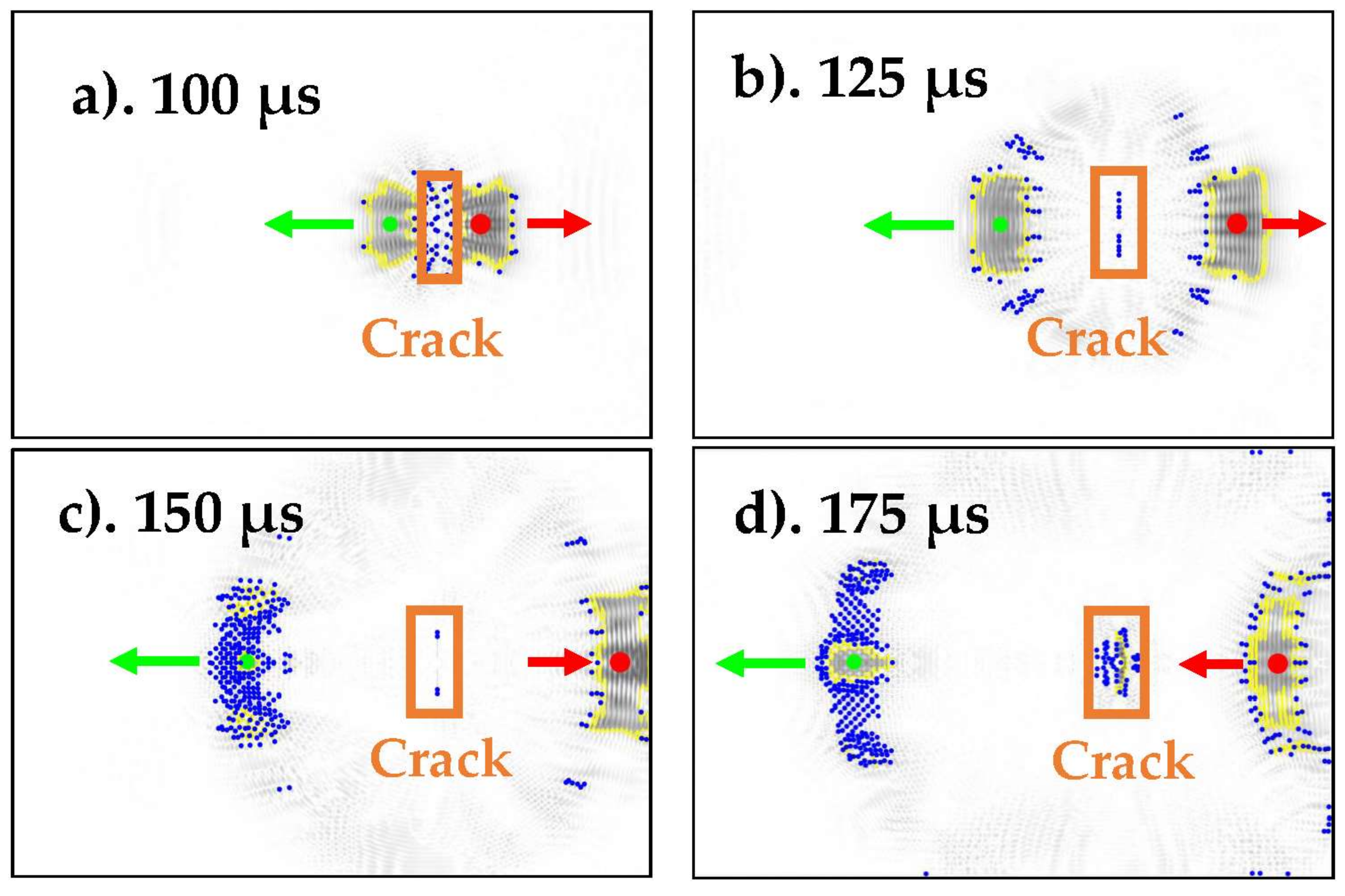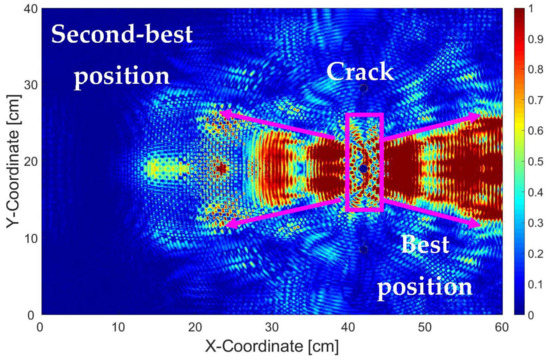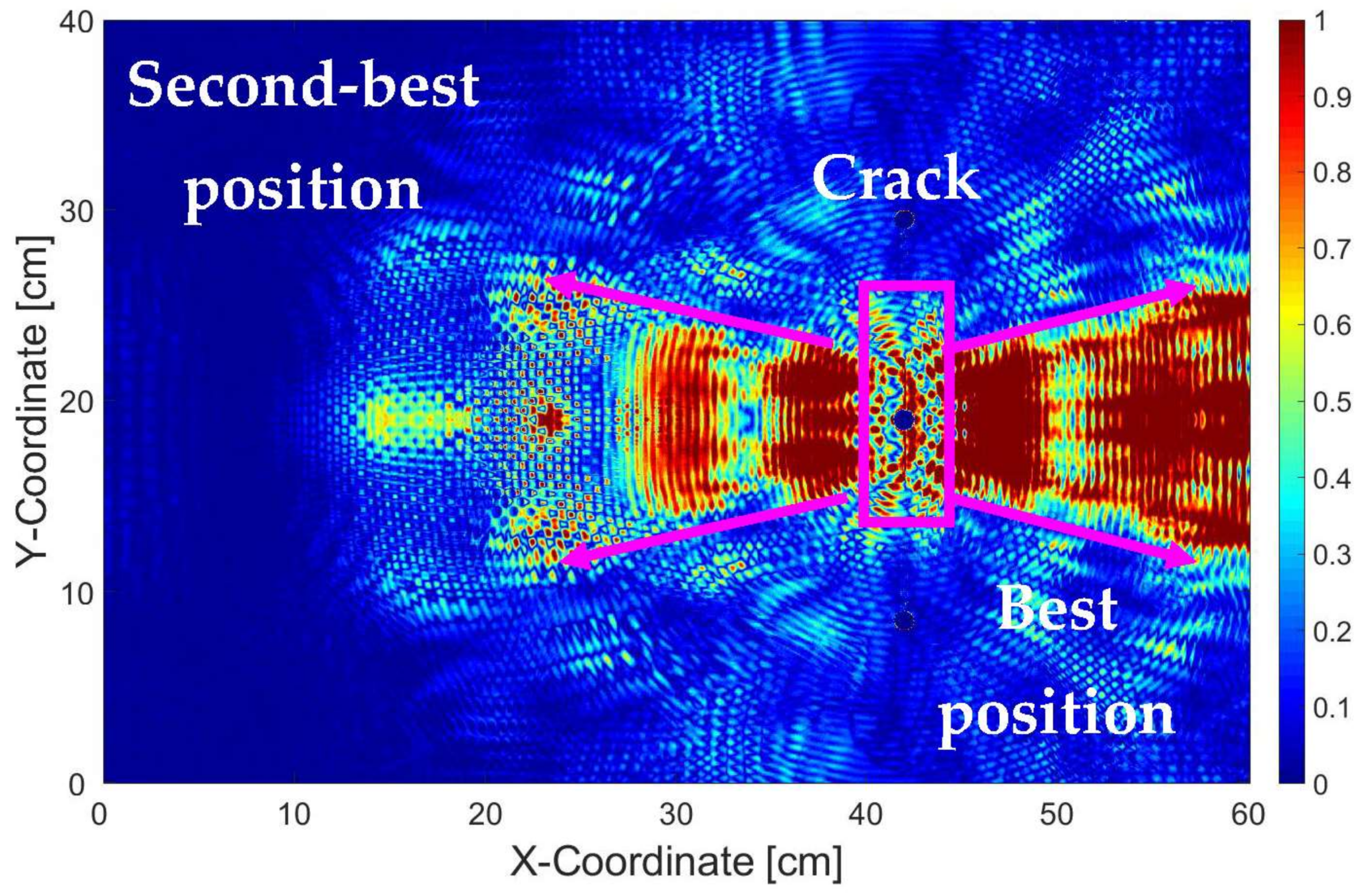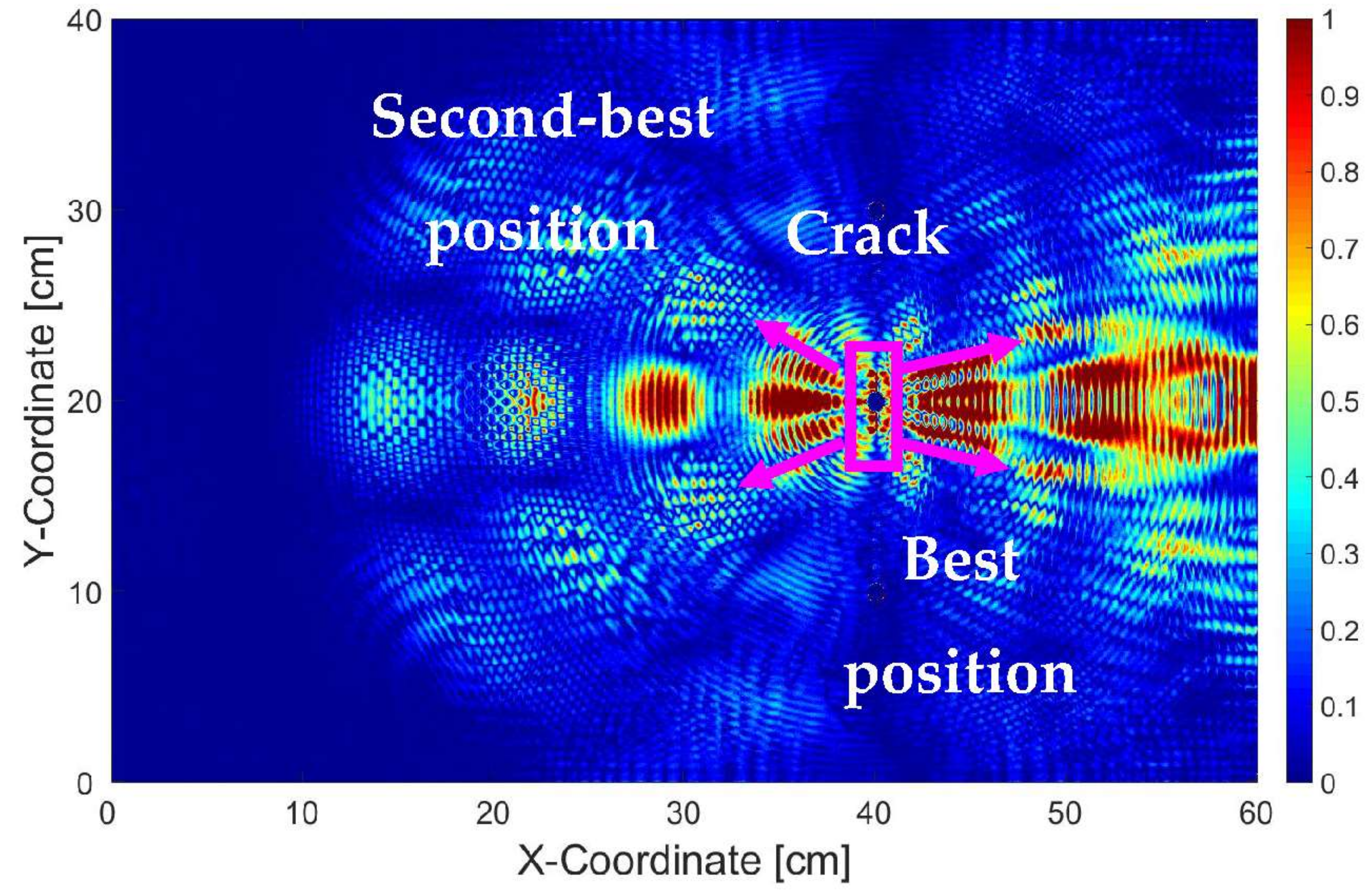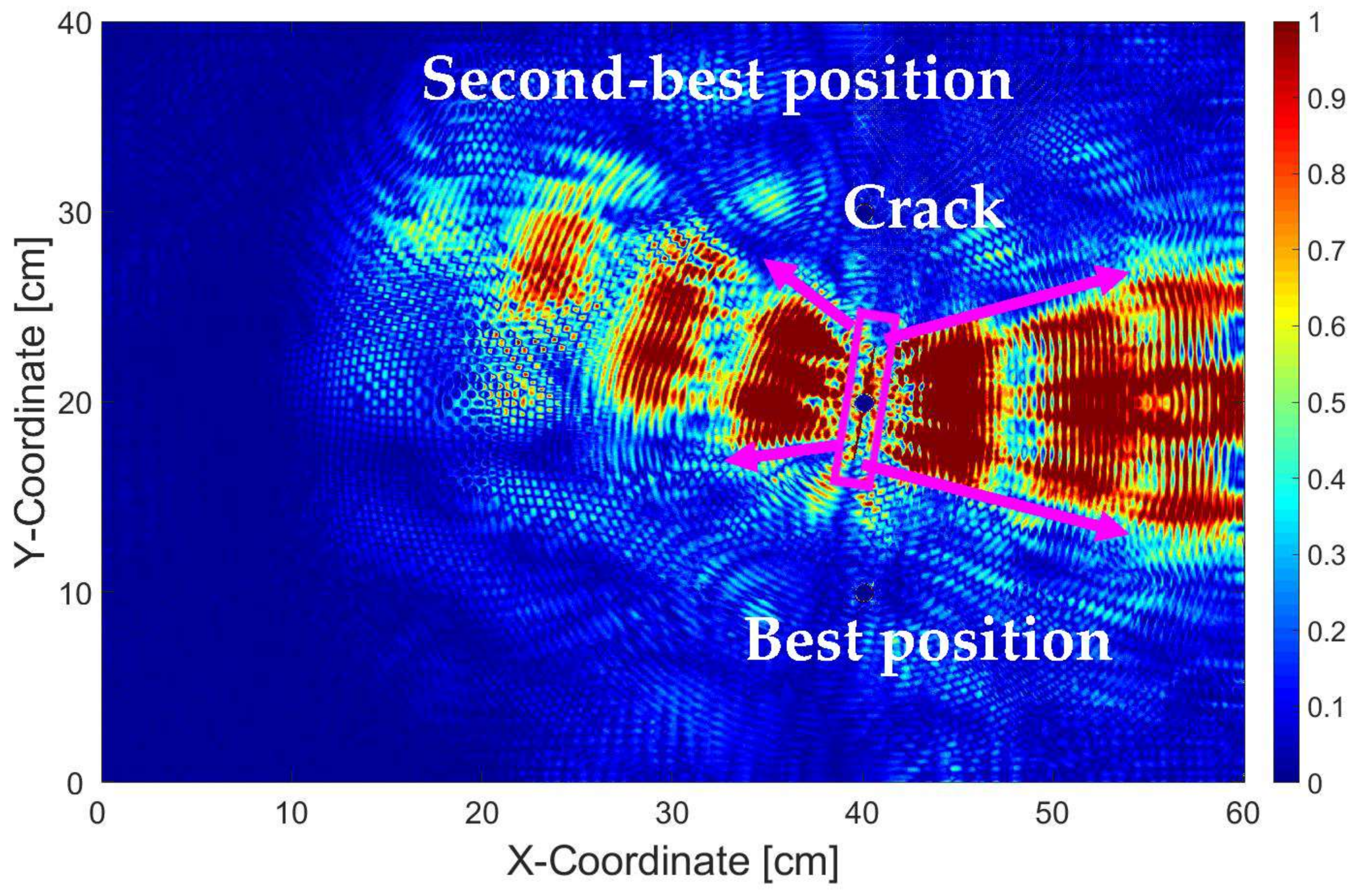 y

–

x

R
G
B
C
M
Y
K
R
K
R
R
R
K
K
R
G
G
K
G
K
G
K
G
B
B
B
K
K
K
B
B
C
C
B
G
K
G
B
C
M
B
M
R
R
K
B
M
Y
G
R
Y
R
G
K
Y
K
K
K
K
K
K
K
K
R = Red; G = Green; B = Blue; C = Cyan; M = Magenta; Y = Yellow; K = Black.
Time Frame
Largest Centroid
Second-Largest Centroid
(pixel)
(mm)
Area (pixel)
(pixel)
(mm)
Area (pixel)
100 μs
888,403
440,200
15,910
716,403
355,200
12,917
125 μs
1,031,402
511,199
29,535
582,404
289,200
18,794
150 μs
1,154,402
572,199
27,067
445,401
221,200
8808
175 μs
1,111,405
551,201
24,214
304,402
151,199
7949
Units are in pixel and mm. Total area is in pixel. Average resolution is 2 pixel/mm.

© 2018 by the authors. Licensee MDPI, Basel, Switzerland. This article is an open access article distributed under the terms and conditions of the Creative Commons Attribution (CC BY) license (http://creativecommons.org/licenses/by/4.0/).