Climate and the Decline and Fall of the Western Roman Empire: A Bibliometric View on an Interdisciplinary Approach to Answer a Most Classic Historical Question
1
Max Planck Institute for Solid State Research, Heisenbergstr. 1, 70569 Stuttgart, Germany
2
Division for Science and Innovation Studies, Administrative Headquarters of the Max Planck Society, Hofgartenstr. 8, 80539 Munich, Germany
*
Author to whom correspondence should be addressed.
Received: 10 October 2018 / Revised: 7 November 2018 / Accepted: 12 November 2018 / Published: 15 November 2018
Abstract
This bibliometric analysis deals with research on the decline and fall of the Western Roman Empire in connection with climate change. Based on the Web of Science (WoS) database, we applied a combination of three different search queries for retrieving the relevant literature: (1) on the decline and fall of the Roman Empire in general, (2) more specifically on the downfall in connection with a changing climate, and (3) on paleoclimatic research in combination with the time period of the Roman Empire and Late Antiquity. Additionally, we considered all references cited by an ensemble of selected key papers and all citing papers of these key papers, whereby we retrieved additional publications (in particular, books and book chapters). We merged the literature retrieved, receiving a final publication set of 85 publications. We analyzed this publication set by applying a toolset of bibliometric methods and visualization programs. A co-authorship map of all authors, a keyword map for a rough content analysis, and a citation network based on the publication set of 85 papers are presented. We also considered news mentions in this study to identify papers with impacts beyond science. According to the literature retrieved, a multitude of paleoclimatic data from various geographical sites for the time of late antiquity indicate a climatic shift away from the stability of previous centuries. Recently, some scholars have argued that drought in Central Asia and the onset of a cooler climate in North-West Eurasia may have put Germanic tribes, Goths, and Huns on the move into the Roman Empire, provoking the Migration Period and eventually leading to the downfall of the Western Roman Empire. However, climate is only one variable at play; a combination of many factors interacting with each other is a possible explanation for the pattern of long-lasting decline and final collapse. Currently, the number of records from different locations, the toolbox of suitable analytic methods, and the precision of dating are evolving rapidly, contributing to an answer for one of the most classic of all historical questions. However, these studies still lack the inevitable collaboration of the major disciplines involved: archeology, history, and climatology. The articles of the publication set analyzed mainly result from research in the geosciences.
View Full-Text
►

▼

Figures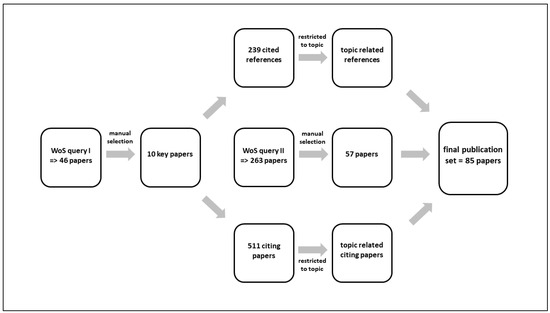 Figure 1
This is an open access article distributed under the
Creative Commons Attribution License
which permits unrestricted use, distribution, and reproduction in any medium, provided the original work is properly cited (CC BY 4.0).

Share & Cite This Article
MDPI and ACS Style
Marx, W.; Haunschild, R.; Bornmann, L. Climate and the Decline and Fall of the Western Roman Empire: A Bibliometric View on an Interdisciplinary Approach to Answer a Most Classic Historical Question. Climate 2018, 6, 90.
Note that from the first issue of 2016, MDPI journals use article numbers instead of page numbers. See further details here.
Related Articles
Comments
[Return to top]