Watershed Response to Climate Change and Fire-Burns in the Upper Umatilla River Basin, USA
1
Department of Environmental Science and Management, Portland State University, Portland, OR 97207, USA
2
Department of Geography, Portland State University, Portland, OR 97207, USA
*
Author to whom correspondence should be addressed.
Academic Editors: Daniele Bocchiola, Claudio Cassardo and Guglielmina Diolaiuti
Received: 18 October 2016 / Revised: 27 January 2017 / Accepted: 6 February 2017 / Published: 16 February 2017
Abstract
This study analyzed watershed response to climate change and forest fire impacts in the upper Umatilla River Basin (URB), Oregon, using the precipitation runoff modeling system. Ten global climate models using Coupled Intercomparison Project Phase 5 experiments with Representative Concentration Pathways (RCP) 4.5 and 8.5 were used to simulate the effects of climate and fire-burns on runoff behavior throughout the 21st century. We observed the center timing (CT) of flow, seasonal flows, snow water equivalent (SWE) and basin recharge. In the upper URB, hydrologic regime shifts from a snow-rain-dominated to rain-dominated basin. Ensemble mean CT occurs 27 days earlier in RCP 4.5 and 33 days earlier in RCP 8.5, in comparison to historic conditions (1980s) by the end of the 21st century. After forest cover reduction in the 2080s, CT occurs 35 days earlier in RCP 4.5 and 29 days earlier in RCP 8.5. The difference in mean CT after fire-burns may be due to projected changes in the individual climate model. Winter flow is projected to decline after forest cover reduction in the 2080s by 85% and 72% in RCP 4.5 and RCP 8.5, in comparison to 98% change in ensemble mean winter flows in the 2080s before forest cover reduction. The ratio of ensemble mean snow water equivalent to precipitation substantially decreases by 81% and 91% in the 2050s and 2080s before forest cover reduction and a decrease of 90% in RCP 4.5 and 99% in RCP 8.5 in the 2080s after fire-burns. Mean basin recharge is 10% and 14% lower in the 2080s before fire-burns and after fire-burns, and it decreases by 13% in RCP 4.5 and decreases 22% in RCP 8.5 in the 2080s in comparison to historical conditions. Mixed results for recharge after forest cover reduction suggest that an increase may be due to the size of burned areas, decreased canopy interception and less evaporation occurring at the watershed surface, increasing the potential for infiltration. The effects of fire on the watershed system are strongly indicated by a significant increase in winter seasonal flows and a slight reduction in summer flows. Findings from this study may improve adaptive management of water resources, flood control and the effects of fire on a watershed system.
View Full-Text
►

▼

Figures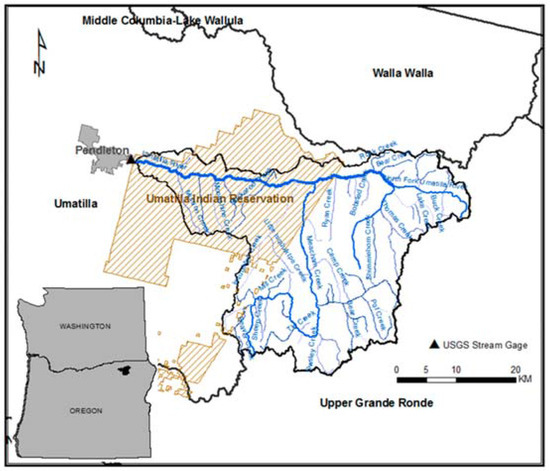 Figure 1
This is an open access article distributed under the
Creative Commons Attribution License
which permits unrestricted use, distribution, and reproduction in any medium, provided the original work is properly cited (CC BY 4.0).

Share & Cite This Article
MDPI and ACS Style
Yazzie, K.; Chang, H. Watershed Response to Climate Change and Fire-Burns in the Upper Umatilla River Basin, USA. Climate 2017, 5, 7.
Note that from the first issue of 2016, MDPI journals use article numbers instead of page numbers. See further details here.
Related Articles
Comments
[Return to top]