Genetic Structure of Cultivated Varieties of Radicchio (
Cichorium intybus

L.): A Comparison between F1 Hybrids and Synthetics

Department of Agronomy, Food, Natural Resources, Animals and Environment, University of Padova, 35020 Legnaro PD, Italy

*

Author to whom correspondence should be addressed.

Received: 24 May 2019 / Revised: 5 July 2019 / Accepted: 8 July 2019 / Published: 10 July 2019
Abstract
Cichorium intybus
L., well known in Italy with the common name "Radicchio", is an important leafy vegetable that is prevalently reproduced by allogamy due to very efficient barriers of self-incompatibility. Marker-assisted breeding is widely used by seed firms to develop new hybrid varieties that manifest genetic distinctiveness, uniformity and stability. A total of 29 mapped microsatellite markers were used for genotyping 504 samples of the Red of Chioggia biotype: First, two synthetics, four F1 hybrids and two derived F2 populations were compared to assess the distinctiveness of their gene pool and structure; then, the uniformity and stability of 3 years of production of a commercial F1 variety were also investigated. Genetic similarity and diversity statistics as well as the genetic structure of populations were analysed, including allele and genotype frequencies. The mean estimates and ranges of genetic similarity enabled the molecular discrimination of OP synthetics from F1 varieties and their F2 progenies and the determination of individual plant memberships. Moreover, the genetic structure of F1 hybrids produced in 3 years unexpectedly revealed two main clusters that discriminate the first 2 years from the 3rd, mainly because of the presence of uncommon specific alleles and different allele frequencies. Overall, this molecular information will enable breeders to determine the genetic distinctness, uniformity and stability of commercial and experimental varieties, as well as their genetic relationships and relatedness. Hence, this work provides a useful tool for achieving the molecular characterisation and genetic identification of different radicchio populations.
View Full-Text
►

▼

Figures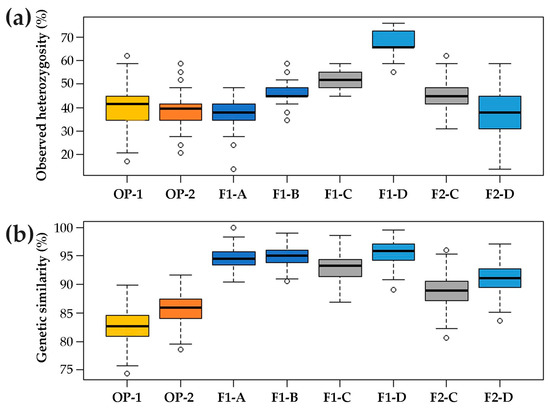 Figure 1
This is an open access article distributed under the
Creative Commons Attribution License
which permits unrestricted use, distribution, and reproduction in any medium, provided the original work is properly cited (CC BY 4.0).

Share & Cite This Article
MDPI and ACS Style
Patella, A.; Scariolo, F.; Palumbo, F.; Barcaccia, G. Genetic Structure of Cultivated Varieties of Radicchio (Cichorium intybus L.): A Comparison between F1 Hybrids and Synthetics. Plants 2019, 8, 213.
Note that from the first issue of 2016, MDPI journals use article numbers instead of page numbers. See further details here.
Related Articles
Comments
[Return to top]