Open Access This article is
freely available
re-usable
Article
Plant-Produced Anti-Enterovirus 71 (EV71) Monoclonal Antibody Efficiently Protects Mice Against EV71 Infection
1
Research Unit for Plant-Produced Pharmaceuticals, Chulalongkorn University, Bangkok 10330, Thailand
2
Vaccine Research Center, CAS Key Laboratory of Molecular Virology & Immunology, Institut Pasteur of Shanghai, Chinese Academy of Sciences, Shanghai 200031, China
3
Research Unit for Plant-Produced Pharmaceuticals and Department of Pharmacognosy and Pharmaceutical Botany, Faculty of Pharmaceutical Sciences, Chulalongkorn University, Bangkok 10330, Thailand
†
These authors contributed equally to this work.

Received: 15 October 2019 / Accepted: 21 November 2019 / Published: 1 December 2019
Abstract
:
Enterovirus 71 (EV71) is the main causative agent of severe hand-foot-mouth disease. EV71 affects countries mainly in the Asia-Pacific region, which makes it unattractive for pharmaceutical companies to develop drugs or vaccine to combat EV71 infection. However, development of these drugs and vaccines is vital to protect younger generations. This study aims to develop a specific monoclonal antibody (mAb) to EV71 using a plant platform, which is a cost-effective and scalable production technology. A previous report showed that D5, a murine anti-EV71 mAb, binds to VP1 protein of EV71, potently neutralizes EV71 in vitro, and effectively protects mice against EV71 infection. Herein, plant-produced chimeric D5 (cD5) mAb, variable regions of murine D5 antibody linked with constant regions of human IgG1, was transiently expressed in
Nicotiana benthamiana
using geminiviral vectors. The antibody was expressed at high levels within six days of infiltration. Plant-produced cD5 retained its in vitro high-affinity binding and neutralizing activity against EV71. Furthermore, a single dose (10 µg/g body weight) of plant-produced cD5 mAb offered 100% protection against infection in mice after a lethal EV71 challenge. Therefore, our results showed that plant-produced anti-EV71 mAb is an effective, safe, and affordable therapeutic option against EV71 infection.
Keywords:
enterovirus 71 (EV71); hand-foot-mouth disease; plant biotechnology; monoclonal antibody; molecular pharming; plant-produced monoclonal antibody;
Nicotiana benthamiana
Author Contributions
Z.H. and W.P. conceived and designed the study. K.R., Z.C. and K.S. performed the experiment. All the authors analyzed the data and wrote the manuscript.
Funding
This study was supported by Thailand Research Fund grant No. RSA6280006.
Acknowledgments
K.R. was supported by the Ratchadaphiseksomphot Fund, Chulalongkorn University for the postdoctoral Fellowship.
Conflicts of Interest
The authors declare no conflict of interest.

Figure 1. Constructs of chimeric D5 (cD5) heavy chain and light chain genes in geminiviral vectors used in the study. P35S: Cauliflower Mosaic Virus (CaMV) 35S promoter, TMVΩ 5′-UTR: 5′ untranslated region of tobacco mosaic virus Ω, D5-HC: heavy chain of cD5 antibody, D5-LC: light chain of cD5 antibody, Ext3′FL: 3′ full length of tobacco tabacum extension gene, SIR: short intergenic region of BeYDV genome, LIR: long intergenic region of BeYDV genome, C2/C1: Bean Yellow Dwarf Virus (BeYDV) ORFs C1 and C2 which encode for replication initiation protein (Rep) and RepA, PNOS: nopaline synthase promoter, P19: P19 gene from Tomato Bushy Stunt Virus (TBSV), Nos3′: 3' termini of the polyadenylated nos mRNA.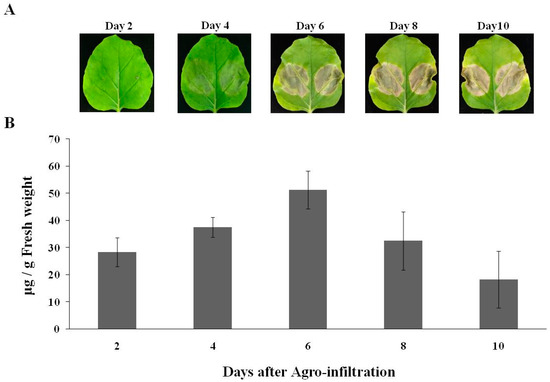 Figure 2.
Day optimization of cD5mAb expression in
N
.
benthamiana
leaves. Quantification of plant-produced cD5 mAb was determined on day 2, 4, 6, 8, and 10 after agroinfiltration using ELISA. The leaf necrosis (
A
) and yield of cD5 mAb (
B
) were shown. Data are means ± SD of triplicates.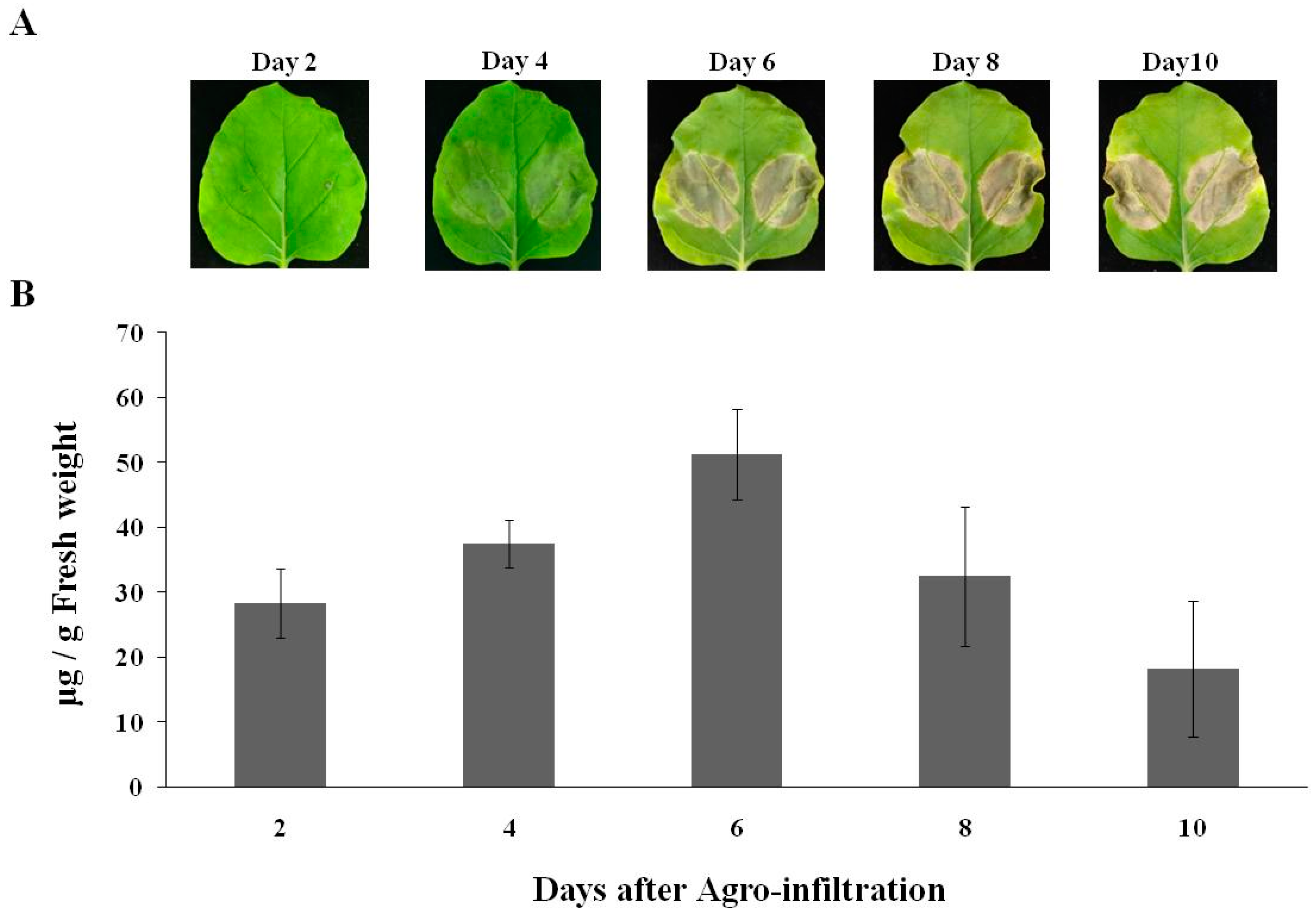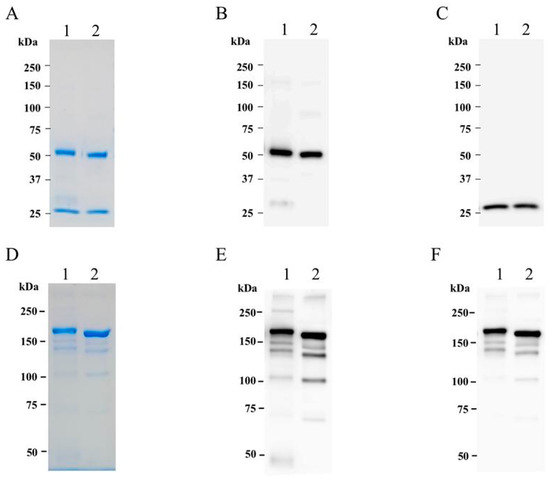 Figure 3. SDS-PAGE and western blot analysis of purified plant-produced cD5 mAb. Purified plant-produced cD5 mAb (lane1) and irrelevant human IgG (lane2). Panels (A), (B), and (C) show SDS-PAGE gradient gel (6–15%) results of the antibodies under reducing condition with InstantBlue™, anti-Gamma, and anti-Kappa, respectively. Panels (D), (E), and (F) showed results of 6% SDS-PAGE gel results of the antibodies under the non-reducing condition with InstantBlue™, anti-Gamma, and anti-Kappa, respectively.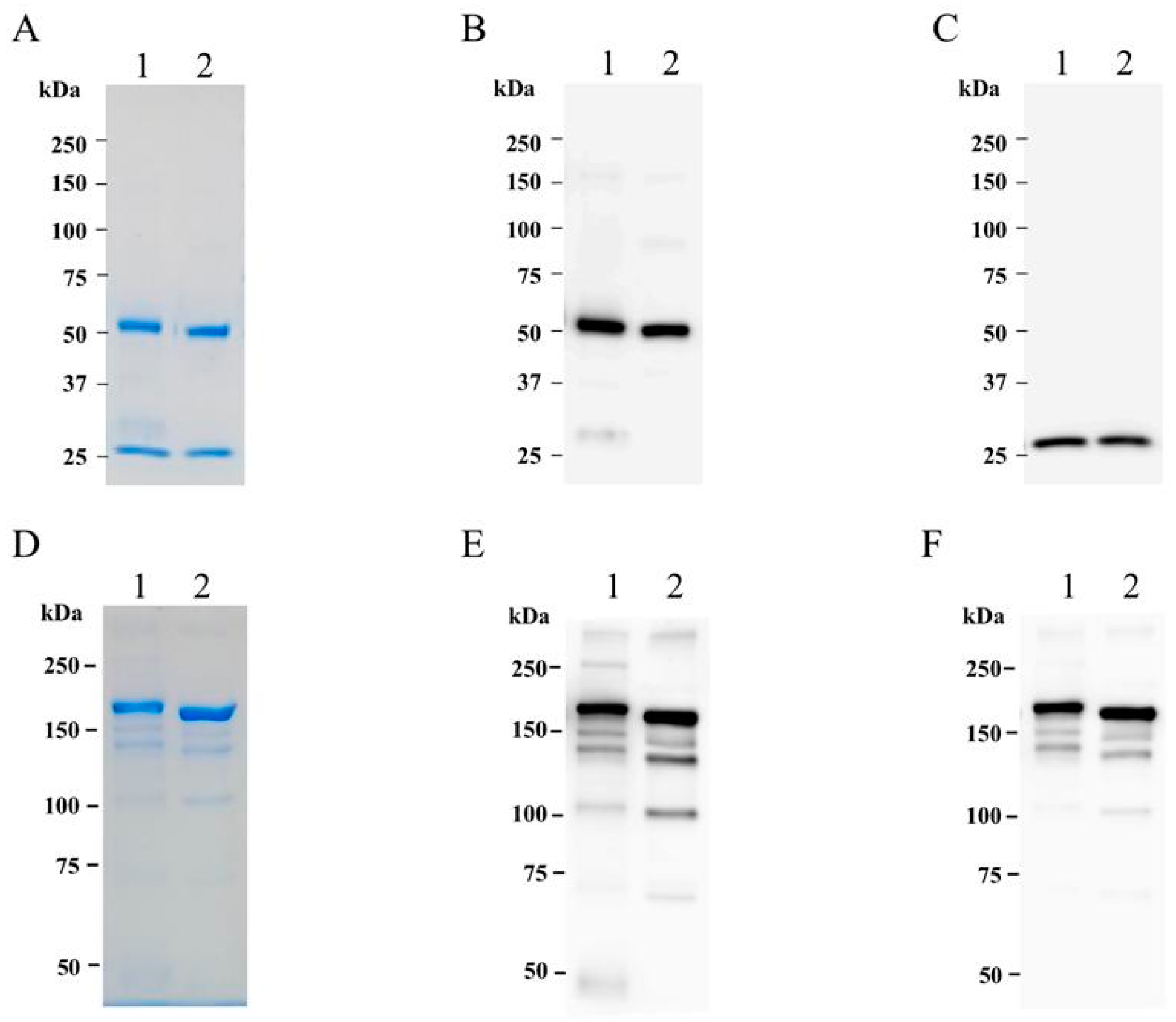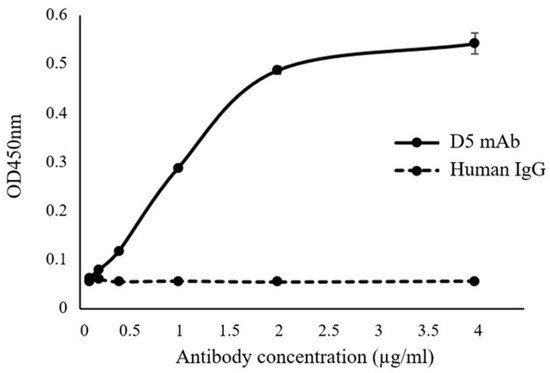 Figure 4. Determination of binding affinity of plant-produced cD5 mAb to synthetic SP70 peptide by ELISA. Synthetic SP70 peptide was used as the coating antigen and irrelevant human IgG was used as a negative control. The representative points are the mean values of triplicate assays conducted at each concentration of the antibodies.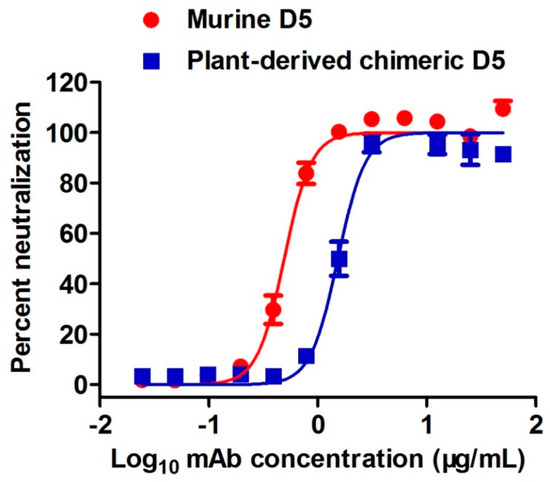 Figure 5. Neutralizing activity of plant-produced cD5 mAb against EV71. One hundred TCID50 of EV71 strain EV71/G082 was mixed with serial two-fold dilutions of plant-produced cD5 or murine D5 antibodies and incubated for 1 h. The mixtures were added to rhabdomyosarcoma cells (RD cells) and incubated for three days. Cell viability was measured, and results were expressed as percent neutralization. Data are expressed as mean ± SEM of five replicate wells.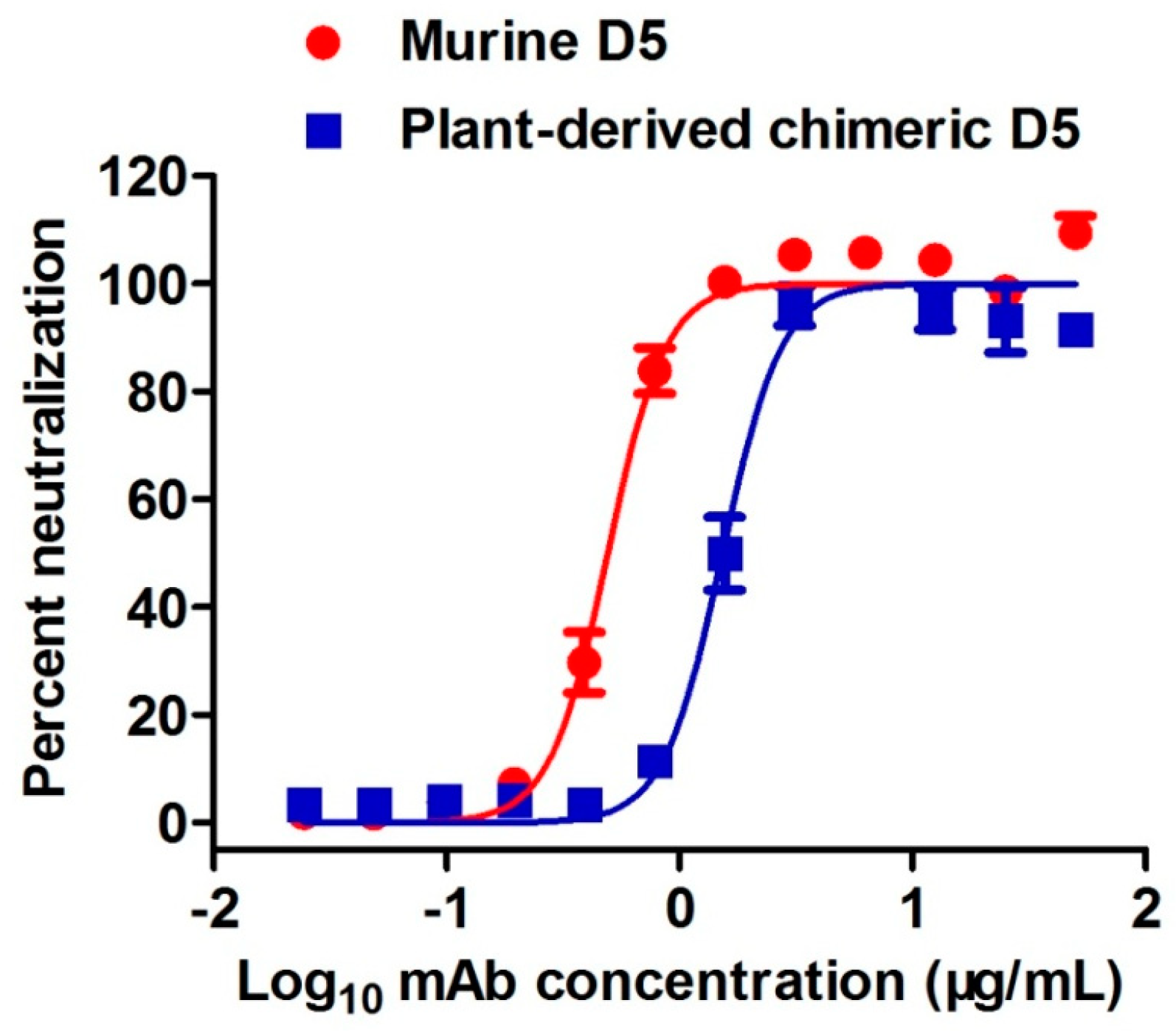 Figure 6. Plant-derived cD5 antibody fully protected mice against EV71 infection. Groups of 5-day-old ICR mice were infected with EV71/MAV-W, and 24 h later injected with phosphate-buffered saline (PBS), plant-produced cD5 antibody, or murine D5 antibody. The infected mice were monitored daily for 14 days for (A) survival and (B) clinical score. Clinical scores were graded as follows: 0, healthy; 1, reduced mobility; 2, limb weakness; 3, paralysis; and 4, death. The number of mice in each group was indicated in the bracket.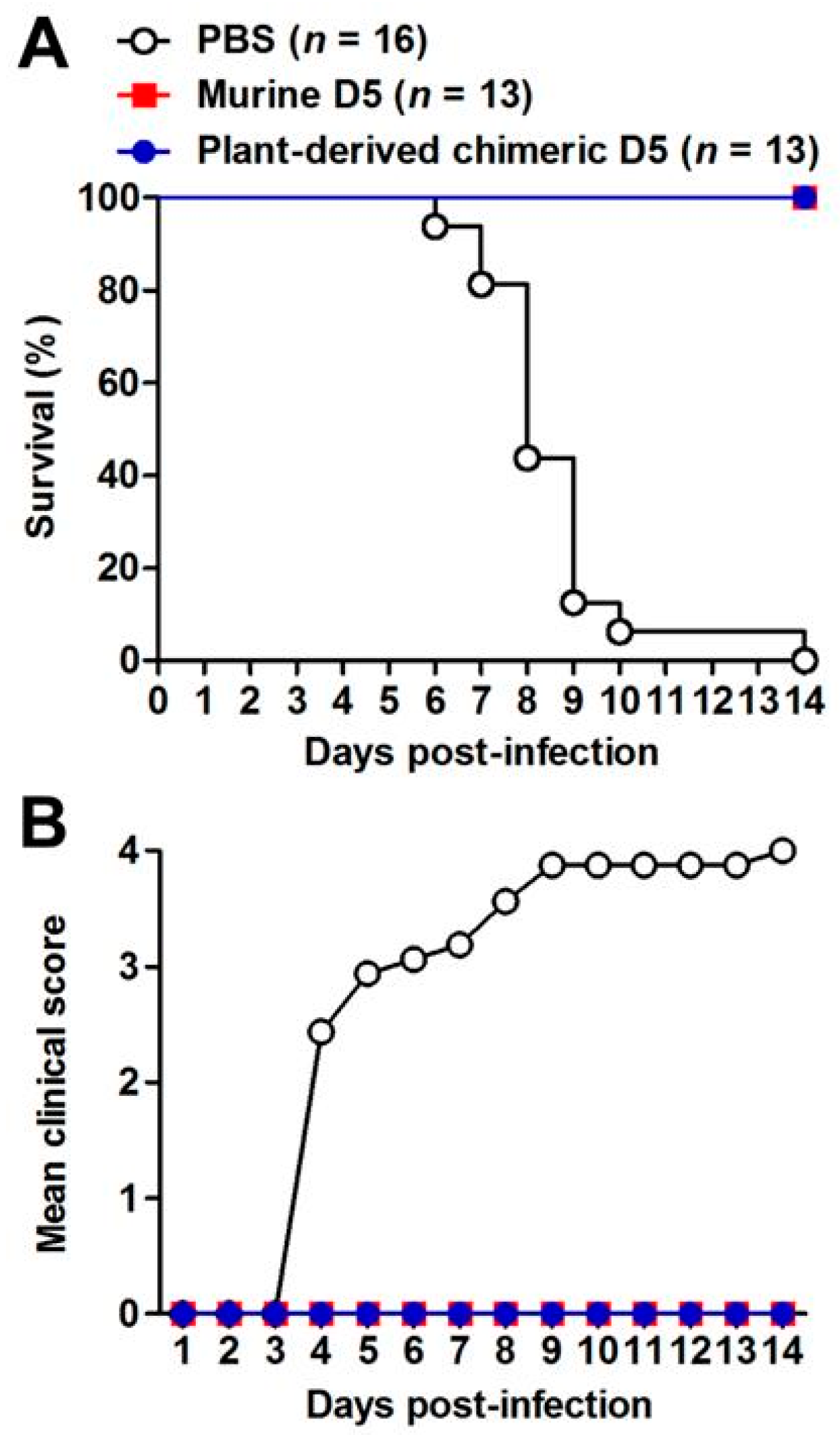 © 2019 by the authors. Licensee MDPI, Basel, Switzerland. This article is an open access article distributed under the terms and conditions of the Creative Commons Attribution (CC BY) license (http://creativecommons.org/licenses/by/4.0/).