Exploring the Role of Cell Wall-Related Genes and Polysaccharides during Plant Development
1
School of Agriculture, Food and Wine, Waite Research Institute, The University of Adelaide, Glen Osmond, SA 5062, Australia
2
Australian Research Council Centre of Excellence in Plant Cell Walls, The University of Adelaide, Glen Osmond, SA 5062, Australia
3
Cell and Molecular Sciences, The James Hutton Institute, Dundee DD2 5DA, UK
4
Departamento de Biologia, Faculdade de Ciências da Universidade do Porto, 4169-007 Porto, Portugal
*
Author to whom correspondence should be addressed.
Received: 29 April 2018 / Revised: 28 May 2018 / Accepted: 29 May 2018 / Published: 31 May 2018
Abstract
The majority of organs in plants are not established until after germination, when pluripotent stem cells in the growing apices give rise to daughter cells that proliferate and subsequently differentiate into new tissues and organ primordia. This remarkable capacity is not only restricted to the meristem, since maturing cells in many organs can also rapidly alter their identity depending on the cues they receive. One general feature of plant cell differentiation is a change in cell wall composition at the cell surface. Historically, this has been viewed as a downstream response to primary cues controlling differentiation, but a closer inspection of the wall suggests that it may play a much more active role. Specific polymers within the wall can act as substrates for modifications that impact receptor binding, signal mobility, and cell flexibility. Therefore, far from being a static barrier, the cell wall and its constituent polysaccharides can dictate signal transmission and perception, and directly contribute to a cell's capacity to differentiate. In this review, we re-visit the role of plant cell wall-related genes and polysaccharides during various stages of development, with a particular focus on how changes in cell wall machinery accompany the exit of cells from the stem cell niche.
View Full-Text
►

▼

Figures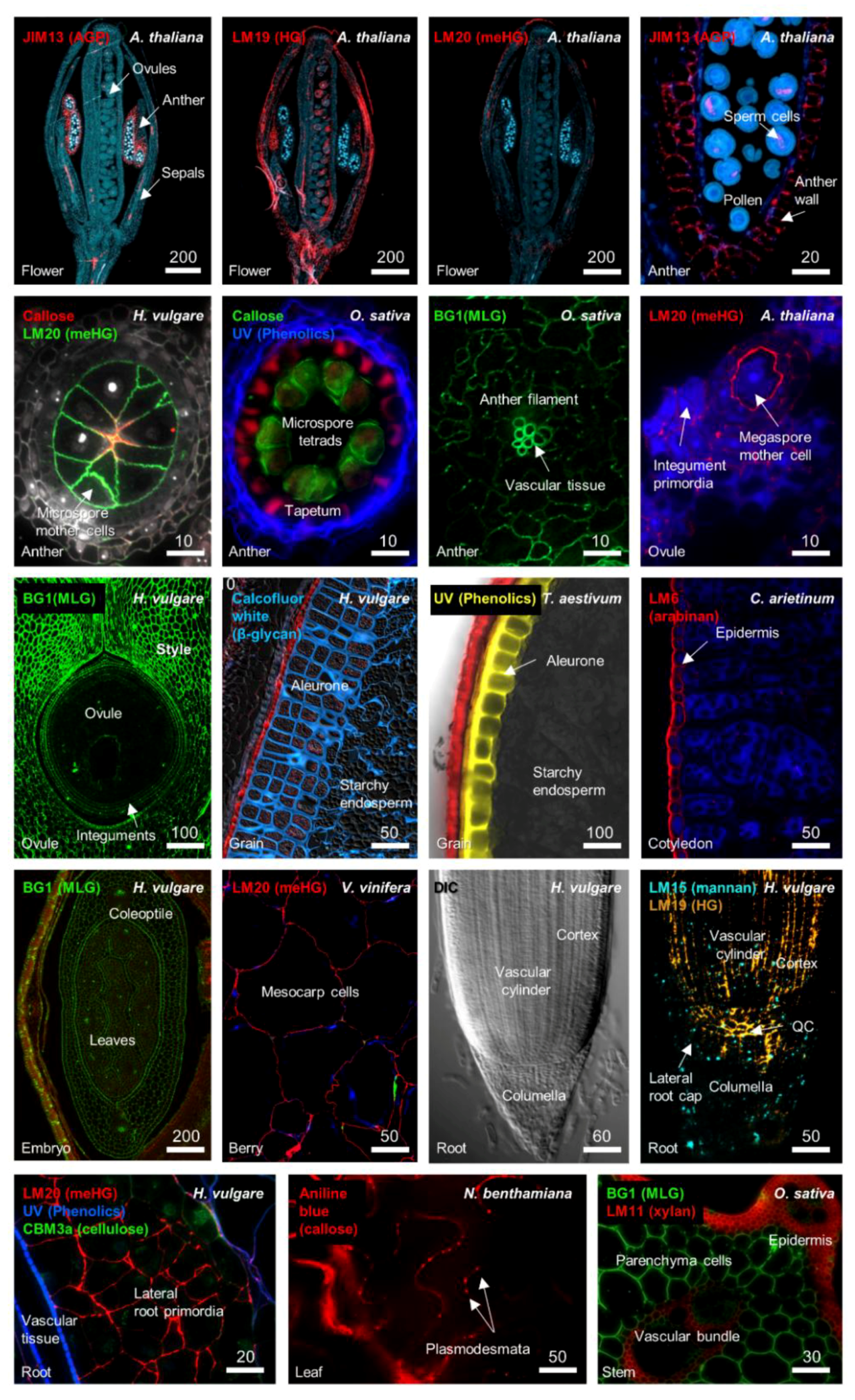 Figure 1
This is an open access article distributed under the
Creative Commons Attribution License
which permits unrestricted use, distribution, and reproduction in any medium, provided the original work is properly cited (CC BY 4.0).

Share & Cite This Article
MDPI and ACS Style
Tucker, M.R.; Lou, H.; Aubert, M.K.; Wilkinson, L.G.; Little, A.; Houston, K.; Pinto, S.C.; Shirley, N.J. Exploring the Role of Cell Wall-Related Genes and Polysaccharides during Plant Development. Plants 2018, 7, 42.
Note that from the first issue of 2016, MDPI journals use article numbers instead of page numbers. See further details here.
Related Articles
Comments
[Return to top]