Spatial Pattern Consistency among Different Remote-Sensing Land Cover Datasets: A Case Study in Northern Laos
1
Geological Engineering and Institute of Surveying and Mapping, Chang'an University, Shaanxi 710054, China
2
State Key Laboratory of Resources and Environment Information System, Institute of Geographic Sciences and Natural Resources Research, CAS, Beijing 100101, China
3
Jiangsu Center for Collaborative Innovation in Geographical Information Resource Development and Application, Nanjing 210023, China
*
Author to whom correspondence should be addressed.
Received: 7 February 2019 / Revised: 8 April 2019 / Accepted: 29 April 2019 / Published: 1 May 2019
Abstract
Comparisons of the accuracy and consistency of different remote-sensing land cover datasets are important for the rational application of multi-source land cover datasets to regional development, or to studies of global or local environmental change. Existing comparisons of accuracy or spatial consistency among land cover datasets primarily use confusion or transfer matrices and focus on the type and area consistency of land cover. However, less attention has been paid to the consistency of spatial patterns, and quantitative analyses of spatial pattern consistency are rare. However, when proportions of land cover types are similar, spatial patterns are essential for studies of the ecological functions of a landscape system. In this study, we used classical landscape indices that quantifies spatial patterns to analyze the spatial pattern consistency among different land cover datasets, and chose three datasets (GlobeLand30-2010, FROM-GLC2010, and SERVIR MEKONG2010) in northern Laos as a case study. We also analyzed spatial pattern consistency at different scales after comparing the landscape indices method with the confusion matrix method. We found that the degree of consistency between GlobeLand30-2010 and SERVIR MEKONG2010 was higher than that of GlobeLand30-2010 and FROM-GLC2010, FROM-GLC2010, and SERVIR MEKONG2010 based on the confusion matrix, mainly because of the best forest consistency and then water. However, the spatial consistency results of the landscape indices analysis show that the three datasets have large differences in the number of patches (NP), patch density (PD), and landscape shape index (LSI) at the original scale of 30 m, and decrease with the increase of the scale. Meanwhile, the aggregation index (AI) shows different changes, such as the changing trend of the forest aggregation index increasing with the scale. Our results suggested that, when using or producing land cover datasets, it is necessary not only to ensure the consistency of landscape types and areas, but also to ensure that differences among spatial patterns are minimized, especially those exacerbated by scale. Attention to these factors will avoid larger deviations and even erroneous conclusions from these data products.
View Full-Text
►

▼

Figures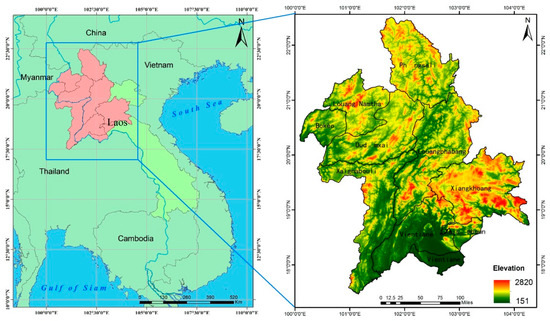 Figure 1
This is an open access article distributed under the
Creative Commons Attribution License
which permits unrestricted use, distribution, and reproduction in any medium, provided the original work is properly cited (CC BY 4.0).

Share & Cite This Article
MDPI and ACS Style
Kang, J.; Sui, L.; Yang, X.; Wang, Z.; Huang, C.; Wang, J. Spatial Pattern Consistency among Different Remote-Sensing Land Cover Datasets: A Case Study in Northern Laos. ISPRS Int. J. Geo-Inf. 2019, 8, 201.
Note that from the first issue of 2016, MDPI journals use article numbers instead of page numbers. See further details here.
Related Articles
Comments
[Return to top]