Short-Term and Long-Term Forecasting for the 3D Point Position Changing by Using Artificial Neural Networks
1
School of Rural and Surveying Engineering, National Technical University of Athens, 15780 Ζografos, Athens, Greece
2
School of Electrical and Computer Engineering, National Technical University of Athens, 15780 Ζografos, Athens, Greece
*
Author to whom correspondence should be addressed.
Received: 13 January 2018 / Revised: 21 February 2018 / Accepted: 7 March 2018 / Published: 9 March 2018
Abstract
Forecasting is one of the most growing areas in most sciences attracting the attention of many researchers for more extensive study. Therefore, the goal of this study is to develop an integrated forecasting methodology based on an Artificial Neural Network (ANN), which is a modern and attractive intelligent technique. The final result is to provide short-term and long-term forecasts for point position changing, i.e., the displacement or deformation of the surface they belong to. The motivation was the combination of two thoughts, the insertion of the forecasting concept in Geodesy as in the most scientific disciplines (e.g., Economics, Medicine) and the desire to know the future position of any point on a construction or on the earth's crustal. This methodology was designed to be accurate, stable and general for different kind of geodetic data. The basic procedure consists of the definition of the forecasting problem, the preliminary data analysis (data pre-processing), the definition of the most suitable ANN, its evaluation using the proper criteria and finally the production of forecasts. The methodology gives particular emphasis on the stages of the pre-processing and the evaluation. Additionally, the importance of the prediction intervals (PI) is emphasized. A case study, which includes geodetic data from the year 2003 to the year 2016—namely X, Y, Z coordinates—is implemented. The data were acquired by 1000 permanent Global Navigation Satellite System (GNSS) stations. During this case study, 2016 ANNs—with different hyper-parameters—are trained and tested for short-term forecasting and 2016 for long-term forecasting, for each of the GNSS stations. In addition, other conventional statistical forecasting methods are used for the same purpose using the same data set. Finally the most appropriate Non-linear Autoregressive Recurrent network (NAR) or Non-linear Autoregressive with eXogenous inputs (NARX) for the forecasting of 3D point position changing is presented and evaluated. It is proved that the use of ANNs, in order to make short-term and long-term forecasts, provides forecasting changes of the order of 2 mm with Mean Absolute Error (MAE) of the order of 0.5 mm.
View Full-Text
►

▼

Figures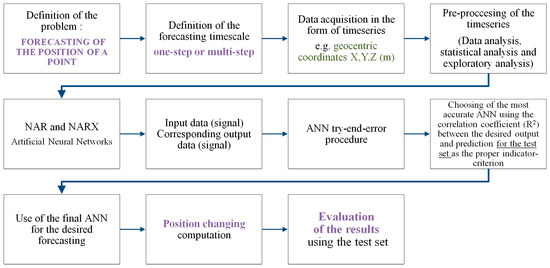 Figure 1
This is an open access article distributed under the
Creative Commons Attribution License
which permits unrestricted use, distribution, and reproduction in any medium, provided the original work is properly cited (CC BY 4.0).

Share & Cite This Article
MDPI and ACS Style
Alevizakou, E.-G.; Siolas, G.; Pantazis, G. Short-Term and Long-Term Forecasting for the 3D Point Position Changing by Using Artificial Neural Networks. ISPRS Int. J. Geo-Inf. 2018, 7, 86.
Note that from the first issue of 2016, MDPI journals use article numbers instead of page numbers. See further details here.
Related Articles
Comments
[Return to top]