The Natural-Based Antitumor Compound T21 Decreases Survivin Levels through Potent STAT3 Inhibition in Lung Cancer Models
1
Department of Pathology and Experimental Therapeutics, Faculty of Medicine and Health Sciences, Universitat de Barcelona, 08905 Barcelona, Spain
2
Oncobell Program, Institut d'Investigació Biomèdica de Bellvitge (IDIBELL), L'Hospitalet de Llobregat, 08908 Barcelona, Spain
3
Department of Chemistry, Universidad de Burgos, 09001 Burgos, Spain
4
Department of Thoracic Surgery and University of Barcelona, Hospital Universitari de Bellvitge, L'Hospitalet de Llobregat, 08907 Barcelona, Spain
5
Department of Pathology, Hospital Universitari de Bellvitge-IDIBELL, L'Hospitalet de Llobregat, 08907 Barcelona, Spain
*
Author to whom correspondence should be addressed.
Received: 11 July 2019 / Revised: 9 August 2019 / Accepted: 10 August 2019 / Published: 13 August 2019
Abstract
Lung cancer is the leading cause of cancer-related deaths worldwide; hence novel treatments for this malignancy are eagerly needed. Since natural-based compounds represent a rich source of novel chemical entities in drug discovery, we have focused our attention on tambjamines, natural compounds isolated from marine invertebrates that have shown diverse pharmacological activities. Based on these structures, we have recently identified the novel indole-based tambjamine analog 21 (T21) as a promising antitumor agent, which modulates the expression of apoptotic proteins such as survivin. This antiapoptotic protein plays an important role in carcinogenesis and chemoresistance. In this work, we have elucidated the molecular mechanism by which the anticancer compound T21 exerts survivin inhibition and have validated this protein as a therapeutic target in different lung cancer models. T21 was able to reduce survivin protein levels in vitro by repressing its gene expression through the blockade of Janus kinase/Signal Transducer and Activator of Transcription-3 (JAK/STAT3)/survivin signaling pathway. Interestingly, this occurred even when the pathway was overstimulated with its ligand interleukin 6 (IL-6), which is frequently overexpressed in lung cancer patients who show poor clinical outcomes. Altogether, these results show T21 as a potent anticancer compound that effectively decreases survivin levels through STAT3 inhibition in lung cancer, appearing as a promising therapeutic drug for cancer treatment.
View Full-Text
►

▼

Figures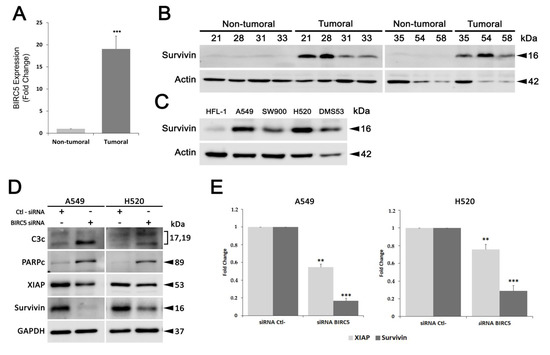 Figure 1
This is an open access article distributed under the
Creative Commons Attribution License
which permits unrestricted use, distribution, and reproduction in any medium, provided the original work is properly cited (CC BY 4.0).

Share & Cite This Article
MDPI and ACS Style
Martínez-García, D.; Pérez-Hernández, M.; Korrodi-Gregório, L.; Quesada, R.; Ramos, R.; Baixeras, N.; Pérez-Tomás, R.; Soto-Cerrato, V. The Natural-Based Antitumor Compound T21 Decreases Survivin Levels through Potent STAT3 Inhibition in Lung Cancer Models. Biomolecules 2019, 9, 361.
Note that from the first issue of 2016, MDPI journals use article numbers instead of page numbers. See further details here.
Related Articles
Comments
[Return to top]