Open Access This article is
freely available
re-usable
Review
The TGF-β1/p53/PAI-1 Signaling Axis in Vascular Senescence: Role of Caveolin-1
Department of Regenerative & Cancer Cell Biology, Albany Medical College, Albany, NY 12208, USA
*
Author to whom correspondence should be addressed.
Received: 10 July 2019 / Accepted: 2 August 2019 / Published: 3 August 2019
Abstract
:
Stress-induced premature cellular senescence is a significant factor in the onset of age-dependent disease in the cardiovascular system. Plasminogen activator inhibitor-1 (PAI-1), a major TGF-β1/p53 target gene and negative regulator of the plasmin-based pericellular proteolytic cascade, is elevated in arterial plaques, vessel fibrosis, arteriosclerosis, and thrombosis, correlating with increased tissue TGF-β1 levels. Additionally, PAI-1 is necessary and sufficient for the induction of p53-dependent replicative senescence. The mechanism of PAI-1 transcription in senescent cells appears to be dependent on caveolin-1 signaling.
Src
kinases are upstream effectors of both FAK and caveolin-1 activation as FAK
Y577,Y861
and caveolin-1
Y14
phosphorylation are not detected in TGF-β1-stimulated
src
family kinase (pp60
c-

src
, Yes, Fyn) triple-deficient (SYF
−/−/−
) cells. However, restoration of pp60
c-src
expression in SYF-null cells rescued both caveolin-1
Y14
phosphorylation and PAI-1 induction in response to TGF-β1. Furthermore, TGF-β1-initiated
Src
phosphorylation of caveolin-1
Y14
is critical in Rho-ROCK-mediated suppression of the SMAD phosphatase PPM1A maintaining and, accordingly, SMAD2/3-dependent transcription of the PAI-1 gene. Importantly, TGF-β1 failed to induce PAI-1 expression in caveolin-1-null cells, correlating with reductions in both Rho-GTP loading and SMAD2/3 phosphorylation. These findings implicate caveolin-1 in expression controls on specific TGF-β1/p53 responsive growth arrest genes. Indeed, up-regulation of caveolin-1 appears to stall cells in G
0
/G
1
via activation of the p53/p21 cell cycle arrest pathway and restoration of caveolin-1 in caveolin-1-deficient cells rescues TGF-β1 inducibility of the PAI-1 gene. Although the mechanism is unclear, caveolin-1 inhibits p53/MDM2 complex formation resulting in p53 stabilization, induction of p53-target cell cycle arrest genes (including PAI-1), and entrance into premature senescence while stimulating the ATM→p53→p21 pathway. Identification of molecular events underlying senescence-associated PAI-1 expression in response to TGF-β1/
src
kinase/p53 signaling may provide novel targets for the therapy of cardiovascular disease.
Keywords:
vascular disease; senescence; p53; TGF-β1; plasminogen activator inhibitor-1
Author Contributions
All listed authors meet the requirements for authorship. R.S., C.E.H., T.M.S., and S.P.H. performed the experiments; R.S. and P.J.H. wrote the review and prepared the figures. T.M.S. and P.J.H. did the statistical assessments. All authors read and approved the final manuscript.
Funding
Supported by NIH grant GM057242 and funding from the Friedman Family Cancer Research Fund and the Charlotte Graver, Roach and Butler Family Foundations.
Conflicts of Interest
The authors declare no conflict of interest.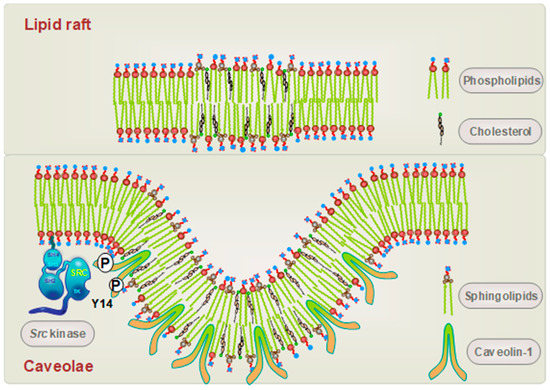 Figure 1.
Comparative structures of lipid rafts and caveolae, two major cholesterol-rich membrane microdomains. Caveolin-1 is a key membrane protein necessary for the formation of cholesterol- and sphingolipid-enriched caveolae.
Src
family kinases phosphorylate caveolin-1 at Y14 promoting interactions with a subgroup of signaling effectors including the EGFR and FAK, as seen in
Figure 2
.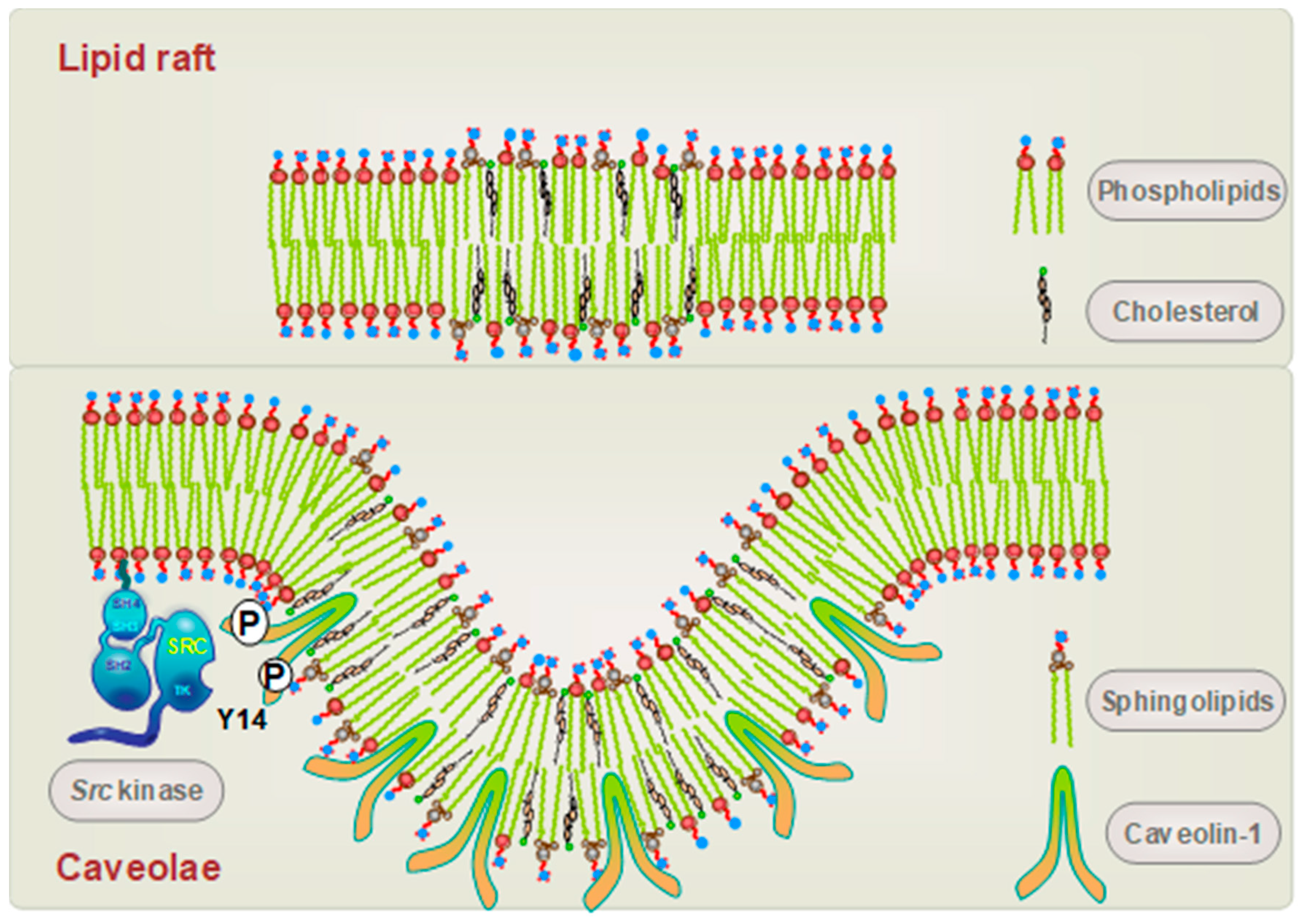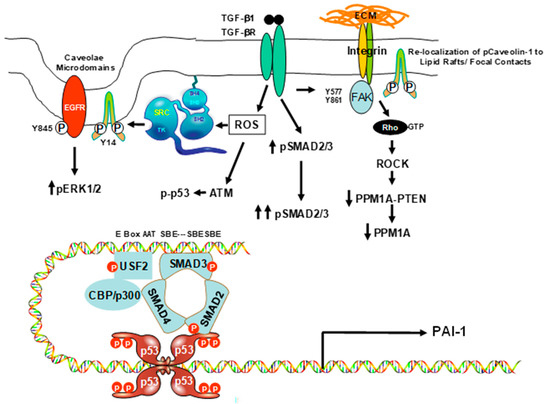 Figure 2.
A model illustrating the maintenance of induced SMAD3 phosphorylation and PAI-1 transcription in response to TGF-β1 via
Src
/p53/FAK/Caveolin-1 signaling. Binding of TGF-β1 to the TGF-β receptor (TGF-βR) stimulates the generation of reactive oxygen species (ROS) and activates
Src
kinases.
Src
phosphorylates caveolin-1 at Y14 and transactivates the EGFR at the
Src
target Y845 residue, leading to mobilization of the MEK-ERK and p38 (not shown) pathways. TGF-β1-initiated
Src
kinase phosphorylation of caveolin-1
Y14
also stimulates FAK activation, Rho-GTP loading, and Rho-ROCK activation at sites of integrin/matrix engagement. pCaveolin-1
Y14
-Rho-ROCK signaling inhibits PTEN-PPM1A interactions, resulting in a reduction of the SMAD phosphatase PPM1A, maintaining pSMAD2/3 levels required for PAI-1 induction and persistent expression in response to TGF-β1. ROS-mediated ATM activation stimulates p53 phosphorylation and recruitment of p-p53 to the promoter region of genes with p53 binding motifs [
31
,
51
,
53
,
59
]. The PE2 region E box in the PAI-1 promoter is a docking site for the helix-loop-helix transcription-leucine zipper factors USF1/2 which are activated by MAP kinases as well as other TGF-β1-induced kinases. Members of the USF family reorient the DNA minor grove, promoting interactions between SMAD2/3 tethered to the PE2 region SMAD-binding elements (SBEs) with tetramerized p53, bound to its downstream half-site motifs [
51
,
59
]. Occupancy of the immediate 5" upstream SMAD-binding elements (SBEs) with SMAD2/3/4 and co-localization with p53, USF2, and the histone acetyltransferases CBP/p300 facilitates the formation of a multi-component transcriptional complex required for TGF-β1-induced PAI-1 expression.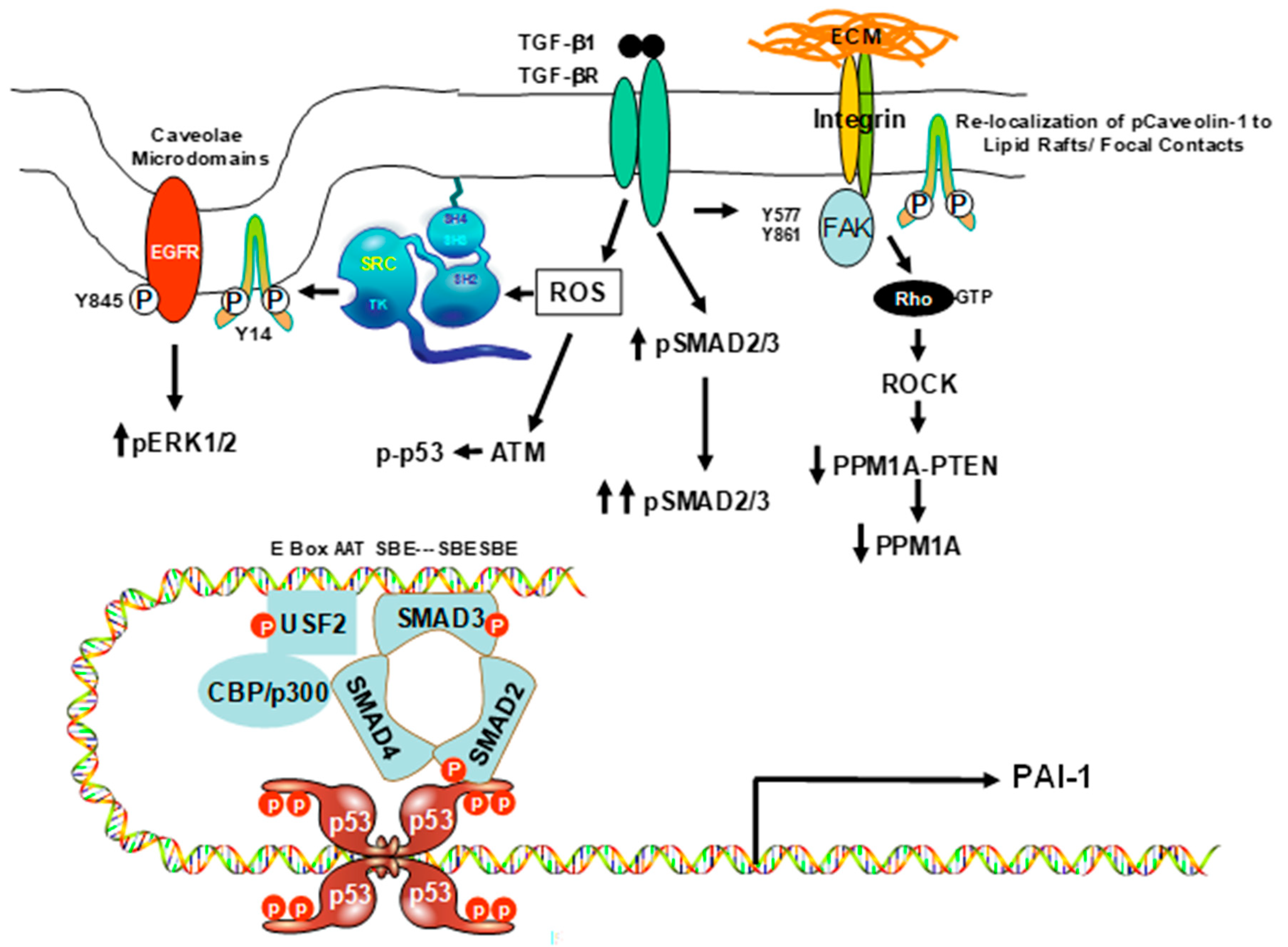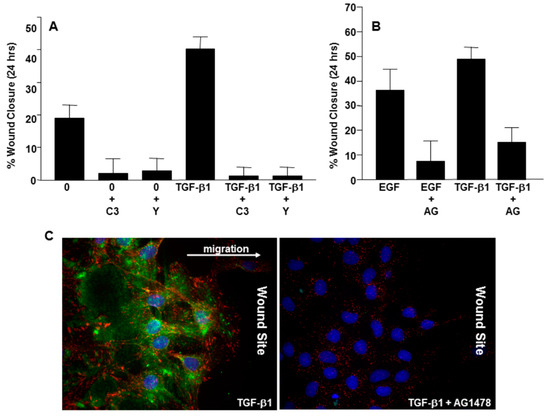 Figure 3. Signaling requirements for VSMC monolayer scratch would closure. Confluent VSMC cultures were scrape-wounded with a pipette tip prior to addition TGF-β1 or EGF with (+) or without a 30 min pre-incubation with the Rho GTPase inhibitor C3 transferase (C3), the ROCK inhibitor Y-27632, or the EGFR kinase inhibitor AG1478. C3 transferase and Y-27632 effectively attenuated both basal and TGF-β1-stimulated VSMC migration (A) and AG1478 significantly reduced EGF as well as TGF-β1 induced migration (B) in response to monolayer wounding. In TGF-β1-treated cultures, PAI-1 expression was evident at the wound edge within hours post-injury (C, left panel). PAI-1 induction was completely inhibited by exposure to AG1478 (C, right panel) correlating with a significant reduction in cell migration (B).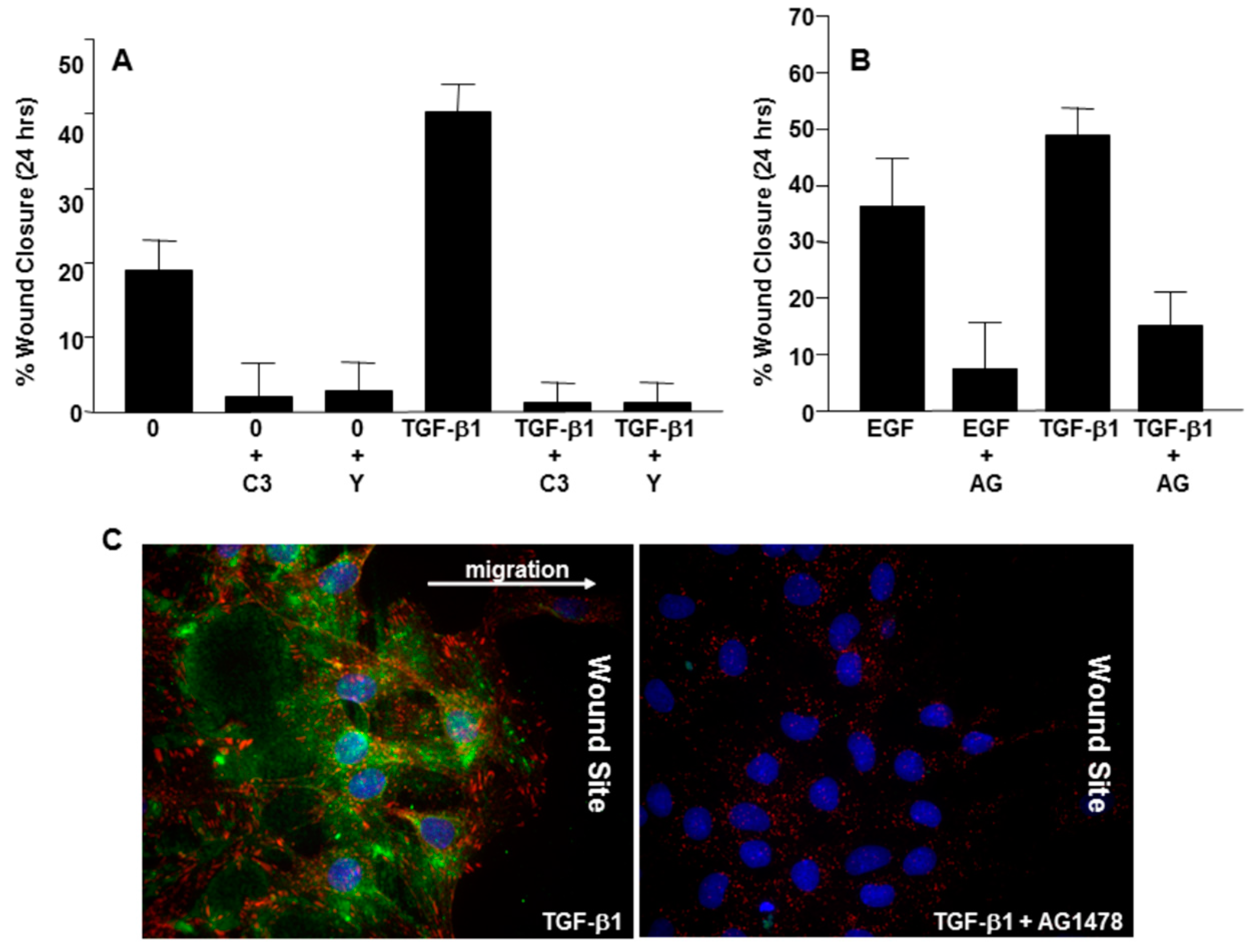 © 2019 by the authors. Licensee MDPI, Basel, Switzerland. This article is an open access article distributed under the terms and conditions of the Creative Commons Attribution (CC BY) license (http://creativecommons.org/licenses/by/4.0/).