Greensporone A, a Fungal Secondary Metabolite Suppressed Constitutively Activated AKT via ROS Generation and Induced Apoptosis in Leukemic Cell Lines
1
Translational Research Institute, Academic Health System, Hamad Medical Corporation, P.O. Box 3050, Doha, Qatar
2
National Center for Cancer Care and Research, Hamad Medical Corporation, Doha 3050, Qatar
3
Departent of Medicinal Chemistry and Pharmacognosy, Faculty of Pharmacy, Jordan University of Science and Technology, Irbid 22110, Jordan
4
Department of Chemistry and Biochemistry, University of North Carolina at Greensboro, Greensboro, NC 27402, USA
5
Qatar College of Pharmacy, Qatar University, Doha 3050, Qatar
6
Department of Dermatology Venereology, Hamad Medical Corporation, Doha 3050, Qatar
7
Weill Cornell-Medicine, Doha 3050, Qatar
8
Weill Cornell University, New York, NY 10065, United States
*
Author to whom correspondence should be addressed.
†
These authors contributed equally to this paper.
Received: 17 March 2019 / Revised: 26 March 2019 / Accepted: 27 March 2019 / Published: 29 March 2019
Abstract
Greensporone A is a fungal secondary metabolite that has exhibited potential in vitro for anti-proliferative activity in vitro. We studied the anticancer activity of greensporone A in a panel of leukemic cell lines. Greensporone A-mediated inhibition of proliferation is found to be associated with the induction of apoptotic cell death. Greensporone A treatment of leukemic cells causes inactivation of constitutively activated AKT and its downstream targets, including members GSK3 and FOXO1, and causes downregulation of antiapoptotic genes such as Inhibitor of Apoptosis (IAPs) and Bcl-2. Furthermore, Bax, a proapoptotic member of the Bcl-2 family, was found to be upregulated in leukemic cell lines treated with greensporone A. Interestingly, gene silencing of AKT using AKT specific siRNA suppressed the expression of Bcl-2 with enhanced expression of Bax. Greensporone A-mediated increase in Bax/Bcl-2 ratio causes permeabilization of the mitochondrial membrane leading to the accumulation of cytochrome c in the cytoplasm. Greensporone A-induced cytochrome c accumulation causes the activation of caspase cascade and cleavage of its effector, poly(ADP-ribose) polymerase (PARP), leading to apoptosis. Greensporone A-mediated apoptosis in leukemic cells occurs through the generation of reactive oxygen species (ROS) due to depletion of glutathione (GSH) levels. Finally, greensporone A potentiated the anticancer activity of imatinib in leukemic cells. In summary, our study showed that greensporone A suppressed the growth of leukemic cells via induction of apoptotic cell death. The apoptotic cell death occurs by inhibition of AKT signaling and activation of the intrinsic apoptotic/caspase pathways. These results raise the possibility that greensporone A could be developed as a therapeutic agent for the treatment of leukemia and other hematological malignancies.
View Full-Text
►

▼

Figures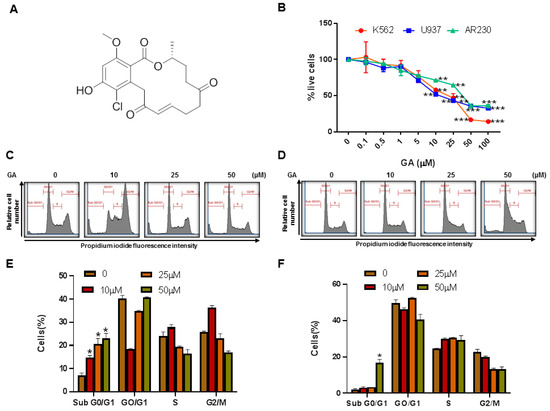 Figure 1
This is an open access article distributed under the
Creative Commons Attribution License
which permits unrestricted use, distribution, and reproduction in any medium, provided the original work is properly cited (CC BY 4.0).

Share & Cite This Article
MDPI and ACS Style
Prabhu, K.S.; Siveen, K.S.; Kuttikrishnan, S.; Jochebeth, A.; Ali, T.A.; Elareer, N.R.; Iskandarani, A.; Quaiyoom Khan, A.; Merhi, M.; Dermime, S.; El-Elimat, T.; Oberlies, N.H.; Alali, F.Q.; Steinhoff, M.; Uddin, S. Greensporone A, a Fungal Secondary Metabolite Suppressed Constitutively Activated AKT via ROS Generation and Induced Apoptosis in Leukemic Cell Lines. Biomolecules 2019, 9, 126.
Note that from the first issue of 2016, MDPI journals use article numbers instead of page numbers. See further details here.
Related Articles
Comments
[Return to top]