[Pt(
O

,

O

′-acac)(γ-acac)(DMS)] Induces Autophagy in Caki-1 Renal Cancer Cells

1

Laboratory of Cell Physiology, Department of Biological and Environmental Sciences and Technologies (Di.S.Te.B.A.), University of Salento, 73100 Lecce, Italy

2

Laboratory of Cell Pathology, Department of Biological and Environmental Sciences and Technologies (Di.S.Te.B.A.), University of Salento, 73100 Lecce, Italy

3

Laboratory of General Inorganic Chemistry, Department of Biological and Environmental Sciences and Technologies (Di.S.Te.B.A.), University of Salento, 73100 Lecce, Italy

*

Authors to whom correspondence should be addressed.

Received: 24 January 2019 / Revised: 23 February 2019 / Accepted: 26 February 2019 / Published: 6 March 2019
Abstract
We have demonstrated the cytotoxic effects of [Pt(
O
,
O
′-acac)(γ-acac)(dimethyl sulfide (DMS))] on various immortalized cell lines, in primary cultures, and in murine xenograft models in vivo. Recently, we also showed that [Pt(
O
,
O
′-acac)(γ-acac)(DMS)] is able to kill Caki-1 renal cells both in vivo and in vitro. In the present paper, apoptotic and autophagic effects of [Pt(
O
,
O
′-acac)(γ-acac)(DMS)] and cisplatin were studied and compared using Caki-1 cancerous renal cells. The effects of cisplatin include activation of caspases, proteolysis of enzyme poly ADP ribose polymerase (PARP), control of apoptosis modulators B-cell lymphoma 2 (Bcl-2), Bcl-2-associated X protein (Bax), and BH3-interacting domain death agonist (Bid), and cell cycle arrest in G2/M phase. Conversely, [Pt(
O
,
O
′-acac)(γ-acac)(DMS)] did not induce caspase activation, nor chromatin condensation or DNA fragmentation. The effects of [Pt(
O
,
O
′-acac)(γ-acac)(DMS)] include microtubule-associated proteins 1A/1B light chain 3B (LC3)-I to LC3-II conversion, Beclin-1 and Atg-3, -4, and -5 increase, Bcl-2 decrease, and monodansylcadaverine accumulation in autophagic vacuoles. [Pt(
O
,
O
′-acac)(γ-acac)(DMS)] also modulated various kinases involved in intracellular transduction regulating cell fate. [Pt(
O
,
O
′-acac)(γ-acac)(DMS)] inhibited the phosphorylation of mammalian target of rapmycin (mTOR), p70S6K, and AKT, and increased the phosphorylation of c-Jun N-terminal kinase (JNK1/2), a kinase activity pattern consistent with autophagy induction. In conclusion, while in past reports the high cytotoxicity of [Pt(
O
,
O
′-acac)(γ-acac)(DMS)] was always attributed to its ability to trigger an apoptotic process, in this paper we show that Caki-1 cells die as a result of the induction of a strong autophagic process.
View Full-Text
►

▼

Figures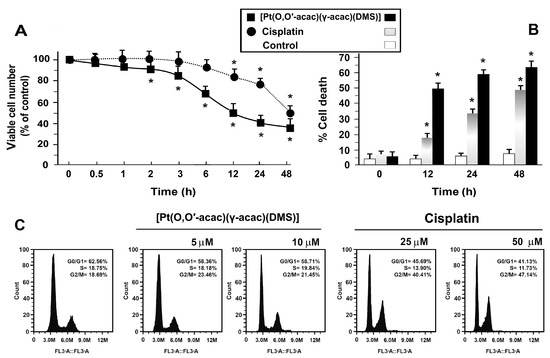 Figure 1
This is an open access article distributed under the
Creative Commons Attribution License
which permits unrestricted use, distribution, and reproduction in any medium, provided the original work is properly cited (CC BY 4.0).

Share & Cite This Article
MDPI and ACS Style
Antonaci, G.; Cossa, L.G.; Muscella, A.; Vetrugno, C.; De Pascali, S.A.; Fanizzi, F.P.; Marsigliante, S. [Pt(O,O′-acac)(γ-acac)(DMS)] Induces Autophagy in Caki-1 Renal Cancer Cells. Biomolecules 2019, 9, 92.
Note that from the first issue of 2016, MDPI journals use article numbers instead of page numbers. See further details here.
Related Articles
Comments
[Return to top]