Overview of Bile Acids Signaling and Perspective on the Signal of Ursodeoxycholic Acid, the Most Hydrophilic Bile Acid, in the Heart
1
Institute of Medical Molecular Biotechnology, Faculty of Medicine, Universiti Teknologi MARA, Sungai Buloh 47000, Selangor, Malaysia
2
Department of Biochemistry and Molecular Medicine, Faculty of Medicine, Universiti Teknologi MARA, Sungai Buloh 47000, Selangor, Malaysia
3
Advanced Membrane Technology Research Centre (AMTEC), Universiti Teknologi Malaysia, Johor Bharu 81310, Johor, Malaysia
*
Author to whom correspondence should be addressed.
Received: 11 October 2018 / Revised: 15 November 2018 / Accepted: 15 November 2018 / Published: 27 November 2018
Abstract
Bile acids (BA) are classically known as an important agent in lipid absorption and cholesterol metabolism. Nowadays, their role in glucose regulation and energy homeostasis are widely reported. BAs are involved in various cellular signaling pathways, such as protein kinase cascades, cyclic AMP (cAMP) synthesis, and calcium mobilization. They are ligands for several nuclear hormone receptors, including farnesoid X-receptor (FXR). Recently, BAs have been shown to bind to muscarinic receptor and Takeda G-protein-coupled receptor 5 (TGR5), both G-protein-coupled receptor (GPCR), independent of the nuclear hormone receptors. Moreover, BA signals have also been elucidated in other nonclassical BA pathways, such as sphingosine-1-posphate and BK (large conductance calcium- and voltage activated potassium) channels. Hydrophobic BAs have been proven to affect heart rate and its contraction. Elevated BAs are associated with arrhythmias in adults and fetal heart, and altered ratios of primary and secondary bile acid are reported in chronic heart failure patients. Meanwhile, in patients with liver cirrhosis, cardiac dysfunction has been strongly linked to the increase in serum bile acid concentrations. In contrast, the most hydrophilic BA, known as ursodeoxycholic acid (UDCA), has been found to be beneficial in improving peripheral blood flow in chronic heart failure patients and in protecting the heart against reperfusion injury. This review provides an overview of BA signaling, with the main emphasis on past and present perspectives on UDCA signals in the heart.
View Full-Text
►

▼

Figures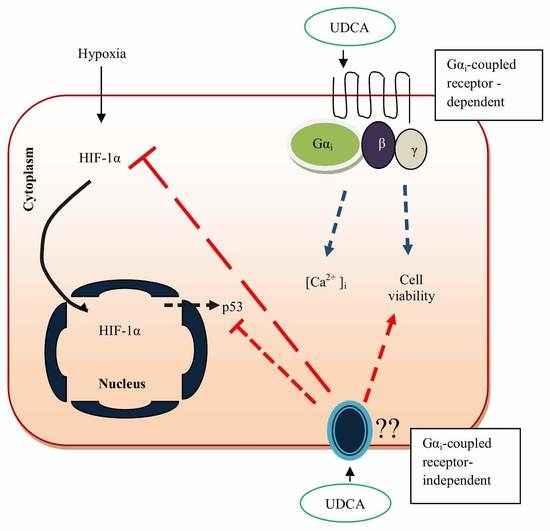 Graphical abstract
This is an open access article distributed under the
Creative Commons Attribution License
which permits unrestricted use, distribution, and reproduction in any medium, provided the original work is properly cited (CC BY 4.0).

Share & Cite This Article
MDPI and ACS Style
Hanafi, N.I.; Mohamed, A.S.; Sheikh Abdul Kadir, S.H.; Othman, M.H.D. Overview of Bile Acids Signaling and Perspective on the Signal of Ursodeoxycholic Acid, the Most Hydrophilic Bile Acid, in the Heart. Biomolecules 2018, 8, 159.
Note that from the first issue of 2016, MDPI journals use article numbers instead of page numbers. See further details here.
Related Articles
Comments
[Return to top]