Open Access This article is
freely available
re-usable
Article
Exploring
Solanum tuberosum
Epoxide Hydrolase Internal Architecture by Water Molecules Tracking
1
Tunneling Group, Biotechnology Centre, Silesian University of Technology, ul. Krzywoustego 8, 44-100 Gliwice, Poland
2
Faculty of Chemistry, Silesian University of Technology, ks. Marcina Strzody 9, 44-100 Gliwice, Poland
*
Author to whom correspondence should be addressed.
Received: 17 October 2018 / Accepted: 8 November 2018 / Published: 12 November 2018
Abstract
:
Several different approaches are used to describe the role of protein compartments and residues in catalysis and to identify key residues suitable for the modification of the activity or selectivity of the desired enzyme. In our research, we applied a combination of molecular dynamics simulations and a water tracking approach to describe the water accessible volume of
Solanum tuberosum
epoxide hydrolase. Using water as a molecular probe, we were able to identify small cavities linked with the active site: (i) one made up of conserved amino acids and indispensable for the proper positioning of catalytic water and (ii) two others in which modification can potentially contribute to enzyme selectivity and activity. Additionally, we identified regions suitable for
de novo
tunnel design that could also modify the catalytic properties of the enzyme. The identified hot-spots extend the list of the previously targeted residues used for modification of the regioselectivity of the enzyme. Finally, we have provided an example of a simple and elegant process for the detailed description of the network of cavities and tunnels, which can be used in the planning of enzyme modifications and can be easily adapted to the study of any other protein.
Keywords:
epoxide hydrolases; cavities; tunnels; water trajectories; protein engineering; MD simulations; AQUA-DUCT; hot-spot
1. Introduction
Keeping in mind all the above-mentioned findings, we used AQUA-DUCT with wild-type StEH1 to investigate in detail the water flow in the vicinity of the binding site cavity and also to identify residues which may perhaps be important for the further modification of the activity and selectivity of this enzyme.
3. Results
The B chain of StEH1 crystal structure, consisting of 319 amino acids, was immersed into about 9000 water molecules, including water molecules present in the crystal model. The backbone root-mean-square deviation (RMSD) values for each simulation fluctuated near 1.2 Å (
Supplementary Figure S2a
). Also, the root-mean-square fluctuation (RMSF) plots for each simulation were similar. Unique high peaks stood for movements of T249 located on a P247-P256 loop between an α8 helix and a β7 sheet during the 1st simulation and for G280 located in the middle of an α10 helix during the 3rd simulation (
Supplementary Figure S2b
). In every simulation the two sharp peaks around G67 and N95 correspond to loops flanking α2 helix and 30-amino-acid-long peak stands for amino acids 189–219, part of the cap-domain.
4. Discussion
We assumed that our conceptually simple approach, analysis of water distribution, can identify regions where water is either attracted by favourable interactions with nearby amino acids or trapped in hydrophobic cages. In both cases, such hot-spots can mark regions of particular importance for the enzyme's functions. Indeed, using such a procedure for hot-spot identification in the protein core, we were able to detect the most important residues and regions in the StEH1 enzyme. The active site cavity, E35 (a residue responsible for catalytic water positioning), as well as amino acids regulating the access of water via the TC/M tunnel, were easily detected. Residues surrounding hot-spots at TC/M and TM2 tunnels entry can contribute to dynamic of tunnels entrance and work as gates controlling not only solvent flow but also substrates entry or products egress. It was clearly visible during 1st repetition, where high flexibility of residues of P247-P256 loop caused an increase of water molecules traffic via TM2 tunnel. Besides these, we identified several key amino acids that can be considered for further modification of StEH1's properties.
5. Conclusions
Summarising, using water molecules as a 'molecular probe' and employing the molecule tracking approach, we were able to investigate the structural properties of the interior of the StEH1 enzyme, providing insight into the structural compartments and hot-spots that can be targeted to reshape and modify enzyme functionality.
Supplementary Materials
The following are available online at
https://www.mdpi.com/2218-273X/8/4/143/s1
, Table S1: List of known StEH1 mutants, Table S2: Parameters of inlet clusters detected in StEH1 structure, Table S3: Parameters of water pathways detected in StEH1 structure, Table S4: Summary of water flow detected in all MD simulations of StEH1 structure, Table S5: Main parameters of tunnels identified by CAVER in each simulation of StEH1 structure, Table S6: Statistical data of incidental water trajectories, Table S7: Amino acids identified within 3 Å distance from detected hot-spots, Table S8: Schneider entropy scores calculated for amino acids hot-spots identified in at least 3 simulations, Figure S1: Internal water molecules trajectories merged with amino acids which were reported in the literature as selected for mutations, Figure S2: Backbone RMSD (a) and Cα RMSF (b) plots of five 50 ns simulations of StEH1 structure, Figure S3: Top 10 tunnels identified by CAVER (a) and close-up figure of main entry (b), Figure S4: Histogram presenting time required for water molecules passage through StEH1 protein, Figure S5: Superposition of identified outliers exits and corresponding tunnels from CAVER in: (a) 1st, (b) 2nd, (c) 3rd MD simulations, Figure S6: Examples of trajectories of water molecules penetrating cavity I.
Author Contributions
Conceptualization, A.G.; Methodology, T.M. and K.M.; Software, T.M.; Validation, A.G., K.M. and T.M.; Formal Analysis, A.G., K.M. and M.B.; Investigation, K.M., M.B. and A.S.; Resources, T.M.; Data Curation, K.M., M.B. and A.S.; Writing—Original Draft Preparation, A.G., T.M. and K.M.; Writing-Review & Editing, A.G.; Visualization, K.M., M.B. and A.G.; Supervision, A.G.; Project Administration, A.G.; Funding Acquisition, A.G.
Funding
This work was funded by the National Science Centre, Poland, grant no DEC-2013/10/E/NZ1/00649. The funding body did not played any roles in the design of the study nor collection, analysis, nor interpretation of data nor in writing the manuscript.
Conflicts of Interest
The authors declare no conflict of interest.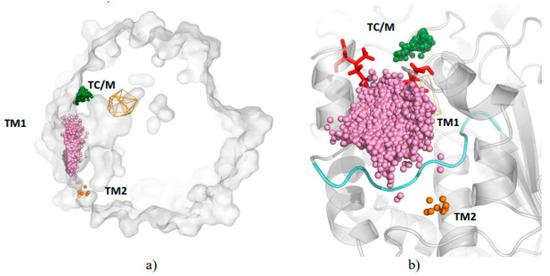 Figure 1.
Localisation of areas of water molecule entry/egress (clusters) to active site of
Solanum tuberosum
epoxide hydrolase (StEH1): (
a
) cross-section of the protein showing network of internal cavities with large funnel providing wide access to active site (orange wire-frame); (
b
) close-up of structural features dividing the main water clusters: (i) loop (cyan) and (ii) I148 and I270 residues (red sticks). Small balls represent single inlets of water molecule entry/egress, colours correspond to identified clusters (green—TC/M, pink—TM1, orange—TM2).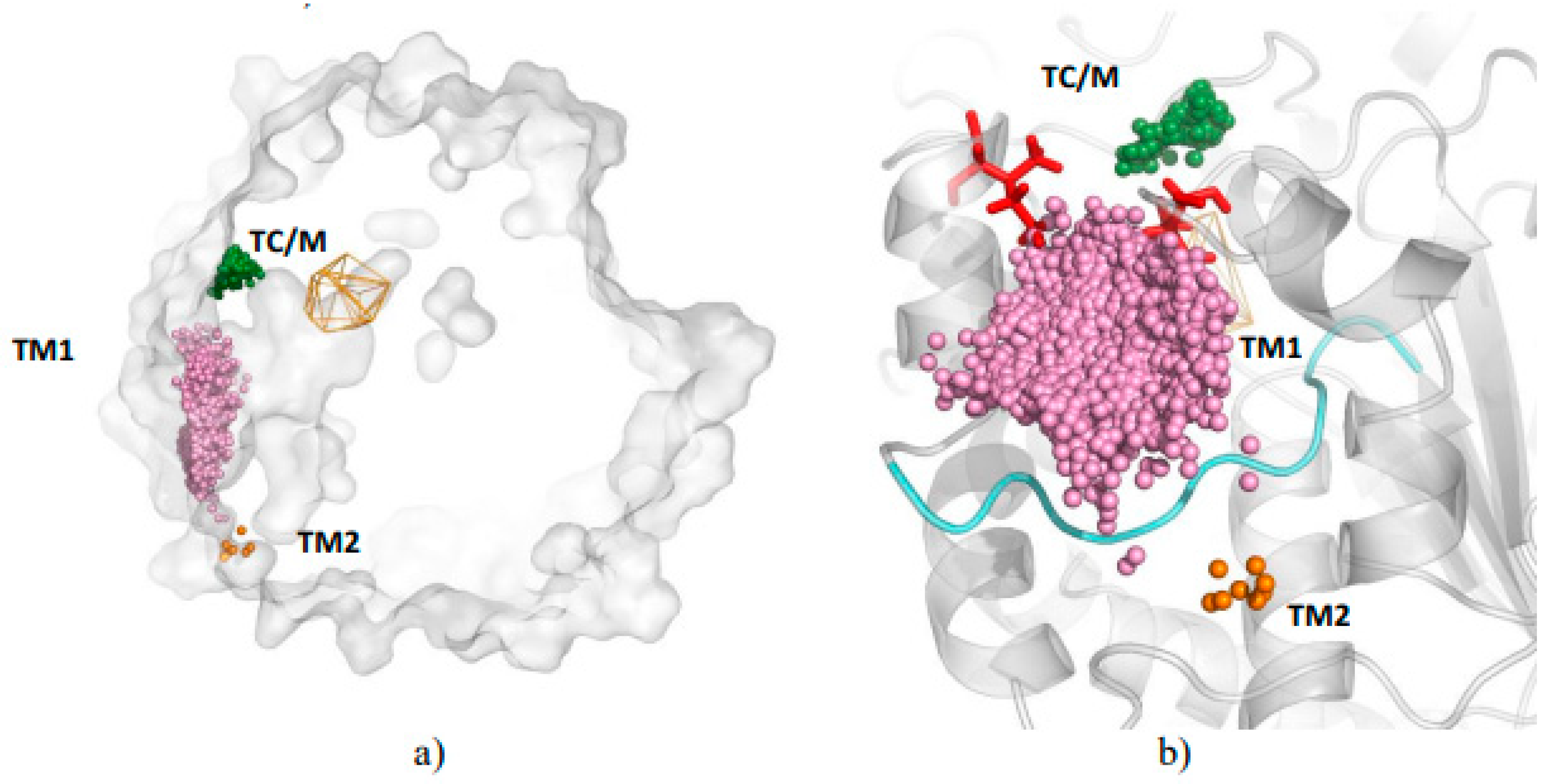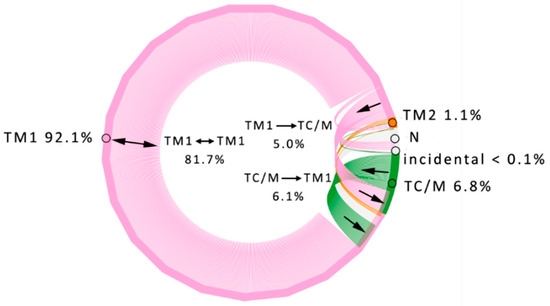 Figure 2. Water traffic in StEH1. The diagram shows the inter-relationships between identified inlet clusters. Clusters identified in all molecular dynamics (MD) simulations are presented as parts of the circle outline marked with consistent colour-coding: TM1—pink, TC/M—green, TM2—orange. The numbers outside the circle correspond to percentage ratios of inlets identified in particular clusters. N (grey) indicates ends of paths detected inside the protein and does not count for inlets percentage ratios. Lines inside the circle represent water paths coloured according to their entry cluster. Numbers inside the circle show ratios of water molecules travelling between annotated clusters. Please note that the largest number of water molecules enter and exit via single cluster (TM1 ↔ TM1, 81.7%). For pictures clarity, only most abundant paths (>2%, inner circle) are annotated with values and additional small arrows indicate flow direction.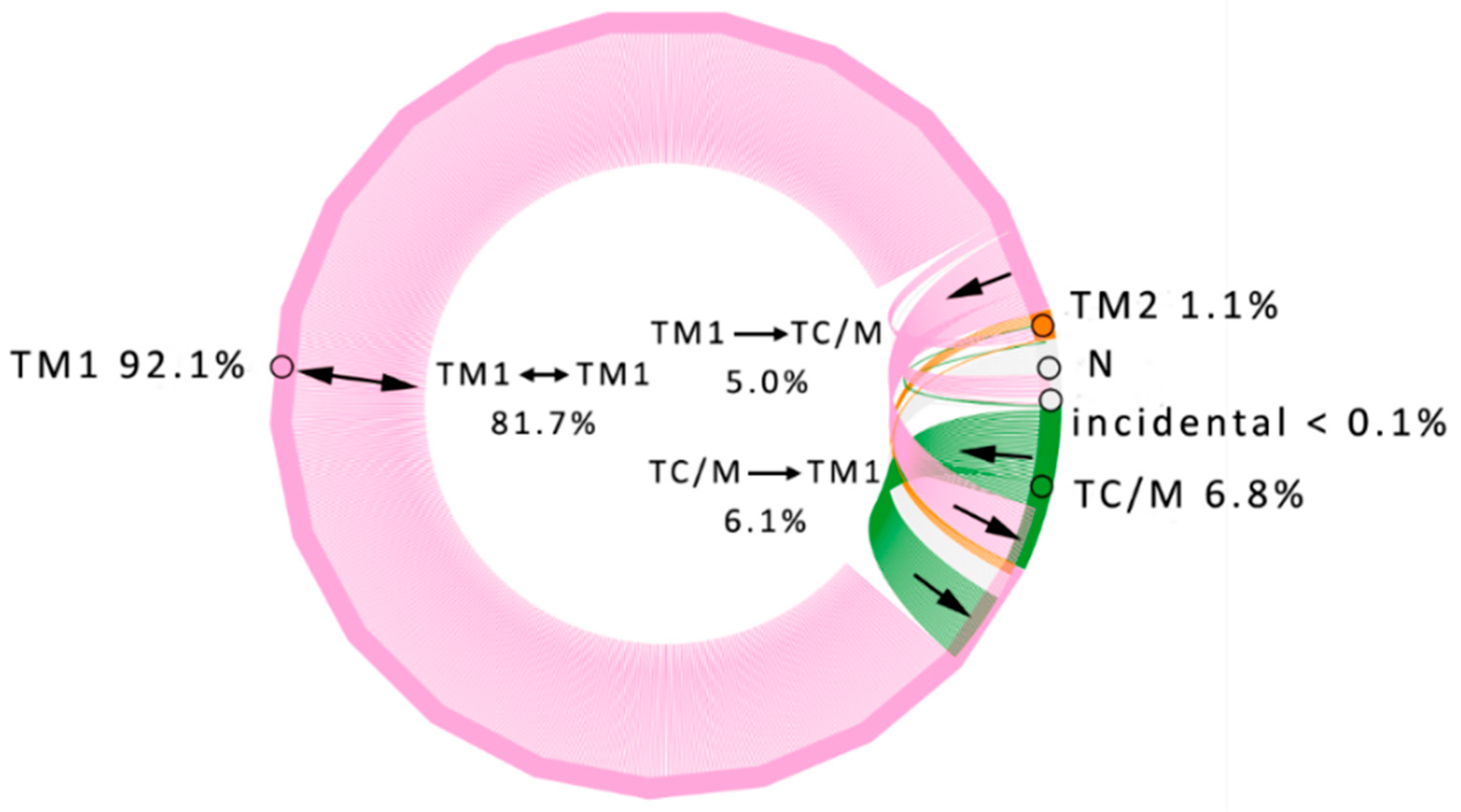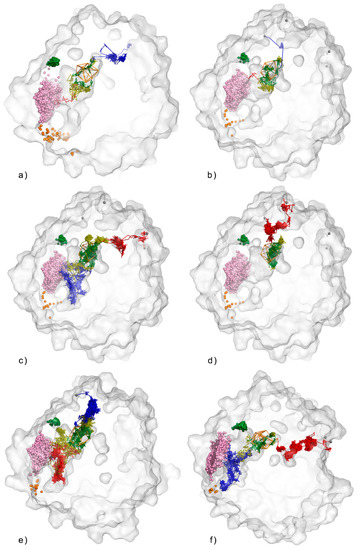 Figure 3. Detected water outlier trajectories in: (a) 1st; (b–d) 2nd; (e) 3rd and (f) 5th MD simulation. Protein shown us transparent surface, orange wireframe represents object area, Raw paths trajectories are displayed as lines. Red, green and blue lines correspond to incoming, object, and outgoing parts, respectively. Yellow lines represent part of water trajectories which leave active site and re-enter it.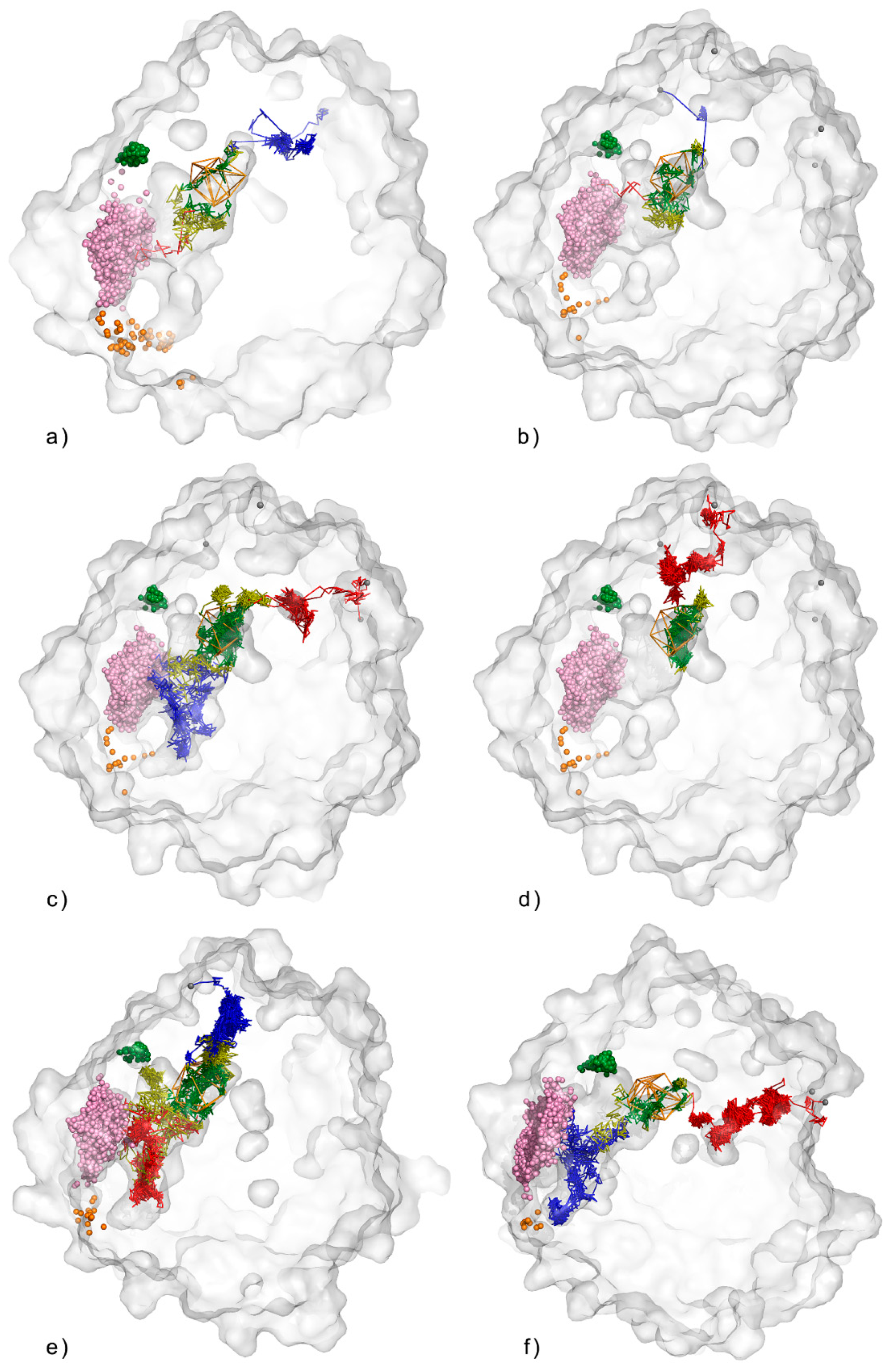 Figure 4. Localisation of outliers entry/exit regions. The protein side view (a) and top view (b) are shown. The core domain is shown as a light-grey cartoon, the cap domain as a dark-grey cartoon, water molecules inlets are shown as pink, green, and orange spheres for TM1, TC/M, and TM2 clusters, respectively. The cavities (interior surfaces) and residues making outliers entry/exit regions (lines) are shown in blue, cyan and magenta for I, II, and III, respectively.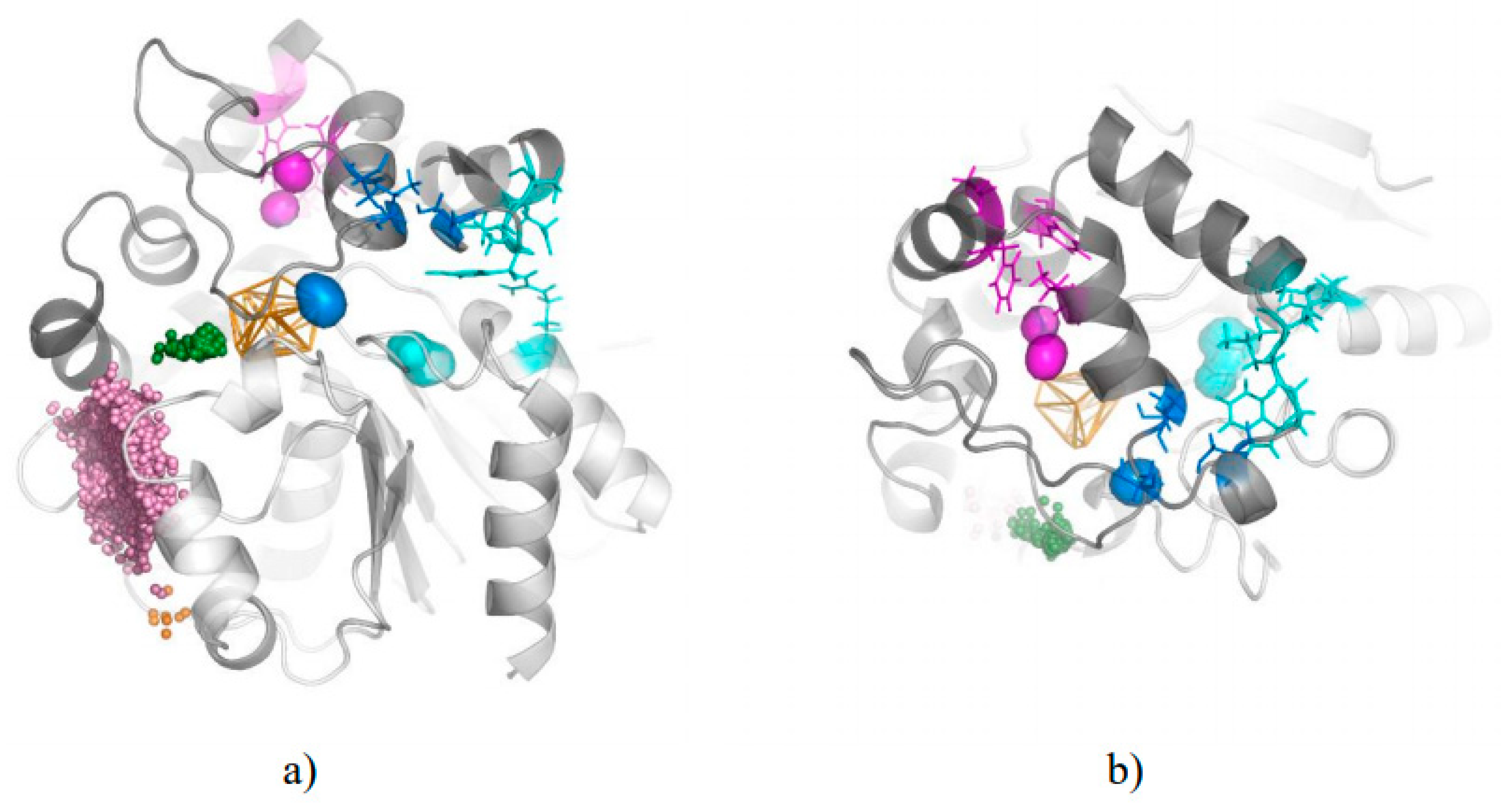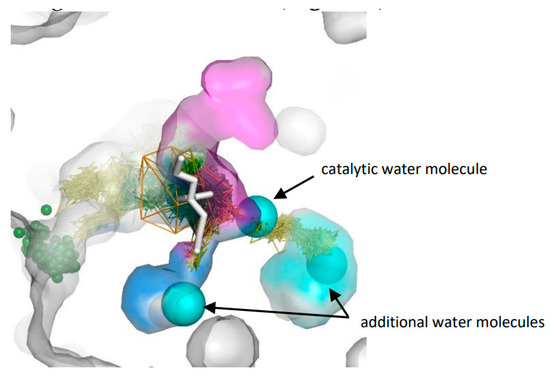 Figure 5. Crystal structure internal surface of chain B (grey surface), valpromide molecule (white stick) and three crystal water molecules (cyan spheres) aligned to results from AQUA-DUCT from 1st MD simulation. For picture clarity, only part of the raw trajectories and inlets from TM1 cluster (green spheres) are shown. Orange wireframe represents object area, green lines—water molecules trajectories in object area, yellow lines—water molecules trajectories which leave active site and re-enter it. Note, that cavity I (blue surface) holds the tail of valpromide, and one additional water molecule. The second tail of valpromide is located inside cavity III (magenta surface) and cavity II (cyan surface) can accommodate two water molecules (catalytic and additional).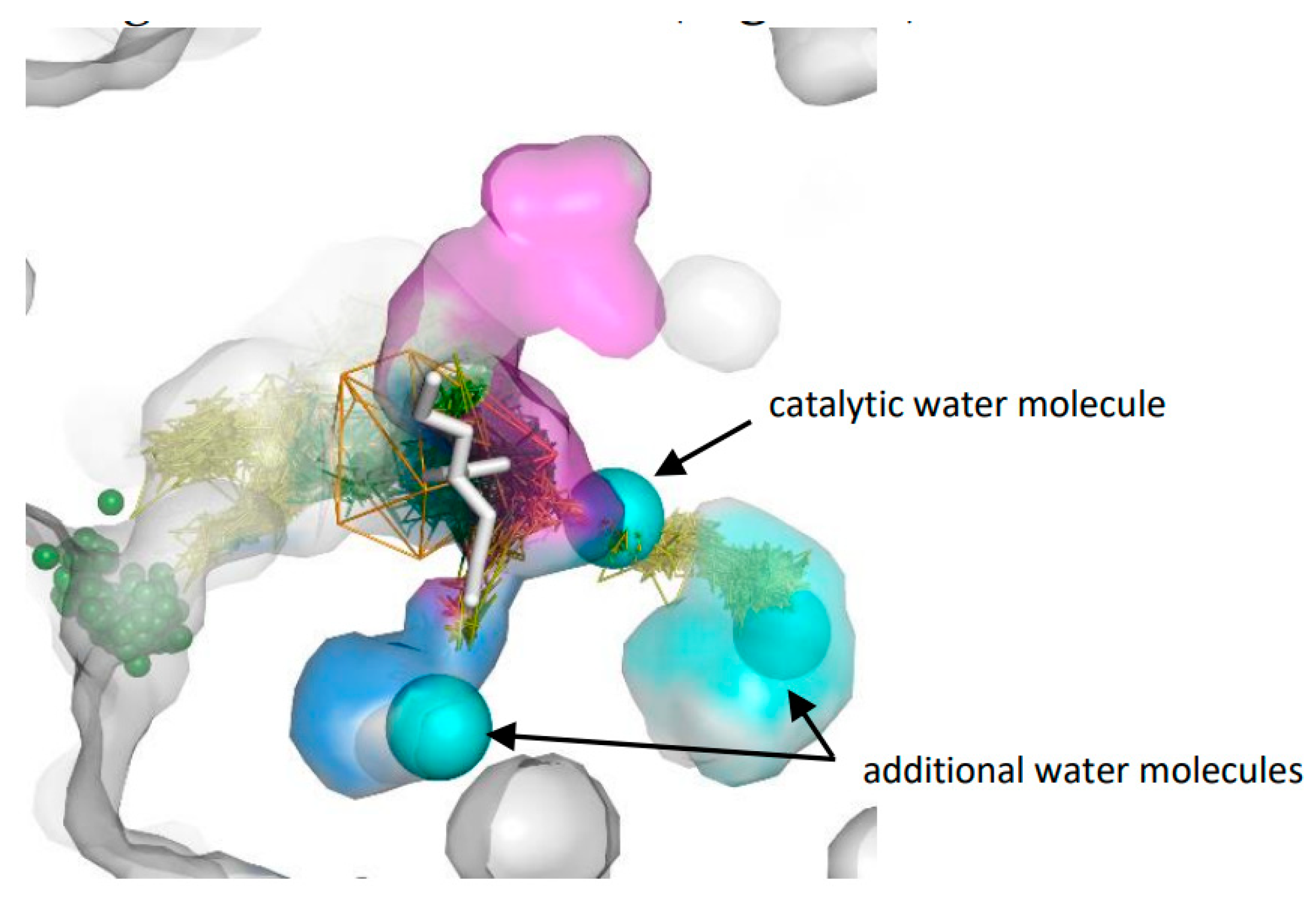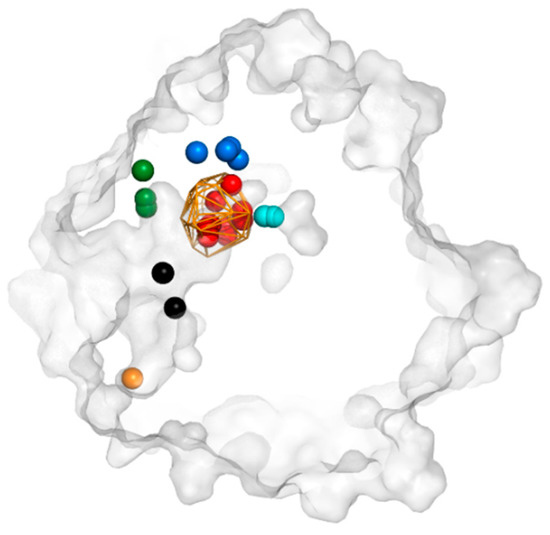 Figure 6. An example of identified hot-spots by AQUA-DUCT in 5th MD simulation. Protein cross-section is shown as a grey surface, object representing approximation of the active site by orange wireframe. Hot-spots are presented as balls and were identified in: active site (red), cavity I (blue), cavity II (cyan), entry to tunnel TC/M (green), entry to tunnel TM2 (orange) and in funnel interior (black).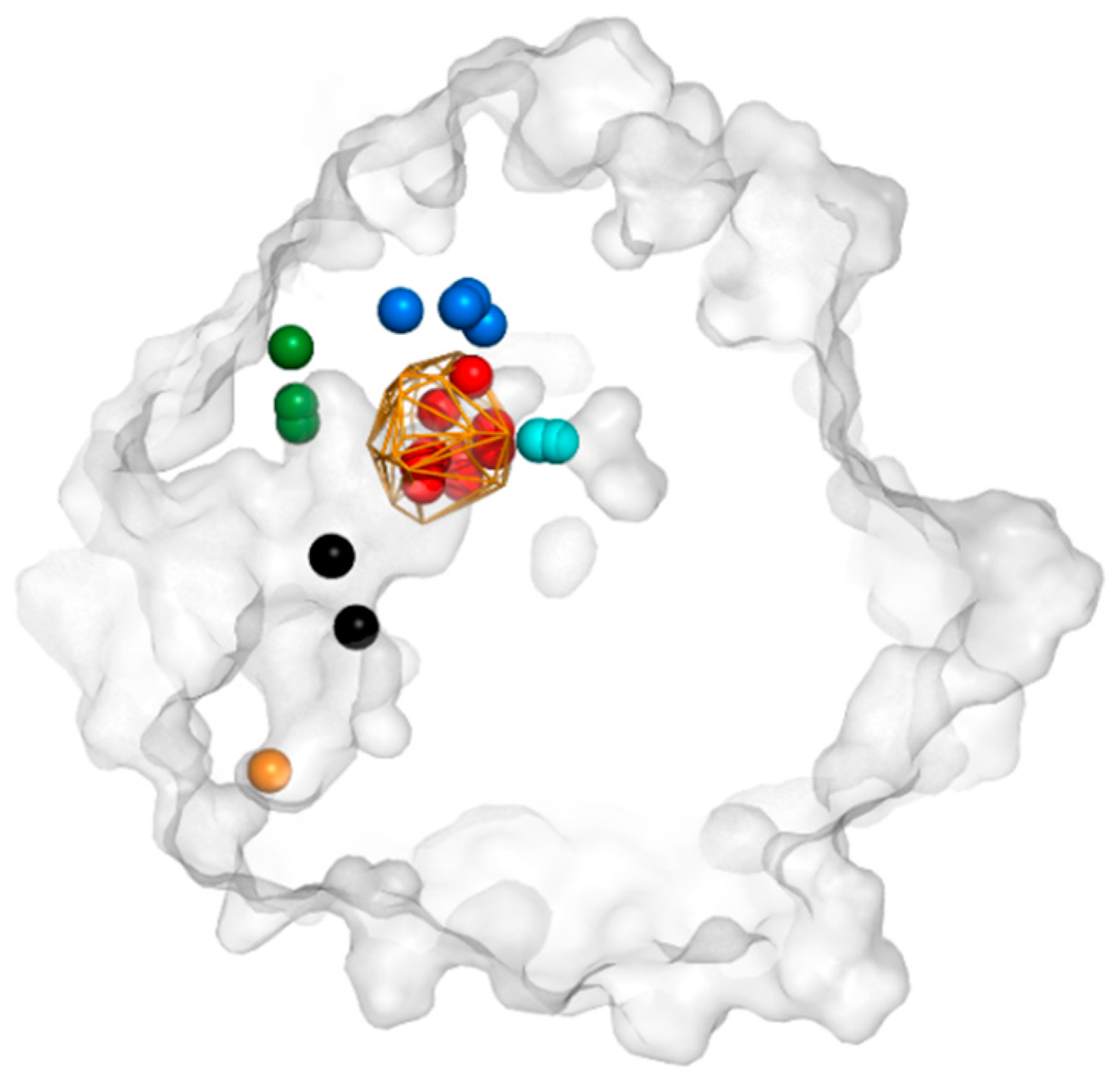 Figure 7. Variability of residues building cavity I (a), II (b) and III (c). Protein interior surface is shown in transparent grey, cavities interior surface area is shown in transparent blue (cavity I), cyan (cavity II) and magenta (cavity III), active site residues shown as red sticks, the amino acids composing cavities are coloured according to their entropy score and are shown as sticks (for frequently detected) or lines (rarely detected).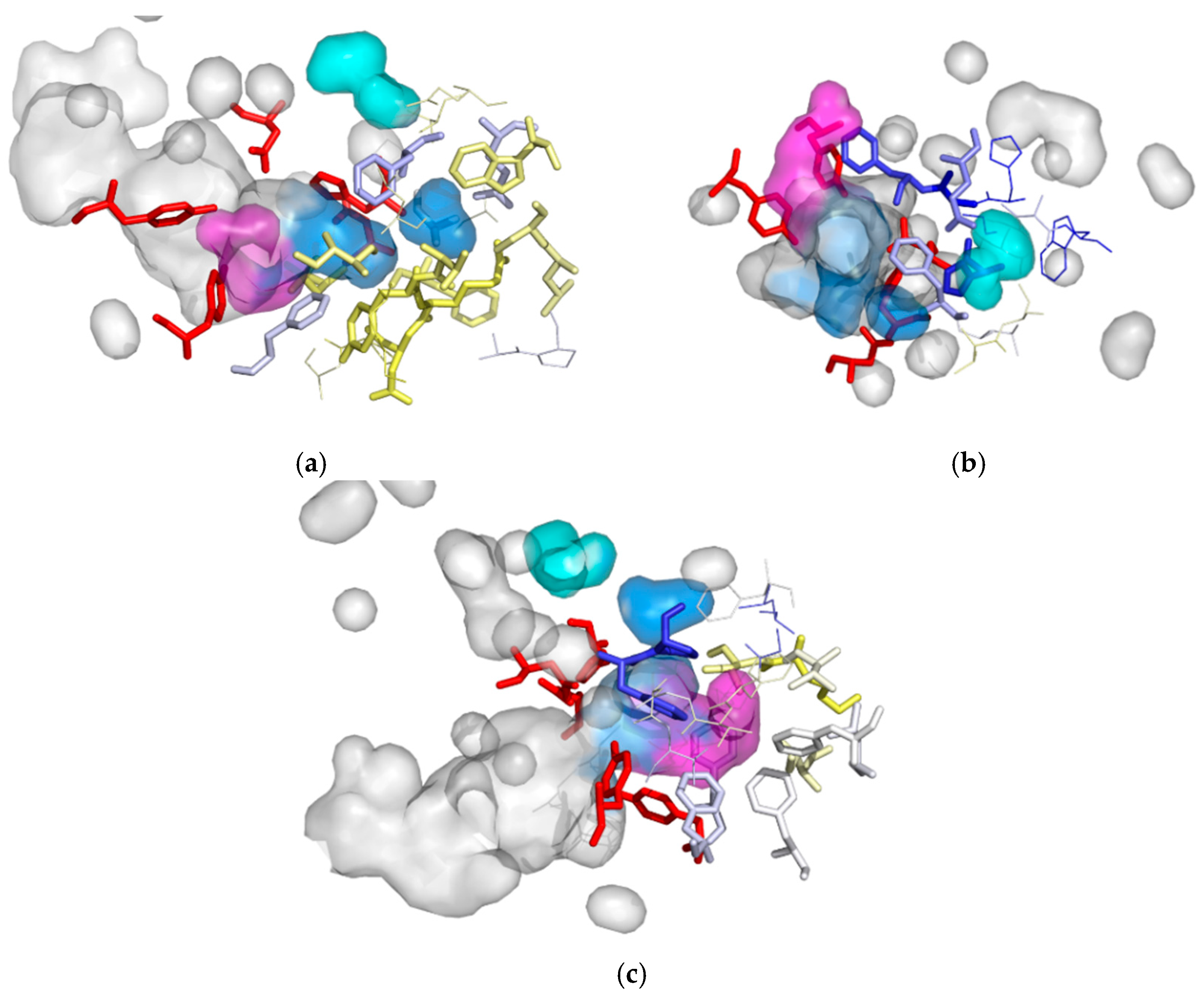 Table 1. Amino acids making up the walls of cavities detected in particular MD simulations. Residues detected in three or more simulations in bold, residues which made up the wall of two cavities are underlined, residues reported as catalytic marked with red star, residues reported in the literature as having mutated in blue.
Cavity I
Cavity II
Cavity III
MD1

I180

, T182, Y183, R184,

F189

, D265

*

,

L266

, A299,

H300

*

,

F301

H31, G32,

F33

,

E35

*

, S39, W40, H104

*

,

D105

*

, G107,

H300

*

,

F301

F33

, P34, F158, F168, V176, L177,

I180

, F191, F223, G227, F228, T229, G230, A231, V232
MD2

I180

, T182, Y183, R184,

F189

, W210,

L266

, A299,

H300

*

,

F301

, E305
G32,

F33

, P34,

E35

*

, H104

*

,

D105

*

,

H300

*

,

F301

F33

,

Y154

*

, F158, F168,

I180

,

F189

, F191, I200
MD3

I180

, L181, T182, Y183, R184, D185, P186, A187,

F189

, L207, W210, F264, D265

*

,

L266

, A299,

H300

*

, F301, E305
-

F33

, P34,

Y154

*

, F158, F168, V176,

K179

,

I180

,

F189

, L197, I200, F228
MD4

I180

, T182, Y183, R184, D185,

F189

, A203, L207, S208, W210, F264, D265

*

,

L266

, A299,

H300

*

,

F301

, E305
H31, G32,

F33

,

E35

*

, S39, W40, H104

*

,

D105

*

, L128,

H300

*

, F301, V302, S303

F33

, P34,

Y154

*

, F158, F168, V176, L177,

K179

,

I180

,

F189

, F191, L197, I200, F228
MD5
K179,

I180

, L181, T182, Y183, R184, D185, P186, A187, A203, P204, L207, S208, W210, F264, D265

*

,

L266

, A298, A299,

H300

*

,

F301

, V302, Q304, E305
G32,

F33

, P34,

E35

*

, H104

*

,

D105

*

,

H300

*

,

F301

,

F33

,

Y154

*

, F158, F168, V176,

K179

,

I180

,

F189

, F191, L197, I200, F228, V232

© 2018 by the authors. Licensee MDPI, Basel, Switzerland. This article is an open access article distributed under the terms and conditions of the Creative Commons Attribution (CC BY) license (http://creativecommons.org/licenses/by/4.0/).