A Review of the Recent Advances Made with SIRT6 and its Implications on Aging Related Processes, Major Human Diseases, and Possible Therapeutic Targets
Department of Pharmacy, BRAC University, 1212 Dhaka, Bangladesh
*
Author to whom correspondence should be addressed.
†
These authors contributed equally to this work.
Received: 10 June 2018 / Revised: 24 June 2018 / Accepted: 26 June 2018 / Published: 29 June 2018
Abstract
Sirtuin 6 (SIRT6) is a nicotinamide adenine dinucleotide
+
(NAD
+
) dependent enzyme and stress response protein that has sparked the curiosity of many researchers in different branches of the biomedical sciences. A unique member of the known Sirtuin family, SIRT6 has several different functions in multiple different molecular pathways related to DNA repair, glycolysis, gluconeogenesis, tumorigenesis, neurodegeneration, cardiac hypertrophic responses, and more. Only in recent times, however, did the potential usefulness of SIRT6 come to light as we learned more about its biochemical activity, regulation, biological roles, and structure Frye (2000). Even until very recently, SIRT6 was known more for chromatin signaling but, being a nascent topic of study, more information has been ascertained and its potential involvement in major human diseases including diabetes, cancer, neurodegenerative diseases, and heart disease. It is pivotal to explore the mechanistic workings of SIRT6 since future research may hold the key to engendering strategies involving SIRT6 that may have significant implications for human health and expand upon possible treatment options. In this review, we are primarily concerned with exploring the latest advances in understanding SIRT6 and how it can alter the course of several life-threatening diseases such as processes related to aging, cancer, neurodegenerative diseases, heart disease, and diabetes (SIRT6 has also shown to be involved in liver disease, inflammation, and bone-related issues) and any recent promising pharmacological investigations or potential therapeutics that are of interest.
View Full-Text
►

▼

Figures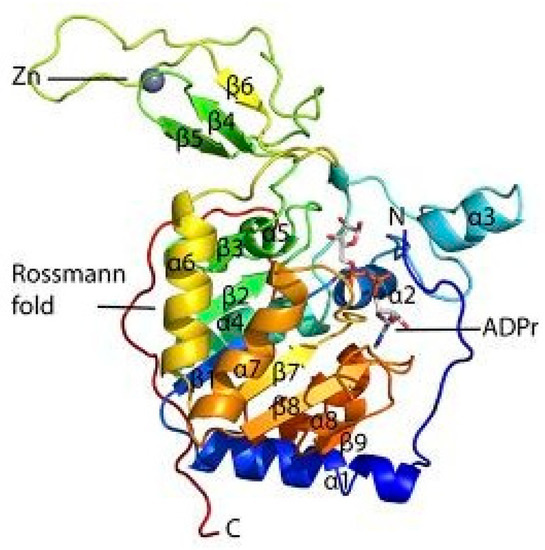 Figure 1
This is an open access article distributed under the
Creative Commons Attribution License
which permits unrestricted use, distribution, and reproduction in any medium, provided the original work is properly cited (CC BY 4.0).

Share & Cite This Article
MDPI and ACS Style
Khan, R.I.; Nirzhor, S.S.R.; Akter, R. A Review of the Recent Advances Made with SIRT6 and its Implications on Aging Related Processes, Major Human Diseases, and Possible Therapeutic Targets. Biomolecules 2018, 8, 44.
Note that from the first issue of 2016, MDPI journals use article numbers instead of page numbers. See further details here.
Related Articles
Comments
[Return to top]