Open Access This article is
freely available
re-usable
Article
tRNA Modification Detection Using Graphene Nanopores: A Simulation Study
1
SUNY Polytechnic Institute, Colleges of Nanoscale Science and Engineering, 257 Fuller Road, Albany, NY, 12203, USA
2
Department of Biology, University at Albany, State University of New York, 1400 Washington Avenue, Albany, NY 12222, USA
3
The RNA Institute, University at Albany, State University of New York, 1400 Washington Avenue, Albany, NY 12222, USA
4
Department of Chemistry, University at Albany, State University of New York, 1400 Washington Avenue, Albany, NY 12222, USA
*
Author to whom correspondence should be addressed.
Academic Editor: Valérie de Crécy-Lagard
Received: 21 June 2017 / Accepted: 21 August 2017 / Published: 25 August 2017
Abstract
:
There are over 100 enzyme-catalyzed modifications on transfer RNA (tRNA) molecules. The levels and identity of wobble uridine (U) modifications are affected by environmental conditions and diseased states, making wobble U detection a potential biomarker for exposures and pathological conditions. The current detection of RNA modifications requires working with nucleosides in bulk samples. Nanopore detection technology uses a single-molecule approach that has the potential to detect tRNA modifications. To evaluate the feasibility of this approach, we have performed all-atom molecular dynamics (MD) simulation studies of a five-layered graphene nanopore by localizing canonical and modified uridine nucleosides. We found that in a 1 M KCl solution with applied positive and negative biases not exceeding 2 V, nanopores can distinguish U from 5-carbonylmethyluridine (cm
5
U), 5-methoxycarbonylmethyluridine (mcm
5
U), 5-methoxycarbonylmethyl-2-thiouridine (mcm
5
s
2
U), and 5-methoxycarbonylmethyl-2′-
O
-methyluridine (mcm
5
Um) based on changes in the resistance of the nanopore. Specifically, we observed that in nanopores with dimensions less than 3 nm diameter, a localized mcm
5
Um and mcm
5
U modifications could be clearly distinguished from the canonical uridine, while the other modifications showed a modest yet detectable decrease in their respective nanopore conductance. We have compared the results between nanopores of various sizes to aid in the design, optimization, and fabrication of graphene nanopores devices for tRNA modification detection.
Keywords:
tRNA modification; graphene; nanopore; wobble uridine
2. Results and Discussion
3. Materials and Methods
We performed three sets of MD simulations: (A) blank electrolyte, (B) empty nanopore, and (C) nucleosides in nanopore. While the simulation setup is different for the three different sets, the methodology and run parameters were the same. The simulation box dimensions were 5.16 × 5.10 × 10.0 nm
3
for all the three simulation sets. The blank electrolyte simulations (A) of 1 M KCl contained 8400 water molecules, and 160 K
+
and Cl
−
ions. For the nanopore simulations (B and C), Visual Molecular Dynamics (VMD 1.9.2 version) [
52
] software was used to generate a five-layered graphene of arm chair edge type with C–C bond length of 0.1418 nm, and sheet dimensions of 5.16 nm × 5.10 nm. A simulation box of above-mentioned dimensions was then created with a five-layered graphene sheet with a nanopore at the center. In the five-layered graphene, we removed the carbon atoms that were within "d" diameter from the center of the sheets to create a nanopore with atomic smoothness. For improving computational efficiency, we removed the carbon atoms in the middle sheets that are not directly exposed to the inside of the nanopore. All the carbon atoms of the graphene sheet are kept frozen throughout the simulation. While water molecules (~6400) and ions (~130 K
+
and Cl
−
) were added to system, ensuring no overlap of atoms for the simulations in set B, a canonical or modified RNA nucleoside is carefully placed at the center of the nanopore before addition of water molecules and ions for simulations in set C. The nucleosides were immobilized in the center of the graphene nanopore by using a harmonic potential in the z-direction, with complete freedom of movement in the
x
- and
y
-directions. Nucleoside modifications were achieved by using the WebMO graphic editor (WebMO Enterprise, WebMO LLC, Holland, MI, USA) to add cm
5
U, mcm
5
U, mcm
5
s
2
U, and mcm
5
Um modifications to canonical U. Force fields and partial charges on the nucleoside atoms were generated using q4md force-field tools from the RESP ESP charge Derive Server (REDS) [
53
]. Partial charges were derived using Hartree-Fock level theory and 6-31G* basis-sets with energy minimization of the geometry of the nucleosides generated. We used AMBER-99 type force-field parameters for bonded interactions. LJ parameters employing Chen-Garcia corrections were used for the nucleosides [
54
]. LJ corrections for the ion parameters are obtained from Chen and Pappu, to ensure no aggregation of monovalent ions at molar concentrations [
55
]. For nucleoside-graphene interactions, LJ parameters from the recent calibration work were employed. Graphene parameters were chosen from Werder et al. [
56
] that were parameterized against contact angles of micro droplets of water on graphene surface. For nucleotide carrying a net charge, the system was made charge-neutral by adjusting the number of potassium and chloride ions.
All simulations were performed using the Gromacs-4.6.3 package [
57
]. Integration of equations of motion and propagation of trajectory were done using Leapfrog algorithm with a 2 ps time step. Temperature of the system was maintained at 300 K using the V-rescale thermostat [
58
]. Semi-isotropic pressure coupling was achieved using the Berendsen algorithm [
59
] at 1 atmospheric pressure to establish an NPT ensemble. The Particle Mesh Ewald algorithm with a real space cutoff of 1.3 nm was used to calculate the long-ranged electrostatic interactions. LJ interactions were also cut off at 1.3 nm. Water molecules were represented using the TIP3P model [
60
]. The motion of hydrogen atoms bonded to heavy atoms was constrained using the LINCS constraint algorithm of order 4. The graphene sheets were frozen in the
xyz
-direction, and the electric field was applied only in the
z
-direction. The blank electrolyte and empty pore simulations were run for 10 ns that included 2 ns of equilibration and 8 ns of production time, while the nucleosides simulations were run for 50 ns, of which 10 ns were used to allow the system to equilibrate. Coordinates of ions were stored every picosecond for calculation of ionic current. The equilibration part of the simulation is not included in the calculation of the current, and the average current profiles were produced using running averages of the instantaneous current. Furthermore, the production part of the simulation is divided into five blocks, and block averages were used to estimate the error bars. This work used the Extreme Science and Engineering Discovery Environment (XSEDE) [
61
].
4. Conclusions
Graphene nanopores have been widely studied and are currently in use for DNA sequencing and similar applications. Solid-state devices made of graphene have superior electrical and mechanical properties, which hold promise for next-generation devices for detection of biomolecules. The heightened interest in the field of epitranscriptomics that deals with post-transcriptional modifications of RNA has sparked an interest in detection and quantifications of RNA modifications, especially the ones in tRNAs. The potential of graphene nanopores for the detection of RNA modifications has not yet been explored. To that end, we have here presented the possibility of tRNA modifications detection in graphene nanopores using molecular dynamics simulations. First, we showed that our MD simulations and ionic current characterization are consistent with previous simulation studies. Secondly, by using experimentally calibrated parameters for RNA–graphene interactions, we characterized the nanopores resistance in the presence of canonical and modified nucleosides, and showed increase in the detection capability of the nanopore by reducing the nanopore dimension. Thirdly, we showed that the ionic current through the nanopore is sensitive to the size of the modification chemistry and is also dependent on the functional group of the modification and its location on the nucleoside. These findings suggest that carefully constructed nanopore devices can potentially be used for detection of a wide range of RNA modifications, including the ones that are isomeric to each other. Our studies provide a good foundation for the design, fabrication, and optimization of a device for bedside applications to facilitate biomarker analyses for potential disease diagnostics, and characterize the epitranscriptome. Our simulation methodology includes unique molecular models or force-fields that were specifically calibrated and validated against experimental observables, including thermodynamic behavior of nucleotides in solution and bound to graphene. Our future studies will also incorporate improved models for ions that are part of ongoing work. This approach is applicable to other simulations studies where the models are tested against experiments before being applied to draw new insights and conclusion. While the current study focused on specific tRNA modifications found on wobble uridines, future studies include modifications of other nucleosides and fabrication and characterization of nanopores that are informed by our current findings.
Supplementary Materials
The following are available online at
www.mdpi.com/2218-273X/7/3/65/s1
, Figure S1: Average current profiles of empty pores derived from 10 ns trajectories, Figure S2: Average current profiles of single canonical nucleosides derived from 40 ns trajectories in 1.5 nm pore, Figure S3: Average current profiles of single modified and unmodified uridines derived from 40 ns trajectories in 1.5 nm pore.
Acknowledgments
The authors would like to thank Ji Ung Lee and Sweta Vangaveti for numerous discussions and feedback through the course of this project. XSEDE is supported by National Science Foundation grant number TG-MCB140273. K.O. and T.J.B. were supported by the National Institutes of Environmental Health Sciences, NIH grant number R01ES024615.
Author Contributions
K.O., T.J.B., A.A.C., and S.V.R. conceived and designed the simulations; K.O. performed the simulations; K.O. and S.V.R. analyzed the data; K.O., T.J.B., A.A.C., and S.V.R. wrote the paper.
Conflicts of Interest
The authors declare no conflict of interests.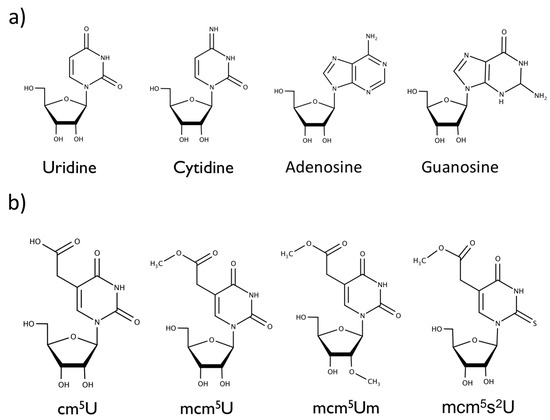 Figure 1.
Chemical structures of the (
a
) canonical nucleosides uridine, cytidine, adenosine, guanosine, and (
b
) modifications to wobble uridine 34 in the anticodon stem loop, 5-carbonyl-methyluridine (cm
5
U), 5-methoxycarbonyl-methyluridine (mcm
5
U), 5-methoxycarbonyl-2′-
O
-methyluridine (mcm
5
Um), and 5-methylcarboxymethyl-2-thiouridine (mcm
5
s
2
U).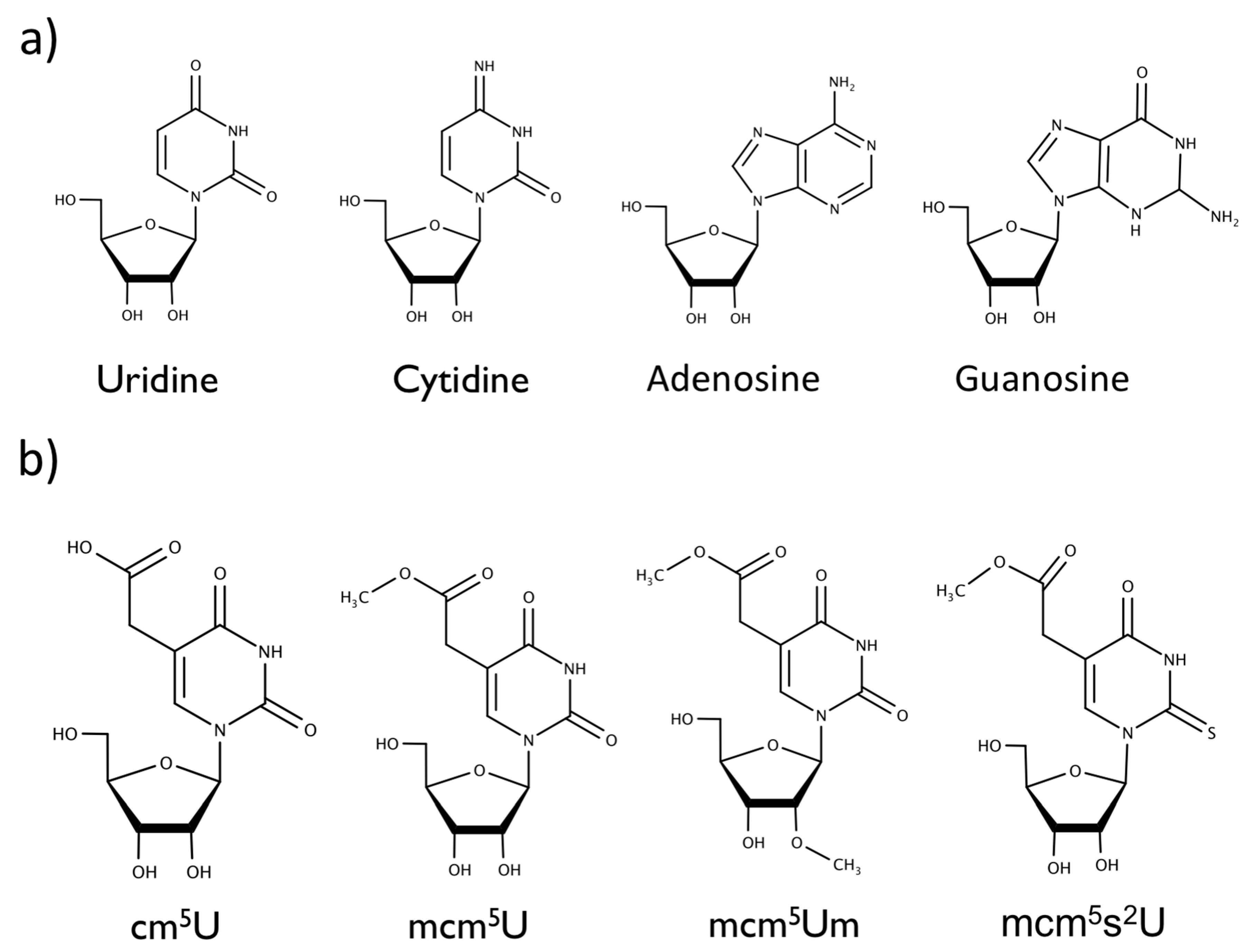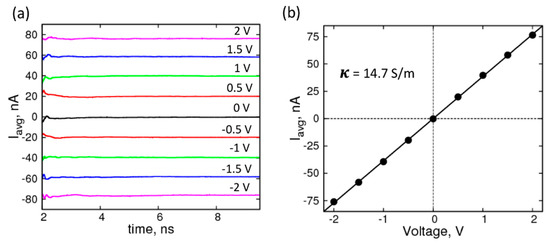 Figure 2. Characterization of the electrolyte (1 M KCl): (a) Average current profiles of simulation system with no graphene under forward and reverse biases of ±2 V (magenta), ±1.5 V (blue), ±1 V (green), ±0.5 V (red), 0 V (black); (b) I-V curve for the corresponding system with a straight-line fit yielding a conductivity (κ) of 14.7 S/m.

Figure 3. Characterization of empty nanopores of various sizes: (a) Simulation snapshot of the nanopore system; (b) I-V curves in 1 M KCl over a range of ±2 V through an empty nanopore made of 5-layered graphene of size 1.5 nm (red), 2.0 nm (green), and 3.0 nm (blue); (c) Resistance (MΩ) of the nanopore as a function of pore diameter. Inset: Comparison of theoretical (red asterisks), and simulated (black circles) conductance (nS) as a function of cross-sectional area of the pore.


Figure 4. Characterization of a 1.5 nm graphene nanopore in the presence of canonical nucleosides: (a) Simulation snapshot of the system showing nucleoside localization to a nanopore. Van der Waals representation is used for the graphene carbon atoms, nucleoside, and ions. Water molecules are excluded for clarity; (b) I-V curves with their corresponding straight line fits for empty 1.5 nm pore (grey), pore with canonical uridine (magenta), cytidine (green), adenosine (red), and guanosine (blue) localized at the center of the nanopore in 1 M KCl; (c) Resistance (MΩ) of 1.5 nm pore with canonical nucleosides.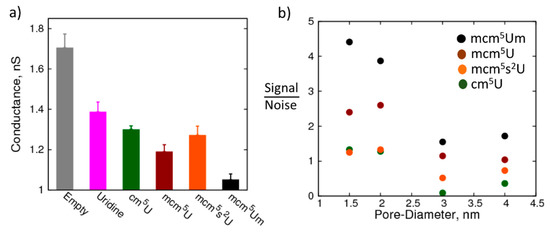 Figure 5.
Detection of modified nucleosides using the nanopore: (
a
) Resistance of a 1.5 nm pore with canonical uridine and modified uridine immobilized at the center of the pore: empty pore—grey, uridine—magenta, 5-carbonyl-methyluridine (cm
5
U)—dark green, 5-methoxycarbonyl-methyluridine (mcm
5
U)—maroon, 5-methylcarboxymethyl-2-thiouridine (mcm
5
s
2
U)—orange, and 5-methoxycarbonyl-2′-
O
-methyluridine (mcm
5
Um)—black; (
b
) Degree of sensitivity (gamma, expressed as percentage difference in resistance between uridine and modified uridine, relative to uridine) decreases as pore diameter increases.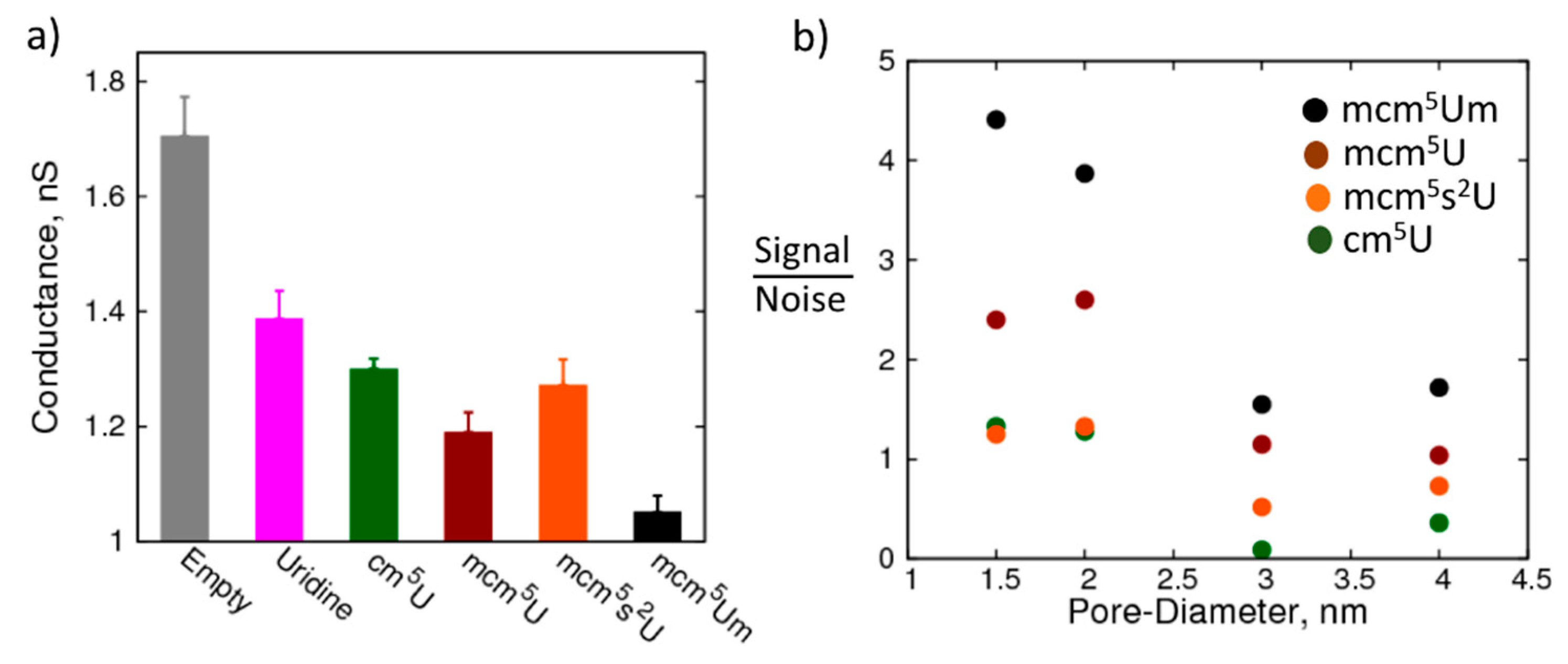 © 2017 by the authors. Licensee MDPI, Basel, Switzerland. This article is an open access article distributed under the terms and conditions of the Creative Commons Attribution (CC BY) license (http://creativecommons.org/licenses/by/4.0/).