Regulation of Autophagy through TORC1 and mTORC1
Center for Frontier Oral Science, Graduate School of Dentistry, Osaka University, Suita, Osaka 565-0871, Japan
Academic Editors: Kazuhiro Shiozaki and Ted Powers
Received: 1 June 2017 / Revised: 1 July 2017 / Accepted: 4 July 2017 / Published: 7 July 2017
Abstract
Autophagy is an intracellular protein-degradation process that is conserved across eukaryotes including yeast and humans. Under nutrient starvation conditions, intracellular proteins are transported to lysosomes and vacuoles via membranous structures known as autophagosomes, and are degraded. The various steps of autophagy are regulated by the target of rapamycin complex 1 (TORC1/mTORC1). In this review, a history of this regulation and recent advances in such regulation both in yeast and mammals will be discussed. Recently, the mechanism of autophagy initiation in yeast has been deduced. The autophagy-related gene 13 (Atg13) and the unc-51 like autophagy activating kinase 1 (Ulk1) are the most crucial substrates of TORC1 in autophagy, and by its dephosphorylation, autophagosome formation is initiated. Phosphorylation/dephosphorylation of Atg13 is regulated spatially inside the cell. Another TORC1-dependent regulation lies in the expression of autophagy genes and vacuolar/lysosomal hydrolases. Several transcriptional and post-transcriptional regulations are controlled by TORC1, which affects autophagy activity in yeast and mammals.
View Full-Text
►

▼

Figures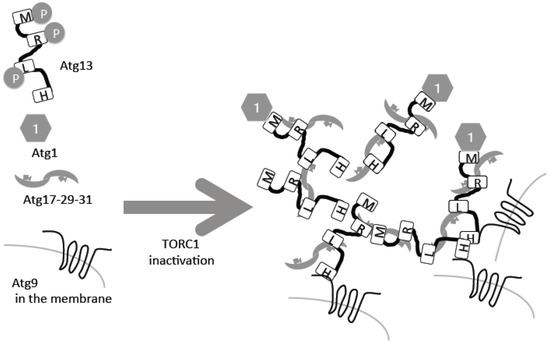 Figure 1
This is an open access article distributed under the
Creative Commons Attribution License
which permits unrestricted use, distribution, and reproduction in any medium, provided the original work is properly cited (CC BY 4.0).

Share & Cite This Article
MDPI and ACS Style
Noda, T. Regulation of Autophagy through TORC1 and mTORC1. Biomolecules 2017, 7, 52.
Note that from the first issue of 2016, MDPI journals use article numbers instead of page numbers. See further details here.
Related Articles
Comments
[Return to top]