Open Access This article is
freely available
re-usable
Review
TORC1-Dependent Phosphorylation Targets in Fission Yeast
1
Laboratory of Cell Responses, National Institute for Basic Biology, Nishigonaka 38, Myodaiji, Okazaki, Aichi 444-8585, Japan
2
Biosignal Research Center, Kobe University, 1-1 Rokkodai-cho, Nada-ku, Kobe 657-8501, Japan
3
Department of Basic Biology, School of Life Science, SOKENDAI (The Graduate University for Advanced Studies), Nishigonaka 38, Myodaiji, Okazaki, Aichi 444-8585, Japan
*
Author to whom correspondence should be addressed.
Academic Editors: Kazuhiro Shiozaki and Ted Powers
Received: 2 June 2017 / Accepted: 28 June 2017 / Published: 3 July 2017
Abstract
:
Target of rapamycin (TOR) kinase controls cell metabolism and growth in response to environmental cues such as nutrients, growth factors, and stress. TOR kinase is widely conserved across eukaryotes. As in other organisms, the fission yeast
Schizosaccharomyces pombe
has two types of TOR complex, namely TOR complex 1 (TORC1) and TORC2. It is interesting that the two TOR complexes in
S. pombe
have opposite roles in sexual differentiation, which is induced by nutrient starvation. TORC1, which contains Tor2 as a catalytic subunit, promotes vegetative growth and represses sexual differentiation in nutrient-rich conditions, while TORC2 is required for the initiation of sexual differentiation. Multiple targets of TORC1 have been identified. Some of these, such as S6 kinase and an autophagy regulator Atg13, are known targets in other organisms. In addition, there is a novel group of TORC1 targets involved in the regulation of sexual differentiation. Here, we review recent findings on phosphorylation targets of TORC1 in
S. pombe.
Furthermore, we briefly report a novel
S. pombe
target of TORC1.
Keywords:
TOR complex 1; fission yeast; sexual differentiation
Acknowledgments
This work was supported by Japan Society for the Promotion of Science KAKENHI, Grant Numbers 15J40037 and 16K18542 to Y.O., and 15H04333 to A.Y., and by the joint research program of Biosignal Research Center, Kobe University (Grant Number: 281009).
Author Contributions
Y.O. and A.Y. conceived the idea of the review and performed experiments. All the authors contributed to the writing and approved with the final version of the manuscript.
Conflicts of Interest
The authors declare no conflict of interest.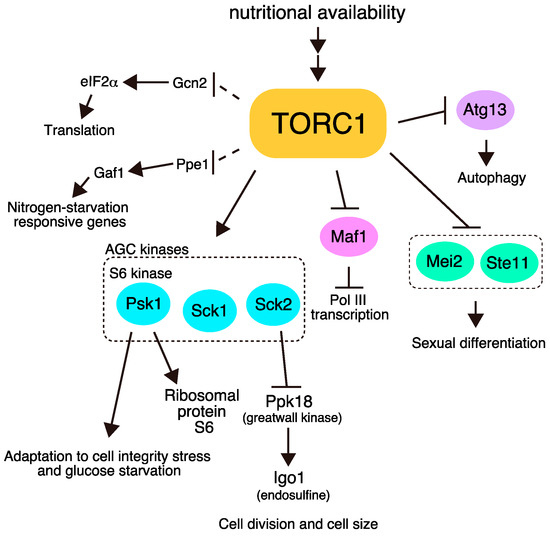 Figure 1.
The major downstream pathways of target of rapamycin complex 1 (TORC1) in
Schizosaccharomyces pombe
. TORC1 phosphorylates multiple targets and regulates cell growth and sexual differentiation. Dashed lines represent pathways in which direct phosphorylation by TORC1 has not been demonstrated.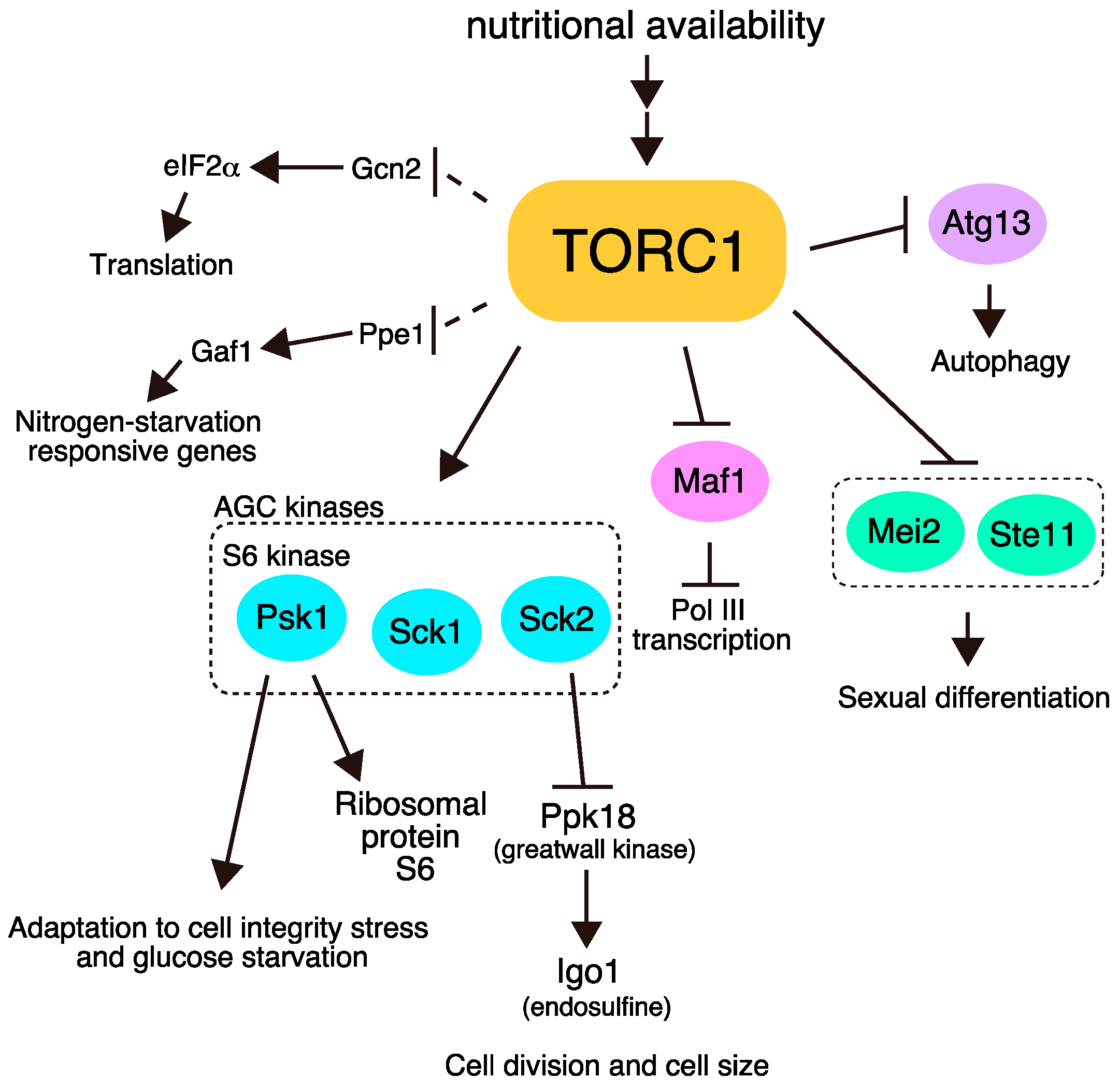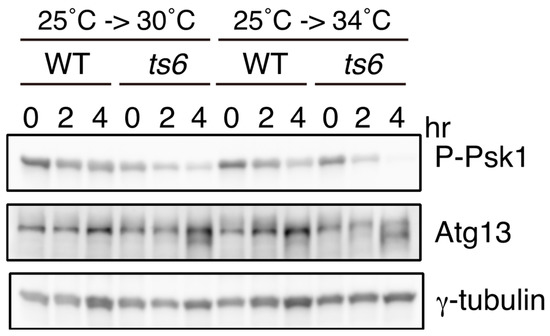 Figure 2.
Phosphorylation of Atg13 and Psk1 is regulated by TORC1 in vivo. Phosphorylation of Atg13 and Psk1 in a temperature-sensitive
tor2
mutant. Wild-type (WT; JY3:
h90
) and
tor2-ts6
(JT360:
h90 tor2-ts6
) cells were grown in YE (Yeast Extract) medium at 25 °C (4 × 10
6
cells/mL), and then shifted to 30 °C or 34 °C after dilution with the same amount of fresh YE. Cells were disrupted with glass beads in 20% trichloroacetic acid. Cell extracts were subjected to Western blot analysis by using anti-Atg13 antibody (×1000) [
24
] and anti-phospho-S6 kinase (Thr389) antibody (×1000) (1A5, Cell Signaling Technology, Danvers, MA, USA). Anti-γ-tubulin antibody (GTU-88, Sigma-Aldrich, St. Louis, MO, USA) (×2000) was used as a loading control.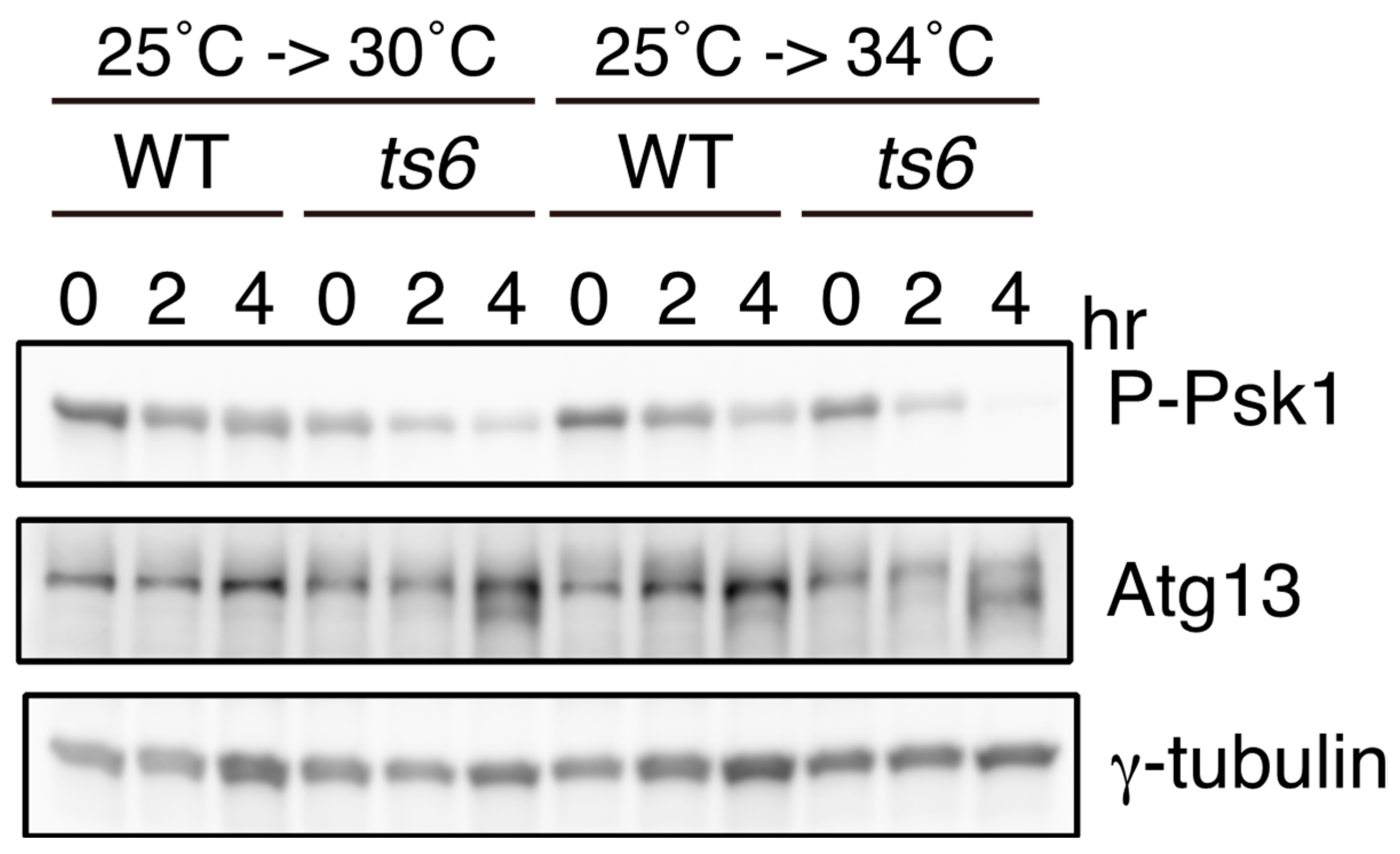 Figure 3.
Ste11 is phosphorylated by TORC1. (
a
) Schematic illustration of truncation series of Ste11 used in in vitro kinase assays. HMG represents a DNA binding domain, HMG (high mobility group) box. (
b
–
d
) In vitro phosphorylation of Ste11 by TORC1. Flag-tagged Tor2 was immunoprecipitated from
S. pombe
cell extracts using an anti-FLAG antibody. The same immunoprecipitation conditions as described in our previous study were used, in which other components of TORC1 were co-precipitated [
15
]. The kinase preparation was then incubated with a GST (Glutathione S-transferase)-Ste11 fusion protein, which harbors Ste11 residues 1–469 (Full), 1–230 (N), 231–469 (C), 1–76 (N1), 77–183 (N2), and 184–230 (N3), in the presence of radioactive ATP. Tor2 phosphorylated GST-Ste11-Full and Gst-Ste11-N efficiently, whereas a kinase-dead form of Tor2 (KD) displayed only marginal phosphorylation toward GST-Ste11-Full (
b
). The exogenously expressed kinase-dead Tor2 in wild-type cells may form a heterodimer with endogenous wild-type Tor2, acquiring a weak activity, as in other organisms [
66
,
67
]. Ste11-N2 was also phosphorylated efficiently (
c
). An alanine substitution series in Ste11-N2 indicated that the major phosphorylation residue was Thr88, while Thr82 was also phosphorylated, but less efficiently (
d
).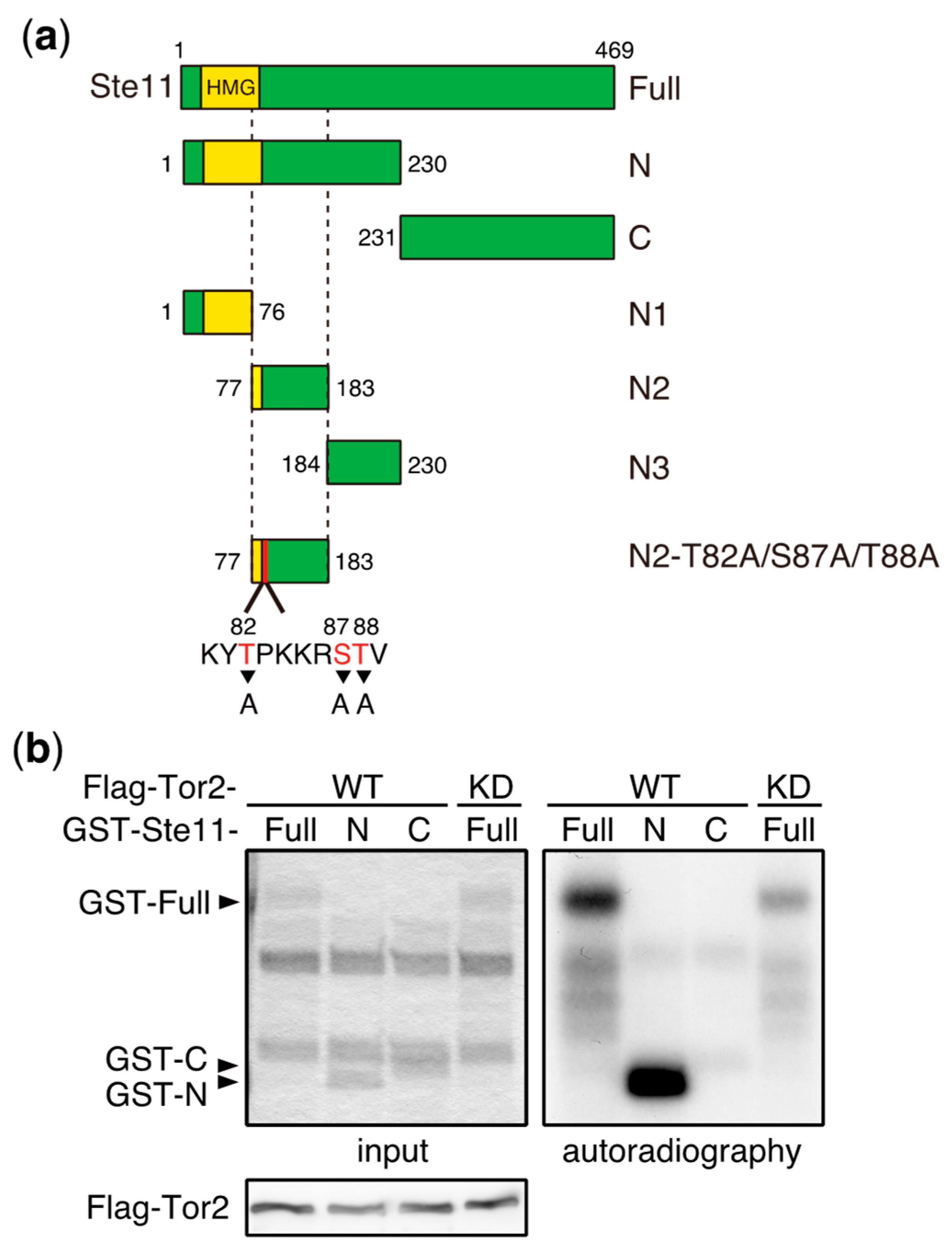 © 2017 by the authors. Licensee MDPI, Basel, Switzerland. This article is an open access article distributed under the terms and conditions of the Creative Commons Attribution (CC BY) license (http://creativecommons.org/licenses/by/4.0/).