Biosynthesis of Sulfur-Containing tRNA Modifications: A Comparison of Bacterial, Archaeal, and Eukaryotic Pathways
Department of Biological Sciences, Louisiana State University, Baton Rouge, LA 70803, USA
*
Author to whom correspondence should be addressed.
Academic Editor: Valérie de Crécy-Lagard
Received: 1 February 2017 / Revised: 3 March 2017 / Accepted: 6 March 2017 / Published: 11 March 2017
Abstract
Post-translational tRNA modifications have very broad diversity and are present in all domains of life. They are important for proper tRNA functions. In this review, we emphasize the recent advances on the biosynthesis of sulfur-containing tRNA nucleosides including the 2-thiouridine (s
2
U) derivatives, 4-thiouridine (s
4
U), 2-thiocytidine (s
2
C), and 2-methylthioadenosine (ms
2
A). Their biosynthetic pathways have two major types depending on the requirement of iron–sulfur (Fe–S) clusters. In all cases, the first step in bacteria and eukaryotes is to activate the sulfur atom of free
l
-cysteine by cysteine desulfurases, generating a persulfide (R-S-SH) group. In some archaea, a cysteine desulfurase is missing. The following steps of the bacterial s
2
U and s
4
U formation are Fe–S cluster independent, and the activated sulfur is transferred by persulfide-carrier proteins. By contrast, the biosynthesis of bacterial s
2
C and ms
2
A require Fe–S cluster dependent enzymes. A recent study shows that the archaeal s
4
U synthetase (ThiI) and the eukaryotic cytosolic 2-thiouridine synthetase (Ncs6) are Fe–S enzymes; this expands the role of Fe–S enzymes in tRNA thiolation to the Archaea and Eukarya domains. The detailed reaction mechanisms of Fe–S cluster depend s
2
U and s
4
U formation await further investigations.
View Full-Text
►

▼

Figures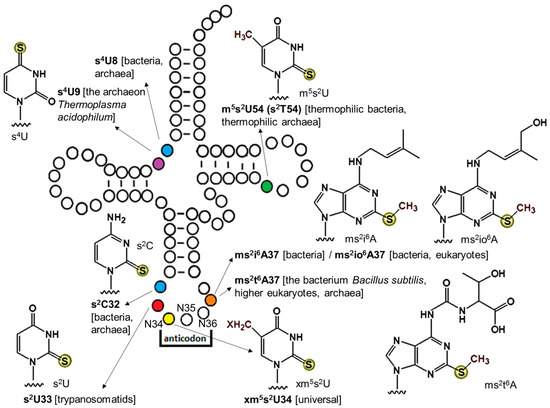 Figure 1
This is an open access article distributed under the
Creative Commons Attribution License
which permits unrestricted use, distribution, and reproduction in any medium, provided the original work is properly cited (CC BY 4.0).

Share & Cite This Article
MDPI and ACS Style
Čavužić, M.; Liu, Y. Biosynthesis of Sulfur-Containing tRNA Modifications: A Comparison of Bacterial, Archaeal, and Eukaryotic Pathways. Biomolecules 2017, 7, 27.
Note that from the first issue of 2016, MDPI journals use article numbers instead of page numbers. See further details here.
Related Articles
Comments
[Return to top]