Factors That Shape Eukaryotic tRNAomes:  Processing, Modification and Anticodon–Codon Use
1
Intramural Research Program, Eunice Kennedy Shriver National Institute of Child Health and Human Development, National Institutes of Health, Bethesda, MD, 20892, USA
2
Commissioned Corps, U.S. Public Health Service, Rockville, MD, 20016, USA
3
Molecular Genetics Laboratory, National Institute of Immunology, Aruna Asaf Ali Marg, New Delhi 110067, India
*
Authors to whom correspondence should be addressed.
Academic Editor: Valérie de Crécy‐Lagard
Received: 9 January 2017 / Accepted: 24 February 2017 / Published: 8 March 2017
Abstract
Transfer RNAs (tRNAs) contain sequence diversity beyond their anticodons and the large variety of nucleotide modifications found in all kingdoms of life. Some modifications stabilize structure and fit in the ribosome whereas those to the anticodon loop modulate messenger RNA (mRNA) decoding activity more directly. The identities of tRNAs with some universal anticodon loop modifications vary among distant and parallel species, likely to accommodate fine tuning for their translation systems. This plasticity in positions 34 (wobble) and 37 is reflected in codon use bias. Here, we review convergent evidence that suggest that expansion of the eukaryotic tRNAome was supported by its dedicated RNA polymerase III transcription system and coupling to the precursor‐tRNA chaperone, La protein. We also review aspects of eukaryotic tRNAome evolution involving G34/A34 anticodon‐sparing, relation to A34 modification to inosine, biased codon use and regulatory information in the redundancy (synonymous) component of the genetic code. We then review interdependent anticodon loop modifications involving position 37 in eukaryotes. This includes the eukaryote‐specific tRNA modification, 3‐methylcytidine‐32 (m3C32) and the responsible gene, TRM140 and homologs which were duplicated and subspecialized for isoacceptor‐specific substrates and dependence on i6A37 or t6A37. The genetics of tRNA function is relevant to health directly and as disease modifiers.
View Full-Text
►

▼

Figures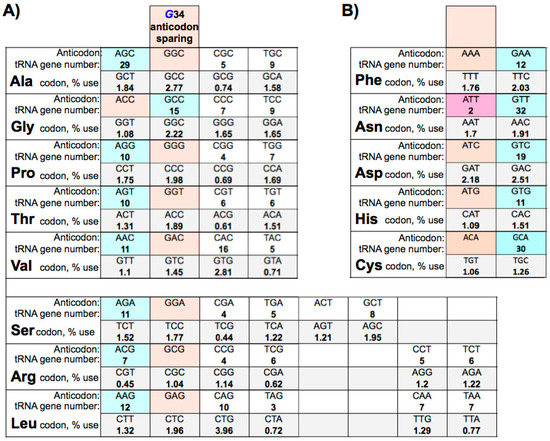 Figure 1
This is an open access article distributed under the
Creative Commons Attribution License
which permits unrestricted use, distribution, and reproduction in any medium, provided the original work is properly cited (CC BY 4.0).

Share & Cite This Article
MDPI and ACS Style
Maraia, R.J.; Arimbasseri, A.G. Factors That Shape Eukaryotic tRNAomes:  Processing, Modification and Anticodon–Codon Use. Biomolecules 2017, 7, 26.
Note that from the first issue of 2016, MDPI journals use article numbers instead of page numbers. See further details here.
Related Articles
Comments
[Return to top]